The best mid-tower cases are a staple of PC gaming and since they offer capacity and countless design options, without the Goliathan stature of a full-tower case, it's no surprise why. These babies don't require the atypical, and often expensive, PC parts that a Mini-ITX of full-tower PC case might. Mid-towers are just your average sized PC cases, though the ones we've listed below are, on the whole, anything but average.
It's still not the easiest task getting hold of the best graphics cards, but there are a ton of quality cases to pick from before it comes to that. If you're looking to make a statement the best full-tower cases will offer space for a truly monumental, extreme gaming PC build. Otherwise, a mid-tower case will give you a good starting point for a small footprint machine that's tidy and, hopefully, badass looking.
Whether you're pulling together a whole new PC, or just rehousing ready for some upgrades, these mid-tower cases will offer enough space—far more than the best Mini-ITX cases do. When searching for the best mid-tower PC case, keep an eye out for those with ease of access to your components, good fan and radiator support, great airflow, and high build quality.
Getting the case right is essential—especially if you've spent a ton of money on your new graphics card. So you can get it right, we went through and tested countless mid-tower cases by building into them ourselves. After some rigorous rounds of pulling components out and jamming them back in, here are those we found to be the best.
Best mid-tower cases 2022
This most recent iteration of NZXT's "smart" chassis brings a couple of new features to help modernize your build. This ultra-clean and uncomplicated mid-tower case emphasizes convenience above all. It includes many of the same trappings as its predecessor, but costs a little bit more and has just a couple of neat changes. The NZXT H710i features a front panel USB 3.1 Type-C port and the ability to vertical mount your GPU with a separate PCIe riser.
The H710i features integrated RGB lighting around the tempered glass side panel, controlled by the NZXT CAM software and a built-in LED lighting hub that allows for easy control of RGB lighting and fan speeds as well. To keep things cool, the H710i features ventilation gutters that run the perimeter of each side of the case, aided by the four 120mm fans included with the case.
Cable routing is where the H710i shines—achieved primarily through a large aluminum slat that allows you to route your cables into the integrated cable channels on the back of the case. In our testing we found this case keeps everything clean and clutter-free, and the velcro straps built into the back help hold everything down. An excellent, and easy alternative to the rubber gasket solution found on some of the other top mid-towers.
Corsair has made some excellent chassis over the years, but the appearance of some of them was starting to take precedence over functionality. That changed with the release of the 4000D Airflow, which shows that the two schools can be combined for a great-looking case that offers excellent airflow. The ventilated front panel means the fans can run slower and quieter while providing the same level of cooling over closed-off cases.
Building a system inside the 4000D Airflow is straightforward enough in our testing, with plenty of room where we needed it most. The channel in front of and behind the motherboard tray makes routing your main cables much more effortless.

There's enough space here for various radiators and cooling setups—you can fit up to a 360mm radiator in the front and a 280mm radiator on the roof. Although the latter can be tight against the top of the motherboard, it's still possible.
You'll find easy-to-remove dust filters on the top, front, and below the PSU for easy cleaning. Popping off the front panel is simple, making installing fans or a radiator that much easier. This makes regular cleaning of your system less of a hassle.

Out of all the neat features I like about the 4000D, the fact that it has both USB Type-A and Type-C ports on the top panel is pretty clutch. Though I did wish that same front I/O panel offered a little more.

Overall, it's a reassuring return to form for Corsair. Considering that all of this can be picked up for well under $100, it's hard not to be impressed by the overall package. It makes for a great home for anything from a simple mid-range build to a high-end powerhouse, and we've used it as the basis for our own mainstream PC Gamer test rig. If you're just looking for a solid budget case, the 4000D gets our highest recommendation.
If you're strapped for vertical space, the Lian-Li PC-O11 Dynamic is a short and stubby alternative to some of the more long-necked PC cases we've seen. It's a case I'm pretty familiar with, as it's the model that I built a custom liquid-cooled GPU and CPU loop into.
I found that the 011 Dynamic is great for a custom loop, as there are many excellent distro plates that can fit into the front of the PC-O11, but it's just as well suited to your usual AiO or air-cooled setups. You can install AiO and radiators up to 360mm pretty much anywhere you are on the top, bottom, and side of the case.
Featuring a tempered glass design, we found installing components in the PC-011 a painless experience during testing. Well, apart from some of the super-sharp angles that might spike the odd finger. You can remove the top and both sides of the chassis for easy access to its internals. Parts of the process that used to be stressful, such as liquid cooler installations, are now stumbling blocks of a bygone era.
The chassis has a bunch of expansion slots (eight) and can fit multiple GPUs if you decide to go that route. Though, I'm not quite sure why you'd that but who am I to tell you what to do with your PC build. Live your life.
Plus, if you're willing to shell out a bit more cash over the vanilla model, the PC-011 comes in a Razer Edition as well. Fully integrated with the Synapse 3 lighting software, you can even coordinate it with your other Razer-made peripherals.
The beauty is that this could be a case for a simple budget build or something a bit more extravagant. It really comes down to your skill level and creativity as a PC builder.
Warning! This gorgeous PC case will pull the attention away from your precious components if you're not careful. You might have the flashiest GPU going or even RAM sticks emblazoned with gems, but the first thing anyone will look at when they see your PC is all that RGB lighting.
The 5000T is a PC case for showing off your components as it is a home for them. The huge tempered glass side panel offers a window to its clean-cut innards and color-matched accessories. You won't find cable in sight with its clever cable management, either.
Of course, Corsair is no stranger to RGB lighting, and this PC case is covered head-to-toe in the stuff. That's because it's more than a PC case: it's three LL120 fans, six RGB lighting strips, and the Commander Core XT controller. And, yeah, a special PC case.
The HDD cage can also be adjusted or removed entirely. In which case the extended lower PSU shroud can be fully removed and replaced by a sheer option that looks really smart. I would've opted for that since I prefer the look had I thought to plan out my PSU cables a little better ahead of time. As it was, the extra space behind the PSU shroud helped me keep the front looking clear without much time spent threading and tying down cables at the rear.
Though for some neat optimizations here or there, the actual layout of this case is a pretty standard one. That does make things pretty easy when it comes to cooling configurations. There is space for three 120mm fans at the front, or two 140mm fans if you'd prefer. Up top, you can fit the same again.
There's enough clearance between top-mounted fans and the motherboard tray to allow for a push/pull configuration for any regular width CPU cooler radiator you might mount up there. So long as you're rocking fairly regular radiators you could fit a push or pull triple-fan radiator in the front, too.
Granted, it's not the smallest mid-tower PC case going and one of the more expensive we've tested, so if you're looking for either of those attributes, then look elsewhere on this list. However, it is perhaps one of the smartest and cleanest on the lot. This thing is beautifully crafted from steel, plastic, and tempered glass, and while that means it's pretty heavy, it's a real statement PC case for a high-end PC build.
Read our full Corsair iCUE 5000T RGB review.
The MasterCase SL600M has to be one of Cooler Master's most beautifully designed cases. It features anodized aluminum with a sand-blasted finish and just enough attitude to make it look sleek, futuristic, and elegant, all at once. We were even more impressed once we opened it up to build in it.
The CM SL600M is the first case we've tested with a vertical chimney design for its cooling that makes sense and works. Cooler Master went all-in with the SL600M, completely sealing the front and moving the entire PSU shroud and housing from the bottom to the front of the case. That newly opened space, combined with generous feet, allows the case to funnel the airflow directly onto the GPU.
While in our testing of this case, we noticed the CPU temperatures do suffer slightly from this design, the SL600M has the lowest GPU temperatures out of every mid-tower we've tested. When you mount the graphics card vertically and away from the glass with the rotatable PCI bracket, and cooling improves even further. While the case features all of the connectivity and convenience you'd expect in a high-end mid-tower, it misses an included GPU riser cable.
Another unique feature of the SL600M is a rotatable PCI bracket window. This lets you mount multiple GPUs vertically or install a single GPU further away from the tempered glass panel. Doing so improved our GPU temperatures even more. We're disappointed to see the lack of a riser cable included in the SL600M because you won't take full advantage of the chimney design without a vertically mounted GPU.
Building in the SL600M was generally easy enough, but the PSU installation may be tricky for some users. You don't have much room to work within the front, so it's better to completely remove the shroud and pre-wire the PSU cables before fully installing them into the case. This positioning makes hard drive installation and cable management a little bit tedious, but the payoff is totally worth it.
Overall, the SL600M is an excellent case considering its a completely new chassis design. We're excited to see where Cooler Master takes it next, as the company has done a fantastic job incorporating feedback from its customers. The Cooler Master H500M is a great example, with several improvements from the original H500P. It's still our top-performing airflow mid-tower. Similarly priced around $200, the SL600M is definitely on the pricey side, but the innovative interior and beautiful exterior make it well worth the investment.
Read our full Cooler Master MasterCase SL600M review.
Cooler Master's H500M is the company's latest flagship mid-tower, but we'd rather it be called a full-sized tower. Measuring 21.4 x 9.8 x 21.5 inches, the H500M is one of the biggest mid-towers on this list. Thanks to its large size and internal layout, it's straightforward to build in and supports a huge variety of components and custom cooling options.
The H500M comes with two massive 200mm RGB LED fans installed, which do a fantastic job of increasing airflow out of the box. Other modern touches include a USB 3.1 Type-C connector and tons of modularity, including the option to choose between a mesh or tempered glass front panel.
Our only major issue we found with the case during testing is the lack of easily removable magnetic dust filters for the front fan intake. Luckily, all of the mesh in the entire H500 line features a secondary filter layer that'll help keep dust out of your build. We mention the dust because the H500M features some serious airflow and comes prepared to keep the beefiest of gaming PCs cool.
Best mini-ITX case | Best full tower case | Best CPU cooler | Best DDR4 RAM | Best gaming monitor| Best gaming headset
Chip chillers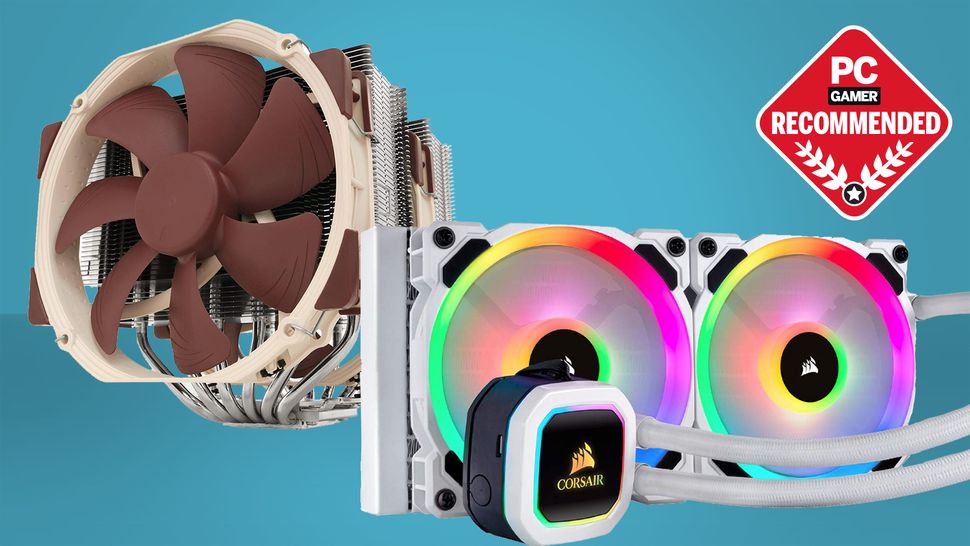 Best CPU cooler: keep your chip chilled in style
Best PC fans: super-silent and plastered in RGB
Best PC cases: big, little, and everything in-between.
If you want your gaming PC to look like a fish tank, the Hyte Y60 is a good way to go about it. We're used to today's PC cases offering us plenty of chances for some PC peacocking, but the Hyte Y60 puts your PC parts on show like no other we've tested.
This PC case is on the smaller side of those we've tested, but it's still compatible with motherboards right up to EATX. That's made possible by a clever internal layout that puts functionality and ease-of-use up-front for the user, as much as it makes everything look great.
I have the bright red Hyte Y60 in the PC Gamer office, and it's a lovely case to build into. We even managed to stuff Intel Alder Lake alongside an RTX 3080 Ti in record time. That GPU was mounted vertically inside the machine, and unlike some other cases we've tested, it was rather easy to do in the Hyte, thanks to an included PCIe 4.0 riser cable.
Removing the front and back panels gives you a huge amount of space to work in, and being able to mount a full 360mm chip chiller's radiator into the roof of the case frees up a lot of wiggle room.
The Y60 also makes a vertical mount of your graphics card a doddle, with a robust riser cable attached to the chassis in two places to keep it and the GPU steady.
And it looks great, though it does have a certain aquarium/terrarium vibe. Still, I'm not averse to that, but sticking a lizard, much less a fish, into the case won't do good things for either animal or silicon. I once saw Gigabyte making a fish tank PC, and that was a lot more trouble than it was worth. Though at least it kept the fish alive. Well, while I was there anyway.
I've got my issues with the Y60, though. There are only two drive bays, and, though I like the fact they'll cater for both 3.5- and 2.5-inch drives, that restriction meant when I was installing the big Asus chip chiller, there was nowhere else to mount the fan controller. For all my sweet cable-tidying prowess, I had to leave the box dangling around the back of the chassis.
Though, mercifully, the compartmental nature of the design hides all manner of cabling sins behind the motherboard backplate. Which, incidentally, has a massive cut out to allow you to mess around with the cooling mounts without removing the board from the case. Always very grateful for that.
This PC case would likely look excellent with a custom liquid loop inside it, but it lets any component you put there shine and look great.
Read our full Hyte Y60 review.
Best mid-tower cases FAQ
Is a mid-tower case big enough?
Generally speaking, a mid-tower PC case will house all, but the most extreme of system builds. If you're trying to cram in discrete water cooling loops for your graphics card and high-end CPU, you might find things are a bit too cramped inside. But for most high-end gaming PCs, a mid-tower case will be plenty big enough for your needs.
The thing to keep in mind when looking at the dimensions of a prospective chassis is the length of graphics card you want to put inside, and where you might be mounting any water cooling radiators, you might want. If those are going in the front, be aware that will cut down on the space you have for a GPU.
How much should I spend on a mid-tower case?
If you want to spend less than $50 on a new chassis, you must be willing to forgo such luxuries as easily accessible dust vents, different front panel connections, or high-end airflow. But things open up once you move into the $50 - $150 region. One of our favorites, the Corsair 4000D Airflow, can be picked up for less than $90 and provides all the extras you could want from a top PC case.
Are bigger cases better?
It is possible that a larger case can offer greater cooling, particularly with the potential for more airflow around the main heat-generating parts of the PC, such as the CPU and graphics card. But without sufficient fans creating that airflow, a bigger case can still lead to heat build-up without them being correctly positioned.
The main benefit of bigger cases is that they're easier to build into and simpler to upgrade later on down the line.