Let's be honest, when you're looking at a case, how it looks is pretty much at the top of the list. These days though, it's pretty hard to get away without putting a major emphasis on the cooling ability of a new chassis. CPUs need more capable cooling than ever and graphics cards, well, they're big and dump a whole lot of heat!
The Thermaltake Ceres 500 TG ARGB is designed to maximize airflow and house the largest (and longest) graphics cards you can buy, without really going overboard on sheer size.
The Ceres 500, like most modern PC cases, doesn't seek to reinvent the wheel. It's a mid-tower with a steel construction and tempered glass side panel and it's available in both black and white finishes. Our sample is the white one, officially known as the Snow version.
I wouldn't say it's the most beautiful case I've ever come across. The gray section at the bottom front is a little out of place in my opinion, though it looks better on the black version. You be the judge. Personally, I like white cases. I feel they have a kind of cleaner look about them.
Ceres 500 TG ARGB specs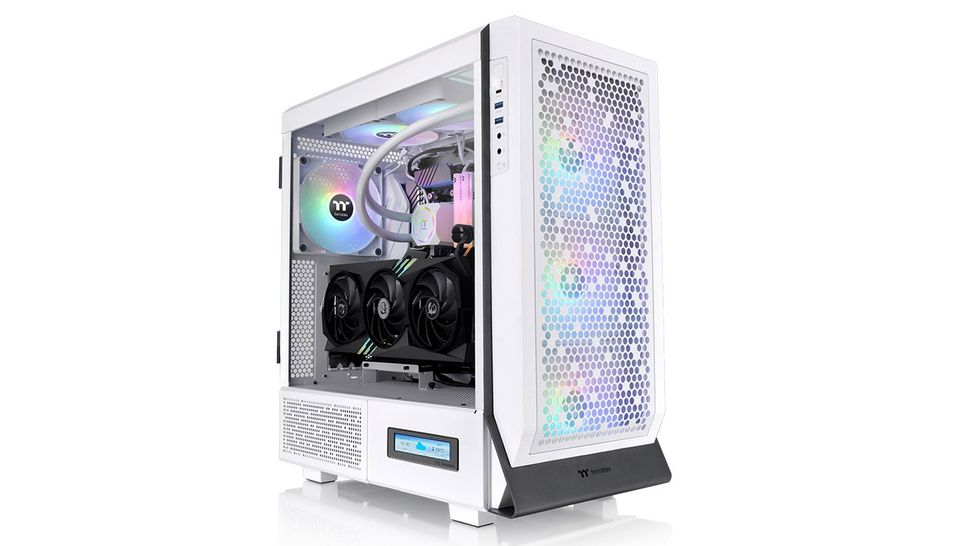 Case Type: Mid Tower
Dimensions: 525 x 245 x 507.7 mm
Weight: 10.5 KG / 23.15 lbs
Material: SPCC Steel
Cooling (Front): 3x 140mm CT140 ARGB fans
Cooling (Rear): 1x 140mm CT140 ARGB fan
Drive bays: 2 x 3.5", 6 x 2.5" or 8 x 2.5"
Front I/O: USB 3.2 Gen 2 Type-C x 1, USB 3.0 x 2, HD Audio x 1
Price: $169| £159 | AU$259
At 525mm x 245mm x 508mm, it's a big case, but it's not quite in full tower territory. It weighs in at 10.5kg. Its size and weight along with its good quality feet give it a really solid feel which is great for minimizing vibrations.
It comes with a GPU sag prevention mechanism, or you have the option to vertically mount a GPU if you choose though TT doesn't include a riser cable as standard.
As is its wont, Thermaltake designed the Ceres 500 to maximize airflow. There are extensive perforations to allow air to flow through the case relatively unimpeded. It's able to house a 420mm top mounted radiator in addition to a front mounted 360mm one, meaning it'll have no problems handling the hottest components. Add to that a rear mounted 140mm fan and the Ceres 500 will house up to seven fans. The front and top areas have plenty of dust filtering.
The Ceres 500 is very much designed to be placed on the right-hand side of your desk, and it makes perfect sense. Cases with side windows are much more likely to be placed on the right-hand side of your desk anyway, and with that in mind TT positioned the I/O ports on the side of the case. They're easily accessible this way. On the contrary, it does mean that there are better options if you're looking for a case to put underneath your desk.
The ports consist of a USB 3.2 Gen 2 Type-C, a pair of USB 3.0 Gen 1, a mic and headphone combo port and the power and reset buttons.
It's a small thing, but Thermaltake deserves special credit for the tempered glass side panel's excellent door hinge. With one simple knob the door is very securely held. It's the kind of little feature that adds to the overall excellent build quality of the Ceres 500.
Thermaltake didn't cheap out on the fans, either. They are very good CT140 ARGB spinners and the Ceres 500 comes with four. These alone make up a good portion of the chassis' asking price and they're rated at 30.5 dBA at 1500 RPM.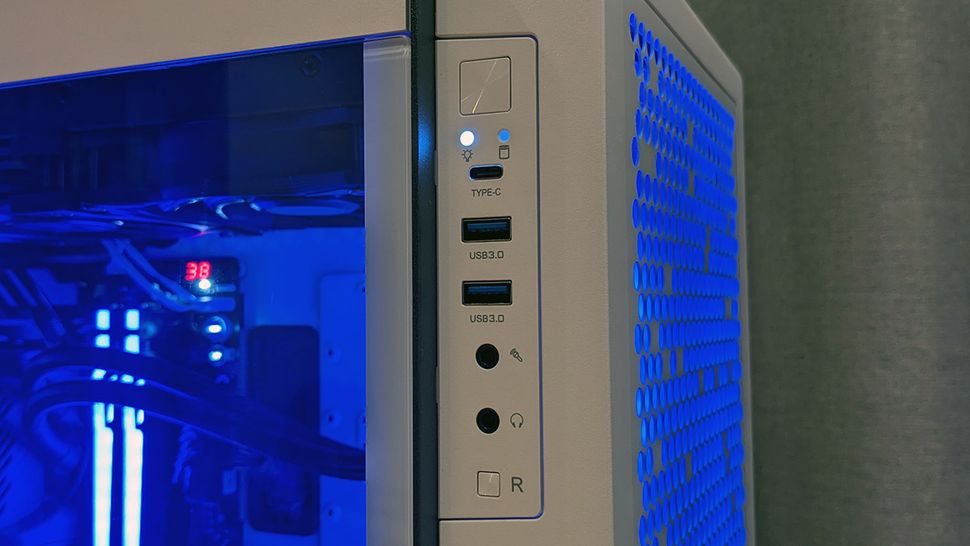 Thermaltake offers an optional 3.9-in LCD panel which can be mounted at the bottom below the I/O ports. It can be used to display things like monitoring information, the weather, or your own GIF images. It's controlled and synchronized with other Thermaltake components via the TT RGB Plus software. I could not find a listing for it in the USA but given the Tower 500 LCD panel costs $99, the Ceres 500 panel is likely to cost the same. It is available here in Australia for AU$169.
It's a nice-looking and functional product but it is nothing if not an entirely niche feature and I feel it's a little too expensive to be a throwaway additional purchase. If you have an AIO cooler with an LCD display, there is little need to buy the Ceres 500 panel as both will have the same kind of functionality.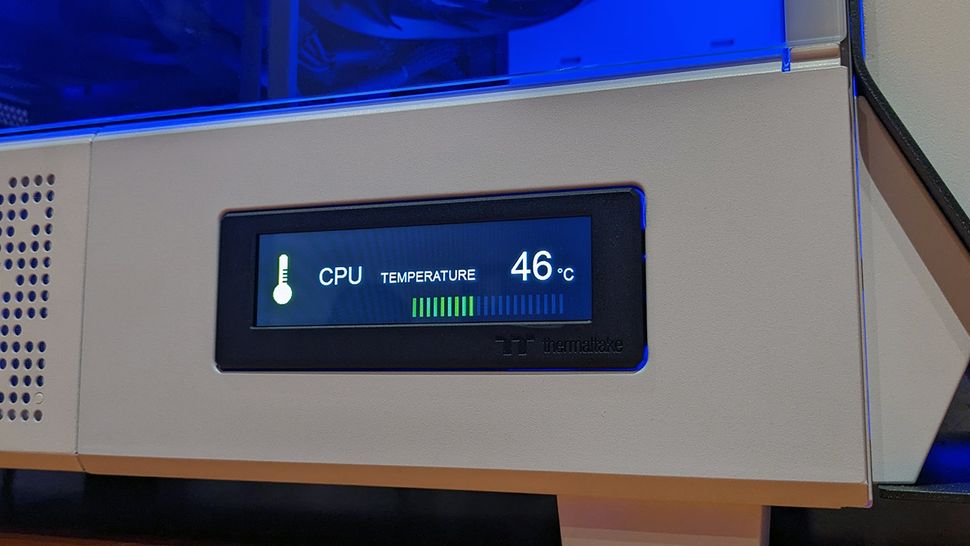 The build process was easy, which is exactly what you'd want from a new case. There's lots of space around the motherboard and power supply area. It housed a 356mm long Zotac RTX 4080 Airo graphics card with lots of room to spare. There are plenty of cable management holes, and holes for Velcro ties and as many zip ties as you like. The end result is a system that looks every inch a premium build. The LCD panel and ARGB fans really stand out in this white example, too.
It's a minor criticism, but I found the rear fan cables were not long enough to be stashed out of the way and routed to an appropriate fan header, though that's inevitably motherboard specific. The front fans can be daisy chained, however, which helps to keep clutter to a minimum.
I like that there's enough area behind the motherboard tray so that stiff PSU cables can be appropriately managed. The Ceres 500 housed everything with ease.
The end result is a clean and functional build. There's no noise to speak of though its definitely worth diving into your motherboard BIOS to set appropriate fan curves. My Asus X670E Crosshair Hero set the front fans to an aggressive fan speed, but after adjustment, they ramp up and down gently.
The RGB is bright and vibrant and the TT RGB plus software provides an excellent level of control. Whether you like static colors, strobing or just about any kind of RGB effect you can think of, the TT software can do it. The colors of the rainbow – so pretty in the sky….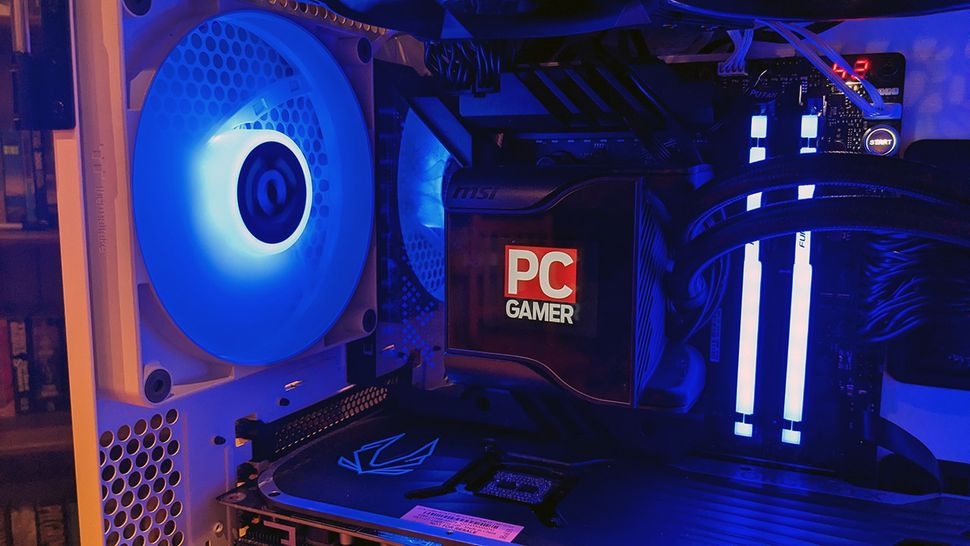 I came away impressed with the Thermaltake Ceres 500. It's very well built, it's heavy, sturdy, and has plenty of room for a high-end build. The fans are very good and the finished build looks great, even if I'm not entirely sold on the weird chin on the front of the case itself.
There's a lot of competition in this price range, but TT shows it can compete with the best of them. If you're after a white case that gives you plenty of airflow for a hot running year 2023 gaming build, the Ceres 500 is well worth a look. And then add the 3.9-in LCD for an additional touch of class if you've got a spare couple hundred bucks to drop on an aesthetic whim.