For just a moment, let's talk about the best RAM for gaming. No, it's not the most exciting part of your PC building experience, but if you play your cards right, it yields some of the highest rewards. You may not think RAM speed and capacity matters for gaming, however our own research proves otherwise. RAM does matter for gaming. Without the best DDR4 RAM your whole system is stifled. With it, you can accomplish so much more at once. Chiefly, if you plan on streaming or recording your gameplay, the best RAM for gaming is a crucial component to the rest of your build, influencing everything from your CPU to your graphics.
But what is the best RAM for gaming, and who cares? Well, first off, RAM gives your computer the power to efficiently bounce between tasks. If you are, for example, watching 10 different Twitch streams while simultaneously enjoying a casual round of Apex Legends and jamming out to music on Spotify, you're probably going to need a RAM upgrade to support your multiplicitous hobby. By shelling out for the best RAM for gaming, you can quickly and easily launch new applications and switch between them, thereby reducing the wait times and hangups often plaguing slower computers. That's why we recommend you buy not only the best DDR4 you can find, but also the fastest. For the most seamless computing experience, we suggest scouting out RAM clocked at least 2,666MHz.
When you're in the market for the best RAM for gaming, sometimes you need a tour guide to walk you through the options. Especially for streamers and avid multitaskers, RAM plays one of the more pivotal roles within your PC's chassis. Luckily, we're here to spot out the memory modules that give you the most bang for your buck. From leading hardware brands like Corsair, G.Skill and Ballistix, below are the products members of our devoted hardware team have tested thoroughly before personally vouching for their purchasability. Always up to date with the latest models and configurations, we're bound to see the next best RAM for gaming spring up at Computex 2019, which is admittedly right around the corner.
Best CPU for gaming | Best graphics card | Best gaming motherboards
Best SSD for gaming | Best PC cases | Best gaming monitors
1. Corsair Dominator Platinum RGB 32GB DDR4-3200MHz
Best-in-class performance with innovative RGB lighting technology
Speed: DDR4-3200MHz | Timing: 16-18-18-36 | Cas Latency: 16 | Voltage: 1.35V | Dimms: 2x16GB
Ultra-bright Capellix RGB LEDs
Dominator DHX heat-spreaders
Advanced iCUE software
Module height may cause clearance issues
Corsair has outdone itself once again with the brand new Dominator Platinum RGB. The original DDR4 kit has been our favorite high-end memory bundle for quite some time now. Its sleek exterior, patented DHX cooling technology and unrivaled performance have made it a formidable flagship over the years. Now, the iconic Dominator Platinum is back with a stealthy new design and Corsair's new Capellix LED technology.
The Dominator Platinum RGB takes the same best-in-class performance of the original, adds higher clocked SKUs and 12 individually addressable Capellix RGB LEDs. The new LEDs are brighter and more efficient than previous iterations. Combined with Corsair's formidable iCUE software, the Dominator Platinum RGB has become both the best RGB and high-end performance kit.
The price doesn't differ too much from the original, non-RGB Dominator Platinum, but you're still paying a hefty premium compared to some of the other kits mentioned in this guide. We still think it's well worth every penny if you can afford it.
2. G.Skill Trident Z RGB 16GB DDR4-2400MHz
Glorious RGB lighting with excellent performance
Speed: DDR4-2400MHz | Timing: 15-15-15-35 | Cas Latency: 15 | Voltage: 1.2V | Dimms: 2x8GB
Beautiful RGB patterns
Same height as non-RGB models
Still no custom lighting profiles
Light up RAM modules have been around for a while, and RGB enabled options are now commonplace. G.Skill's Trident Z RGB is one of the most tasteful implementations of RGB lighting we've come across. The kit illuminates itself with five individually addressable RGB LEDs and a frosted diffuser that produces a soft glow that looks fantastic in just about any PC build.
The memory performance is just as good as the looks, with the Trident Z line available in speeds ranging from 2400 to 3600, and more. Overclocking performance is in line with other Trident memory, and with tuning and tweaking you can usually squeeze a couple hundred more MHz out of the kit. The Trident Z RGB line is well worth consideration for any build.
3. Ballistix Tactical Tracer RGB 32GB DDR4-2666 MHz
Customizable RGB without the premium
Speed: DDR4-2666MHz | Timing: 16-18-18-36 | Cas Latency: 16 | Voltage: 1.2V | Dimms: 4x8GB
3D printable and removable light bar
Robust RGB software control
RGB software doesn't work on X99
If you're into personalizing and modding your PC, Crucial's Ballistix Tactical Tracer RGB series is another worthy option. Available in 16GB-64GB configurations at 2666MHz and 3000Mhz, the latest Ballistix DDR4 memory is suitable for a wide range of builds without much of a premium. The main selling point here is the kit's 16 addressable RGB LEDs with eight controllable zones and an easily removable light bar that diffuses and enhances the RGB effects.
Crucial provides free 3D files that allow you to print different light bars to produce a wide range of aesthetics for any build. Power users can modify existing files to print their own gamer tag or custom designs. Alternatively, you can remove the light bar altogether for a blindingly bright effect. The Ballistix Tactical Tracer RGB provides the customization G.Skill's Trident Z RGB series lacks, and when you look at the advanced software and possibilities that come with the Ballistix kit, it's easy to see how this is a top choice for PC modders.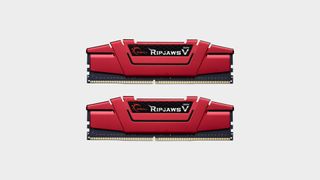 4. G.Skill Ripjaws V 16GB DDR4-2400MHz
Solid and affordable DDR4 RAM for the average user
Speed: DDR4-2400MHz | Timing: 15-15-15-35 | Cas Latency: 15 | Voltage: 1.2V | Dimms: 2x8GB
Decent pricing
Great overclocking headroom
Minor stability issues at higher speeds
The G.Skill Ripjaws V is the second generation of DDR4 memory from G.Skill, and it's clear the company listened to the feedback and criticisms from the customers. The new series is more affordable, faster, and has a less tacky heatsink. We found the 16GB Ripjaws V kit to be the best option for a decent capacity kit that features great performance right out of the box.
Immediately without any overclocking the Ripjaws V did exceptionally well in our benchmarks, beating several kits in the 2400 MHz range. Despite this, you can still achieve an overclock to 2800-3000MHz with a simple bump in voltage. You might even reach 3200MHz or higher, though you're likely to hit some stability issues. With a reasonable price, whether running stock or overclocked, G.Skill Ripjaws V is hard to beat.
5. Patriot Viper Elite 8GB DDR4-2400MHz
A budget-friendly kit for those that don't need tons of memory
Speed: DDR4-2400MHz | Timing: 15-15-15-35 | Cas Latency: 15 | Voltage: 1.2V | Dimms: 2x4GB
Budget friendly upgrade
Easy overclocking
Possible clearance issues with large CPU coolers
The Patriot Viper Elite 8GB may not be the cheapest DDR4 memory bundle you can find, but in our opinion it holds the best value when you're on a budget. This dual-channel kit is priced lower than competitors like the HyperX Fury and Corsair Vengeance LPX while also offering similar levels of performance. And unlike cheaper kits, the Viper Elite features decent heatsinks and overclockability.
For those looking to take full advantage of what the Viper Elite has to offer, simple overclocking pushes its performance to match that of much more expensive options. One of the awesome things about DDR4 is that it generally operates at 1.2V, and even the slightest voltage increases can give you quite a bit more clockspeed while still remaining cooler than DDR3. We hit 2800MHz and 3000MHz speeds with ease, and 3200MHz is possible.
6. Corsair Vengeance LPX 128GB DDR4-3200MHz
When you just have to fill every DIMM slot available
Speed: DDR4-3200MHz | Timing: 16-18-18-36 | Cas Latency: 16 | Voltage: 1.35V | Dimms: 8x16GB
Includes fans for overclocking
Perfect kit for a RAM disk
Expensive, really expensive
There aren't many people interested in spending $1,600 on a DDR4 RAM kit, and even fewer that actually need to. With the current absurdity of DRAM pricing, this kit is an even crazier purchase than it would've been at launch (then priced around the $1,100 mark), yet there's always someone looking to max out those eight slots on a X299 or X399 build, and for that we recommend the Corsair Vengeance LPX 128GB kit.
It isn't the most expensive 128GB kit, but the Vengeance LPX 128GB blew the competition out of the water. If you actually need an ultra high capacity kit, like for server virtualization, intense video/photo editing, extreme multitasking, or opening more than a couple of tabs in Chrome (we're kidding on that one), Corsair's Vengeance LPX is reliable and very easily overclocked. Running a 64-100GB RAM disk still leaves plenty of RAM for other use, and we saw read/write speeds of 7000MB/s in our tests. You can use DimmDrive for such purposes, which made our load times for games and editing programs nearly instantaneous.
Since manufacturers like Corsair test and hand-pick each individual unit in a kit to ensure they all work well together in the binning process, you can safely assume the manufacturing of a 128GB kit is exhausting—which explains the price but also provides some peace of mind in regards to performance. If you happen to be the 1 percent that could use and purchase a 128GB kit, the Vengeance LPX 128GB is your best bet. If you prefer something flashy without the fans, you can get the Vengeance RGB 128GB kit instead.
7. G.Skill Trident Z Royal 16GB DDR4-3200MHz
Upper middle class RAM for fancy gamers who wear monocles
Speed: DDR4-3200MHz | Timing: 14-14-14-34 | Cas Latency: 14 | Voltage: 1.35V | Dimms: 2x8GB
Unique implementation of RGB
Seemingly endless list of well-specced configurations
Glitz comes at a high premium
To be frank, G.Skill's Trident Z Royal series RAM resembles the ostentatious blingage we saw on the fronts of hip-hop CDs in late 90s and early 2000s. In fact, we're pretty sure Nas was donning one of these glistening crystalline modules on his wrist when Columbia Records shot the Stillmatic album cover almost two decades ago. But, of course, this is RAM meant for gaming.
We know this because the Trident Z RAM, through its "diamond" trimming, emits RGB lights. Using G.Skill's dedicated controller software, you can command hundreds of millions of possible color combinations by way of eight different LEDs. That said, the G.Skill Trident Z Royal is more than just a pretty face. It's fast. We've only tested the 3200MHz kit, but the company has up to 4600MHz variants in its catalog. More recently, it's even introduced hexa-channel versions of the kit for combined memory capacities up to 192GB.
How we test RAM
Contrary to what you might expect, RAM speed actually has very little effect on gaming performance. As many studies and tests such as this one conducted by The Tech Buyer's Guru will show, there is virtually no noticeable FPS improvement from a 2133MHz kit to a 3200MHz one. While there are certain situations where this information has been proven wrong, the general consensus is that the price difference between a high speed kit and an entry-level kit isn't really worthwhile considering how easy it is to overclock DDR4.
Additionally, CAS latency (CL), which refers to the delay time a memory controller experiences when accessing RAM, can also be tricky for gamers. Measured in nanoseconds, lower memory latency is not something you'd even notice while gaming. As Crucial simply recommends, "Optimize your system by installing as much memory as possible, using the latest memory technology, and choosing modules with as much speed as is cost-effective and/or relevant for the applications you're using."
Since this guide is focused on PC gaming, we didn't want to bombard you with largely meaningless benchmark results and instead judged our winners on a blend of performance, overclocking stability, features, and overall value. (But if you're wondering, the benchmarks we used included AIDA64, MaxxMEM, and RealBench.) Since most of the kits we tested scored fairly similar benchmark results, we've omitted the charts to keep focus on the important stuff. Of course, we also stress tested each build with hours of Battlefield 1, Overwatch, and other games in true PC Gamer fashion.
We completed all of our testing using quad-channel configurations on our top ranked mid-range X299 motherboard (MSI's X299 Gaming Pro Carbon), but our recommendations still stand for dual-channel and even single-channel configurations. If you're unfamiliar, memory channels refer to the number of communication paths between the CPU and the RAM. Like roads on a highway, the more channels there are the higher bandwidth is available for the CPU and RAM to work together.
Dual-channel requires two or more RAM modules while quad-channel requires four or more. Most modern CPUs support dual-channel memory while X99 models support quad-channel. But when it comes down to gaming, the differences between dual and quad channel memory are basically nonexistent. Here's a great piece on the (lack of) performance differences from our friends at PCWorld.
A final note when purchasing RAM, keep in mind that mixing modules can work, but all pieces will perform at the same speed as the lowest module. Because of this, we highly recommend purchasing identical modules or a full kit for better reliability and stability.
Some online stores give us a small cut if you buy something through one of our links. Read our affiliate policy for more info.