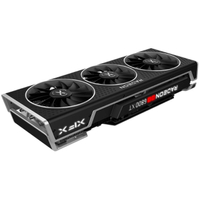 (opens in new tab)
XFX Speedster Merc319 RX 6800 XT | 16GB | 4,608 shaders | 2,250MHz | $639.99 $552.99 at Best Buy (save $87) (opens in new tab)
The RX 6800 XT was the RTX 3080 equivalent from AMD and one of the best GPUs it's ever released. With the new RTX 40-series the last-gen cards are looking well behind in terms of performance, but they're also much cheaper. And this makes for an outstanding 1440p GPU, with some decent 4K chops, too. Just don't expect to be able to jump on the ray tracing bandwagon; the RDNA 2 architecture doesn't have the goods to deliver much in that department.
It's been an awfully long time coming. But you can now get AMD's last-gen big GPU for something approaching affordable money. The AMD Radeon RX 6800 XT (opens in new tab) is selling for around $550, and sometimes even less. Earlier this week, Amazon had one for $520.
As you'll recall, the 6800 XT uses Big Navi from the RDNA 2 generation, the finest GPU AMD could muster until the new Radeon 7900-series GPUs (opens in new tab) appeared just a few months ago.
Moreover, it wasn't long ago at all that the 6800 XT commanded a four-figure price tag. So, while $550 isn't exactly a giveaway, it is vaguely attainable. What's more, the 6800 XT remains a beast of a GPU.
Performance wise, it's roughly on a par with Nvidia RTX 3080 12GB for traditional raster games. Admittedly, things get more complicated when ray tracing and upscaling enter the mix.
That's especially true if you're comparing the 6800 XT with the likes of Nvidia's latest RTX 40-series GPUs, what with their fancy DLSS 3 frame generation technology. Taking the 4070 Ti as a comparison, that goes for at least $799 and usually more, making it roughly 40% more expensive, at minimum.
For plain raster performance, and therefore most games most of the time, the 4070 Ti is only 15 to 20% faster than a 6800 XT. So, the value proposition there is clear. But what about if you factor in upscaling?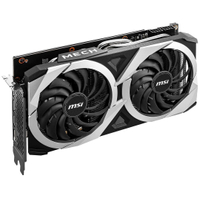 (opens in new tab)
MSI Mech Radeon RX 6700 XT | 2,560 stream processors | 12GB GDDR6 | 2,620MHz boost | $369.99 $349.99 at Newegg (save $20 with code: BDNW64) (opens in new tab)
The MSI Mech version of the RX 6700 XT comes with a tried and tested cooler. It's a dual-fan design, which is suitable for a graphics card of this standing. You also benefit from AMD's Raise the Game bundle with this particular Newegg listing, which hands you two games for free: Dead Island 2 and The Callisto Protocol.
Nvidia's DLSS is probably still superior to AMD's FSR. However, we'd argue that upscaling works better on 4K panels than 1440p panels. Often, it's hard to tell that you're running DLSS on a 4K panel, it really does look like native.
On a 1440p panel, however, it's typically more obvious that you've got DLSS or FSR enabled, it's just not quite as crisp as native. So, if you're gaming monitor is 1440p, then native performance is arguably pretty import.
Of course, you can still run DLSS frame generation without DLSS 3 scaling, so the more expensive Nvidia option still has that going for it. But it's a serious step up in money and if $500 or so is the top of your budget, then then 6800 XT is one heck of a buy by recent GPU standards.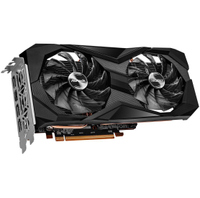 (opens in new tab)
ASRock RX 6600 | 8GB | 1,792 shaders | 2,491MHz | $249.99 $224.99 at Newegg (save $25 w/ promo code VGAEXCAA37) (opens in new tab)
The RX 6600 is a quality 1080p GPU now that it's price is creeping ever lower. At the sub-$250 point we're actually getting a budget graphics card that can deliver high frame rates in the latest games, at top 1080p graphics presets. At least AMD and Intel are bringing GPU pricing down.
If you can't stretch that far, well, funnily enough it's still AMD that should get your cash right now. The 6700 XT is a proper gaming GPU, not some cut-down hack with a skimpy memory bus. It can be had around the $350 and delivers excellent 1440p performance in a lot of games.
Right at the budget end of the genuine gaming GPU scale, it's still AMD we'd recommend. The plain Radeon RX 6600 can be had for $225 and unlocks decent 1080p performance in the latest titles.
All of which means that the GPU market isn't quite as depressing as you might think. even these cards are pricier than we'd like. But you do have options at vaguely sensible price points that simply didn't exist six months ago, let alone a year or more back.