15 great games you can't buy digitally
Re-releases of old games and DRM-free resurrections of bygone-era classics have become more and more common, but there's still a lot of important gaming history that just can't be bought digitally today. In many cases, these games are left to collect dust because of a snare of legal issues caused by bankruptcies, lawsuits, layoffs, and mergers. These situations lead to cases where one publisher owns the rights to the game's name, another publisher owns the rights to the game's sequels, and no one at all owns the rights to publish a game digitally. Others sit and wait because there's just no interest today in a minor success from 1993.
Abandonware can still be acquired, obviously, but we're hopeful that our favorites will eventually be better preserved, updated to run on modern PCs, and made widely available for future generations. Until then, here are some of our favorite games that primarily live on in used game bins, online resellers, and attic CD-ROM collections.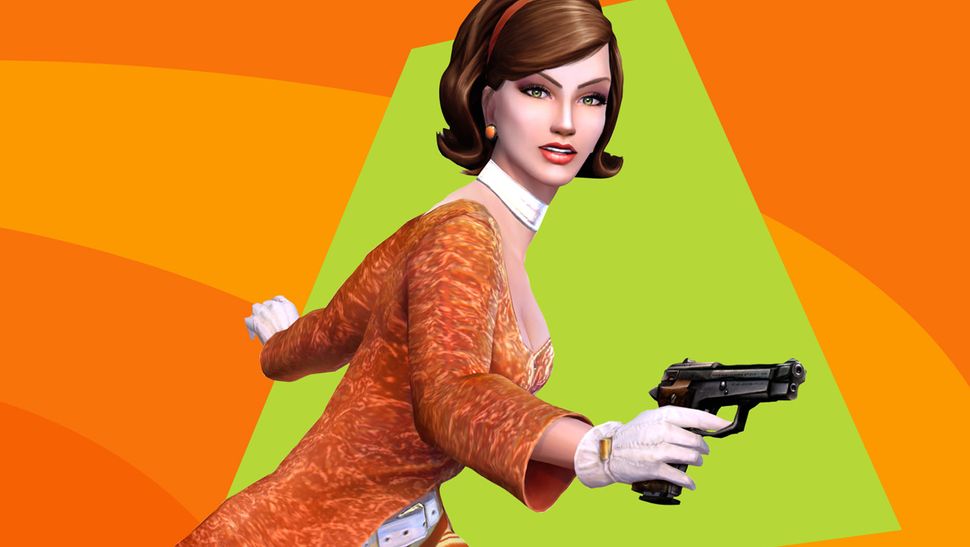 No One Lives Forever
Here it is right at the top: the game that everyone will yell about if it's not on this list. The Operative: No One Lives Forever was great in 2001 (we it), and its rarity and absence has made its footprint grow to mythological sizes. Like a videogame version of Calvin and Hobbes, its conspicuous distance from a world that loves it has made us idealize it.
NOLF is fast, silly, and it was a much-needed dose of fun and whimsy back when shooters were just getting more grim and dark every day. But sadly, it isn't coming back. NOLFs owners and part-owners and possible-owners have to sort it out, but the effort seems to be dead now. Let's pour one out for Agent Cate Archer.
Wolfenstein (2009)
The last 25-odd years have been a rough ride for Wolfenstein fans. After helping to start the first-person shooter genre itself in 1992, BJ Blazkowicz and his battle against occult Nazi forces trailed off a bit after 2002's Return to Castle Wolfenstein. In 2009, the series was officially rebooted by Raven and Activision. We thought it was great, but Wolfenstein 2009 got pretty and didn't sell well. Activision laid off employees at Raven and everyone was very sad.
Machine Games and Bethesda picked it up and ran with it for two more games, The New Order and The Old Blood—two fantastic shooters . Since the second and third entrees in this new series are so good, it's a shame that the 2009 version silently . The issue is most likely in the hand-off between publishers Activision and Bethesda. If there is any real effort or desire to bring the game back up for sale, it may have to wait while the lawyers stomp around and sort it out.
Freelancer
With Star Citizen, Chris Roberts is trying to revolutionize the space game amid a new renaissance highlighted by games like FTL, Elite: Dangerous, and Homeworld. But back in 2003, Roberts helped make Freelancer in a world that didn't much care about space games, and it's a classic. Freelancer allowed freedom and exploration and self-authored stories, and it remains beloved by virtual spacefarers.
Digital Anvil, the publisher at the time, went out of business in 2008, and the rights are most likely lost in that morass. Still, Freelancer lives on in history as an interesting artifact—especially if Star Citizen lands as strong as all those crowd-funding fans hope it will.
SWAT 4
Rainbow Six: Siege is great fun, a welcome reinvention of the Rainbow Six formula that had gotten a bit rote in recent years. But is Siege a great police game? Maybe not. For my money, the best police game around is 2005's SWAT 4. The biggest difference is one of philosophy: SWAT 4 remembers that players are supposed to be police officers, not commandos.
In SWAT 4, huge pains were taken to arrest and disarm bad guys instead of blowing them away with shotguns. This idea stuck out in 2005, and it would only be more conspicuous now. Cops in SWAT 4 worked with tools like cameras, tasers, and stun grenades to solve situations without calling the coroners and asking them to bring the big bus around. In the most difficult settings, a single dead bad guy would cause a mission failure.
SWAT 3 and other Sierra games have made their way online, but something is causing a snag to hold up SWAT 4. It's too bad, because the only time I get rewarded for not killing people nowadays is when I play Agent 47, a dude who is literally paid to kill people.
Mechwarrior 2
Mechwarrior 2 is a weird one on this list—unlike most other long-dead games, the Mechwarrior universe is still kicking as a free-to-play competitive shooter, Mechwarrior Online. We've got a lot of mechs shooting each other and exploding every day, but I still hunger for my nostalgic love of Mechwarrior 2.
For one thing, Mechwarrior Online doesn't have an insanely cool planet-hopping single-player career mode. Activision published and developed Mechwarrior 2 so it should be free to release it, but perhaps Mechwarrior Online has the Mechwarrior name locked down for now.
Black & White
Peter Molyneux has fully retreated from the unforgiving gaze of the press and the public, and seems to be a lost cause. This seems like a good spot to reminisce about Black & White, the god game that was truly divine.
Playing as a good or evil god in 2001 was a pretty big idea, and having a lovable pet monster who could battle and intimidate heathens was a stroke of genius. Looking around, there just aren't many other ways to literally Play God, and it's an experience that I'm really missing.
Talk of a Black & White 3 has bounced around for awhile, but Lionhead Studios was shuttered earlier this year, which seems to pretty well settle the matter.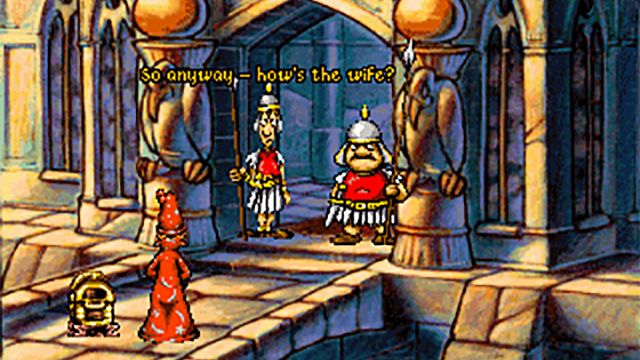 Discworld
It's no secret that we're big fans of Terry Pratchett's Discworld series, which is one of the most intricate and popular fictional worlds anywhere. And we're not alone: before he died in 2015, Sir Terry's books had sold 85 million copies.
Pratchett was also really into videogames, and a series of '90s adventure games set in Ankh-Morpork and the greater Disc were as bizarre and hilarious as their source material. Incompetent wizard hero Rincewind works to solve the dragon conspiracy (which headlined the novel Guards! Guards!) and has to work through some seriously baffling puzzles.
Now that Pratchett is gone, Discworld is essentially done. Even Pratchett's daughter, Tomb Raider writer Rhianna Pratchett, has said that she won't be writing more Discworld books. It's likely that new licensing deals are just as unlikely. +++GNU Terry Pratchett+++
XIII
Cell-shaded art styles have gotten more popular since XIII, the 2003 stealth shooter, but few of them pull off the charm and detail that XIII landed so perfectly. In addition to the great style, XIII's stealth mechanics rely on illustrated sounds follow the tap-tap-tap of guards' footsteps, and every headshot is illustrated with a pop-out panel like a comic book. Lovely.
XIII is based on an ongoing Belgian graphic novel series about an amnesiac special agent fleeing from a global conspiracy theory (who isn't named Jason Bourne). XIII's graphic novel style and great writing were brought directly into the game.
Unfortunately, the graphic novel genesis is probably part of the current hold-up. Ubisoft developed XIII, but it would likely have to go back to the negotiating table for a re-release, and it's probably not worth their time.
Metal Gear Solid 1
Kojima has been teasing us with snippets of his next big project, but we know that it sadly won't be a Metal Gear game. Metal Gear Solid V was great fun, and great to enjoy on PC a series that we usually think of as a native to the PlayStation. But it was not always thus. Metal Gear Solid 1 did release on PC with a bunch of extras, like extra VR missions and puzzles.
There's probably no chance of getting Metal Gear Solid 1 re-released on PC, though. Konami is notoriously uninterested in getting good ports out to PC (though MSG V turned out OK), so pulling the original Metal Gear out of the archives for our benefit is probably low on their to-do list.
Full Throttle
The 1990s were a different time, and I'm not just talking about parachute pants. Side-scrolling adventure games were everywhere, and LucasArts was the master them. Motorcycle gang adventure Full Throttle was chock full of 1995-era firsts: it was LucasArt's first game for Windows, its first game published exclusively on CD, and one of the first games to feature big-name actors for voice acting. It has Mark Hamill voicing a scheming corporate tool!
Even though great games followed after Full Throttle, adventure games started to lose popularity by the late '90s. LucasArts moved on to other things before digital sales hit their stride, then the company floundered a bit and became in 2013.
Of all the games on this list, Full Throttle is the story with the happiest ending. After Full Throttle (and almost all of the old LucasArts adventure games) spent many years being unavailable, DoubleFine began remastering and releasing the old classics, starting with and . Last year, they that Full Throttle would return sometime in 2017.
Basically every Star Trek game
Long before Star Trek Online, there was a huge rush of Star Trek games in the late '90s and early 2000s. Most were pretty terrible, but there were also a few gems: battle the Borg at Wolf 359 in the FMV interactive movie Star Trek: Borg, build your own starship and then fly it in Star Trek: Starship Creator, and set diplomacy to kill in Star Trek: Voyager - Elite Force.
Reading through articles about these games now, it's not hard to imagine what happened to them. The names of doomed developers pop up again and again: MicroProse, Interplay, Raven. For a while, book publisher Simon & Schuster published Star Trek games through a software imprint, but they shut that down in 2003. The rights to these old games are buried somewhere in piles of old legal claims and publishing responsibilities cycled between Simon & Schuster, Activision, Paramount, and CBS.
Now that Star Trek is (finally) coming back to TV and the movies keeps on making money, maybe the time for new releases of Trek classics is nigh.
Blade Runner
Just two years after launching Command & Conquer, developer Westwood released Blade Runner, an adventure game set in the same world as the movie all non-replicants know and love. Blade Runner was crazy-ambitious, with a working Voight-Kampff machine and the ability to use it on some random NPCs. If you get the test wrong and liquidate a human, things go very badly for you.
This kind of non-linear adventure was, to be frank, a little beyond Westwood's abilities in 1997. As Andy noted in his , "Blade Runner is a game with big ideas that almost always fall flat." Still, that didn't stop us from loving it: back in '97, we (it lost to Curse of Monkey Island).
Sadly, there won't be a Monkey Island or Fandango-style re-release of Blade Runner. EA bought Westwood in 1998 and then closed it down completely in 2003—somewhere in there, the original source code and assets were lost, .
Battlefield 2
Unlike almost every other game on this list, Battlefield 2 was not created by a long-dead developer or owned by a long-bankrupt publisher. Battlefield 2, like all of the other Battlefield games, is wholly owned by EA, a little operation you might still hear from occasionally. Considering that EA has selling games directly through Origin, there's literally no one else in the world standing in the way of a Battlefield 2 digital release.
So what gives? Both Battlefield 2 and Battlefield 1942 ran multiplayer services on GameSpy, which sadly . Fixing these classics to work outside of GameSpy may be a larger project than EA wants to tackle. Though multiplayer servers probably wouldn't be worth the cost to get them running, there's a pretty solid single-player campaign trapped inside Battlefield 2, which is pretty tragic.
The spirit of Battlefield 2 lives on in a few places, though, most notably Squad, which began as Project Reality, a mod for Battlefield 2.
Mafia
Though the Mafia name is still going strong (well… ) with Mafia 3, 2002's Mafia made a , generated a lot of attention, and yet can't be found for purchase online today. Mafia was a big deal because it took all of the same parts as Grand Theft Auto—third-person perspective, explorable city, gritty violence—and offered them as part of a less campy atmosphere. Grand Theft Auto is always winking at you ironically, but Mafia always had its feet on the ground, and people loved it for taking itself seriously.
Once again, the problem most likely lies in a mysterious layer of legal ambiguity. Mafia's developer, Illusion Softworks, was purchased by 2K and renamed 2K Czech in 2007. Mafia's publisher, Gathering of Developers, was also purchased by 2K and suffered through a rocky relationship with its new corporate overlords until it was finally disbanded. Did the rights to Mafia successfully move through all of those changes? Only 2K really knows for sure, and so far they haven't made any moves to revive the old classic.

Castle of Dr. Brain
Sierra is one of the oldest names in the games business, so it's not really a surprise that its oldest games have been bought and re-bought and handed around many times, and a few of them have gotten lost or forgotten along the way. Sierra is responsible for some of the greatest '90s games around, like Police Quest, King's Quest, and Gabriel Knight—and these games have all resurfaced online.
Then there's the Castle of Dr. Brain. The Dr. Brain series, and especially the first game, Castle of Dr. Brain, were a big hit. In 1991, combining education and video games was still a pretty fresh idea, and adventure games starring a dopey professor were a good way for Sierra to appeal to a lot of people all at once.
Even though I love me some Dr. Brain, I have to admit that his time is, perhaps, long past. Adventure games are a small niche; puzzle games were revolutionized by Portal and Braid; and educational games may never escape the gravitational pull of sandboxes like Kerbal Space Program and Minecraft. Even if Dr. Brain did rematerialize here in the future, I'm not sure he'd be able to navigate this new world.