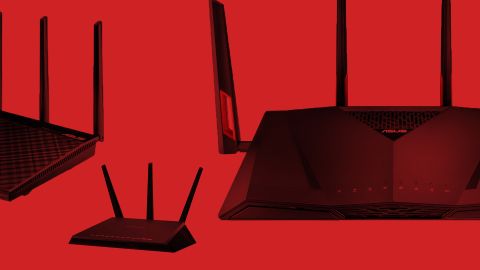 Is there anything less fun than fiddling with a crappy, slow router? We say no, which is why we recommend spending the money on a great router for gaming. You want a reliable, fast network for playing games online, even when you're streaming. Thankfully, routers have come a long way since the early (and awful) days of 802.11g wireless.
Bristling with features and bizarrely sculpted, today's alien-looking routers can replace storage servers, provide antivirus security, combine ports for increased speeds, and perform other advanced tricks far beyond the bland hardware they replace. We've tested more than a dozen of the best to tell you which ones to get.

The best all-around gaming router
8 glorious LAN ports with built in aggregation
Superfast Wi-Fi transfer rates
Range on par with Netgear
Gaming features baked into firmware
Sticker shock
So new its sure to hurt
Tri-band radio should be present at this price
While all of the routers here mention gaming features, ASUS's newly released, $299 RT-AC88U is one of the few that's actually designed for gaming from the ground up. Clad in ROG-style black with red accents, the large console houses a hungry-man portion of 8 LAN ports, a blessing for gamers looking for lag free local co-op or hosting their own servers.
The rest of the hardware includes USB 2 and 3 ports (up to 110 MB/s) a beefy dual core processor and 4Tx4R antennas serving dual, high speed Wi-Fi streams. ASUS tout the inclusion of gaming optimized QoS controls and the WTFast gaming optimized WAN client built directly into the firmware, so PC-side installation is not required.
Read

More

The best budget router under $100
Impressive 802.11ac feature set for price
Snappy Wi-Fi performance
Cute robot-head looks
No USB 3
Simplistic firmware
No MU-MIMO or other advanced wireless modes
For many with light networking needs, the best budget router is the free one that comes with their internet service, but gamers and enthusiasts aren't likely to be satisfied with a handful of LAN ports and wimpy 802.11n Wi-Fi.
The first step on the road to router redemption comes from TP-Link in the form of the $90 Archer C7 AC1750. The Archer C7 mimics the multi-antenna style of more pricey routers and delivers most of their features too, or at least the important basics. While it's not well suited for sustained high-bandwidth use, it's ideal for light to moderate networking situations and delivers plenty of useful features.
Read

More

The best router for under $150
Best range and speed in the budget class
Excellent reputation for stable performance
ASUSWRT allows deep firmware massage
Old even by router standards
List price outstrips value
Slow USB transfer speeds
No beamforming or MU-MIMO
The next step up the line is ASUS's legendary RT-AC66U, which is down to around $140 now, a reasonable $50 upgrade over TPLink's Archer C7 in terms of stability, range, and real world Wi-Fi speed. While ASUS has similar specs on paper, the RT-AC66U is better designed to handle multiple client, high-load situations, and, thanks to ASUSWRT (ASUS's in-house router BIOS) it's more flexible when it comes to firmware options. QoS is much better implemented here, for example.
Before falling headlong into May-December love, there are caveats to consider. The RT-AC66U may be well regarded, but it's an elderly, single-core design, so don't expect speedy USB transfer rates or the latest Wi-Fi tricks beyond the 802.11ac specification all the routers here share. If you want MU-MIMO support or beamforming you'll need to move upmarket. That's the catch behind the low cost.
Read

More

Best mid-range router under $200
Best range in class
Dual core CPU
Speedy USB 3.0 implementation
Simple and stable firmware
Firmware wasnt always so stable in the past
List price outstrips value
Moving past the $200 barrier into the midrange of the router market means making some tough decisions about what advanced capabilities you're willing to buy into and which you're willing to forgo. This hotly contested segment is a wild west of features and shapes, but for the real do-it-all routers you'll need to go another step up the money ladder. Keeping that specialization in mind means more picks than usual here, each with a specialty all its own. There are even a few honorable mentions.
The first midrange selection, Netgear's R7000, is borderline budget hardware with a typical street price of $180 but an official listed sticker around $250. The entry-level Nighthawk sports dual cores, a swift USB 3.0 implementation for connected devices and sweetens the deal with some of the best range and stability in the dual-band class.
Read

More

Best high-end router over $300
Unmatched coverage and distance throughput
6 LAN ports
Full speed USB 3
Glowing blue antenna array
Crazy price, bleeding edge
Not as fast as ASUS
A bit too restrained visually
Two routers dominate here, but there's really only one winner. Netgear's brand new Nighthawk X8 takes the crown for high-end routers after a tough battle in the lab with ASUS's equally new and impressive RT-AC5300. As always, it's a tale of Netgear's range and smooth firmware experience vs ASUS's superior transfer speeds and more detailed options, but this round had a few additional surprises.
The Nighthawk X8 blanketed the test area with all-encompassing MU-MIMO Wi-Fi coverage and produced an impressive signal, the strongest measured during the showdown. While the transfer rates were slightly behind some of the others, those speeds were sustained for a healthy distance. I maintained a useful signal out of the building and well down the street, a feat the other routers could not reliably match. USB-connected hard disk performance was also impressive, clocking in at over 100 MB/s for the USB 3.0 port and pushing the gigabit Ethernet connection used during the copy to its limit.
Read

More
What you need to know about routers: learning to play the numbers game
Wi-Fi Speed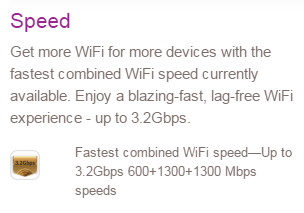 At first glance, the additive labels used for router performance seem misleading, but they actually serve a useful purpose once you understand what you're looking at. Since they represent multi-device performance rather than a single network mega-stream, it helps to have the corresponding cumulative network load that you're placing on the router in mind and ready to compare. Wireless bandwidth doesn't work the way this advertisement suggests, but these are still useful numbers once you know what they mean.
Take note of the various networked hardware that uses the router, particularly heavy hitters like streaming boxes or home servers. While each router stream can theoretically handle up to 32 clients, they all share the stream's total bandwidth, so it doesn't take too many busy connections to bring a stream to its knees.
Checking bandwidth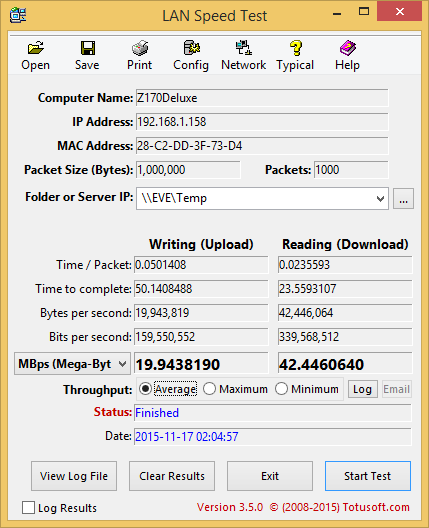 A healthy 802.11ac Wi-Fi stream accommodates roughly 20-40 MB/s of bandwidth in the real world, with older standards pushing around 10-15MB/s, so the math is simple. Just add up the bandwidth needs on the client side and compare to what the router provides, leaving a comfortable margin for extra devices in the future, client upgrades, and some overhead.
If you have more active devices than your router can handle simultaneously, it's time to consider upgrading to the extra streams a more muscular router provides. At this point, dual streams are a minimum requirement, but routers with three and even four streams are now available and provide enough concurrent wireless bandwidth for any reasonable needs.
Bandwidth-happy items like security cameras and Roku boxes affect shared bandwidth adversely, so consider giving these a separate network band of their own to play with or running an Ethernet cable for the worst offenders. Keep in mind that while these measures reduce bandwidth overhead for some wireless steams, the router is still processing the data, so router CPU performance and other areas are still affected.
Current Events
Two current technologies you'll see mentioned frequently in router literature are MU-MIMO and beamforming. While these sound highly technical, they are both pretty easy to understand
Multi-User, Multiple Input, Multiple Output doesn't sound much better than MU-MIMO, but it does describe the idea behind the technology well. Current Wi-Fi serves one client at time, swiftly switching between multiple clients when demand for bandwidth grows. MU-MIMO allows a router to stream to several clients simultaneously, at least in the downstream direction. This greatly improves response and available bandwidth, although all clients need to be MU-MIMO-aware, nearby, and preferably stationary.
Beamforming takes advantage of multi-antenna router designs to pinpoint the direction a signal is coming from and adjusts transmission power budget to accommodate that network client, rather than transmit the Wi-Fi signal equally in all directions. This allows a more efficient use of the transmitter's limited range when user count is low.
Old vs New: It isn't so simple
While old PC motherboards and CPUs quickly leave the scene when new ones come along, the router market is different. Routers tend to have long lifespans, and most developers regard firmware as works in progress. This makes the break in period for new routers unusually long for the world of high technology. Many products don't reach full maturation for up to a year post release, after they have been supplanted in the product line-up by the latest and greatest flagship.

Leisurely firmware development cycles also mean treading carefully when fresh models are released. If stability is what you're after, the best place to start is with a popular older router rather than a newly designed one packed with what amounts to beta code. Support boards are filled with lost souls consigned to new-router purgatory for months at a time, waiting for firmware updates to fix critical features. Seriously, this happens a lot.
Open source alternatives, your router's secret twin
PCI Wi-Fi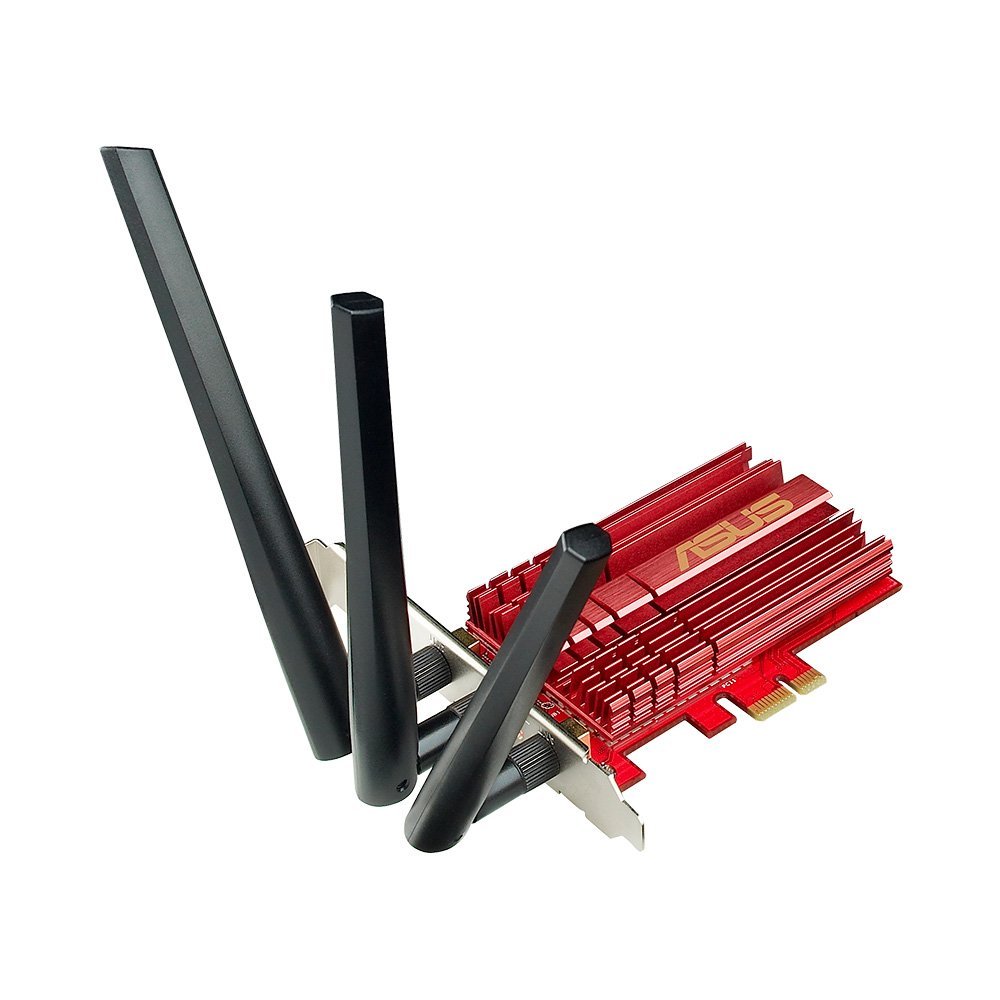 Routers run on a BIOS-like firmware that's usually accessed via a web browser, although some require special client-side software, such as Apple's stalwart Airport Extreme. The included firmware is usually proprietary, but it's not the only one you can run to operate most routers' hardware.
Networking enthusiasts have cooked up open source alternatives like DD-WRT or Tomato that can be flashed onto most routers and provides a wealth of options usually not found in factory firmware. Processor overclocking, Wi-Fi radio overboosting, and other low-level options can wring extra performance out of factory designs, although don't expect warranty coverage if anything goes wrong.
Due to its open-source nature, DD-WRT is frequently updated to support the latest popular networking features and patched to keep the package highly secure, but quirks exist depending on the hardware and community support for it. In this respect, it's a lot like flashing an Android phone with CyanogenMod.
If DD-WRT interests you, stick with older routers such as ASUS's RT-AC66U or go with newer routers expressly designed for open-source tinkering, such as the new Linksys WRT1900ACS.
Need more network? Dangle a dongle or cram a card.
Once you've selected a router, it's smart to think about how your PCs will connect to it. LAN connections are simple enough (Is the cable long enough? Are there enough ports?) but for Wi-Fi, older laptops and many desktop systems will need to retrofit newer networking technology to see any serious performance increases. Fortunately 802.11ac USB adaptors are cheap and readily available from a variety of vendors.
Netgear and ASUS make the two of the best, boasting dual-stream performance and adjustable antennas along with other extras such as a desktop dock. These dongles manage impressive transfer speeds via USB 3.0 interfaces, but tend to be large and bulky.
PCI cards are also an option and offer slightly faster performance, assuming your desktop system is placed close enough to your router to take advantage of that.
For simpler, low-profile needs, Edmax and TP-Link make popular 802.11n adaptors smaller than wireless mouse receivers where size is more important than speed.
How we tested
All the routers in the guide underwent extensive hands-on evaluation including synthetic benchmark testing and real world usage in high-traffic network situations. Hardware was flashed to the latest firmware versions and tests repeated several times to expose and eliminate outlier results. Each of the firmware features, such as VPN support or high speed AP bridge modes, were examined and evaluated for functionality and stability issues.
During tests all products are prepared with similar settings and encryption levels to normalize performance variables, with the same client devices used in all procedures. Wireless tests include performance and range sensitivity measurements from 5 increasingly more difficult reception areas that represent a typical office or home space along with a nearby outdoor location. All areas are controlled environments with no foot-traffic or other factors inhibiting consistent results.
For mobile device testing, Samsung's Galaxy Note 4 running Wi-Fi Speed Test Pro and Wi-Fi Analyzer Pro provided distance, sensitivity and throughput numbers for 802.11ac while Microsoft's Surface Pro covered earlier 802.11n protocols via built in Wi-Fi. USB network adaptor performance was provided by Netgear's AC1200 A6210 USB 3.0 adaptor, and desktop wireless tests utilized the built in high speed 3T3R Wi-Fi in ASUS's Z170 Deluxe motherboard, which also provides the dual Intel LAN adaptors that were used to test Ethernet port speed and aggregation features.
USB storage speed tests were performed with a Seagate Backup Plus desktop external USB 3 hard disk and several 2 gigabyte files, with all USB accelerating firmware functions enabled, such as "Reduce USB 3.0 Interference – Disabled" on ASUSWRT based products.