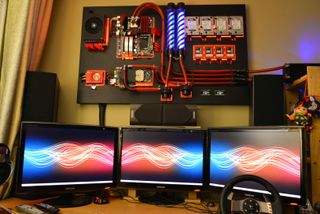 As part of Build Week, we've told you why you should build your own PC, listed the components we'd recommend, and more. But that's mostly practical advice. How about some wildly impractical, totally crazy PC builds to cap off the week?
Every week on Show Us Your Rig, we spotlight an impressive PC setup from someone in the games industry. You even showed us your rigs, and some of them are crazy impressive. But it's hard to beat the rigs collected here. We went around the web's most dedicated build communities and contests to pick out 15 of our favorite PC builds ever, from case mods to custom desks to...well, one of them's a Transformer. 'Nuff said.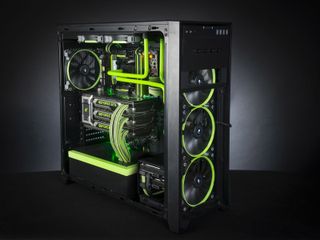 Image via modders-inc.com
Created by modder Etienne Hostein, his "Green Way" project is how we imagine Nvidia as a company would manifest itself in computer form. It uses a 3-way SLI setup of GTX 970 GPUs, watercooling, and an overall aesthetic inspired by Nvidia's black and neon green colors.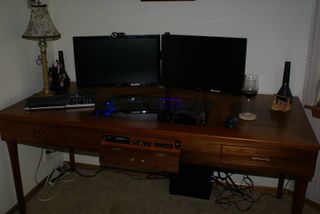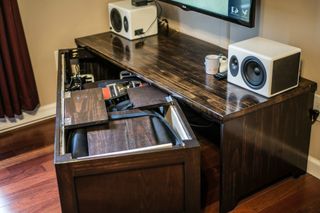 This battlestation is the perfect mix of form and function. Dubbed the "Flying Coffin," it marries Redditor recoilfx's desire for a fully functional flight-simulator setup with his wife's desire for a clean and tidy living space. The result: a battlepit that can be completely stowed away. Click here for more pictures of the build.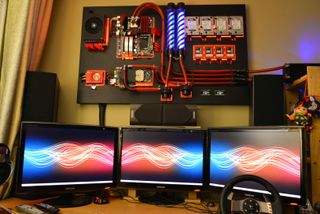 Image via Reddit user GoodAtIt
This rig is one of the most impressive wall-mounted machines we've ever seen. It features an Intel Core i7 950, Asus Rampage III Extreme mobo, 2x AMD HD7970 GPUs, 6x 2GB Corsair Dominator RAM, 4x 120GB Corsair Force GT SSDs, and an extensive watercooling setup. GoodAtIt estimates the total cost for the build at around $4,000 -- $2,500 for hardware and $1,500 for the watercooling and miscellaneous parts. Check out this post on Overclock.net for an extensive build log.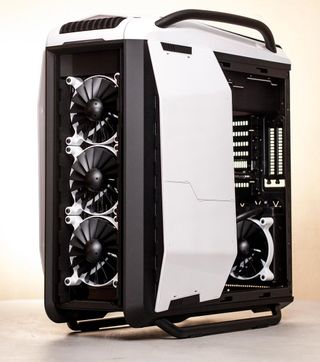 Image via modders-inc.com
This custom crafted casemod, dubbed Project Sabertooth, took home first prize in the tower category of Cooler Master's 2013 casemod competition. The inspiration, modder Mhike Samsin said, was to build a minimalist designed case with a monochrome color scheme. Considering the thing looks like something out of Aperture laboratories, we'd say he succeeded.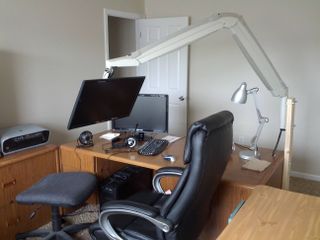 Image via Reddit user darwinfishohio
This battlestation uses a repurposed medical arm as a super-flexible monitor stand!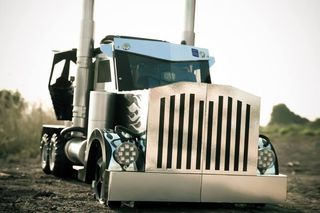 Images via modder Suacho
This big rig won second place in the scratch build category of Cooler Master's 2013 casemod competition, where builds must use a prefabricated case, but must be unrecognizable compared to its original design. We think second place is too-small an award--it's an effing Transformer!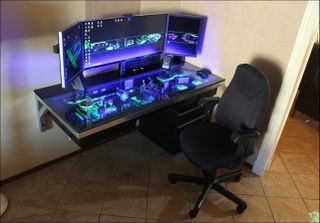 Image via Redditor L3pje
Here we have the "L3p D3sk", one of the most famous PC mods of all time. So famous, in fact, that it inspired a commercial product: the Cross Desk from Red Harbinger. In its most recent incarnation, the L3p D3sk has received a few major upgrades, namely a pair of ASUS GTX 980 graphics cards and the 34-inch widescreen monitor seen above.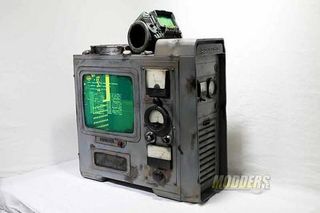 Image via modders-inc.com
Everyone loves a good game-themed casemod, and this Fallout 3 behemoth from Dewayne Carel is one of our favorites. It modifies a Thermaltake s41 Urban case into something straight out of the Capital Wasteland, Pip-Boy and all.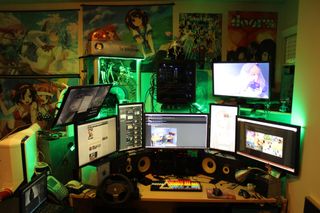 This battlestation from redditor Dr_Nic_T61 features seven monitors and several laptops, but our favorite part is the custom Pink Floyd keyboard.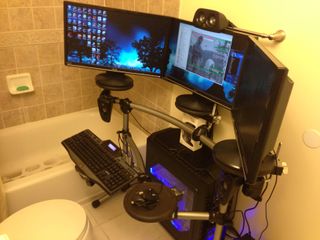 Redditor Grey_dit claims this battlestation was set up as a joke. Joke or not, it's an excellent use of space.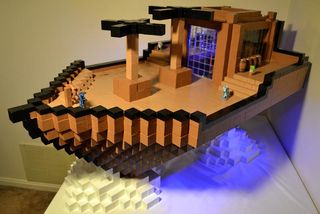 This rig comes from 8-bit builder extraordinaire Thorkon, who is known for his Minecraft-looking custom cases. This one is modeled after a Minecraft recreation of Cecil's airship from Final Fantasy IV, and uses 2,400 1-inch wooden cubes. Check out a timelapse of the build below: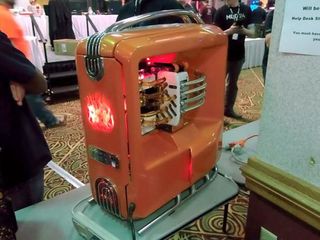 Image via modders-inc.com
Dubbed the Cosmos Cruizer, this casemod from Brian "Boddaker" Carter won the case mod contest at PDXLAN 2015, the largest LAN party in the Northwest. The build modifies a Cooler Master Cosmos case into a retro-styled hotrod with a screaming orange paintjob. We like.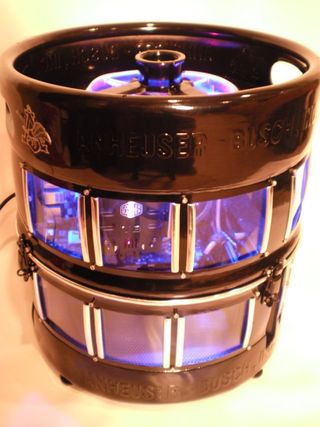 Images via Ben Lzicar
This build repurposes an Anheuser-Busch beer keg as a cylindrical computer chassis. Created by modder Ben Lzicar, the keg ditches beer for glowing PC innards, but not without a handy bottle opener mounted on the outside!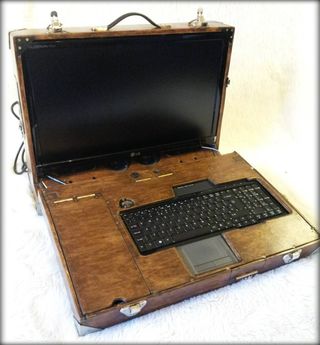 Images via modders-inc.com
This custom build is one of the most elegant portable PCs we've ever seen. It's designed to fill the gap between desktop and laptop -- it has all the advantages of a full-size PC, but plugs in with a single cord and and is built inside a sleek wooden briefcase.