XDefiant, Ubisoft's Call of Dutyish free-to-play FPS, didn't have the most graceful entry into the world, thanks to its reveal's vibes missing the mark. But to Ubisoft's credit, it's seemed like they've been putting the work in: after reemerging into the public eye with its closed and open beta tests, ditching the Tom Clancy branding and earning more positive attention than you might've expected after its awkward first showing.

XDefiant might have shed the Clancy name, but it's bringing in all kinds of classic Ubisoft factions. Like... those guys from the Division who like to set stuff on fire. Or some of Sam Fisher's coworkers. Don't give me that look. People like it! The guns feel good!

Here's everything we know about XDefiant.
Is there an XDefiant release date?
We don't have a specific launch date yet, but Ubisoft has announced a tentative XDefiant release window targeting late summer 2023. There's an inherent iffiness in what constitutes a release for a free-to-play live service game nowadays, but it shouldn't be long before that window either condenses to a concrete date, or gets pushed back.
Is there an XDefiant open beta test?
Sadly, you just missed one: Ubisoft just finished its June 2023 XDefiant open beta, following on the heels of a closed beta in April 2023. The open beta featured netcode revisions, an improved controller experience with refined aim assist, and general improvements to the gameplay experience. We still don't know when precisely XDefiant will get its official release, so who knows: there might be a chance of a second open beta closer to the end of the summer. Or we might not.
XDefiant trailers
Here's an XDefiant highlight reel from Ubisoft Forward 2023
This compilation of streamer reactions to XDefiant's closed beta playtest is a good sampler for how the game plays. Between the shouts of dudes amazed that the bullets from their guns kill guys, you can see how well Ubisoft is emulating the Call of Duty experience, circa some time around 2010. And that's a compliment.
Check out some other XDefiant footage
XDefiant's reveal trailer became an easy target for internet dunks as people reacted to the game's cheesy aesthetic and the hilariously cringy phrase "fast-paced firefights meet punk rock mosh pits." Aside from a questionable attitude, the concept of XDefiant is sound: this is Ubisoft's take on the Call of Duty style FPS spearheaded by some of the folks that used to make those games at Activision. Later in 2021, IGN shared a few minutes of uncut XDefiant gameplay shortly.
XDefiant gameplay and factions
What exactly is XDefiant? How does it play?
XDefiant is a free-to-play, 6v6 arena FPS, featuring playable character classes pulled from factions across Ubisoft franchises. If you watch any amount of gameplay, you'll notice XDefiant plays a hell of a lot like Call of Duty multiplayer. It has the same speed, a similar time-to-kill, flat-ish maps with limited verticality, and customizable loadouts. It's got a similar set of objective-based gamemodes, too. What sets it apart from most CoD games are its Factions and character abilities, which we'll touch on more below.
What are XDefiant's factions?
XDefiant features Factions, which function like character classes by determining which passive, active, and Ultimate abilities you'll have available during play. Your Faction choice is separate from your loadout, and can be swapped in-game like you can swap loadouts.

Originally, the available factions were all from the Clancyverse, but Ubisoft has dropped the Tom Clancy branding to pull in factions from its other franchises. Ubisoft has said they'll be adding more factions with seasonal updates.

Here are the Factions currently available in XDefiant:
Libertad (Far Cry): Freedom Fighters from Far Cry 6's Yara. They have a healing-focused toolkit, including a Passive ability that slowly heals nearby teammates with "the contagious spirit of freedom." Sure!
Phantoms (Ghost Recon): Apparently Ghost Recon is something you can defect from. The Phantoms are ex-Ghost mercenaries with a Tank-like ability suite, with extra health and deployable shields.
Echelon (Splinter Cell): These are support characters and colleagues of our man Sam Fisher who can evade enemy detection and reveal enemy locations.
Cleaners (The Division): Those guys from the Division who were into starting fires. Here, they have a damage-focused ability kit, because they're still into starting fires.
DedSec (Watch Dogs): The hackers from Watch Dogs has gotten a lot more militant; here, they've got a disruption-based ability kit, able to hack enemy deployables and disrupt enemy HUD/radar.
According to Ubisoft's XDefiant post-release roadmap, there will be more factions on the way after the game's 1.0 launch, releasing alongside its seasonal content drops.

Worth noting: it doesn't seem like all of XDefiant's factions will be immediately available. DedSec, in particular, seems like it'll need to be unlocked through gameplay at launch. It's safe to assume later faction additions will too.
XDefiant has loadout customization
Like Call of Duty, players can build custom loadouts and equip various attachments to guns. It's a fairly standard arsenal of assault rifles, LMGs, sniper rifles, shotguns, and SMGs. Gunsmith customization has seven attachment slots: optics, barrel, grip, muzzle, front rail, magazine, and stock.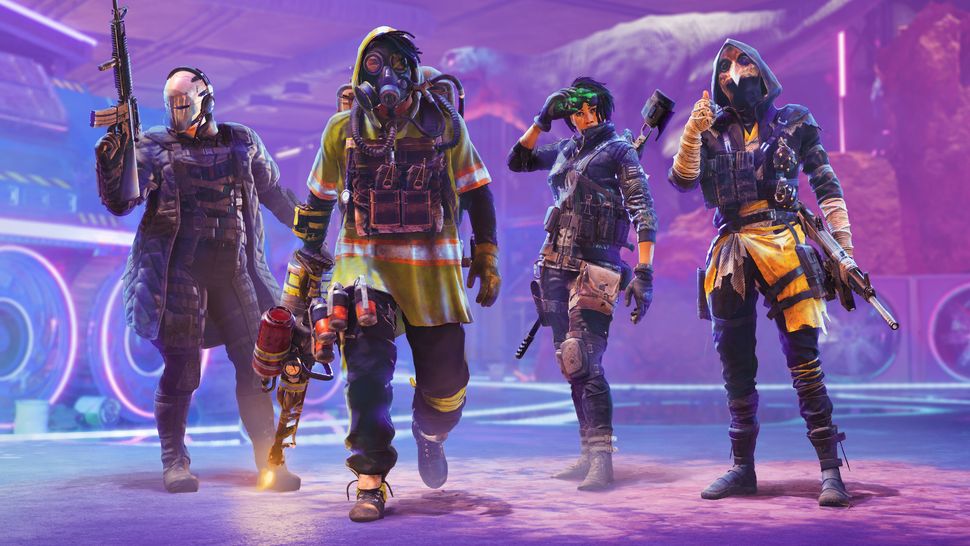 Crossplay is "expected" day one
Ubisoft is continuing its habit of adding crossplay to its games with XDefiant, with crossplay present in current playtests. It's not fully clear what crossplay limitations, if any, will be present in the full release.
XDefiant is exclusive to the Ubisoft Connect app on PC
A Ubisoft rep told PC Gamer that XDefiant will only be found on the Ubisoft Connect store on PC. It's unclear if the game will come to other storefronts at some point, but "for right now," it's a Ubisoft Connect exclusive. All of the publisher's other multiplayer games can be found on either Steam or the Epic Games Store, making XDefiant a special case.