Asus has unleashed a splurge of premium new kit at the Gamescom show in Germany. The highlight has to be the Asus ROG Swift OLED PG32UCDM gaming monitor, a 4K 32-inch OLED beauty. Asus also announced 34-inch and 49-inch OLED panels, plus motherboards, Wi-Fi routers and plenty more.
Asus reckons this is the world's first monitor of its type and intriguingly the PG32UCDM uses Samsung QD-OLED panel technology rather than the LG WOLED alternative. Thus far, Asus has been in camp LG for its OLED gaming monitors.
Specs wise, Asus is claiming 1,000 nits peak brightness in a 3% window, with 250 nits full screen sustained brightness. That's very much in line with existing QD-OLED monitors, such as the Alienware 34 AW3423DWF, so it's good to see the tighter pixel density of 4K on a 32-inch panel hasn't nerfed the brightness.
For refresh you get 240Hz and Asus quotes response at what is quickly becoming the customarily fast 0.03ms time claimed by many OLED gaming monitors. Throw in USB-C with 90W power delivery, DP 1.4 and HDMI, plus a KVM switch and you have one heck of a package.
Asus is also claiming exceptional cooling thanks to a custom heatsink plus a novel graphene pad that covers the entire rear of the QD-OLED panel. It's good enough that the monitor doesn't need a fan.
Another interesting feature is Uniform Brightness. It's an OSD setting that ensures that the panel's brightness doesn't jump around, for instance as you resize a bright coloured window on the desktop. It's something many OLED monitors suffer from and can be very distracting.
The only problem is that achieving uniform brightness inevitably limits overall brightness. It's a feature likely aimed at day-to-day computing rather than gaming and HDR video. But it will be interesting to see how bright the panel is with it enabled.
But the real disappointment is availability. The Asus ROG Swift OLED PG32UCDM isn't out until early next year. As for pricing and availability, that hasn't been nailed down but we're told something in the region of $1,500 is likely.
Overall, this looks every inch the premium OLED gaming panel we've been waiting for. The relatively high pixel density should fix the slightly soft fonts that other lower resolution QD-OLEDs suffer from thanks to their non-standard sub-pixel layout.
Generally, we prefer QD-OLED to WOLED for gaming monitors for the former's superior full-screen brightness. We also like glossy coatings on OLED monitors, so it good to be able to report this thing has a glossy rather matte coating for maximum contrast and ultra-inky black levels. What's not to like? Well, apart from the price.
Next up is the Asus ROG Swift OLED PG34WCDM. It's a curved 34-inch 1440p ultrawide that you could be forgiven for thinking is yet another such screen based on Samsung's QD-OLED tech, just like that Alienware 34 AW3423DWF. Except it's WOLED and LG-based.
Consequently, it hits higher peaks of 1,300 nits. Asus isn't quoting full-screen brightness, but it will likely be lower than its 32-inch QD-OLED cousin. The PG34WCDM is also 240Hz and rated as 0.03ms for response. A little surprisingly, this model gets a matte coating, not glossy, something that may reflect panel supplier LG's preference rather than Asus's.
The PG34WCDM will appear by the end of the year, apparently for around $1,300 to $1,400 which is a bit on the pricey side given the Alienware 34 can be had for sub $1,000.
Screen queens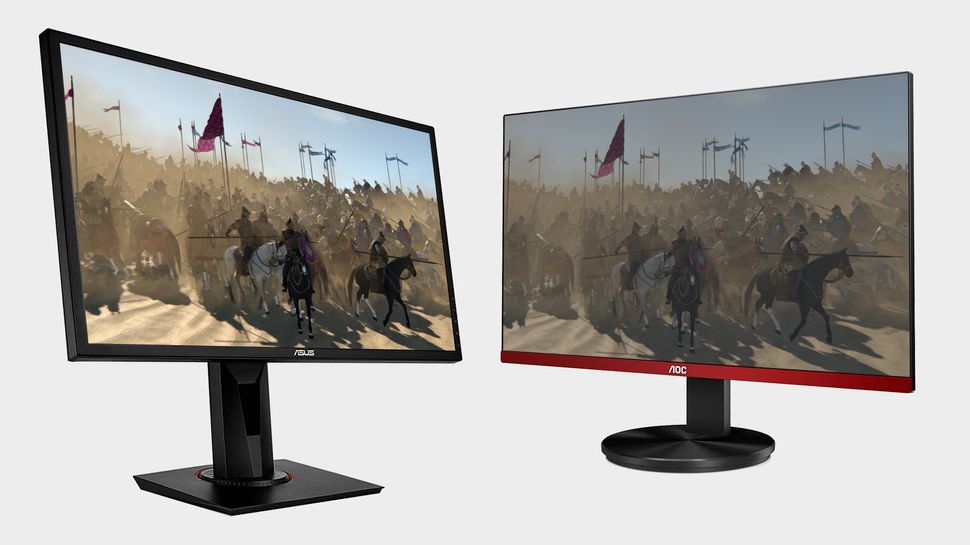 Best gaming monitor: Pixel-perfect panels for your PC.
Best high refresh rate monitor: Screaming quick.
Best 4K monitor for gaming: When only high-res will do.
Best 4K TV for gaming: Big-screen 4K gaming.
Rounding out the trio is the Asus ROG Swift OLED PG49WCD. It's a 49-inch 32:9 uberwide panel and the least interesting of the three in that it uses the 49-inch QD-OLED Samsung panel as seen in Samsung's own OLED G9, except it runs slower at 144Hz rather 240Hz.
It's still likely a stunner, it just doesn't bring anything new that we haven't already seen. As such, it's the first one out the door in October and has an official price of $1,499.
All told, it's a pretty drool-worthy if expensive trio of OLED monitors and it's interesting to see Asus going for both Samsung QD-OLED and LG WOLED panel tech.