The whole Arm-versus-x86 thing just got a lot more interesting. Qualcomm has announced its much anticipated new Snapdragon X Elite SoC. Designed specifically for laptop PCs, it's the first significant output of Qualcomm's Apple-influenced Nuvia subsidiary, debuts a brand new CPU core architecture known as Oryon and comes with performance claims that are fairly eye popping.
In fact, it's so fast by Qualcomm claims (via Anandtech), it begs the question of whether this, finally, is the chip that truly kickstarts the PC's transition from x86 CPUs to Arm chips. The comparison with Apple's M1 and M2 series chips is interesting, too. Then there's whole thing with Nvidia and AMD tooling up to release Arm chips. Hold those thoughts, we'll come back to them.
Qualcomm reckons the new Snapdragon X Elite's 12-core CPU is slightly faster overall in Geekbench 6 multithreading than an Intel Core i7 13800H, a 14-core chip. Alternatively, Qualcomm says the X Elite can match the 13800H's performance at a massive 65% power reduction.
Over on the GPU side of things, Qualcomm is claiming the chip's new Adreno GPU offers 80% more performance in 3D Mark Wildlife than AMD's 780M GPU, the integrated graphics found in the Phoenix APU that powers the new generation of gaming handhelds, like the Asus ROG Ally.
Again, Qualcomm alternatively claims that the Snapdragon X Elite SoC can match the AMD 780M GPU's performance at 80% less power consumption. Truly spectacular stuff, if true.
Qualcomm hasn't released a huge amount of information when it comes to the design and architecture of the new chip. But there are a few interesting details that both add to the picture and create questions of their own.
The new chip has 12 of the mysterious Oryon cores. These have been cooked up by Nuvia, the startup populated by engineers who all worked on Apple's Arm-based A series and M series chips.
Qualcomm acquired Nuvia in 2021 and the Snapdragon X Elite and its Oryon cores are the first explicit product of that acquisition. Anyway, technically speaking the first detail of note regarding the Oryon cores is that, well, they're all the same cores. In other words, they're not a mix of performance and efficient cores like Intel's latest CPUs, Apple's M1 and M2 chips and most smartphone SoC's including Qualcomm's own Snapdragon products.
The whole chip is built on 4nm TSMC silicon and the peak clock speed is 4.3GHz on two cores and 3.8GHz on all 12 cores. That's very quick compared to Apple's cores in the M1 and M2 chips, which are arguably the most comparable architecture being based on the Arm ISA, but slower than the fastest x86 CPUs from AMD and Intel.
Notably, Qualcomm didn't make single-thread performance comparisons with existing PC processors. But it did claim that the Snapdragon X Elite can match the single-thread performance of Apple's M2 Arm-based chip at 30% less performance.
On the GPU side of things, there are even fewer details. But one spec item is interesting. Arm says the new Adreno GPU delivers 4.6TFLOPS of compute. That's only just over half the 8.9TFLOPS AMD claims for the 780M GPU in its Phoenix laptop and handheld chip. And yet somehow Qualcomm is also making that 80% performance advantage claim for 3D Mark. Curious.
As for memory support, the Snapdragon X Elite SoC has a 128-bit bus and DDR5 support for a total bandwidth of 136GB/s. That's one metric by which its miles behind Apple's SoCs. The basic Apple M2 has comparable bandwidth. But the M2 Pro offers 200GB/s and the M2 Max, which also has a 12-core CPU, can hit 400GB/s.
Moreover, a 128-bit bus and 136GB/s of bandwidth implies a certain limit to outright graphics performance.
Then there's the Hexagon NPU, or neural processing unit, for accelerating AI workloads. Qualcomm claims Hexagon is good for 45TOPS or trillion operations per second. That's nearly three times Apple's claim of 16 TOPS for the NPU in the M2, M2 Pro and M2 Max chips. AMD's Phoenix APU also has an NPU, but AMD only claims that it's good for 10 TOPS.
Taken in the round, then, if Qualcomms claims are true, this new chip is very competitive indeed with the best from Intel, AMD and Apple. But is it good enough to have an impact in the PC market?
Expressly designed for laptops, it's far from the first Qualcomm chip to have a go at making inroads into the PC market. All of Microsoft's Surface devices with Arm-based chips use Qualcomm Snapdragon CPUs, for instance.
But thus far, those Qualcomm chips have been pretty modest performers with CPU cores derived from off-the-shelf Arm designs. The thing about the Snapdragon X Elite is that it is supposedly an all-new fully custom CPU design.
Perhaps the most intriguing question is whether it will be fast enough to deliver a decent experience running legacy x86 code and apps. Apple's M1 chips did a very good job of that, making the transition away from Intel CPUs on Macs to Arm-based Apple silicon much smoother.
If the Snapdragon X Elite can run any old Windows x86 app well in emulation mode, that would certainly be a game changer. It's hard to imagine Arm-based PC laptops really taking off unless they can run pretty much any Windows app fairly seamlessly.
Steam in your hands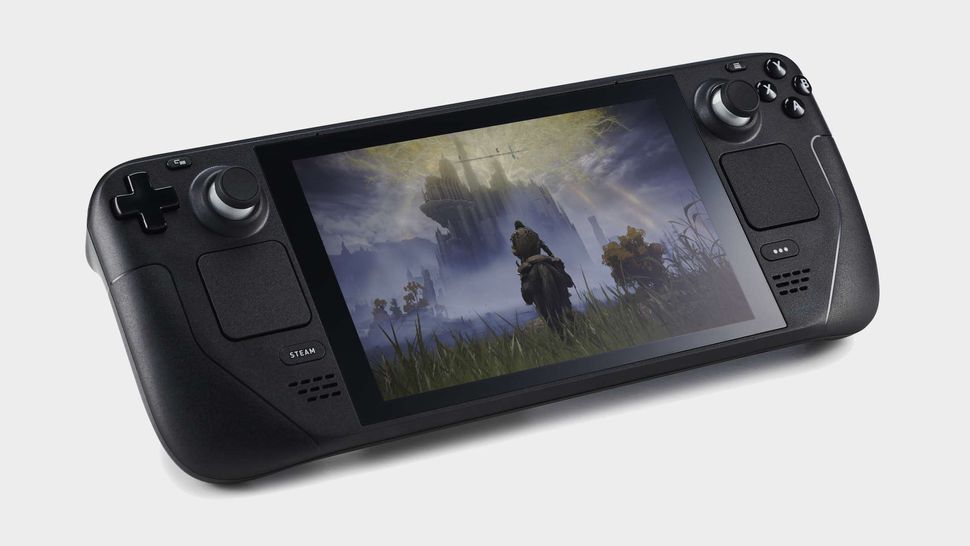 Steam Deck review: Our verdict on Valve's handheld PC.
Steam Deck availability: How to get one.
Steam Deck battery life: What's the real battery life of the new device?
How loud is the Steam Deck? And will it pass the Significant Other test?
Steam Deck - The emulation dream machine: Using Valve's handheld hardware as the ultimate emulator.
Speaking of game changers, it will indeed be games that will be the greatest challenge for this new chip. Or frankly any chip attempting to drag the PC away from the x86 architecture to Arm. A proper gaming PC with an Arm CPU is still almost certainly many years away.
Still, with Nvidia and AMD both reportedly working on Arm-based chips for PCs, the momentum does seem to be building.
One final related note is that it's interesting that Qualcomm doesn't explicitly mention "Arm" in any of its promotional materials for the new SoC. The company is seemingly trying very hard to bury the x86-versus-Arm comparison and wants the chip to be considered on its merits and without the qualification that it's an Arm-based chip.
Anyway, the proof will be in the actual performance. Qualcomm says devices with the Snapdragon X Elite will be available in mid 2024. Watch this space.