Live: the best Cyber Monday GPU deals available right now
We're here to help navigate the Cyber Monday graphics card minefield, and find the right GPU deal for you.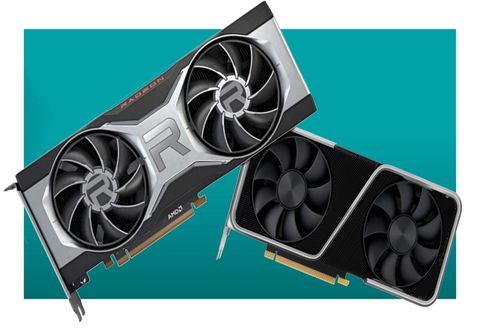 Finding the best Cyber Monday GPU deals is a full-time job right now. We've nailed Black Friday, but with some of the top graphics card deals (opens in new tab) having gone out of stock we're now scouting around to find you the best new Cyber Monday discounts that are coming online today.
But after two years of absolutely nothing, followed by some utterly unhinged pricing on new cards, you can be forgiven for finding it borderline impossible to figure out what actually is a good GPU deal.
The issue is that there are now a lot of graphics cards out in the channel with no home to go to, and a price that no-one should pay. I'm talking about last-gen GPUs with price tags akin to current generation cards, and unscrupulous retailers pretending that slapping some nominal discount on them somehow makes them worthwhile.
Yeah, there are GTX 16-series cards out there with a third knocked off the original sticker price, but that isn't going to cut it out here in the real world when there are AMD RDNA 2-powered GPUs floating around for less. Which is why we're here to keep you up to date with only the Black Friday graphics card deals that are worth your time, your money, and a place in your rig.
Where are the best Cyber Monday graphics card deals?
GPU hierarchy
If you're struggling at all figuring out where the different graphics cards stack up against each other, we've put together a handy rough guide to GPU hierarchy (opens in new tab) over the last generation or so of cards. It's crafted around our own 3DMark Time Spy Extreme benchmark figures, or the average score taken from UL's own database for older cards we don't have up to date testing for.
Image 1 of 2
Refresh

This is probably the best graphics card deal around right now. It's a $250 GPU, and a really good 1080p pixel pusher.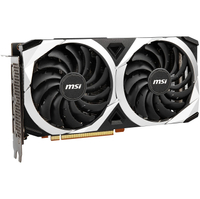 (opens in new tab)
MSI Mech RX 6650 XT | 8GB GDDR6 | 2,048 shaders | 2,669MHz boost | $280 $249.99 at Amazon (save $30.01) (opens in new tab)
Finally, a GPU deal from Amazon. And it's a good one, too. The last RX 6650 XT we saw on sale was a Gigabyte for $260 that needed a rebate to get there. This is just a straight $250 payment, job done. And that ain't bad for a GPU that can go toe-to-toe with an RTX 3060 Ti.

This is the cheapest RTX 3080 we've found today, though I will keep on looking...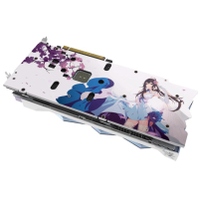 (opens in new tab)
Yeston RTX 3080 | 10GB GDDR6X | 8,704 shaders | 1,710MHz boost | $1,099 $769 at Newegg (save $330) (opens in new tab)
If you're willing to wait, this Yeston RTX 3080 isn't a bad price considering where the card has been retailing for the past year or two. In pure raster terms, the RX 6900 XT is cheaper and a bit quicker, but throw in any ray tracing elements and the GeForce card will push ahead.

Almost RTX 3080-level gaming performance for a lot less than the Yeston right here.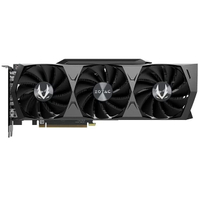 (opens in new tab)
Zotac RTX 3070 Ti Trinity OC | 8GB GDDR6 | 6,144 shaders | 1,800MHz boost| $699.99 $569.99 at Amazon (save $150) (opens in new tab)
This RTX 3070 Ti from Zotac isn't its fastest card, but this price makes it a reasonable choice. You won't see a massive difference in gaming performance for the little bit of savings. Pick this up if you primarily play games at 1440p or want to push 4K.

But AMD still has the edge when we're talking about pure bang for buck this Cyber Monday.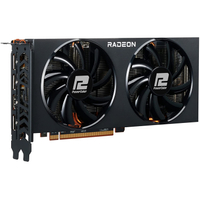 (opens in new tab)
PowerColor Fighter RX 6700 XT | 12GB GDDR6 | 2,560 shaders | 2,424MHz boost | $399.99 $359.99 at Amazon (save $40) (opens in new tab)
The RX 6700 XT is a genuine performance graphics card, out-shining the RTX 3060 Ti in general gaming terms and delivering at 1440p resolutions. This might not seem a drastic discount, but this is a good price for a great mainstream graphics card.

🚨CHEAPEST CARD ACTUALLY WORTH BUYING ALERT🚨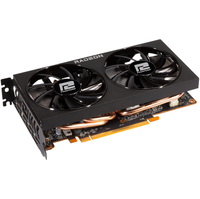 (opens in new tab)
PowerColor Fighter RX 6600 | 8GB GDDR6 | 1,792 shaders | 2,491MHz Boost | $259.99 $209.99 at Amazon (save $50) (opens in new tab)
The RX 6600 wasn't a great card at launch, but you can't ignore it at this price. It's over $100 off its reference MSRP, and frankly you won't find a better deal on any card from the competition that gets anywhere close to this sort of value at this price. If you can't stretch your budget to an RX 6650 XT, this is the way to go for 1080p gaming.

This is still too much for an RTX 3060 in light of the price of equivalent AMD cards costing far less, but if it has to be Nvidia, then this is the cheapest GeForce card we would recommend you buy.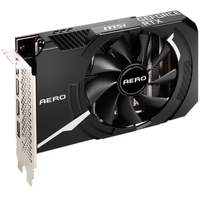 (opens in new tab)
MSI RTX 3060 Aero | 12GB GDDR6 | 3,584 shaders | 1,792MHz boost | $369.99 $315.99 at Newegg (save $54) (opens in new tab)
This MSI RTX 3060 is still more expensive, and slower in straight raster terms, than a host of Radeon cards, but if you've got to have Nvidia, and I know there are people like you out there, then here's the cheapest RTX 3060 I've found today.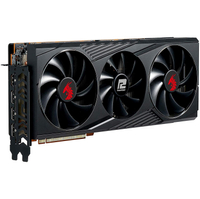 (opens in new tab)
PowerColor Red Dragon RX 6800 XT | 16GB GDDR6 | 4,608 shaders | 2,310MHz boost | $599.99 $554.99 at Amazon (save $45) (opens in new tab)
This is the cheapest RX 6800 XT deal we've found since the old Newegg deal vanished. Either way, though, this is a fantastic card for the money. It's essentially the same standard gaming performance as an RTX 3080, but for a fraction of the price. Indeed, the cheapest RTX 3070 Ti was more than this.
Not sure what's going on with Best Buy right now. All its graphics card deals are well off the pace. Even Amazon has better GPU offers right now. And what the hell is up with this? RX 6600 XT cards discounted down to twice what they are on other sites?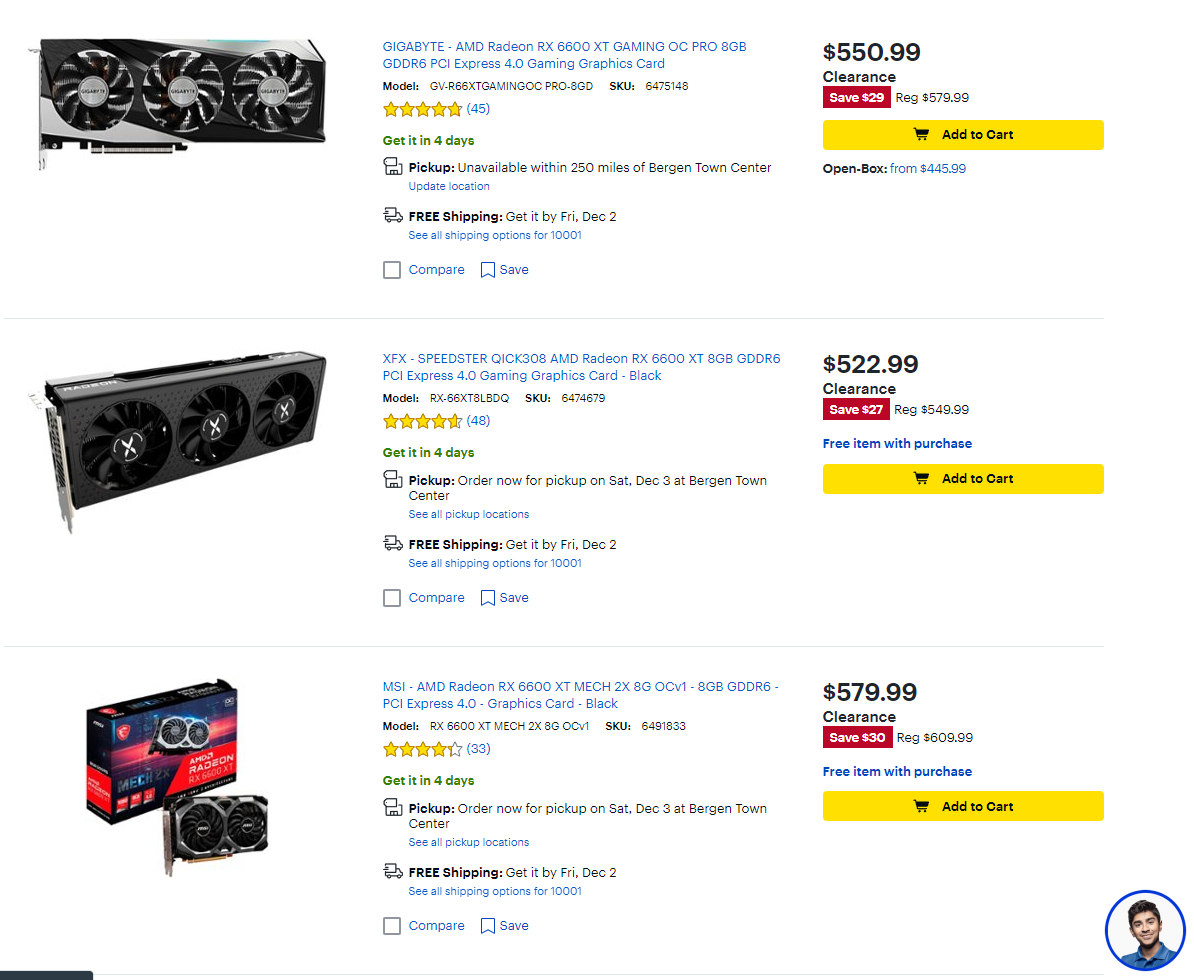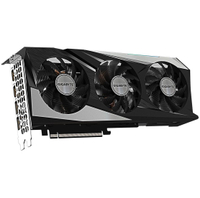 (opens in new tab)
Gigabyte Gaming OC RX 6650 XT | 8GB GDDR6 | 2,048 shaders | 2,694MHz boost | $304.99 $269.99 at Newegg (save $35 after rebate) (opens in new tab)
This isn't the cheapest RX 6650 XT we've found, you can find that a little further down. However, it is a triple-fan card and runs a little quicker. That's probably not good enough reason alone to spend more, but if stock runs dry of the other deal come back and check this one out. Either way, this is a great 1080p gaming card for under MSRP right now.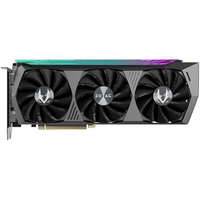 (opens in new tab)
Zotac Gaming GeForce RTX 3070 Ti AMP | 8GB GDDR6X | 6,144 shader cores | 1,830MHz Boost | $749.99 $599.99 at Amazon (save $150) (opens in new tab)
This is an RTX 3070 Ti for MSRP, which isn't much of a deal in isolation, but considering the highest price for this card on Amazon was $1,188.95 earlier this year, yeah, we'll consider it. It must be said that AMD does offer a better deal even at this price point, but if you're really anti-team red, you don't have to feel ripped off paying exactly MSRP for this powerful GPU.
Sign up to get the best content of the week, and great gaming deals, as picked by the editors.
Thank you for signing up to PC Gamer. You will receive a verification email shortly.
There was a problem. Please refresh the page and try again.