Cyber Week GPU deals
Jump straight to the deals you want...
1. US graphics card deals
2. UK graphics card deals
3. GPU hierarchy
4. MSRP comparison
Cyber Monday may be over but there are still graphics card deals to be had. To an extent, anyways. It's not like retailers have much choice but to try and get rid of the stock of older graphics cards they own today. What with the next-gen already on the way, it's time to shift RTX 30-series and RX 6000-series cards out the door. That does mean at the high-end you might be better off waiting for those newer cards to arrive, as they're likely to make mincemeat of the older stuff. Down at the more affordable end of the spectrum there's likely a little while yet before we get any sort of replacement.
There's currently no indication how far into 2023 we're going to get before either the red or green teams launch their mid-range cards, so it's easier to go with a last-gen GPU if you're not looking for the best of the best.
If you're unsure of where a card might stack up in the GPU performance league, our benchmark guide below should give you a rough idea of how they line up.
Where are the best Cyber Week graphics card deals?
In the US:
In the UK:
US Cyber Monday graphics card deals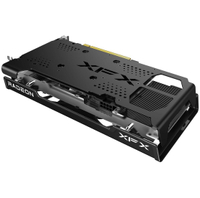 XFX Speedster SWFT 210 RX 6600 | 8GB GDDR6 | 1,792 shaders | 2,491MHz boost | $239.99 $229.99 at B&H (save $10)
Not necessarily a heavily discounted deal, but this is the cheapest live GPU price on a card that we would actually recommend you stick into your gaming PC. It's a quality 1080p card and pretty damned close to the RTX 3060 in terms of standard gaming performance.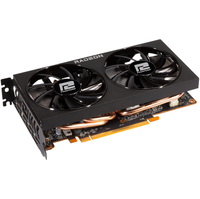 PowerColor Fighter RX 6600 | 8GB GDDR6 | 1,792 shaders | 2,491MHz Boost | $259.99 $250 at Amazon (save $9.99)
The RX 6600 wasn't a great card at launch, but you can't ignore it at this price. Frankly you won't find a better deal on any card from the competition that gets anywhere close to this sort of value at this price. If you can't stretch your budget to an RX 6650 XT, this is the way to go for 1080p gaming.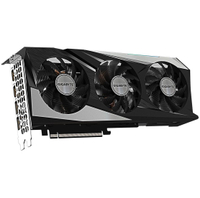 Gigabyte Gaming OC RX 6650 XT | 8GB GDDR6 | 2,048 shaders | 2,694MHz boost | $304.99 $269.99 at Newegg (save $35 after rebate)
This isn't the cheapest RX 6650 XT we found over Black Friday but it is pretty much the cheapest right now. It is a triple-fan card and runs a little quicker that the others we spotted, too. That's probably not good enough reason alone to spend more, but if stock is all dry elsewhere then this isn't a bad deal by any means. Either way, this is a great 1080p gaming card for under MSRP right now.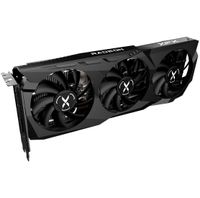 XFX Speedster SWFT309 Radeon RX 6700 | 10GB GDDR6 | 2,304 shaders | 2,425MHz boost | $399.99 $309.99 at Best Buy (save $50)
With a larger GPU and more memory to use in game, the RX 6700 is a solid step up from the RX 6650 XT. We tend to see these go for a little more with the XT version, but this non-XT option keeps the price a bit more reasonable while still delivering solid gaming performance for 1080p and 1440p.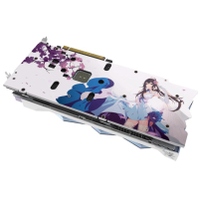 Yeston RTX 3080 | 10GB GDDR6X | 8,704 shaders | 1,710MHz boost | $1,099 $769 at Newegg (save $330)
If you're not willing to wait until December, or are willing to pay another $70 just for the artwork alone, this Yeston RTX 3080 isn't a bad price considering where the card has been retailing for the past year or two. In pure raster terms, the RX 6900 XT is cheaper and a bit quicker, but throw in any ray tracing elements and the GeForce card will push ahead.
UK Cyber Monday graphics card deals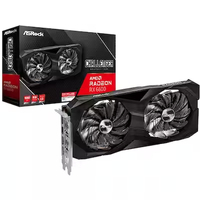 ASRock Radeon RX 6600 Dual | 8GB GDDR6 | 1,792 shaders | 2,491MHz boost | £299.99 £248.99 at Overclockers UK (save £51)
With performance primed for 1080p gaming, this ASRock RX 6600 is a pared back budget model of AMD's more affordable GPU. The RX 6600 is probably the cheapest GPU we'd recommend right now, so this extra cheap model makes a lot of sense.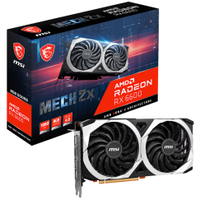 MSI Radeon RX 6600 MECH 2X | 8GB GDDR6 | 1,792 stream processors | 2,491MHz boost| £329.99 £278.99 at Overclockers (save £51)
The RX 6600 is built using AMD's excellent RDNA 2 architecture. It's a nifty GPU comparable to the RTX 3060 in some games, maybe a bit slower at times, but often found for a lot cheaper. In this case, it's miles cheaper than most RTX 3060 models on the market today, making it worth picking up.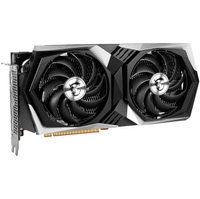 MSI Radeon RX 6650 XT Gaming X | 8GB GDDR6 | 2,048 shaders | 2,694MHz boost | £379.99 £308.99 at Overclockers UK (save £71)
With performance well ahead of the RTX 3060, AMD's RX 6650 XT is the mid-tier card to buy right now. This RX 6650 XT is still some ways pricier than its US equivalent, but it's well under the UK MSRP. With no new budget cards seemingly on the horizon yet, you won't go wrong with this for quality 1080p gaming.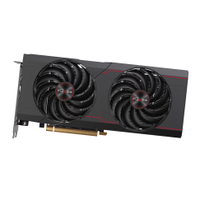 Sapphire Radeon RX 6700 Gaming OC | 10GB GDDR6 | 2,304 shaders | 2,495MHz boost | £379.99 £329.99 at Overclockers UK (save £50)
The RX 6700 is a chunky GPU with fewer Stream Processors and memory than the XT model but still significantly more than the RX 6650 XT. For this price it's definitely worth considering, too, as it's a bit of a no man's land in this price point for the UK right now. At least in cards actually worth the money.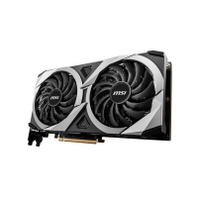 MSI RX 6700 XT Mech | 12GB GDDR6 | 2,560 shaders | 2,581MHz boost | £499.98 £399.99 at Ebuyer (save £99.99)
The natural predator for the RTX 3060 Ti, and a frankly great 1440p card in its own right now that the price has come down this much. Your cheapest RTX 3060 Ti is still some £20 more expensive, and a touch slower when it comes to straight rasterised games.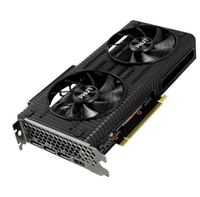 Palit RTX 3060 Ti | 8GB GDDR6 | 4,864 shaders | 1,665MHz boost | £499.98 £419.99 at Ebuyer (save £79.99)
If you wouldn't be seen dead in Radeon red, then the RTX 3060 Ti is arguably the mainstream GPU you covet. It's a shade slower than the RX 6700 XT in standard games, but can at least deliver when it comes to joy of ray traced lighting. And it's got those DLSS tricks up its sleeve, too.
Graphics card hierarchy
Every new GPU generation offers new features and possibilities. But rasterized rendering is still the most important metric for general gaming performance across the PC gaming world. Sure, Nvidia GPUs might well be better at the ray tracing benchmarks they more or less instigated, but when it comes to standard gaming performance AMD's latest line up can certainly keep pace.
It's also worth noting that the previous generation of graphics cards do still have something to offer, with something like the GTX 1650 Super able to outpace a more modern RTX 3050 in most benchmarks.
We're not saying you should buy an older card in 2022, but it's worth knowing where your current GPU stacks up, or just knowing the lie of the land. But there is also the fact there will be gaming rigs on sale with older graphics cards over the next few days, and if they're cheap enough they may still be worth a punt as a cheap entry into PC gaming.
We've benchmarked all the latest GPUs of this generation, and have tracked their performance against the previous generation in terms of 3DMark Time Spy Extreme scores. Where we don't have the referential numbers for an older card we have used the average index score from the UL database. These figures track alongside an aggregated 1440p frame rate score from across our suite of benchmarks.
MSRP comparison
Here's a list of the manufacturer set retail prices (MSRP), or recommended retail price (RRP), for most the latest graphics cards. For the most part, these are the set prices for the stock or reference versions of these cards, if applicable, and not representative of overclocked or third-party graphics cards, which may well be priced higher.
Nvidia
RTX 4090 - $1,599 | £1,699
RTX 4080 16GB - $1,199 | £1,269
RTX 3090 Ti - $1,999 | ~£1,999
RTX 3090 - $1,499 | £1,399
RTX 3080 Ti - $1,199 | £1,049
RTX 3080 - $699 | £649
RTX 3070 Ti - $599 | £529
RTX 3070 - $499 | £469
RTX 3060 Ti - $399 | £349
RTX 3060 - $329 | £299
RTX 3050 - $249 | £239
AMD
RX 6950 XT - $1,099 | ~£1,060
RX 6900 XT - $999 | ~£770
RX 6800 XT - $649 | ~£600
RX 6800 - $579 | ~£530
RX 6750 XT - $549 | ~£530
RX 6700 XT - $479 | ~£420
RX 6650 XT - $399 | ~£389
RX 6600 XT - $379 | ~£320
RX 6600 - $329 | ~£299
RX 6500 XT - $199 | ~£180