Correction: The article originally indicated that Hell Let Loose was developed by Black Matter. After acquiring the assets in January 2022, Team17 became the active developer.
World War 2 military sim Hell Let Loose is shifting its focus to smaller-scale warfare in its next update, with the introduction of a slimmer objective-based game mode.
Launching on July 18 as part of the Devotion to Duty update announced during the PC Gaming Show, Objective will see the US forces try to blow up one of four railguns while the opposing German team must defend the cannons and defuse any planted explosives against the clock.
Developer Team17 pitches Objective as a shorter, snappier game mode you can play in a half-hour, unlike the current large-scale Warfare and Offensive modes that typically take an hour or more to complete. Teams are smaller in Objective, reduced to 25 players from the standard 50, and Team17 has tweaked some roles—including the skills of the Commander to better cater to the faster-moving battles.
Team17 has modeled Objective's first map after the Brécourt Manor Assault (an incident that some HBO fans—or Damian Lewis lovers—might recognize from the second episode of Band of Brothers). It's a shrunken and altered version of the game's Sainte-Mère-Église map, which already features the Brécourt Manor as a Strong Point. The trailer below announcing the update follows a fittingly cinematic recreation of the battle.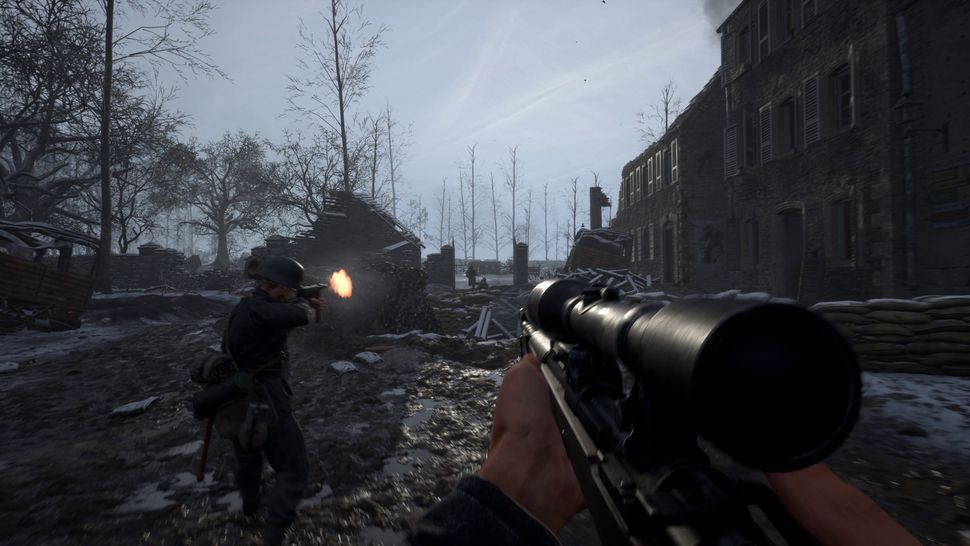 According to Team17, Devotion to Duty will be the game's second-biggest update of the year, with an even bigger release planned for the tail end of 2023. That update will introduce a fourth game mode, set around the defense of the Polish Post Office in Gdańsk (one of the earliest battles of World War 2), and more maps for Warfare and Offensive.
Next year, updates will have a more defined structure: each year will introduce new content inspired by a specific year of the second world war, beginning from 1939 and working up to 1945. Expect to see specific historical battles, maps, extra game modes, and cosmetics. So, while Objective might be for the speedier soldiers, diehard roleplayers will still have plenty to chew on.