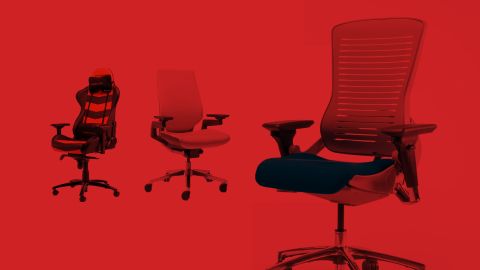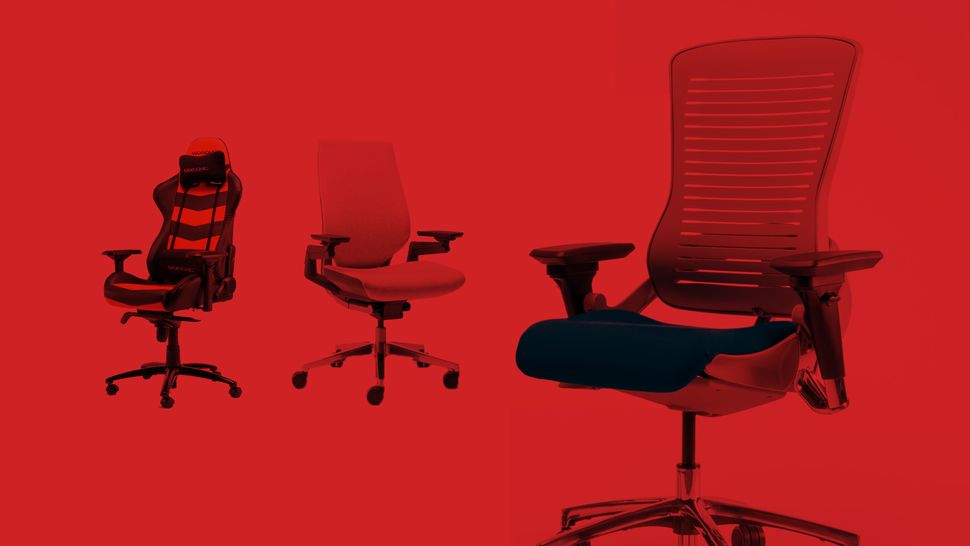 Recommended PC gaming chairs
When budgeting a PC setup, how much do you allocate for a new chair? Probably a lot less than you spend on the graphics card, but consider how integral the chair is to the overall experience. A good chair can last you a decade, and you're not going to be upgrading to spine 2.0 anytime soon. I set out to find the best chairs for long gaming sessions by talking to an ergonomist and spending three months researching and testing chairs with the PC Gamer staff.
Update 6/6/2016: We've checked over our guide and feel confident these are still the best chairs for your spine and posterior. We plan to look into more popular and budget gaming chairs this year, but don't expect our primary or high-end recommendations to change any time soon.


Our recommended PC gaming chair
Smartly adjusts itself to your sitting position without manual adjusting
Build quality feels as solid and premium as more expensive chairs
If you prefer always making your own manual adjustments, the cheaper Affirm is a better option
On the face of it, the Office Master OM5 sounds like the snake oil of seating. The marketing materials describe it as "a self weighing chair that intuitively responds to a wide range of body weights and sizes without the need for manual tension." Essentially: don't worry about all those levers and knobs on the other chairs, this one will magically work out what your butt and back need, no problemo. My skepticism didn't last long, though, because when it comes to the OM5, sitting is believing.
These are the elements of the OM5 which are adjustable: the height (self explanatory), the front seat "waterfall" lip, which you can curl forwards if your thighs want the extra space, and the armrests, which can be slid back and forth, and be rotated towards your body. Where all the smart stuff happens is around your hips. Lean back, apply a little forward pressure, and the seat pan shifts forwards while the backrest reclines in response, articulating smoothly thanks to wheels on runners that function much like the ones in desk draw sliders. It takes a little getting used to, but transitioning from upright work mode to relaxing whilst playing or watching swiftly becomes a cinch.
Read

More

Our recommended budget chair
Offers as many adjustment options as much more expensive chairs
Comfortable seat and mesh back
Arms feel cheap
May require a lot of fine-tuning to get the chair to feel just right
Perhaps you've already blown the kids' college fund on bleeding edge GPU whizzbangery and now have limited funds with which to purchase a new gaming throne. The budget section beckons, and truth be told it's an intimidating place, full of generic-looking chairs with underwhelming customer reviews. However, there are bargains to be found, though you're going to have to accept the odd flaw in your gem.
Office Star's range of chairs don't look noteworthy at first glance, but the customer reviews are consistently good. I like the ProGrid Back Managers Chair a lot because it offers the kind of tweakability usually only found on much more expensive models. Using its daunting array of levers, you can adjust the height and tilt of the chair, plus slide the seat pan forwards or backwards. The backrest can also be shifted up or down, and the armrests raised or lowered and slid back and forth until you find the perfect position.
Read

More

Our recommended high-end chair
The most comfortable chair we've ever sat in
The backrest's tilt, in addition to movement, always offers great support
Stylish, excellent build quality and lifetime warranty
Expensive
Makes all other chairs feel a bit lackluster
The Steelcase Leap is one of the most iconic modern chairs, with a price to match its performance. The Wirecutter named it the best office chair a couple of years ago, but I prefer the newer Steelcase Gesture ($1014, specced as pictured) for a number of reasons. Foremost of which is, holy smoke, it feels good. If your eyes are still watering at the cost, know this: much as I enjoyed the other chairs singled out here, every minute that I spent in them I was secretly wishing I was in the Gesture. Imagine your butt and back being perfectly cupped by the giant ever-loving hand of the deity of your choice. That's what the Gesture is like. Or, as it became known amongst us testing it: 'the dream chair.'
According to Steelcase, the Gesture was designed as the result of research that showed the influx of new devices in the workplace had led to people sitting in all sorts of cockamamie new positions. (Nine of them, if their Joy Of Sitting-style infographic is to be believed.) The solution here is similar to the one offered by the OM5: A backrest and seat which articulate in response to how you move around in the chair. However, whereas the OM5 travels through a single curve between fully upright and reclined, the Gesture's backrest can also tilt in and out as it moves backwards.
Read

More
How we test gaming chairs and others we tested
Between recent articles about the effects of sitting down on your body, and our experimentation with standing desks, you might think PC Gamer has fallen out of love with the humble chair. Dear reader, that could not be further from the truth. As gamers and office workers, our writers spend a significant chunk of each day sat on their money makers in front of screens. Given that most of us don't plan to change that anytime soon, it only makes sense to do so in a great chair. So that's what I set out to find.
I wanted to find three chairs—budget, midrange and high-end—that maximised comfort, support and value. I knew I needed expert advice to help narrow my search, so I spoke with Melissa Afterman, MS CPE, a Senior Principal Ergonomist with VSI Risk Management & Ergonomics, Inc. who specialises in workstation setups. "Absolutely chairs are still okay," she told me. "Yes we know that sitting too long is bad for you. The reality is that standing too long is just as bad for you, and so the answer is movement. Taking breaks, getting up at least every hour and moving, or changing your position from standing to sitting every hour so that you're not standing too long either."
When searching for a new chair, aside from essential-but-obvious tweakable elements like seat height and armrests, Melissa told me a key element to consider is the backrest: "If you're typing and working at the computer, you really want more upright support so that you can maintain neutral spine posture and let the chair hold you up," she said. "But when you switch to gaming mode, you may want to recline a little bit to relax your lower back, while still having good support in that position. So a locking backrest and/or some sort of tension control is important."
Another feature to look for, though it tends to be found on more expensive models, is a seat pan slider. This enables you to slide the positioning of your butt forwards or backwards relative to the backrest. "The nice thing about that," explained Afterman, "is that if you're tall you can get more support behind your leg, and if you're short it can be set more shallow so you can actually sit all the way back in the chair."
When it comes to fabric and other materials, it's pretty much a purely aesthetic decision—though whether you prefer plush leather or breathable mesh should be dictated by how hot you are. No, really. Afterman explained: "Some people run cold, some people run warm, and I think that when you talk about the fabric choices it depends on personal comfort and aesthetics." As for what you should definitely avoid, Afterman recommended steering clear of overly rigid seat pans and fixed height armrests—both are likely to lead to discomfort.
In terms of how much you should expect to spend, she suggested that in order to tick all the boxes an ergonomist would hope to find, $300-400 ought to be enough for a supportive chair that looks and feels great. Below that, there are going to be tradeoffs. Likewise, if you're willing to spend more, you can open up greater levels of customisation and luxury.
Testing chairs
Armed with her advice, I began cross-referencing customer reviews with chair round-ups written elsewhere to create a shortlist. Over the course of three months I then called in samples and tested them, with help from the variously shaped rear-ends of the PC Gamer team.
Whilst it's impossible to be exhaustive with our first pass at a subject this big, I'm confident that any of our picks will delight you (and your butt). Of the chairs we tested, the one I believe offers PC gamers the best value is the Office Master OM5. It has all the ergonomic functionality of name brand chairs at twice its price, impeccable build quality, and good looks that are substantially customisable. What's unusual about the OM5, though, is that it actually dispenses with a lot of the fiddling found on ergonomic chairs in favour of a simpler approach.
Future testing
When it comes to rating graphics cards, we judge their performance based on strict benchmark tests. Not so with chairs. Of all the elements in your dream gaming set-up, none is likely to be so subjective as the choice of chair. Personal preference in terms of look and feel, plus your own body shape, have a huge bearing on what will be the right chair for you. That said, I think the ones highlighted here are all strong options for most people.
One of the main things I learned during testing is that there's even less uniformity across countries with chairs than there is with PC component parts, making it tricky to find universal recommendations except at the high-end. When we revisit the topic I want to find more midrange options that will be easy to find for readers in Europe and the rest of the world.
As part of testing I wanted to take a look at the racing-style bucket seats which you often find Twitch streamers sponsored to sit in, and had better customer reviews than I expected. I couldn't get hold of anything from the DXRacer range, but did try three Maxnomic models—the Casual Sport (pictured top), Pro-Gaming & Office and the Office Comfort. These are fun, eye-catching chairs, which offer reasonable amount of adjustability. The variation in price point largely amounted to niceties like extra cushioning and optional head and lumbar support pillows—neither of which I was a fan of, although others who tried them were more impressed. At this sort of price, though, I think that you're better off going for a dedicated ergonomic task chair like the Office Master ones, which unquestionably provide a more supportive experience long-term.
tcentric hybrid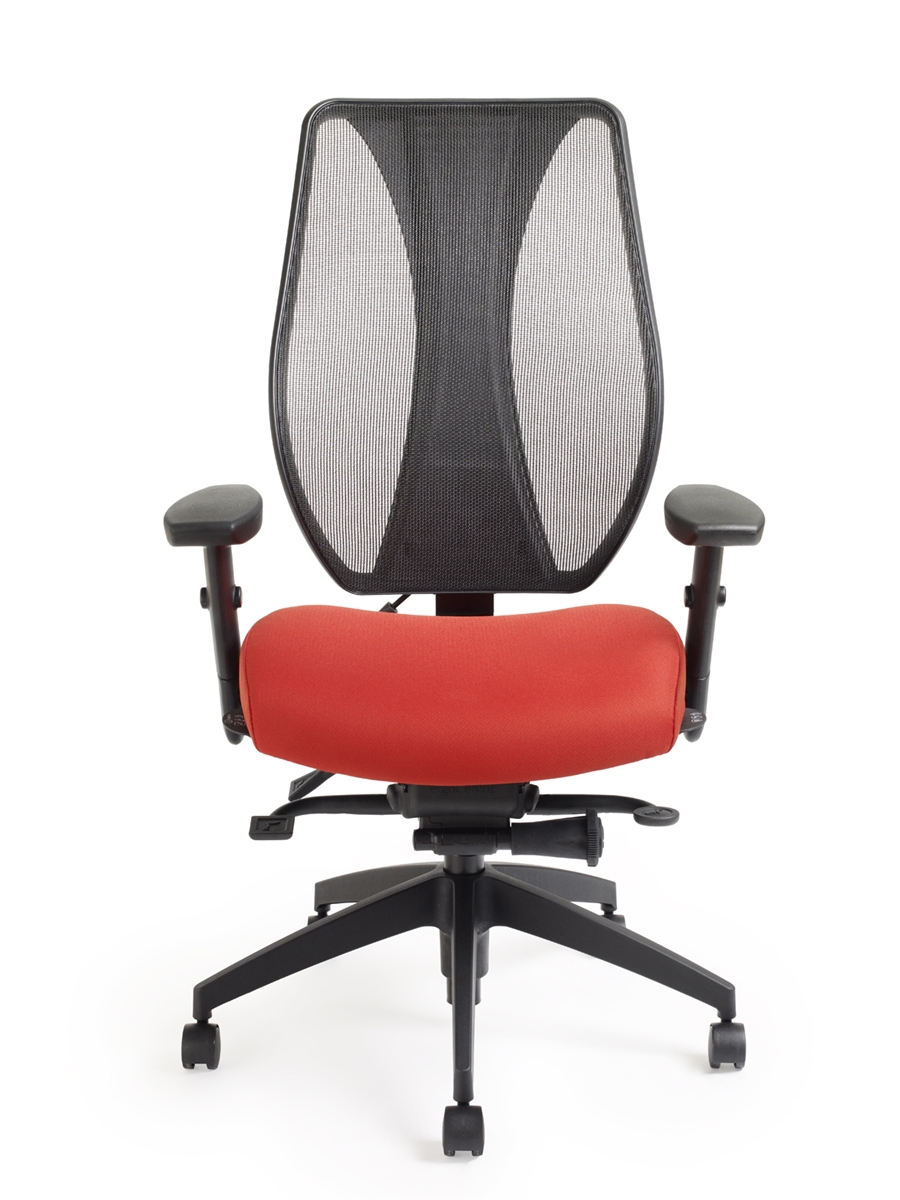 One for the future: The hybrid is a future rival for the OM5's king of butts crown.
Speaking of which, there are a number of ergonomic chairs I still want to test and will continue working on trying to source. Ergohuman, who also do standing desks, have a range around the $600 mark which includes some interesting headrests I'd like to try. At the higher end I want to get hold of Knoll Generation Chair, to see how it stacks up against its Steelcase and Herman Miller rivals. Melissa Afterman also suggests taking a look at Ergocentric's tCentric Hybrid as an alternative to the Office Master chairs.
If you're trying to find the Titan-Z of ergonomic chairs, then a LifeformCore-flex Brezza might be the answer. The unusual split-style of the seat is designed to encourage small but constant user movement, preventing cramping or cutting off circulation. Interesting, but definitely one to sample first. Last up on my current shortlist to audition is the Humanscale Freedom, though the customer reviews seem a little mixed.
While "gaming" branded chairs often don't offer the ergonomic smarts of office chairs, I'd like to look into DXRacer and similar brands.
Finally, I'd be keen to hear what you're perched on. I'm sure there are some amazing chairs out there waiting for my cheeks. (Again, apologies for the image.) Let me know in the comments what you recommend.
The last word, though, should go to the expert. Afterman told me that when gaming, "you have high visual demands with the computer screen and you also need high precision with your fingers or your hands. Being able to support the forearms on the work surface or the desk is a way to increase precision. However, you can get support from the armrest too. The key is bringing the monitor, keyboard, and mouse closer to you, so that you can relax back in the chair and keep the ears balanced over the shoulders and the shoulders in line with the hips."
The right seat will only take you so far. Getting your gaming space set up correctly is every bit as crucial, a subject we plan to revisit soon.
Further reading
Here's a selection of links I used at the start of testing to narrow my search…
A note on affiliates: some of our stories, like this one, include affiliate links to stores like Amazon. These online stores share a small amount of revenue with us if you buy something through one of these links, which helps support our work evaluating PC components.