Cyberpunk and computer culture go hand in hand, which is why there are so many awesome dystopian tech-noir and sci-fi games on PC. Cyberpunk is a broad genre, but the following games fit in some way: whether it's their aesthetic, their storyline, or their general atmosphere. With Deus Ex: Mankind Divided and, at some point, CD Projekt RED's Cyberpunk 2077 on the way, the popularity of cyberpunk shows no signs of disappearing, like tears in rain.
Deus Ex
Well, obviously. Deus Ex is one of the finest RPGs on PC, and set in a brilliantly grim dystopian future. Cyborgs, cyber-crime, hackers, self-aware AI, and conspiracies make this a cyberpunk classic.
Blade Runner
Not as good as the film (what is?), but this point-and-click adventure game features an atmospheric and lovingly crafted recreation of Ridley Scott's futuristic Los Angeles. Don't forget to feed the dog.
Technobabylon
A brilliantly written police procedural with a well-realised cyberpunk setting, likeable characters, and clever puzzle design. Chase a mind-hacking serial killer through a neon-drenched city.
Shadowrun Returns
Whether you play Returns or the superior follow-up, Dragonfall, this modern take on the Shadowrun tabletop RPG setting features excellent tactical combat, detailed environments, and memorable characters.
Beneath a Steel Sky
An ancient point-and-click adventure from the people behind Broken Sword. Not an all-time classic, but it has some great moments and interesting locations. Best of all, it's totally free on GOG.
Transistor
Supergiant's follow-up to indie hit Bastion is one of the prettiest games on our list, but also boasts fast, kinetic combat, an engaging story, great voice acting, and a really amazing soundtrack.
Deus Ex: Human Revolution
Eidos Montreal had a tough act to follow, but their take on the Deus Ex universe is fantastic. City hubs packed with stuff to do, a conspiracy-laden plot, and awesome augs make this a modern classic.
Gemini Rue
Another cyberpunk point-and-click adventure from Wadjet Eye Games, this time telling an intriguing tale of two characters in very different corners of a dystopian sci-fi setting.
Syndicate Wars
Probably the best of Bullfrog's Syndicate series. We don't talk about that EA/Starbreeze FPS anymore. Wars is a tactical RTS set in a bleak dystopia ruled by corporations. We'd love a remake of this.
Neon Struct
Don't let the simple graphics and low production values fool you: this is one of the best systems-based stealth games since Deus Ex, with a surprisingly well-told story and big levels with many alternate routes.
Anachronox
Released in 2001 by Ion Storm, built using the Quake 2 engine, this cyberpunk RPG is fondly remembered for its quirky sense of humour and weird characters. Holds up remarkably well.
Binary Domain
A very Japanese take on the Gears of War-style third-person shooter. Features some interesting systems, including team mates who will comment on your performance and lose or gain trust accordingly.
Final Fantasy VII
An unlikely entry, but the art style in FFVII is very much cyberpunk, especially the grim futuristic city of Midgar, where the impoverished live in dingy slums below the wealthy areas on top.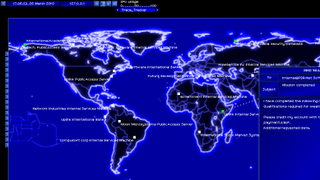 Uplink
When characters in cybperunk fiction are tapping away at computers, this is what they're doing. An early game from DEFCON creastors Introversion, it's a hacking/puzzle game with a really cool visual style.
System Shock 2
A horror/FPS/RPG hybrid that would go on to inspire the much more well-known BioShock series. Set aboard a stricken starship, it's perhaps most famous for its sinister AI antagonist, SHODAN.
Remember Me
A pretty average action game, set in a really pretty world. Remember Me's vision of a futuristic Paris is a sight to behold, and some of the cyberpunky themes in the story are well done.