Live: Where to buy the Nvidia RTX 4070 today
The latest and cheapest Ada GeForce GPU goes on sale today, and we'll be keeping an eye out for the best places to buy one.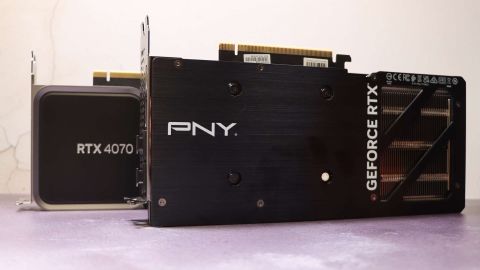 The Nvidia RTX 4070 is out today, on sale at 9am ET | 6am PT | 2pm BST. And, as the cheapest of the new Ada generation of graphics cards, the chances are that it's going to be quite popular. I mean, given the fact that it's essentially a cheaper, cooler, more efficient RTX 3080 with access to DLSS 3.0 and Frame Generation, I'm guessing a fair few people will be eager to get their hands on the latest GeForce GPU.
Nvidia has been quite insistent that it will have enough stock on shelves at launch to satisfy demand, with the claim that anyone who wants a reference-priced card should be able to find one. That reference price is $599 (£589) and there does indeed seem to be a bunch of such GPUs being listed already.
I've spoke to some retailers and there is apparently a lot of stock ready for launch, with more already on the way. That's a markedly different situation than the one we found around the RTX 4080 launch, and may well mean Nvidia's confident boasts about availability might actually come to pass.
Where to buy an RTX 4070
In the US
In the UK
Refresh
Nvidia RTX 4070 Founders Edition verdict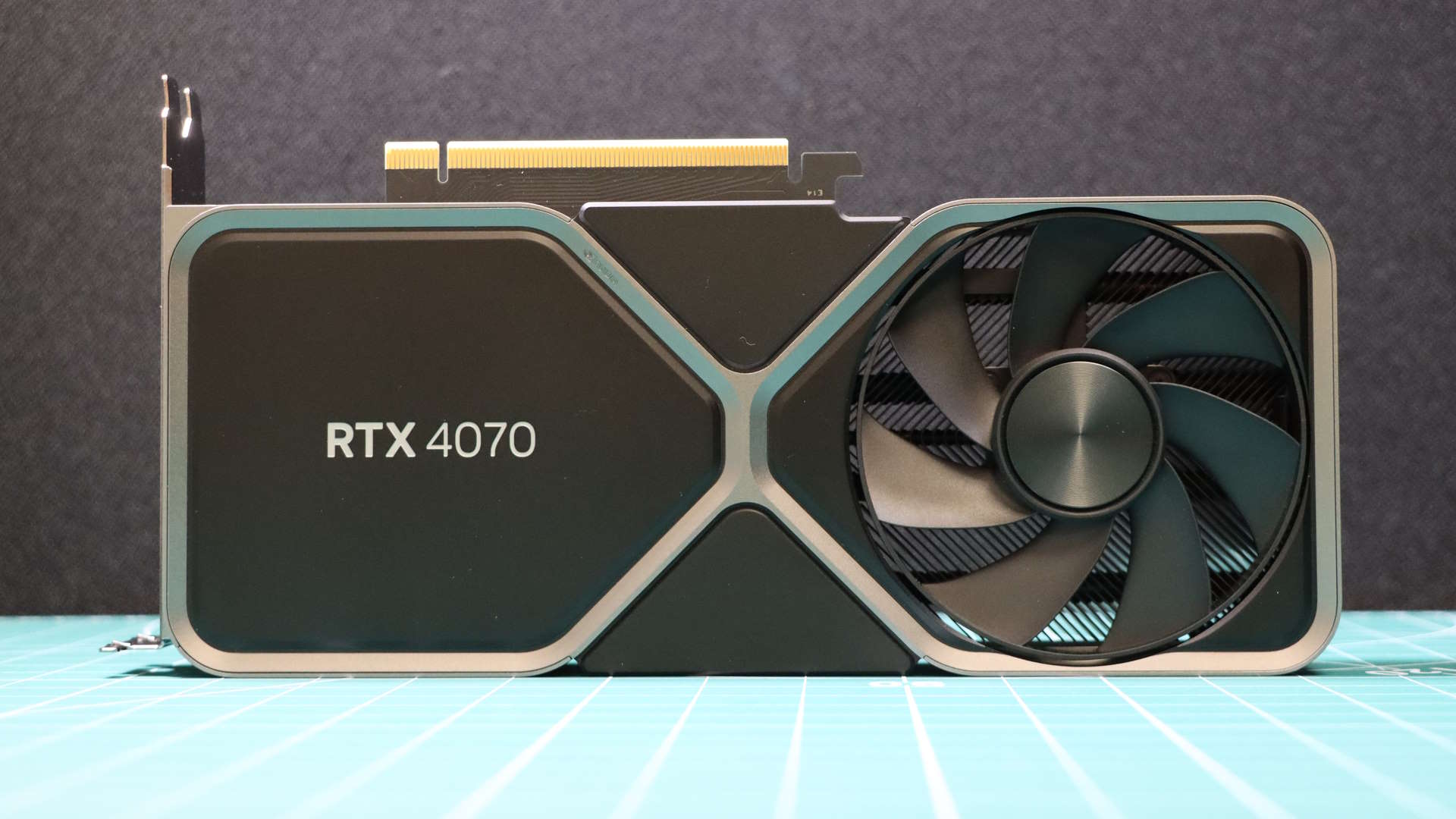 Buy if...
✅ You always wanted an RTX 3080: With the same effective performance, a lower price, and DLSS 3.0 support, the RTX 4070 is a great replacement for the retiring GPU.

✅ You're building a tiny gaming rig: The RTX 4070 is cool, quiet, and supremely efficient. It's also a lot smaller than any other card of similar performance.
Don't buy if...
❌ You already own a decent RTX 30- or RX 6800-series GPU: At ~20% higher performance than the RTX 3070 Ti, and similar performance to the RX 6800 XT, spending another $600 so soon isn't worth it just for Frame Generation.
The RTX 4070 is like a proper graphics card. It's not some monstrous hulk of PCIe socket-rending GPU, it's a modest card the size of its RTX 3070 forebear. That makes it a rather cute-looking thing. Well, in terms of scale anyways; that brushed aluminium Nvidia Founders Edition frame still looks pleasingly serious.


And that's more than aesthetics, too. The size of the card hints at the efficiency of the 4nm Ada GPU quietly thrumming away inside of it. If you want a powerful, but low power card, the RTX 4070 fits the bill. Which will no doubt make it the darling of the small form factor PC brigade, and deservedly so.


That's certainly one of the benefits I was alluding to earlier in the RTX 4070 vs. RTX 3080 debate, but the key one is the fact the Ada card has access to DLSS 3.0 and Frame Generation. And when that comes into play it's a game changer, especially for titles that otherwise would struggle at ray-traced 4K settings.


The obvious drawback is that Frame Gen is not widely available. Even so, getting a $100 discount on a cooler, quieter, and far more efficient RTX 3080 has got to feel like a win when you've got that extra potential perf bump in the back pocket.
The RTX 4070 Founders Edition is the version of the new Ada GPU that you ought to be coveting. It's the best-looking and the quickest of the reference-priced cards, too. But given the efficiency of the AD104 chip at its heart, the RTX 4070 doesn't need a beefy cooler, massive heatsinks, or high-end VRMs, so a basic reference-priced card from a third-party manufacturer is still a great second option.
I've tested the PNY RTX 4070 Verto and while it is a little slower, it's only ever by a handful of frames per second, and really nothing that you'd notice side-by-side in-game.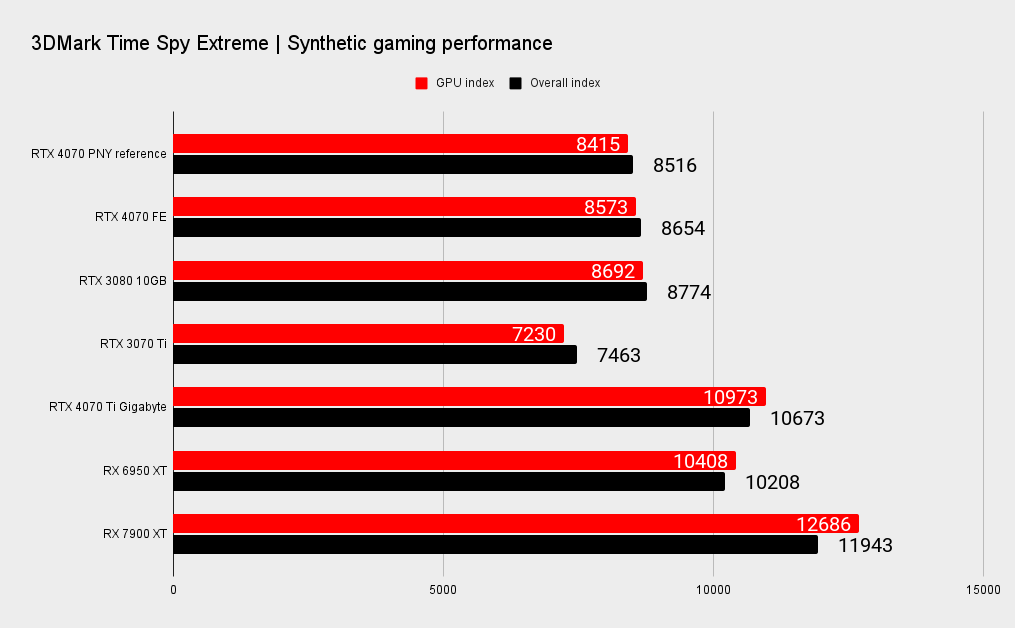 Here's a list of reference-priced cards in the UK that will go live at 2pm:
Compared to the RTX 3080 it really is a wee graphics card. Y'know, like a normal graphics card. Compared to the RTX 4080, well, that card's just silly.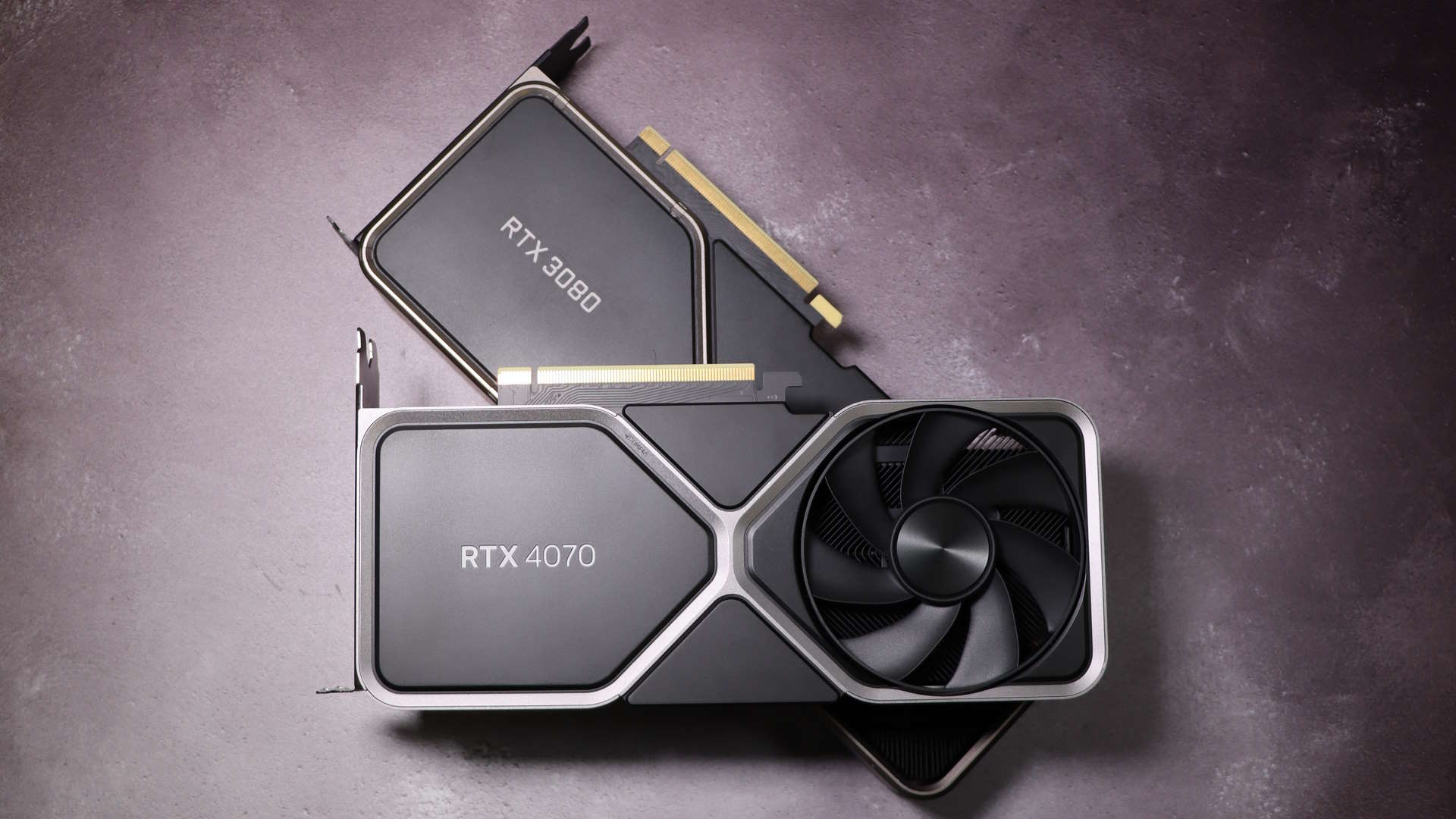 It's go time, and yet at Newegg and Best Buy we're still seeing the RTX 4070 listed as 'coming soon.'
🤔
In the UK there are reference-priced, £589 RTX 4070 cards available right now at Scan.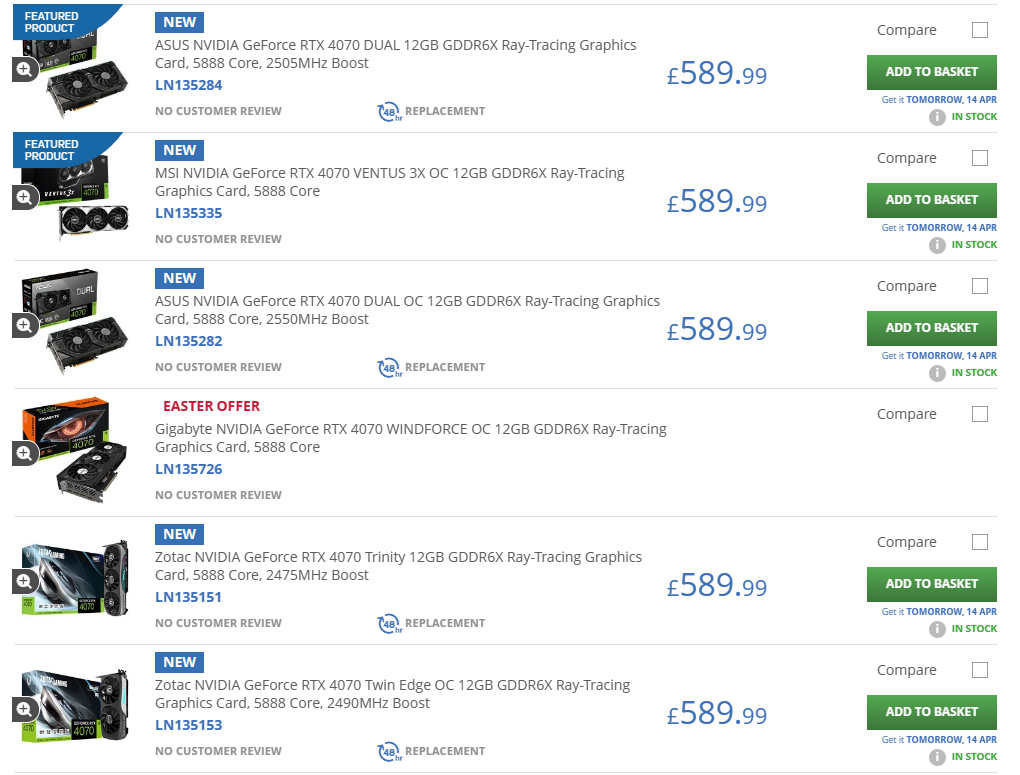 It's the same situation at Ebuyer in the UK, too.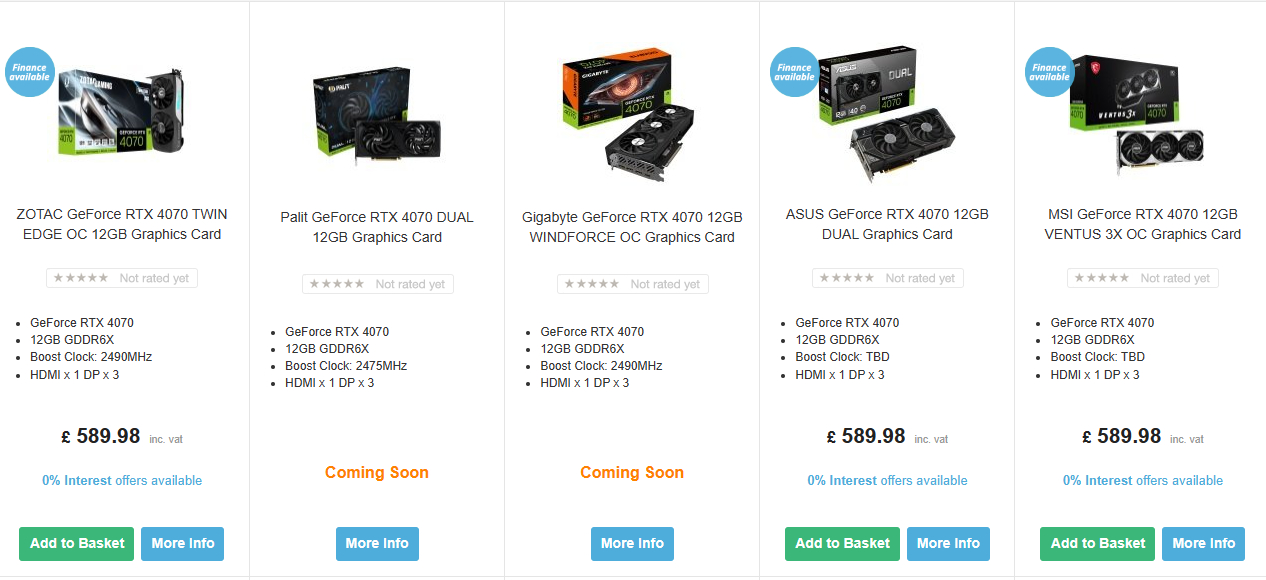 C'mon Best Buy! 😥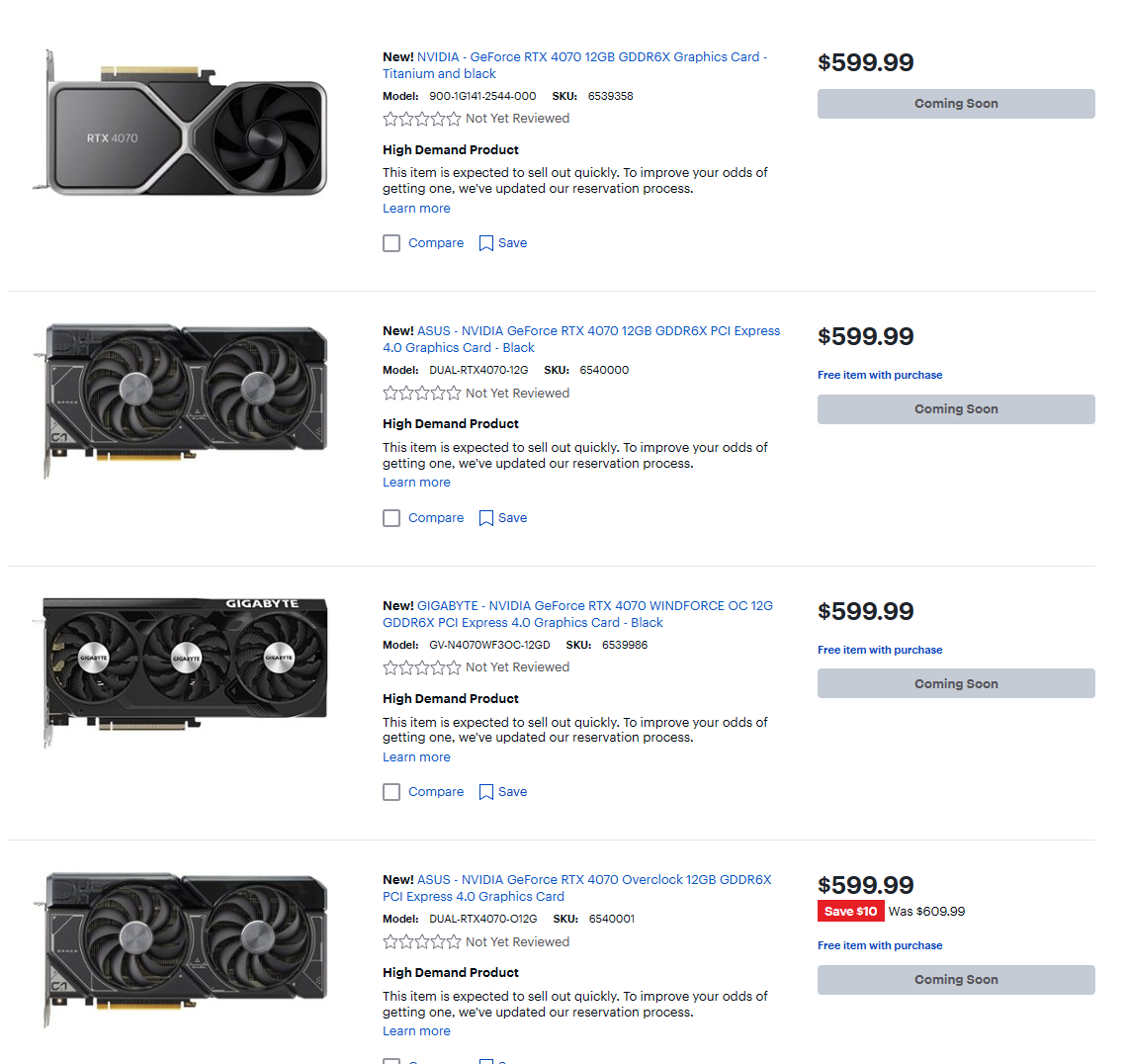 Aha! We are live on Newegg. There are seven different reference-priced cards available right now to add to your card.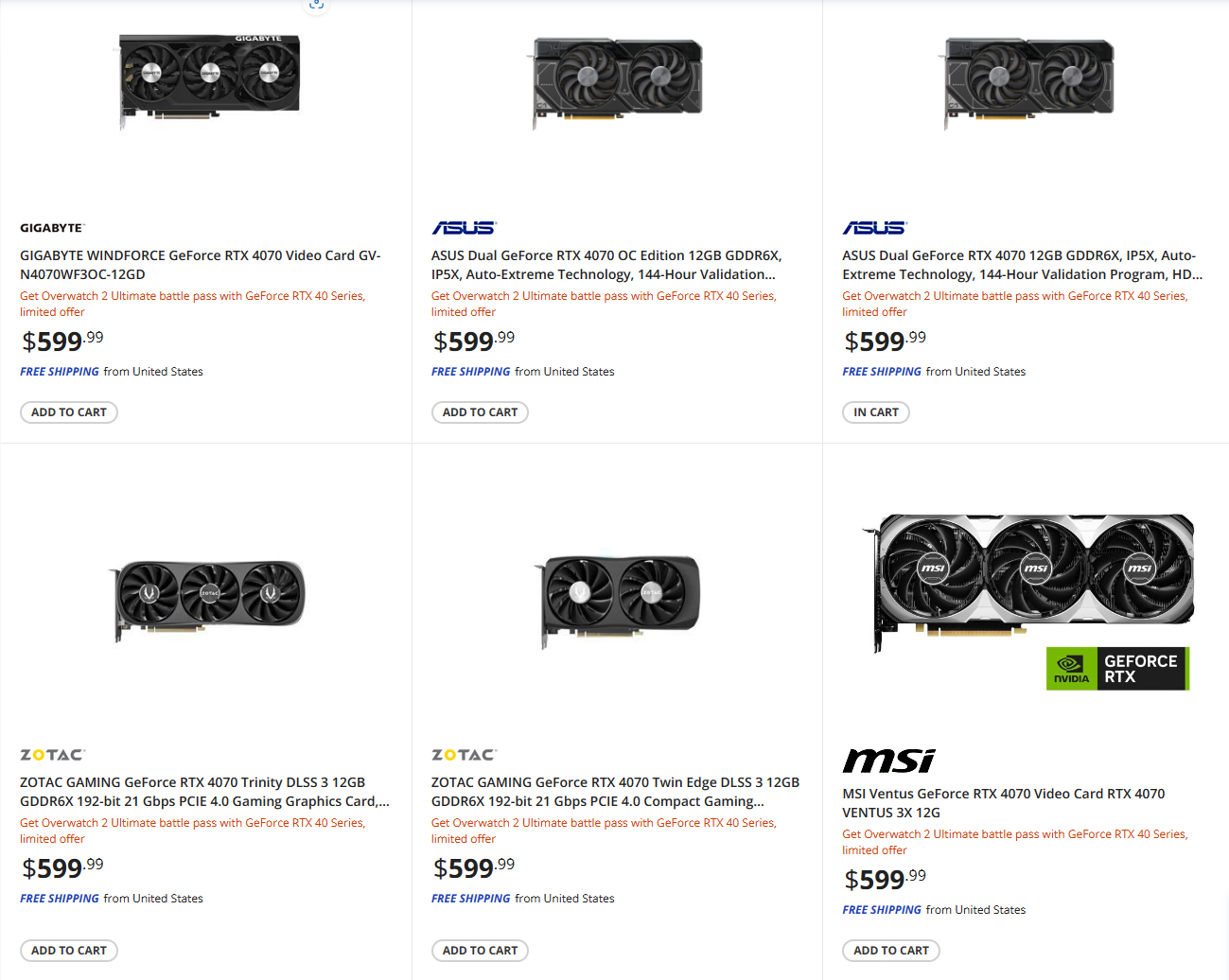 Reference-priced cards now have 'Buy Now' listings over on the Nvidia US store. Though you're going to have to sign up for a Best Buy account to get access to the Founders Edition cards, I'm afraid.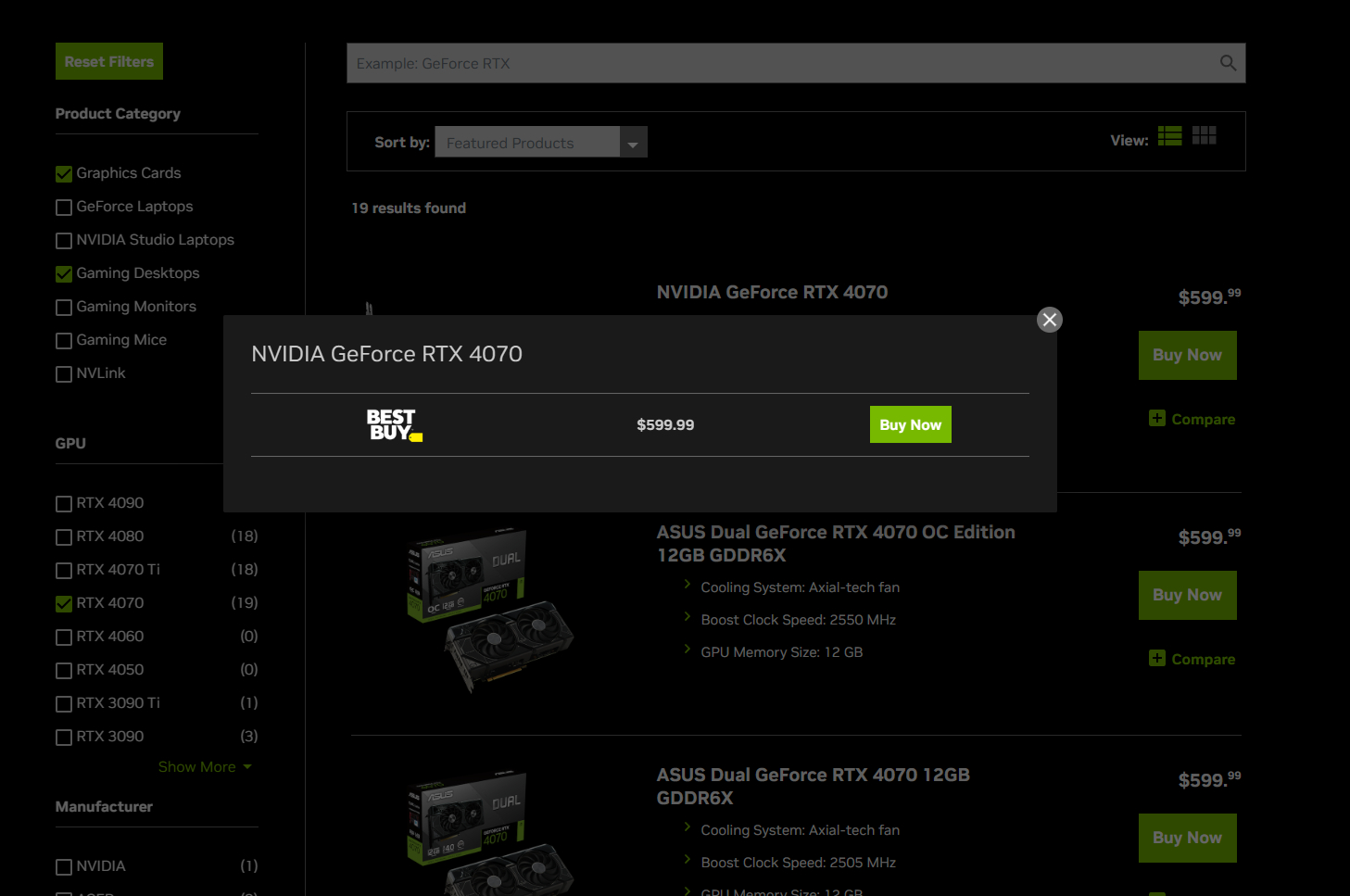 In the UK you can actually buy a couple of RTX 4070 cards at Overclockers for less than MSRP. What a world.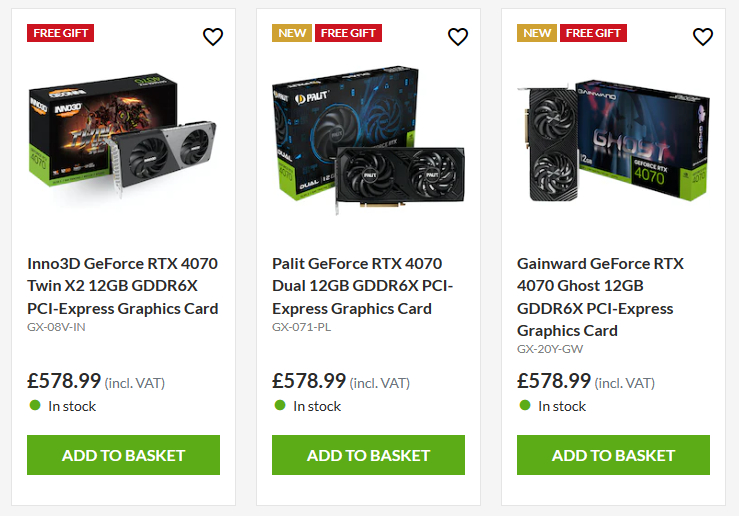 Well, it looks like Nvidia wasn't being over-ambitious. We're well over half an hour into the RTX 4070 launch and there are still reference-priced cards available. And it looks like, in both the US and the UK, that you can even still pick up the excellent Founders Edition card.
Looks like there really was a lot of stock shovelled into the channel. Either that or no-one has any cash to spare for a $600 graphics card these days...
Sign up to get the best content of the week, and great gaming deals, as picked by the editors.
Thank you for signing up to PC Gamer. You will receive a verification email shortly.
There was a problem. Please refresh the page and try again.