Win more with these Warzone loadouts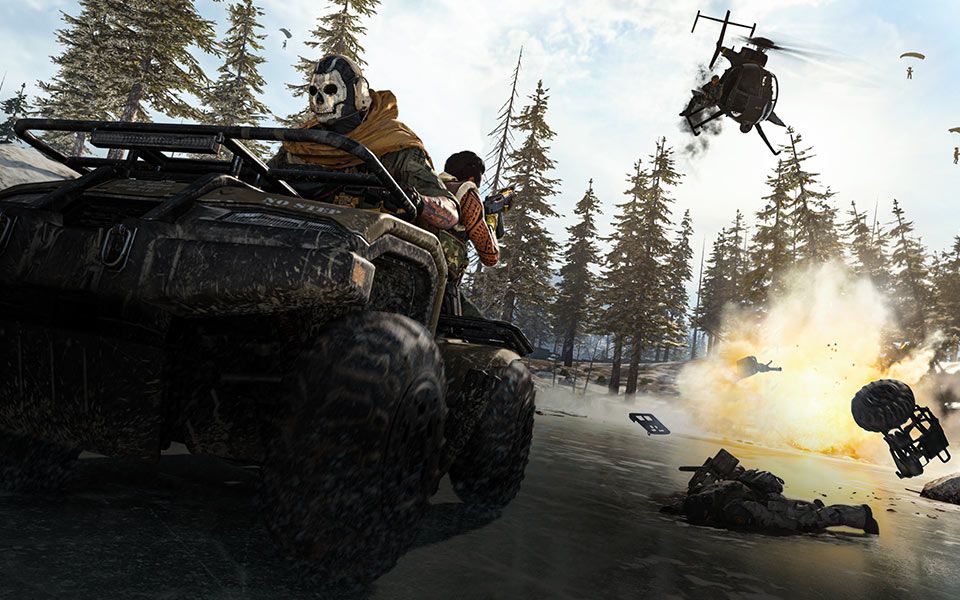 Best M4A1 Warzone loadout: Top all-purpose AR builds
Best MP7 Warzone loadout: Effective SMG setups
Best Grau Warzone loadout: Strong AR builds
Best M13 Warzone loadout: Attachments to choose
Best Kilo 101 Warzone loadout: Boost the punchy AR
Looking for details on a new Warzone map? E3 brought us the news that Warzone Season 4 is set to arrive on June 17. And while it doesn't look like there's a new map in store for the battle royale this time around, it does seem that a satellite will crash into Verdansk, no doubt altering the terrain in some way. The nuke event that heralded the end of Season 2 has come and gone and while the original Verdansk map was completely destroyed, the time-bending Verdansk '84 gave players new areas to explore.
As any Warzone veteran knows, it pays to learn where the hot zones on each map are located. Of course, the best Warzone loadout will help you win in a firefight, but knowing the region is a solid advantage when the gas starts creeping closer. So whether you prefer Verdansk '84 or Rebirth Island, this guide has you covered. Here's everything we know, including rumours of a new Warzone map set for later this year.
New Warzone map: A rumoured move to a World War II setting
There are rumours that the current Verdansk '84 will be replaced with a map set in the World War II era. It's apparently set to coincide with the release of the also-rumoured Call of Duty: Vanguard in November. According to VGC, the new map is said to be Call of Duty's "largest and most ambitious to date".
There's been no official confirmation but we'll be sure to update you as soon as we know more.
Here's what changed in Verdansk at the start of Season 3
The general layout of 1984 Verdansk didn't change much from the original map. but many of the familiar landmarks have changed or been reworked. We've detailed the biggest changes below.
Verdansk Airport:
The airport has been overhauled and much of the inside has been changed. The second floor is now fully accessible and, with the control tower still present, snipers should have more potential targets to pick off.
Verdansk Stadium:
The Stadium hasn't escaped another redesign and this time it's been treated to an older aesthetic: a smattering of 'under construction' areas. There's more cover on the field than there was previously, but less so outside.
Downtown:
While this area still remains the most dense with buildings, there are now less than there were previously. According to Raven Software, the idea is to make gunfights much smoother between buildings.
Gora Dam is now Gora Summit:
Located in the northwest corner of Verdansk, the new Gora Summit is based on the classic Black Ops 1 map and should be far easier to reach than the original Dam.
Quarry area is now Karst Salt Mines:
The Quarry area was previously known for its multi-story warehouses, but the actual pit has now become the Karst Salt Mines. According to Raven, flattening the area and providing new cover should make this area less of a "death pit".
Old Mine:
This is the first of the new areas on the map and is located just south of Gora Summit. It's a small area but helps break up the dead space between Summit and the rest of Verdansk.
Airplane Factory:
This is another new area that replaces the white cylindrical tanks located near the Airport and Superstore. A concrete tower here could give some advantage in certain situations.
Grid Array:
This new location is pretty hard to miss. The massive structure is near the northeast Quarry and it can be seen from anywhere in Verdansk '84. There is a building at its base.
Standoff:
This last addition is a whole block of map that recreates the classic Black Ops 2 map, Standoff. According to Raven, it's located near where the old Gulag is.
Warzone Verdansk map: Where's the best loot?
The best Warzone loot can be found in supply boxes scattered across the map. The valuable items found in these chests are random, containing weapons (often blueprints with pre-fitted attachments), field upgrades, cash, and even the occasional killstreak. However, it's always worth keeping an eye out for the rarer, orange boxes, which hold better gear such as gas masks and armor satchels that let you hold more armor plates.
Warzone Verdansk map: Where are the hot zones?
Hot zones are where you can expect the most bloodshed to go down at the very beginning of the game. Whether you want to avoid them so you can loot in peace or find somewhere to immediately bloody your hands, check the list below. It's no coincidence that these locations also coincide with loot-rich spots.
Here's a list of the hot zones:
Gora Summit
Verdansk Airport
Superstore
Verdansk Hospital
Downtown Tavorsk District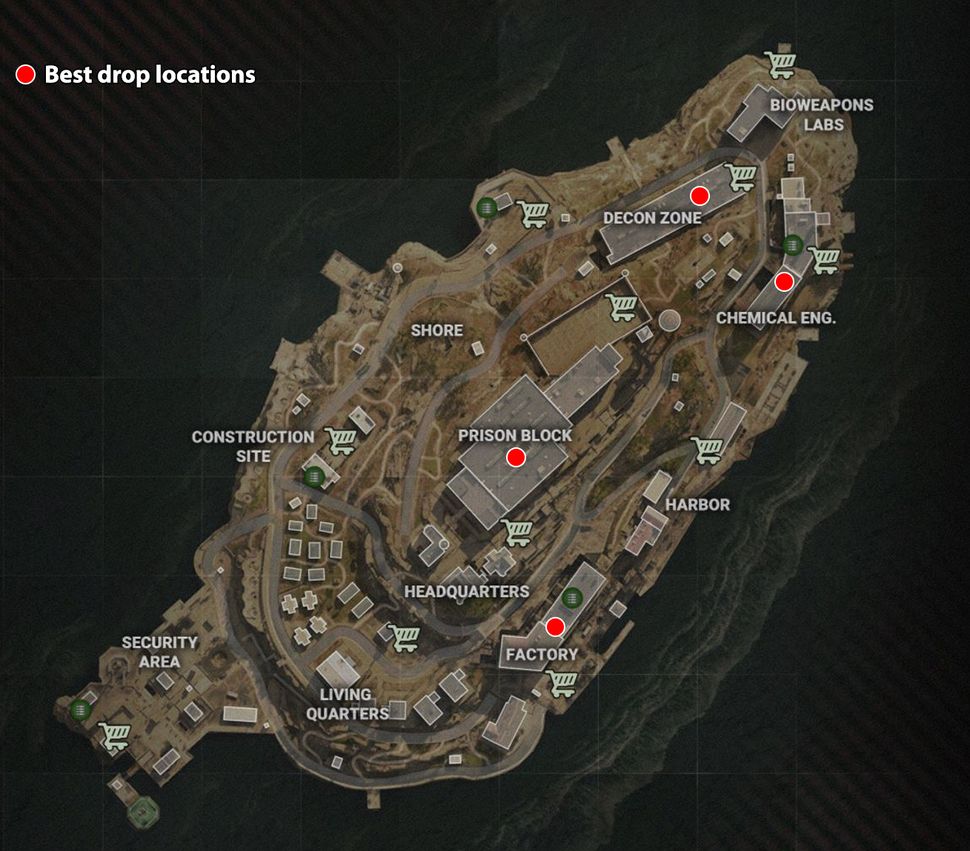 Warzone Rebirth Island map: Best drop locations
Rebirth Island is a much smaller map, currently available in its own playlist. Modes like Rebirth Mini Royale Quads/ Duos are fast-paced matches that take place in condensed areas on the island. If you're hoping to run into other squads quickly as you hunt for the best Warzone guns, here are the best Rebirth Island drop locations:
Prison Block
Decon Zone
Chemical Engineering
Factory
There are also five ammo caches across Rebirth Island, found in: Factory, Chemical Engineering, Security Area, east of Construction Site, and west of Decon Zone.