One of the most interesting systems in early access colony survival sim Stranded: Alien Dawn is that you can eventually rescue all of your survivors, who begin the game after crashing their spaceship on a hostile alien planet. Once you unlock the technology to contact passing starships, escape pods come down from orbit and you can start sending your colonists to safety, one by one, which makes for an incredible, tension-filled endgame.
I had a lot of fun with that escape pod system, but I was also interested to learn that a lot of players didn't want to rescue their survivors. They wanted to keep them on the alien planet for as long as possible, even for in-game decades. I guess when you build a huge base filled with earthly comforts like full kitchens and air conditioning, and set up automated defenses to hold off swarms of alien critters, you may just want to stay put.
There's some great news for people who play Stranded: Alien Dawn for the long haul: A new update arriving next week feels like the perfect way to live out that dream of a permanent base.
In the new scenario called Sow and Sell, which will arrive on March 28, the colonists haven't crashed landed on the alien planet but come there deliberately to seek their fortune. The goal is to set up an outpost on the planet, create farms and generate resources, then start using space pods to trade with colony ships in orbit. This means there's a new economic layer in Stranded: Alien Dawn, and the colonists may eventually earn enough "galacticons" that they'll be able to do more than just live comfortably. They'll be able to buy the whole damn planet.
Buying a planet? If that's not a reason to stay put on a hostile alien world for years, I don't know what is. Even more appealing for those of you who don't want to play by the rules, there's another interesting way to make money: by literally making money. You can research counterfeiting and start printing your own fake galacticoins. Despite the famous saying, sometimes crime really does pay.
The Sow and Sell update adds a bunch of new crops to discover and farm, from plants that generate antibiotics (not just useful for selling but also for treating your colonists' illnesses), synthetic fabrics for clothing, and energy crystals for generating power. You can trade raw resources or use them to craft items like clothing and food and sell those for a higher profit.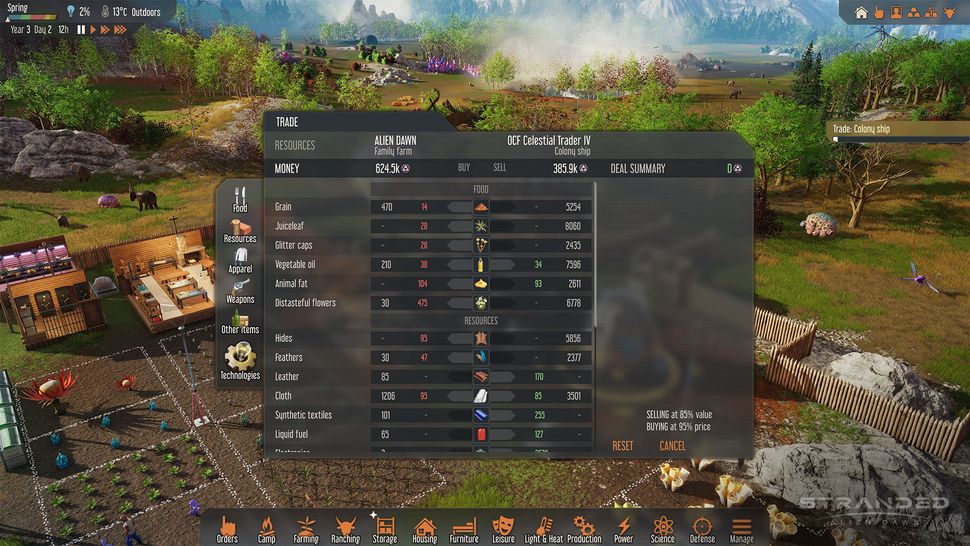 Managing all that trading sounds like a challenge when you're still building a base, hunting for food, defending against swarms of alien critters, and keeping your colonists healthy and sane. But you'll have a bit of help. Since your colonists haven't crashed here but are arriving voluntarily, they're more prepared to carve a life from the planet. They'll begin the game with more starting supplies, and a new survivor on the roster is already an expert farmer and trader when you land.
You can also trade with factions in orbit for extra resources and items you may be lacking, and buy technology outright to save you time spent hunched over a research table. There are four different orbital factions with different needs and goods, so you'll be able to shop around for the best prices. You can even post job openings to hire contract workers, who will come down from space and join your colony.
The Sow and Sell update will arrive on March 28. And along with the update, there's now a 1.0 release date for Stranded: Alien Dawn. The colony survival sim will leave Steam Early Access on April 25. Check out the trailer above, and below find more information about the Sow and Sell update.
Trading Outpost Scenario:
Recruit workers and farm resources in order to trade with four unique factions via their nearby ships and earn Galacticoins. This new currency can then be used to secure trade deals or hire more workers.
Transport both traded resources and workers on and off-planet using Trading Pods, which must be kept fuelled.
Use new research options, including safes for dedicated Galacticoin storage and money-counterfeiting technology to maximise their trading exploits. Hydroponic Racks can also cultivate crops in unfavourable conditions.
Discover a vibrant selection of never-before-seen plants and recipes, such as the sweet and syrupy Mulchplant, and the mood-boosting Buzzshroom.
Dive into the scenario across any region, seed, and difficulty within the game.
New Survivor:
Add an entrepreneurial new survivor, Vicente Santiago, to the group. After losing his family ranch to greedy banks, he boasts a haggler's mind-set and high farming skills – ideal for helping a flourishing base to build profits from its growing resource stockpiles.