Back at E3 2017, DICE announced that Battlefield 5 will be getting a battle royale mode with one word: "Royale." And that was pretty much it. The lack of preparation—there wasn't even a logo to show—made news of the mode seem like a last minute inclusion, whether or not it was.
In actuality, the mode appears to be coming along with the help of Criterion Games. As of early September, we have slightly more information about Firestorm (which is what they're calling the battle royale mode) thanks to a recent trailer and a post from DICE. Watch the trailer above, and read on for the rest of what we know.
When is Battlefield 5's battle royale mode releasing?
Firestorm is coming in Spring 2019, so there's a bit of a wait. Some good news is that we don't expect the mode to be paid DLC, as EA is doing away with season passes for Battlefield 5 and offering all content updates free. Instead, the plan is to sell cosmetic items, and we imagine that battle royale mode will play into that heavily.
Battlefield 5 will release on November 20, but earlier depending on your Origin Access subscription and Battlefield edition. Here's a breakdown of Battlefield 5's release dates.
How many players does Firestorm support?
Firestorm supports 16 teams of four, which comes to 64 players—the usual for large Battlefield matches. There's no mention of whether or not solo play will be possible.
What do we know about the map?
DICE says that Firestom features "the largest Battlefield map ever," which is "a sandbox, filled with destructible buildings, weaponry, and vehicles."
We get a glimpse of it in the trailer, a green valley surrounded by snowy peaks. A ring of fire will act as the 'circle,' forcing players into a smaller and smaller play space as the match goes on.
We also learned from DICE's post that the map will feature Conquest-style objectives. Some will be in the same place every time while others will be placed randomly, and they'll offer "varying types of supplies, weapons, and vehicles."
What vehicles will be available?
DICE's post tells us that Panzer tanks and other vehicles will appear on the map in some way. "Getting hold of a tank can give you a great edge, but you won't be invincible," it reads, "and you need to measure risk versus reward if you challenge other squads to secure the battlefield's most fearsome hardware. Jumping into a transport vehicle will give your squad an edge in speed and power. If you find something with wheels, you can drive it into battle—or plot a quick escape."
How will spawning work?
We don't know yet, but we suspect we'll be jumping out of a plane PUBG-style. Battlefield 5's Airborne mode already works this way for one team, and it doesn't seem like a coincidence that there's a paratrooper system already in place and a battle royale mode in the works. It's just a guess.
What other inspiration has BF5 taken from the genre?
Though the battle royale announcement came as a slight surprise, it probably shouldn't have, as there are hints all throughout BF5's design. Aside from the Airborne mode, one other change has battle royale written all over it: squadmates can now revive each other even if they aren't medics, which makes squad play more similar to PUBG and other battle royale games.
You also start with less ammo than in previous Battlefields, meaning there's more pressure to find resupply crates and support players—ammo conservation and loot hunting, again, scream battle royale.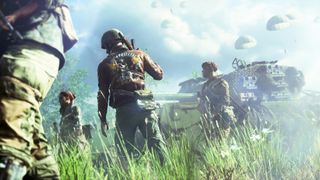 For more on Battlefield 5, here's where we think it improves over Battlefield 1 based on our experience in the closed alpha test. Let us know in the comments where you think the battle royale genre should go next (if anywhere), in Battlefield or otherwise.