The Mini-ITX form factor has a dedicated following and I count myself among this group. The idea of having a gaming build that can fit into a case the size of a shoebox is just so appealing. Though the sheer size of modern high-end graphics cards certainly makes things more challenging!
While ITX boards are produced by all of the major manufacturers, ITX AM5 motherboards are, so far, uncommon. X670/E in particular is very difficult to shrink down to ITX size due to its dual chip architecture. There just isn't the PCB real estate to squeeze everything in—at least not without overcoming some serious challenges. To my knowledge, Asus is the only manufacturer to produce an X670E ITX board to date.
B650/E ITX boards aren't much more common. ASRock is a long-time supporter of the Mini-ITX form factor and the ASRock B650E PG ITX WiFi (opens in new tab) is a small board that manages to pack all of the key features of the AM5 platform into a package that builders can incorporate into the smallest cases.
Modern motherboards include a lot of integrated functionality and ubiquitous USB. So, there isn't a broad need to have several expansion slots as was the case in years gone by. In fact, I'd be surprised if most gamers ever use more than the primary graphics card slot.
ITX inevitably means some compromising though, so if you require many M.2 slots or you need extra PCIe slots for things like sound cards, then you'll need to stick with mATX or ATX. But the ASRock B650E PG ITX WiFi is first and foremost a board for a compact system. Does it have to cut out too much though in order to achieve its miniaturization goal?
ASRock B650E PG-ITX WiFi overview and specs
The ASRock B650E PG ITX—as the name suggests—includes the B650E chipset including a PCIe 5.0 x16 slot and a PCIe 5.0 x4 M.2 slot. That means the board is as future-proofed as it's reasonably possible to make a motherboard right now. Assuming AMD keeps to its promise to support AM5 for the next few years, there's little reason to doubt you could run a Zen 5 or Zen 6 CPU, plus a future generation PCIe 5.0 graphics card with just a simple BIOS update. You'll absolutely need to update the BIOS before upgrading though, as the board lacks CPU-less BIOS flashback capability.
In addition to the primary M.2 slot, there's another PCIe 4.0 supporting slot on the back of the board. But it's very important to note that motherboards seldom receive much, if any airflow on the back, so this slot would be best populated by a slower or cool running drive for bulk storage. Otherwise it'll get toasty back there.
There's no worry the primary slot will get toasty though. Its cooled by a large heatsink that includes the dreaded tiny fan. To answer the obvious question, yes, it is too loud, but that's before you go into the BIOS and select its 'silent mode' after which it becomes totally inaudible. Phew! At least you can be sure that a next gen PCIe 5.0 SSD will have cooling that's more than adequate.
B650E PG-ITX WiFi specs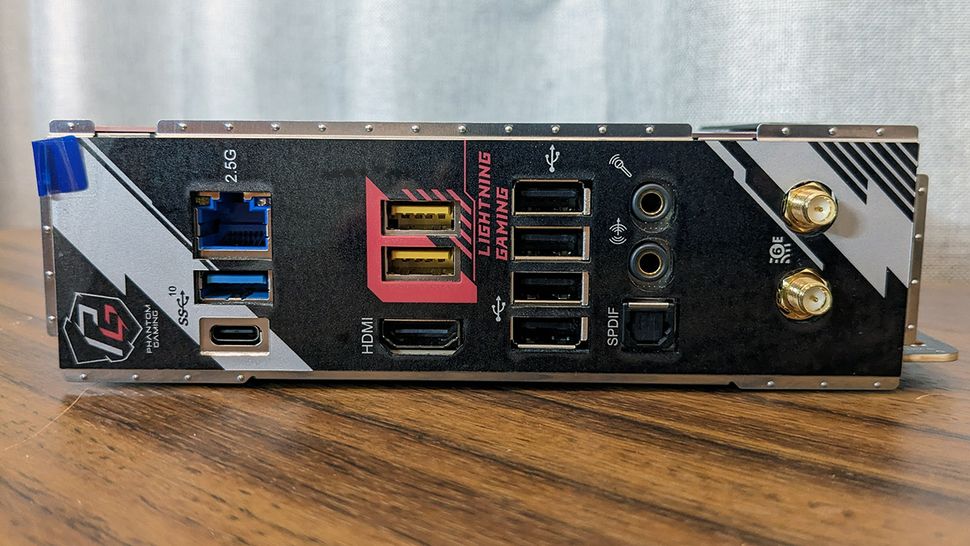 Socket: AMD Socket AM5
CPU compatibility: Ryzen 7000 series desktop processors
Form factor: Mini-ITX
Memory support: DDR5-6400+(OC), Up to 64GB
Storage: 2x M.2, 2x SATA
USB: Up to 1x USB 3.2 Gen2x2, 4x USB 3.2 Gen 2, 2x USB 3.1 Gen 1, 6x USB 2.0
Display: 1x HDMI 2.1, 1x eDP 1.4
Networking: Killer E3100G 2.5G LAN, AX1675 Wi-Fi 6E
Audio: Realtek ALC1220
Price: $259 (opens in new tab) / £306 (opens in new tab)/ AU$549 (opens in new tab)
The rest of the board includes fairly typical ITX fare, though just two SATA ports might be an issue for some. Three fan headers is the absolute minimum too. More impressive is support for a front USB 3.2 Gen 2x2 port and dual ARGB headers. Perhaps most curious feature of all is the inclusion of an embedded DP connector on the rear of the board.
An eDP connector is used for connecting to something like ASRock's own 13.3-in side panel kit (opens in new tab). It's also present on the ASRock Z790 Livemixer (opens in new tab) motherboard. And as I noted then, it's very much a niche extra, especially considering the rear I/O doesn't include a standard DisplayPort. It makes even less sense on a small form factor build which probably won't be large enough to attach such a monitor to.
The VRM is usually an area where ITX boards are forced to compromise. Yet the B650E PG ITX comes with an impressive 10+2+1 phase VRM with 105a stages. That's easily enough to power my Ryzen 9 7950X (opens in new tab) CPU, even when fully loaded. But doing so does stress the cooling of the little board which is never going to have the surface area of the VRM heatsinks of larger boards.
As long as you have good case airflow it'll be ok but I did see it cross the 70°C mark, and that's with an open case and airflow from the AIO cooler. It's well within limits, but If you plan to thrash a high core count CPU inside a cramped case, you must keep an eye on the VRM temperatures.
The rear I/O isn't as packed as those you'll see on ATX boards. The USB count is adequate, with four USB 3.2 Gen 2 ports (one of which is a Type-C) plus four USB 2.0 ports. ASRock refers to two of the 3.2 ports as 'Lightning Gaming ports'. They use a dedicated controller that supposedly minimizes jitter and lowers latency. I'll take ASRock's word for it. You get a single HDMI port but DisplayPort is omitted in favor of the aforementioned eDP.
ASRock chose Killer E3100 2.5G LAN and Killer AX1675 WiFi 6E controllers with Doubleshot Pro support. Killer NICS may have gotten a bad rap for various reasons a few years ago, but since Intel bought out Rivet Networks in 2020 there seem to be few complaints.
The line-out and mic ports are joined by an optical S/PDIF connector. The board incorporates a Realtek ALC1220 codec with Nahimic software support.
ASRock B650E PG-ITX WIFI benchmarks and performance
System Performance
Gaming Performance
ASRock B650E PG-ITX WIFI analysis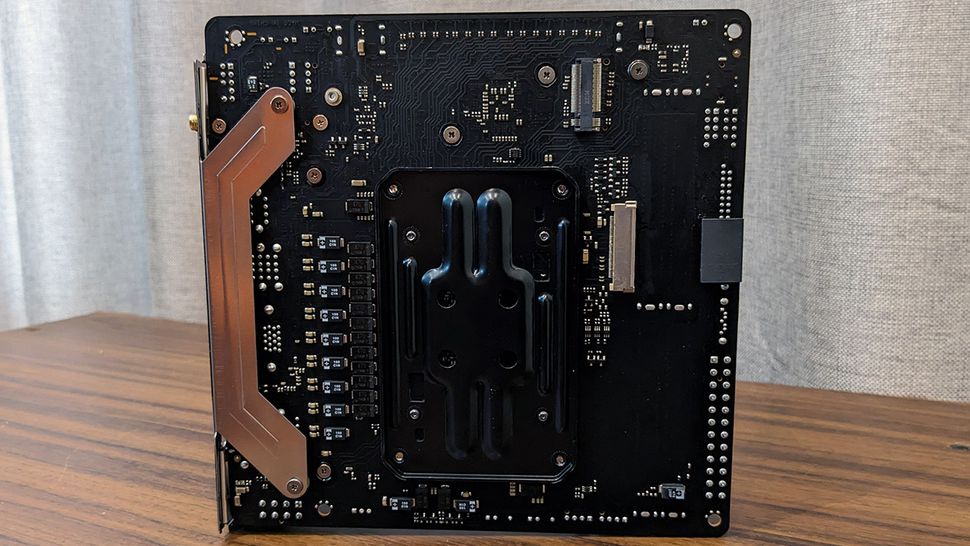 The little ASRock tended to fall a tiny bit behind the other B650 boards I've tested to date. That's not to say there's anything to be concerned about, as most of the time, motherboards with the same underlying AGESA BIOS code tend to fall within a margin of error of one another. A second here or a frame there isn't going to be noticed at all.
The ASRock BIOS is well laid out, with most settings being well labeled and easy to find. It doesn't have all of the esoteric options of more expensive or overclocking themed boards, but then this isn't a board you'd use to overclock beyond a simple enabling of PBO.
Test rig
CPU: AMD Ryzen 9 7950X
Graphics: Nvidia GeForce RTX 4090 Founders Edition
RAM: 2x 16GB G.Skill Trident Z5 DDR5-6000 C30
Storage: 2TB Seagate FireCuda 530
Cooling: Cooler Master PL360 Flux 360mm AIO
PSU: Corsair AX1000
In fact, this is the kind of board that's tailor made for the advanced PBO modes and Curve Optimizer. A non-X CPU would be a great choice to use with the PG ITX, but if you do use an X model, then applying Tjmax limits of 75°C or 85°C will deliver most of the performance of a default chip, while being easy on your cooling and the VRM of the board.
We're talking about SFF systems here. I for one love the idea of a tweaked 7000 series processor sipping power with a simple and quiet air cooler. Many of you think the same, even if it is a little counter-intuitive when thinking of high-end CPUs and gaming rigs. Sometimes less really is more.
ASRock B650E PG-ITX WIFI verdict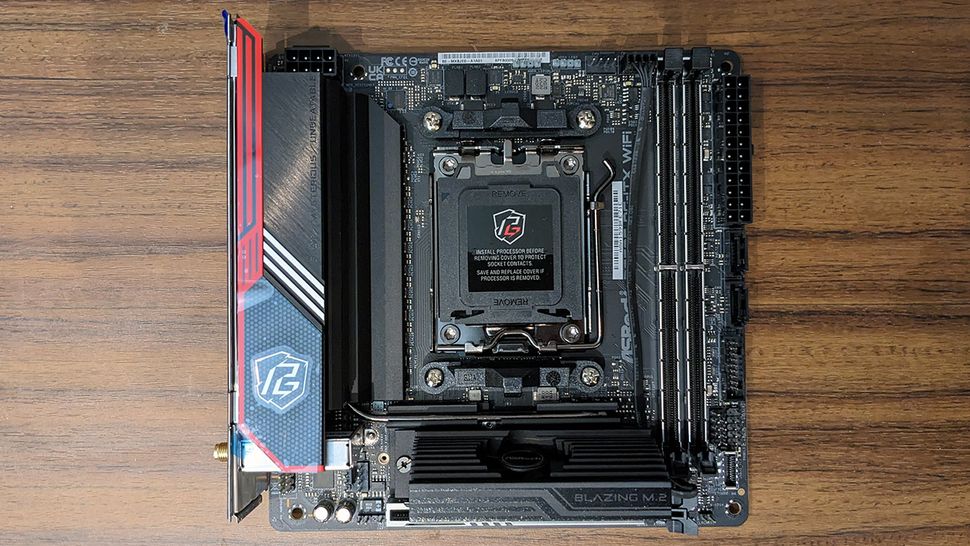 Mini-ITX boards are pretty much niche products. For most gamers, a regular ATX board will do the job, perhaps for cheaper and come with a better VRM or a few more USB or SATA ports. But small form factor fans are—to state the obvious, specifically looking for SFF boards, and they're prepared to live without four M2 slots or PCIe slots for expansion cards.
So, the ASRock B650E PG ITX isn't comparable to an ATX board using traditional criteria. What it does deliver is the soon to be relevant PCIe 5.0 support and future upgradeability the AM5 socket offers. If you add 32GB or 64GB of DDR5-6000, your choice of graphics card and any CPU from the 7950X down, you'll have a top of the line gaming rig that you can squeeze into a desk friendly build.
Alternatively, you can put it into a tiny case with a 7600 CPU, undervolt it, and have a truly silent little system. ITX can be very flexible.
I found the B650E ITX board to deliver a well-rounded and mature experience. I tend to like the simplicity of ASRock's BIOS though the PG ITX's fan settings were aggressive. That's something that you'll no doubt notice when you first fire it up. That little fan gets loud! But one BIOS change and you'll forget it's there.
Its VRM is surprisingly capable. It's built to handle the more demanding requirements of Ryzen 7000 CPUs and hopefully future Ryzen 8000 and 9000 CPUs too. Do pay attention to the VRM temperatures though. These could get out of hand in cases lacking sufficient airflow.
You'll already know if a Socket AM5 Mini-ITX board is for you or not. Though there are surprisingly competitive options at this price, they don't have the full PCIe 5.0 support of the ASRock. The Asus B650E competitor costs at least $70 more. That means that like for like, the ASRock B650E PG ITX has no direct competition. Its forward looking feature set, strong VRM and good value for money make it one of very few AM5 boards to consider if you're a SFF fan with an eye to the future.