As reported by Aerotime, on January 18 user RanchSauce39 on the War Thunder forums shared scans of an operations manual for the F-15 Eagle fighter jet, data that is potentially against US law to disseminate, in the course of a long forum thread about the history of the vehicle and its performance in the long-running military simulator.
This incident is not to be confused with that time in July 2021 when a War Thunder player posted classified documents related to the British Challenger 2 tank to the forums, the brisk morning in October 2021 when a War Thunder forum goer shared classified documents related to the French Leclerc Serie 2 main battle tank, that astounding day last June when a wayward child of God dropped classified deets on the Chinese DTC 10-125 125mm anti-tank round, or, indeed, just a few days ago when, where else but on the War Thunder forums, a confused pilgrim went and divulged restricted documents pertaining to the F-16 Fighting Falcon.
While the F-15 is an older model of fighter jet and its operations manuals are not strictly classified anymore, the legality of disseminating these full .pdfs of the F-15's flight manuals is… dubious. RanchSauce39 argued that "Only OFP [Operational Flight Plan] Suite 4 and later academic workbooks got distribution statements issued on them. So any workbooks that you find up to Suite 3 should be fine."
Another user, MiG_23M, asserted that a concerned poster could "Contact Seymour Johnson Air Force Base regarding these manuals and ask if they were improperly marked when containing possible CUI." (CUI designation refers to Department of Defense materials that are not classified, but still restricted from public view.) MiG went on to argue that Gaijin and RanchSauce39 had no legal responsibilities pertaining to the documents.
Poster spacenavy90 was not convinced, pointing out warnings printed in a standard F-15 manual: "Distribution authorized to the Department of Defense and US DoD contractors only. Critical Technology," the flight manual begins. "WARNING - This document contains technical data whose export is restricted by the ARMS Export Control Act… Violation of these export laws are subject to severe criminal penalties."
If spacenavy90's name sounds familiar, it's because they posted the offending F-16 related content on the War Thunder forums earlier this week. "Sorry but I find it very hypocritical that I can be attacked for posting simple screenshots about the F-16A from 1982, but this is considered just fine," they bemoaned. "So much for caring about the protection of sensitive military information I guess..." Whether this is a face-turn or a heel-turn for spacenavy90, I leave it up to the reader.
Whatever the precise legality of sharing these documents related to the F-15 and 16, the moderators of the forum deemed it an absolute, definite no-no and removed RanchSauce39's offending original post, though a screenshot with the links blacked out remains up on the game's subreddit.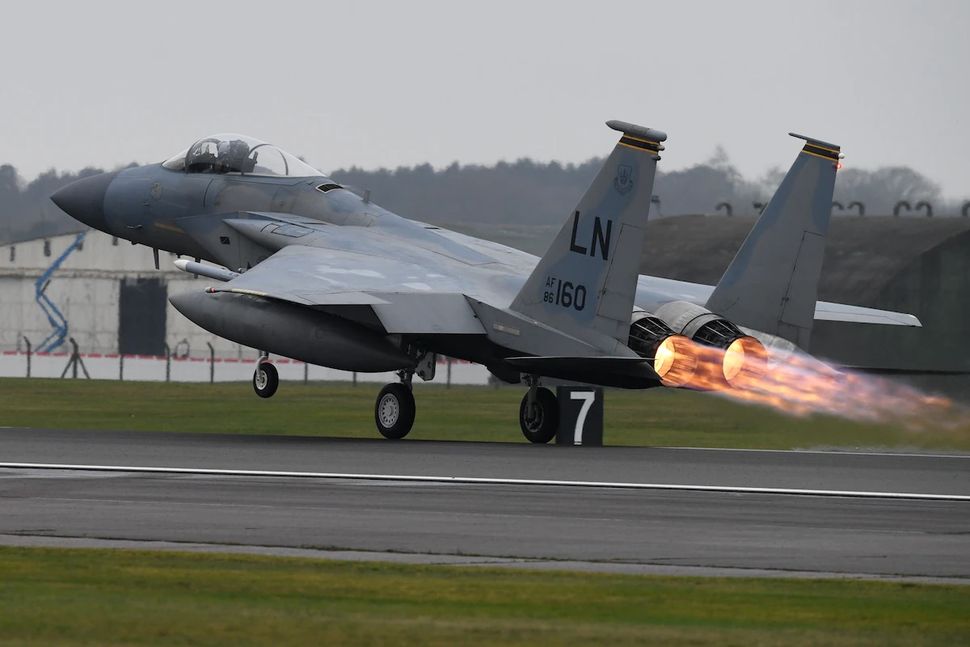 "Guys, I'm going to say this very clearly for everyone," Community manager Smin1080p stated, deep into the F-15 discussion thread. "If you cannot definitively prove something is legally publicly available, fully declassified and without any restrictions, do not post it at all."
I can practically feel the "I swear to God I will turn this car around" energy dripping from Smin1080p's appeal. How did it come to this, this mil sim game from 2014 having its forums regularly playing host to state secrets? What I do know is it will never stop being hilarious seeing a gearhead just drop a restricted/classified military manual on a videogame forum in the name of encouraging in-game accuracy. This is classic forum excellence in the spirit of a bunch of bodybuilding.com guys arguing over how many days are in a week. More than War Thunder itself, the dissemination of sensitive documents to War Thunder's forums is becoming an institution.