Stardew Valley has absolutely blossomed since it released in 2016. There are thousands of Stardew Valley mods out there that do everything from changing what your animals look like, to making fishing easier, to adding items and adjusting game balance. We've completely overhauled our guide to the best Stardew Valley mods that change how the game looks and make farm life more convenient.
Most of these mods were found either on the official Stardew Valley Mod forum or at the game's Nexus Mods page, both of which are getting more amazing mods everyday. If you're wondering how to play multiplayer, see our separate Stardew Valley multiplayer guide. Even with mods, Stardew Valley is one of the best laptop games to play on a low-spec machine.
An important thing to note before jumping in is that Stardew Valley does still get updates. Since there isn't any official mod support, there's a chance that mods will break or need to be reinstalled after updates. It's smart to back-up any files you are going to modify in case you need to revert the changes. And back up your save data just to be safe. It can be found by default at C:\Users\[USERNAME]\AppData\Roaming\StardewValley\Saves.
Stardew Valley mods: how to install them
How to install Stardew Valley mods
Most of these mods are simple modifications to the game's XNB files. That means all you need to do to install them is download the modified XNB, find the corresponding XNB file in the Stardew Valley 'Content' folder—default location is "C:\Steam\steamapps\common\Stardew Valley\Content", and the XNB you are looking for may be in a subfolder within the 'Content' folder—and then replace the original XNB with the one you downloaded. Though, like I said, you should make a back-up of the original in case you want to remove the mod.
Stardew Modding API (SMAPI)
Mods that make more complex changes may require the "Stardew Modding API", or SMAPI for short. This is a community-made API that is frequently being updated and allows you to use DLL mods. It's a slightly bigger hassle to install these mods than the XNB ones—as you first need to install SMAPI and then download DLL mods to place into SMAPI's mod folder—but it also allows those mods to make much deeper changes to the game. You can download SMAPI on the Stardew Valley modding forum, and I'll be sure to mark which mods require it to be used.
Stardew Valley ModManager (SDVMM)
There's also a great community-made ModManager tool created by modder yuuki called SDVMM. This will help you install and update SMAPI, as well as keep track of all of your mods. It allows you to easily activate and deactivate specific mods without having to remove the files completely, giving you more flexibility if you want to try something on this list out but potentially not keep the mod forever.
Stardew Valley Content Patcher
Many of the most current Stardew Valley mods are compatible with Content Patcher, a tool which loads a whole host of mods without changing the XNB files, making install and uninstall easier, as well as reducing the likelihood of conflicts between mods. Content Patcher can be unzipped into Stardew Valley's "mods" folder in the same location dictated above. You can then run Stardew Valley with SMAPI.
Now then, let's get to the mods!
Stardew Valley Gameplay Mods
Stardew Valley Expanded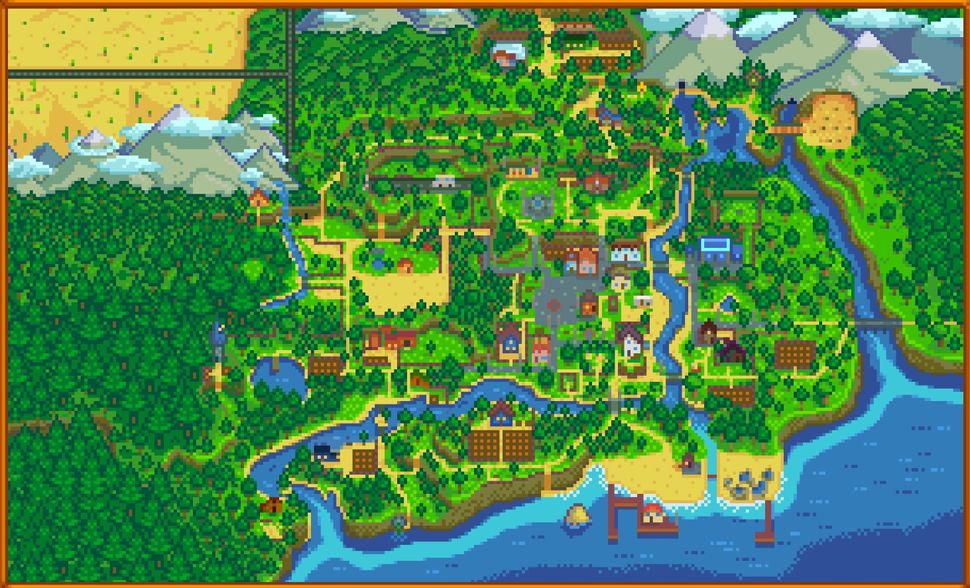 Stardew Valley Expanded is one of the biggest Stardew mods out there and it really does feel like a proper Stardew Valley expansion. It adds tons of new characters with their own backstories and events. It adds new farm maps and tons of new in game locations too. Those are just the big changes. SDVE comes with plenty of smaller tweaks too and if any mod is worth starting Stardew over for, it's this one.
Farm Extended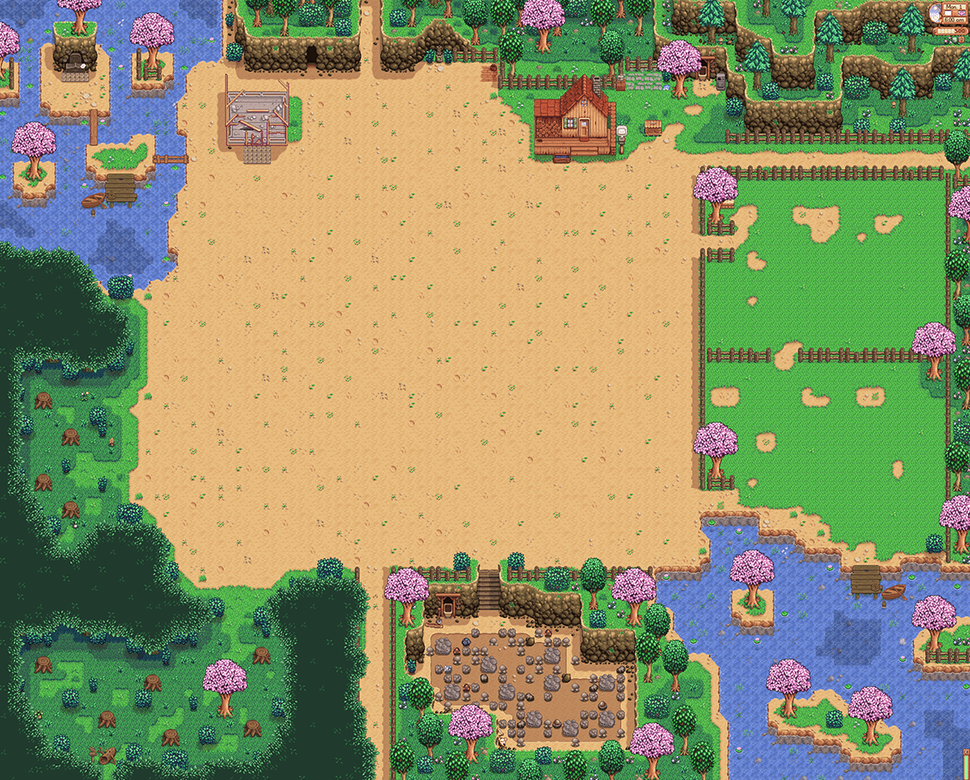 For those of us who really struggle to choose a farm type when starting a new farm, Farm Extended gives the standard farm benefits of all the specialty farms. The extended farm features dedicated areas for fishing, foraging, and mining as well as fenced areas designed to keep animals from escaping. Modder Forkmaster also added a minecart stop behind the farmhouse for quick travel to other parts of town directly from home.
Stardew Aquarium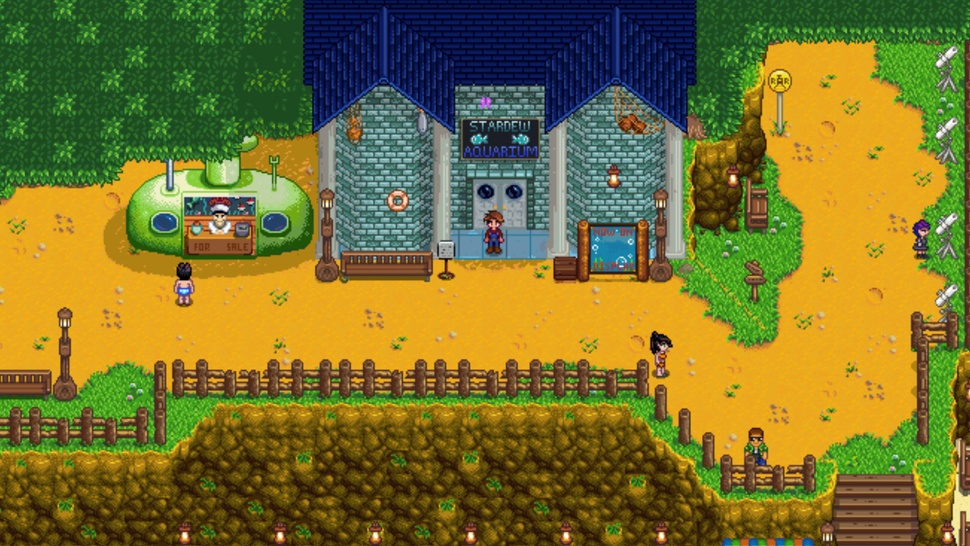 This unreasonably awesome add-on made by a talented group of modders adds an entire aquarium to the game. Just like in Animal Crossing, fish you donate to the aquarium become exhibits that you can see for yourself. The aquarium itself is located in a new beach area that can be accessed via the train in Pelican Town.
Bathroom house upgrade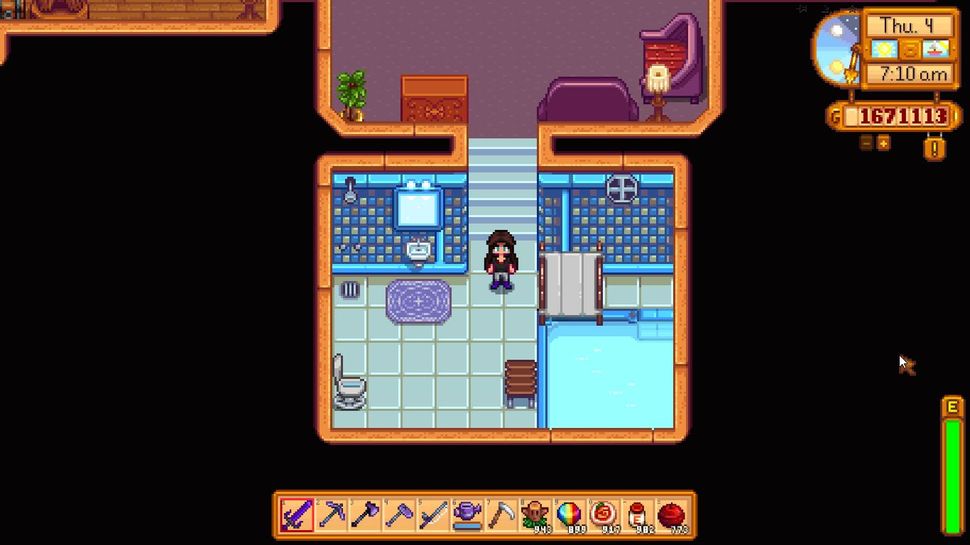 Despite all the upgrades Robin can add to your farmhouse, she apparently wants to keep the bathhouse north of town to herself. This mod for adding a bathroom to the farmhouse's second upgrade gives you a private in-home spa for refreshing your energy on busy farm days. This mod won't work with any others that change the interior layout of the second farmhouse, so beware!
Jamie's Balanced Greenhouse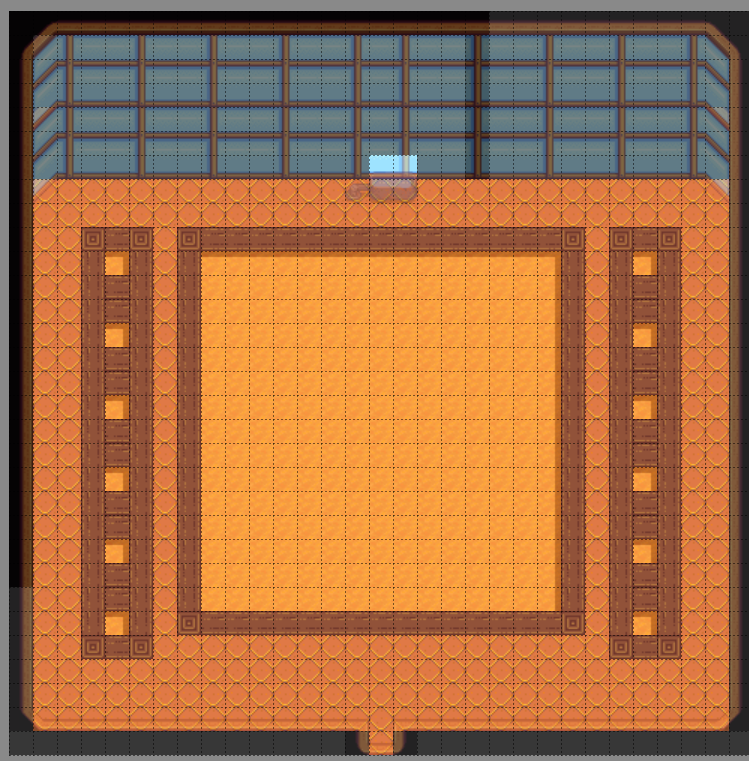 There are a ton of mods for expanding the greenhouse, most of which are excessively large. Personally, I don't want to do all of my farming inside the greenhouse. Jamie's Balanced Greenhouse is a perfectly modest expansion to the greenhouse space. It turns the central plot into a 15x15 square, meaning you can evenly place either medium or iridium sprinklers. It also adds 12 individual square plots meant for planting trees, since we were all planting our fruit trees in a ring around the default greenhouse plot already.
Coffee Shoppe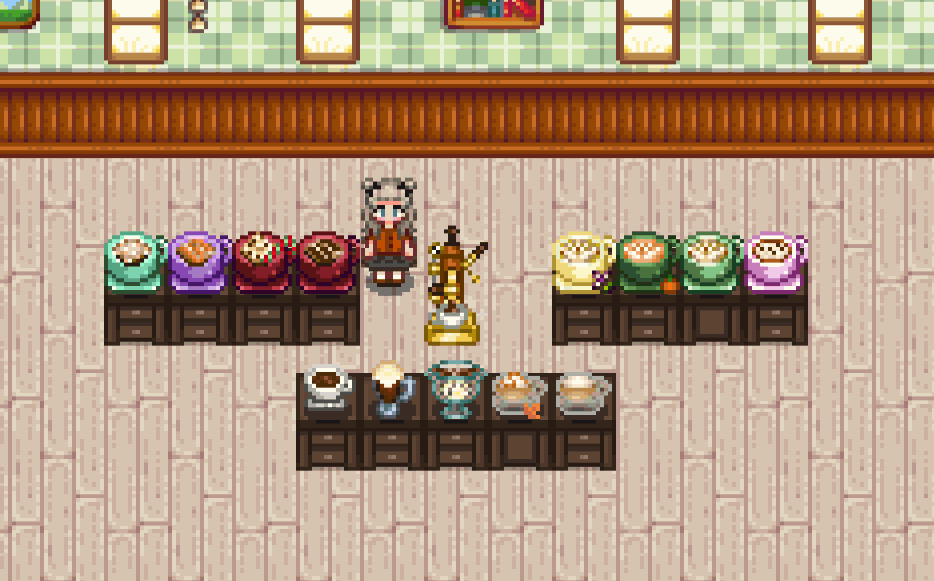 Pelican Town may be a rural town but that doesn't mean that its villagers should have to settle for just your average cup of joe every morning. Coffee Shoppe adds a new espresso machine for creating fancy drinks like maple macchiatos and peppermint mochas. There are a number of new pastry recipes that it adds as well for cake pops and petite fours to pair with these stylish urban drinks.
Animal Husbandry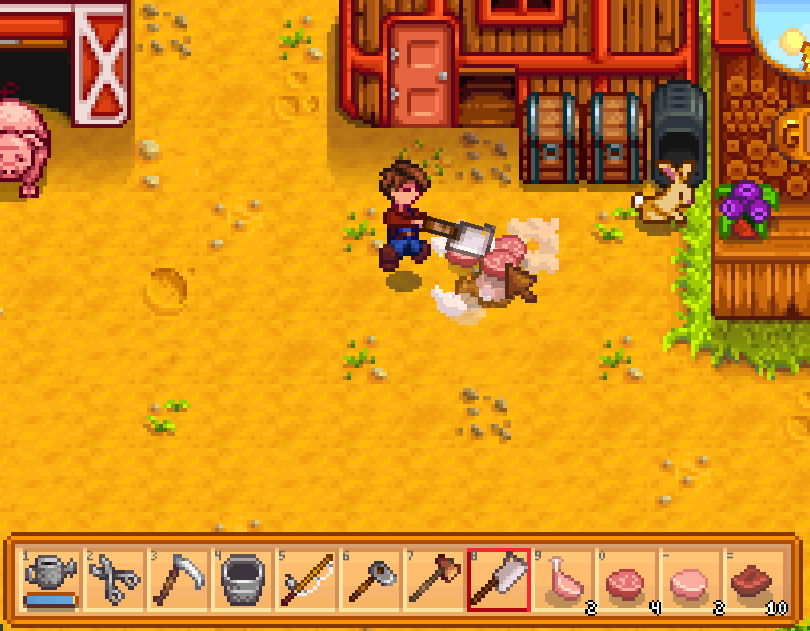 The Animal Husbandry mod, formerly known as the Butcher Mod, allows you to turn your animal friends into their component meat parts. If you don't care for using the meat cleaver on your cute little hogs, modder Digus added a "softmode" that changes the cleaver into a Meat Wand that lets you "exchange your animals for meat that grows on trees on another dimension." As another uncanny alternative, the mod Fresh Meat adds plants that you can grow and harvest meat from. Does that count as vegan?
Cannabis Kit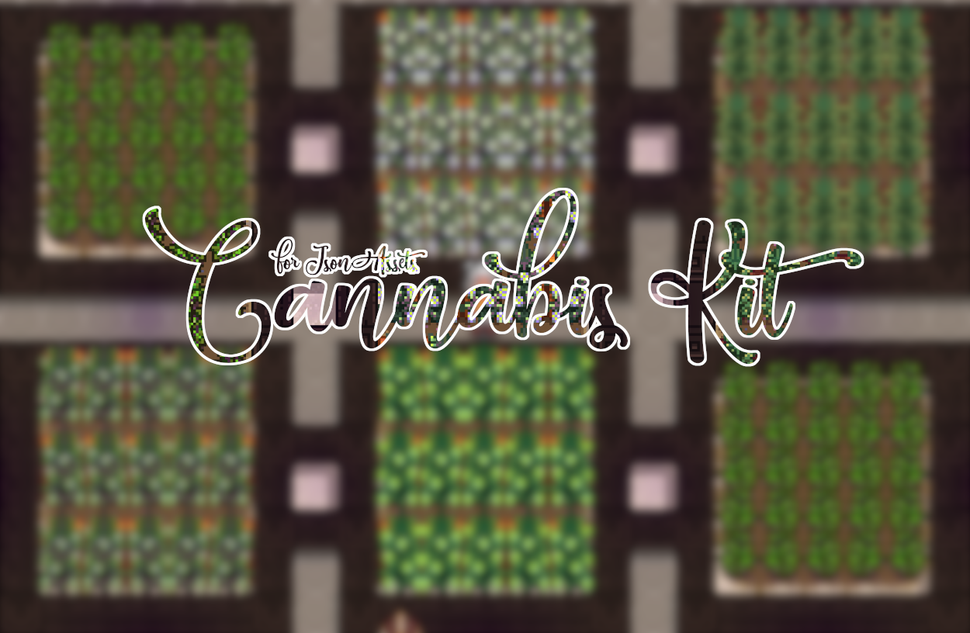 "Mayor Lewis has recently passed legislation allowing you to now grow cannabis on your farm!" says modder Paradigmnomad. Cannabis Kit adds a number of cannabis strains that can be bought from Harvey and Pierre during the summer and fall. Your mature cannabis plants can be crafted with original Stardew Valley artisan machines to produce products like hemp cloth and cannabis oil.
Six Winter Crops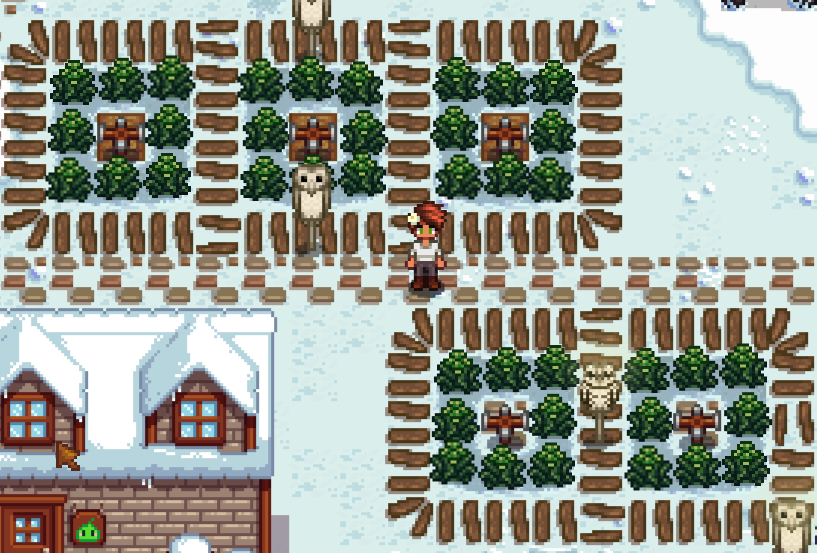 Six Plantable Crops for Winter does exactly as it says and no more. Winters can be dull in Stardew Valley when the only activity is delving into the mines. For those of us that really just prefer farming to fighting, these six new crops give you a goal for the winter. Your farm can still look lively in the snow if you plant napa cabbage and blue roses!
The Love of Cooking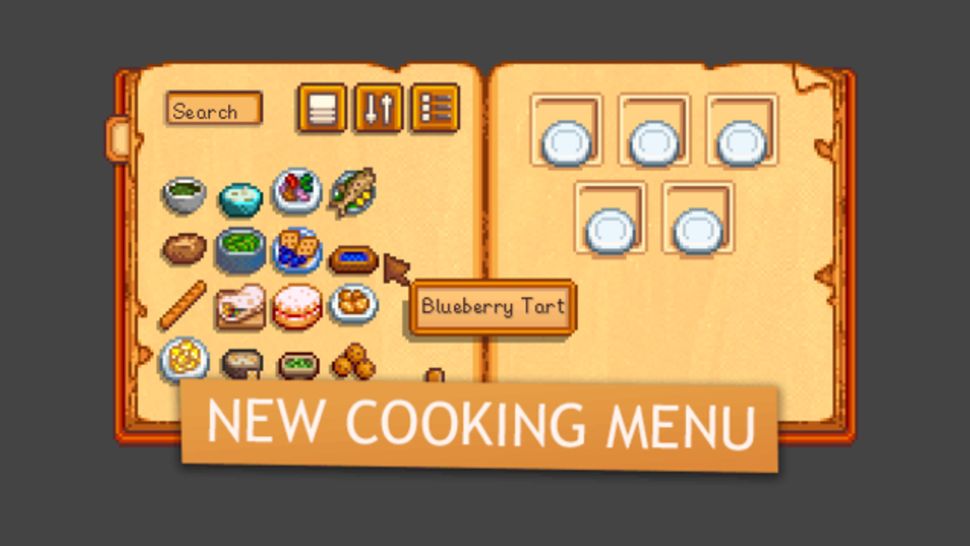 This mod is for people who really do love cooking and want it to matter more in Stardew Valley. It adds new recipes, a search function, and the ability to toggle using high-quality ingredients. It even changes healing so that eating foods heals over time instead of instantly. There's even a new community center challenge that unlocks kitchen upgrades.
Automate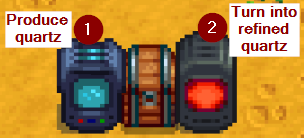 The Automate mod is a huge boon to productivity on the farm that reminds me of complicated redstone machinery in Minecraft. Automate allows you to pair chests with machines that automatically pull raw materials from a connected chest and push the output back into the same chest. Smarter folks than me will be able to chain together complex interactions that save you from running about your farm to fill up machines all day.
Tractor Mod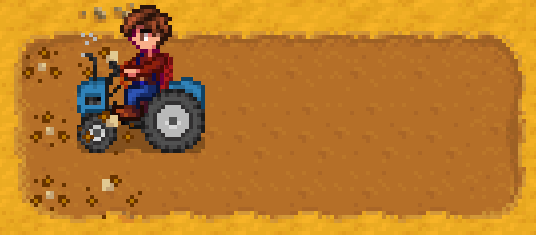 Modern farmers rejoice! No longer does escaping to the countryside mean you must also submit to ancient farming techniques. The Tractor Mod allows you to purchase a tractor that performs the same functions as many of your basic farm tools but faster. It does everything from tilling dirt to breaking rocks to planting seeds, all from the comfort of a cushy seat.
Teh's Fishing Overhaul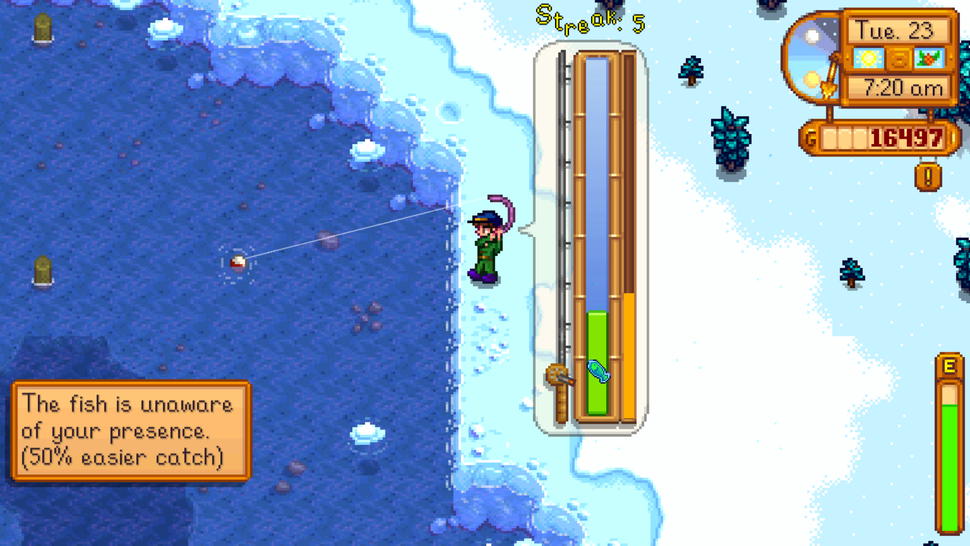 Stardew Valley is one of few games where I don't outright detest the fishing minigame, but Teh's Fishing Overhaul makes the experience that much better. It adds the possibility for fish to be unaware of you, making them easier to catch, and rewards you for consecutive perfect catches as well. I'll still never choose the riverland farm map, but this overhaul will certainly make grabbing those fishing achievements less painful.
Multiple Spouses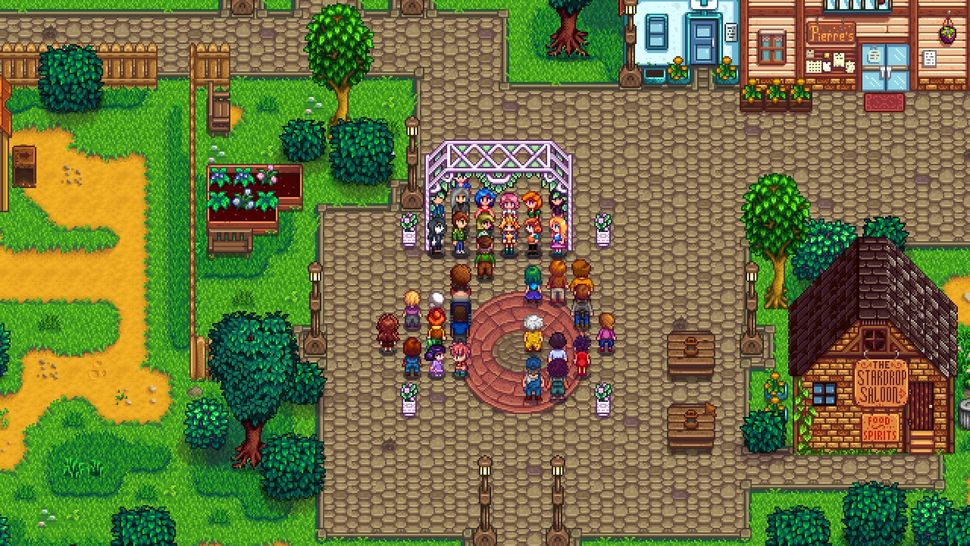 Choosing a paramour from all of Pelican Town's eligible individuals is a struggle every time I start a new game. Abigail speaks to my nerdy little heart but doesn't poor Shane deserve to be saved from the clutches of JojaMart?
Platonic Partners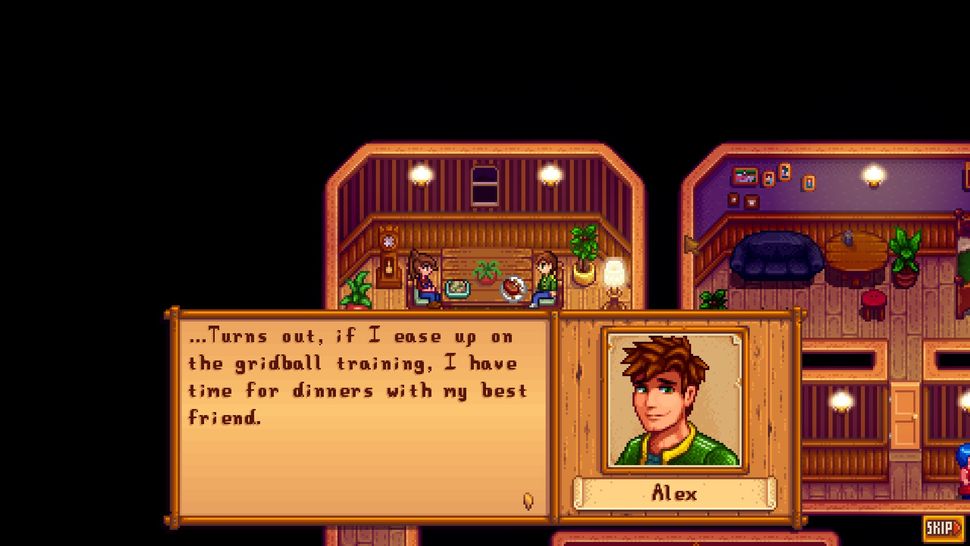 For the exact opposite of the Multiple Spouses mod, the Platonic Partners mod lets you have a 10-heart level relationship with marriage candidates without getting married. Final relationship events for each character have been edited to reflect your close personal relationship. You can also still live together or co-parent children, just without the romantic component.
Romanceable Rasmodius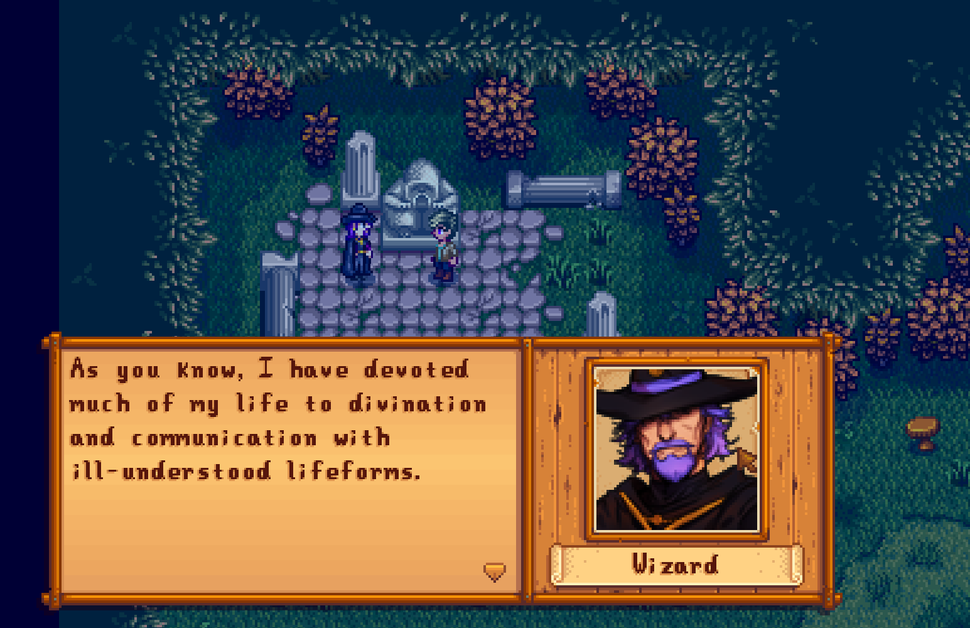 I've never been inclined to marry Rasmodius the wizard, but apparently modder WerewolfMaster was so inspired after playing another mod, Wizard Narrative Overhaul. Romanceable Rasmodius builds on the narrative overhaul created by Haywrites to turn him into a marriage candidate complete with heart events, post-marriage dialogue, and festival dialogue that references your relationship. I suspect this would pair well with a mod that changes Rasmodius's portrait to make him look a little more age appropriate for your young-adult farmer.
Responsible Marnie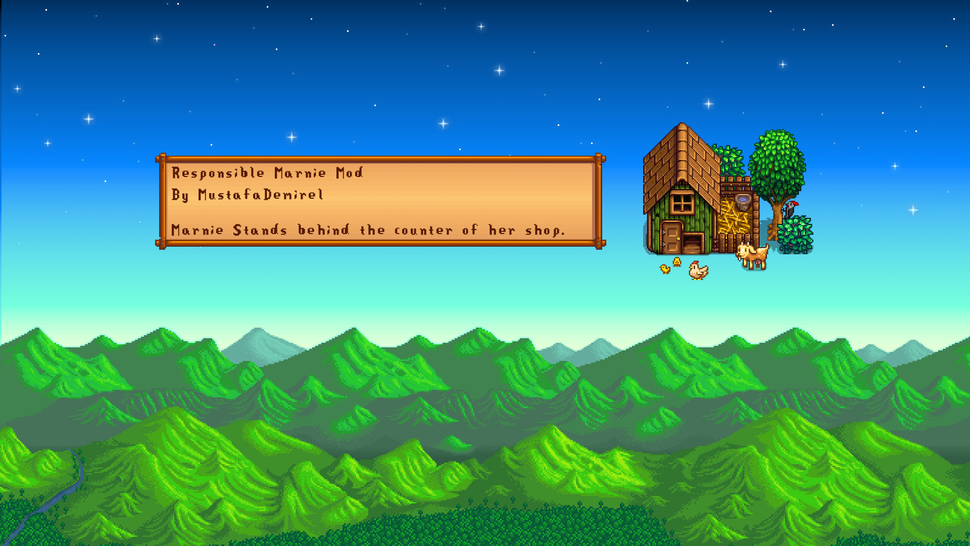 I'm clearly not the only person that has failed to memorize Marnie's schedule. Any time I want to buy a new animal she seems to be anywhere but the shop that she owns and runs. I just want to give you my money, Marnie! Responsible Marnie is a small but crucial fix to one of my greatest Stardew frustrations. It ensures that Marnie will actually stand behind the counter of her shop on weekdays like a good shop owner.
Stardew Valley Visual Mods
DCBurger's Portrait Mod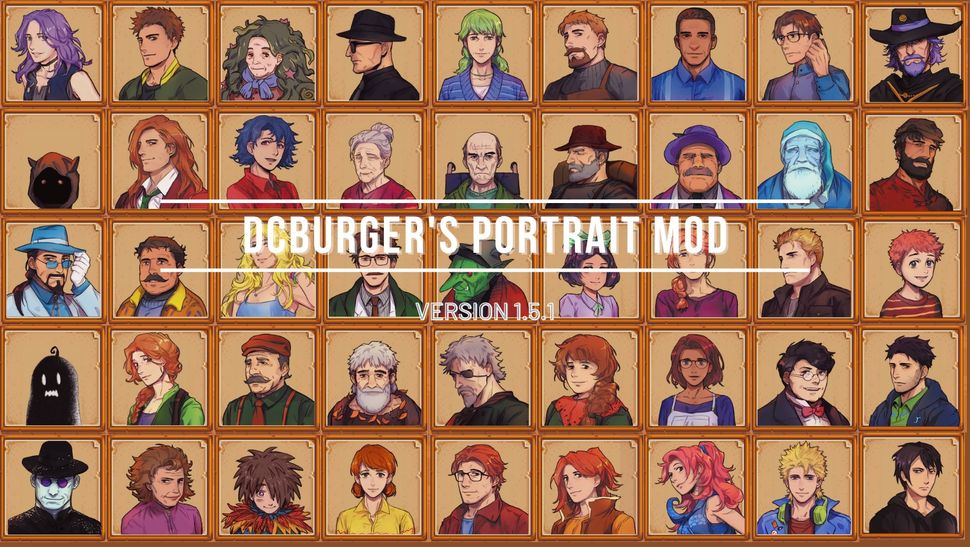 My own favorite portrait mod is DCBurger's Portrait Mod, unlike the many, many anime-style character edits and gender swaps, DCBurger's portraits are grittier. All of the characters have a darker style with square jaws and more masculine features. They may not exactly fit in with the vanilla version of Pelican Town, but they're a nice break from the cuteness. These portraits rely on the Portraiture mod that allows for higher resolution character portraits.
Stardew Anime Mods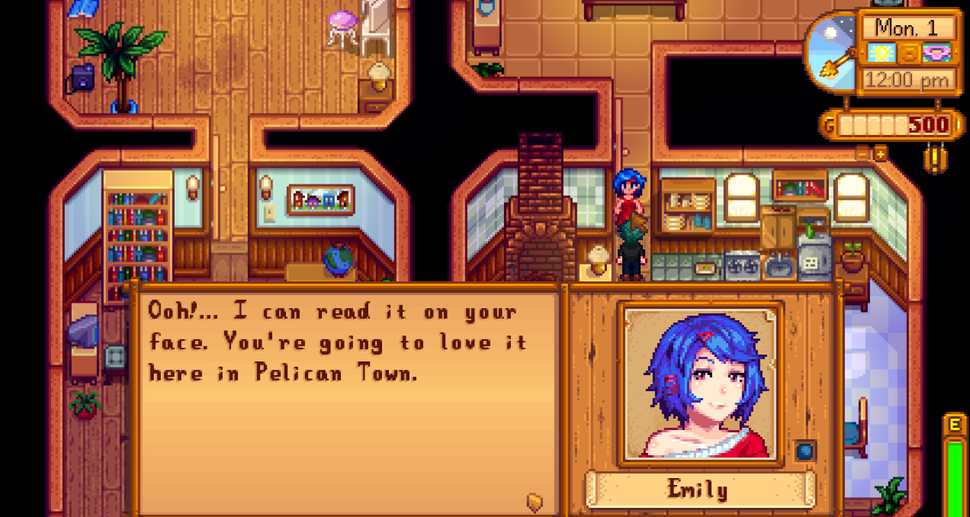 Stardew Anime Mods is one of the most popular portrait mods for Stardew, for good reason. Its detailed and brightly colored pixel work fits in great with vanilla Stardew Valley. Unfortunately, it mostly just includes portraits for the young women of Stardew Valley, meaning that the bachelors will all look just a little less sparkly in comparison.
Diverse Stardew Valley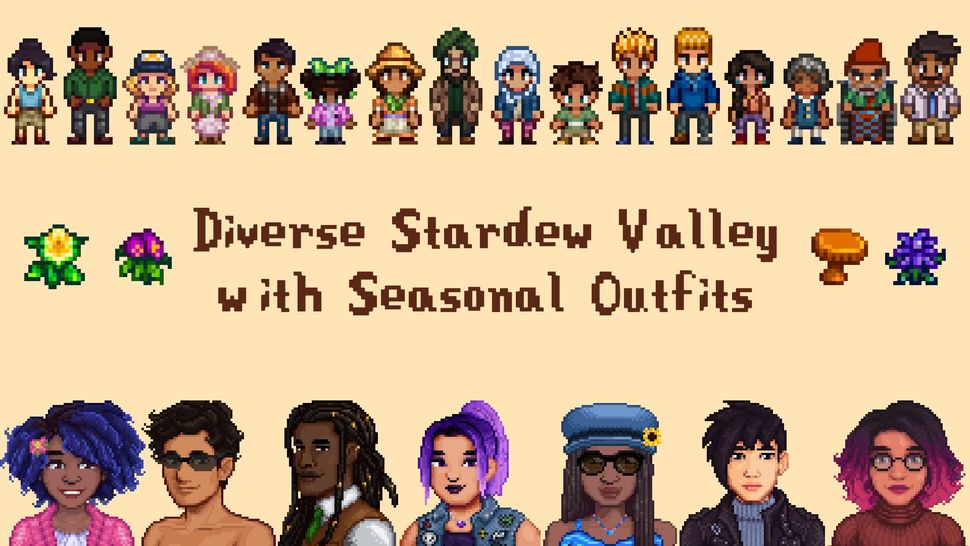 Stardew Valley has a great cast of characters, but it's hard to deny that they're a little bit vanilla. This mod changes that, by adding "ethnic, cultural, gender identity and body type diversity." Once downloaded, you can choose whether to keep the original model for each character or switch to the more diverse one. If you do make the switch, not only will the character model change, but they'll also get their own seasonal outfits, swimming costume, maternity outfits when pregnant, and a handful of other additions. Even better, the characters you don't switch will still be eligible for other mods.
Monster Valley

Games about dating monsters and swords and birds have worked their way into gaming mainstream over the last year and Monster Valley carries in their freaky footsteps. "Ever wanted to date a demon? Seduce a slime girl? Marry a merman?" Asks modder Blizzriel. "Well, now you can!" Monster Valley changes both the portraits and sprites of Pelican Town's most eligible and their families into spooky alternatives. Sebastian and Robin become demons, while Maru and Demetrius are patchwork dolls. Elliott, of course, is a merman.
No Spouse Rooms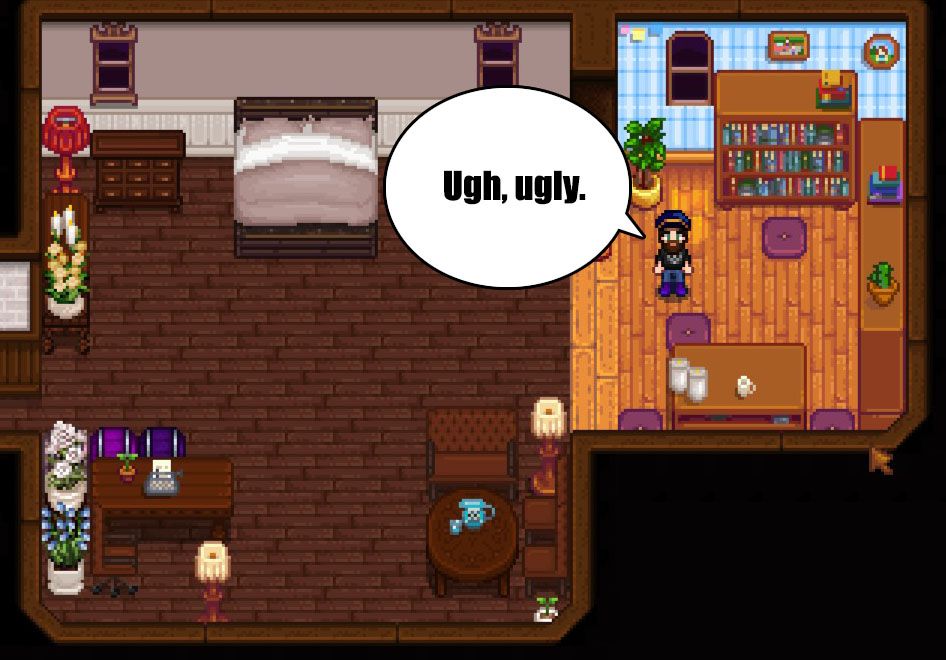 Deciding who to pursue as a spouse is an important part of every new farm I start. While I love all of Stardew's beaus and belles, I'm always a bit disappointed when my sweetheart moves in and totally trashes the aesthetic of my house with their own weird hobby room. As modder Lydocia says, "Was my house not good enough for you?" No Spouse Rooms solves this problem by removing the extra room added by your partner when they move in. Marriage is all about compromise, apparently, but the sanctity of my decor isn't an area where I'm willing to meet in the middle.
Modern Gothic Interior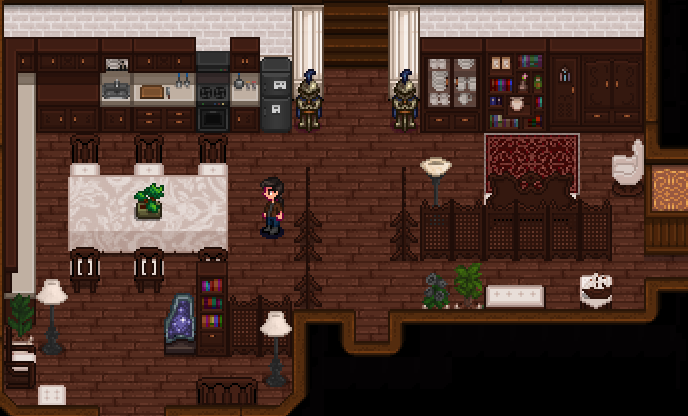 Speaking of decor, modder Coldazrael's Modern Gothic Interior reskins a bunch of interior furniture with dark wood and stark white fabrics. If you've worn out the possibilities of Stardew's vanilla furniture, the Gothic furniture brings a whole new vibe.
Flower Valley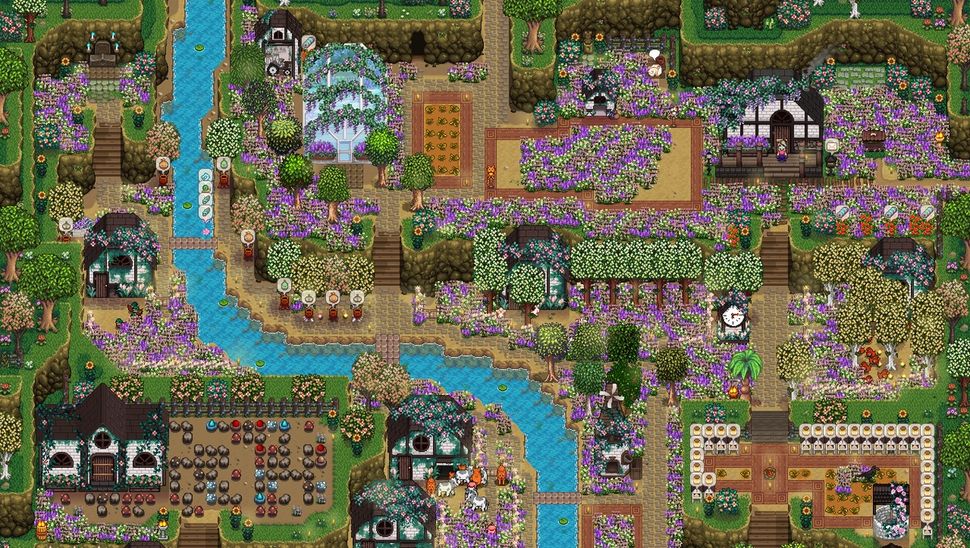 When it comes to building retextures, Flower Valley is one of the prettiest. This mod redesigns all your farm buildings, Pelican Town, and trees all over the valley with seasonal flowers.
The Pinkpocalypse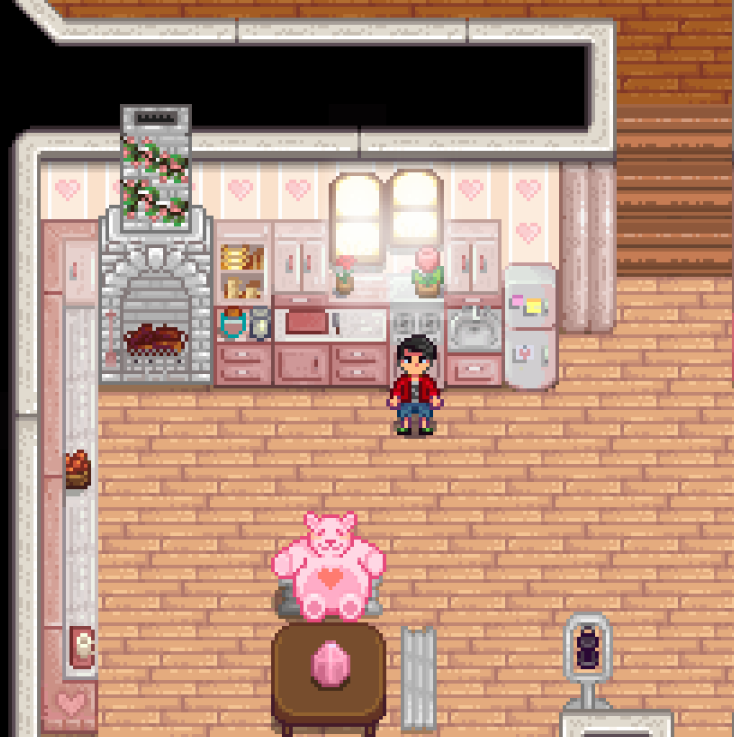 I should not be shocked by the number of mods that specifically turn various elements of Stardew Valley into cotton-candy pink. To start with, turn all of Stardew's dialogue boxes and inventory screens pink with The Pink Interface. Follow that up with Cute Valley Pink and More Buildings for Cute Valley which together pink-ify all of your farms buildings, interiors, tools, and machines. Do you want pink sheep? Of course you do. Why have scarecrows when you can have a bunch of adorable catcrows instead?
Cuter Fatter Cows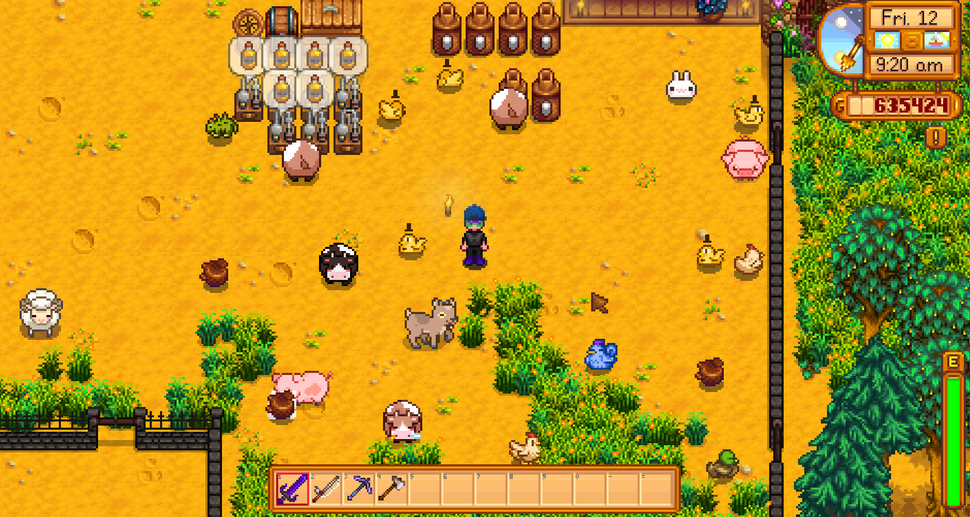 Cuter Fatter Cows turns Stardew Valley's bovines into plumper versions with rosy cheeks meant to look like the cows of Harvest Moon. A number of modders have created new animal sprites but these are by far my favorite. Modder Identitypollution has recently released an update to Cuter Fatter Cows which includes all of their cuter and fatter animal retextures.
Stardew Valley Utility & Cheat Mods
Mod Update Menu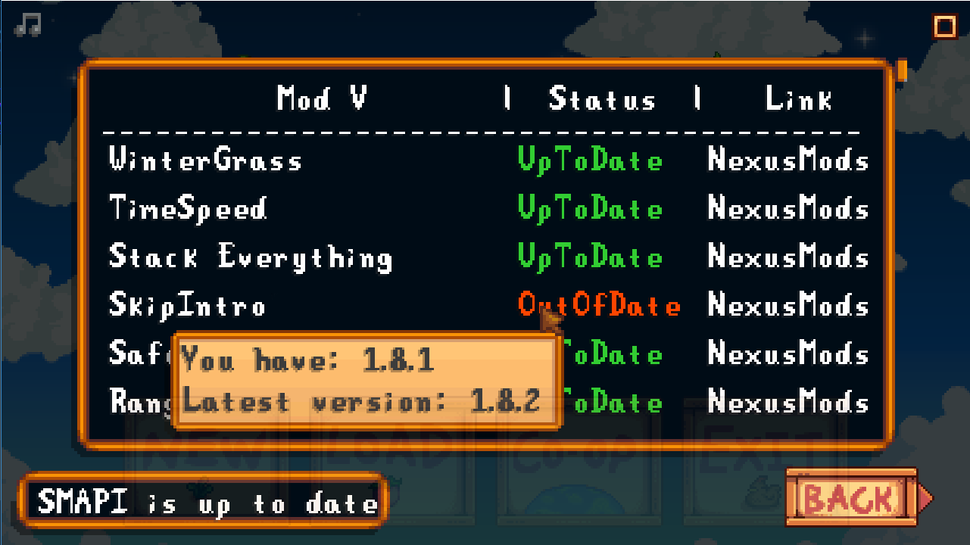 The Mod Update Menu is a handy tool accessible from the start menu that lets you know if you need to update any of your mods or SMAPI (that required tool for modding Stardew you've installed). If you'll be installing more than a couple mods, the update menu is a great way to keep your ducks in a row.
UI Info Suite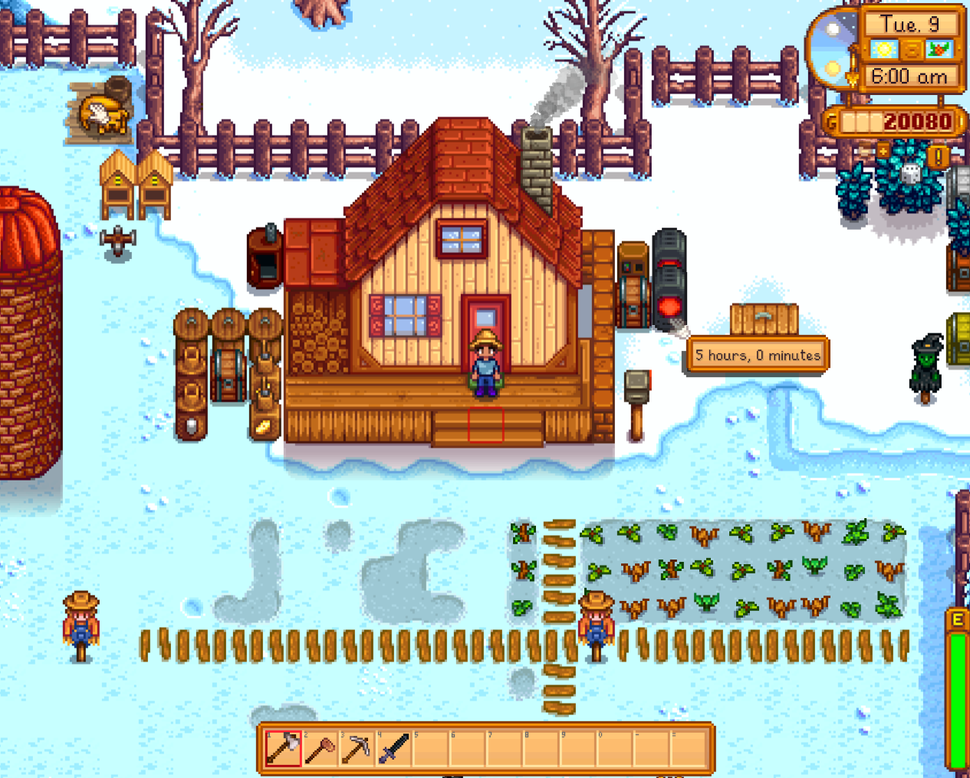 There's a lot to keep track of on the farm and sometimes you just can't remember when you planted your cauliflower or whether or not you pet your sheep this morning. The UI Info Suite contains a lot of useful game information that doesn't quite cross into cheating territory. Animals that need to be milked or pet have icons over their head. On mouse over, plants will display their name and days until they can be harvested. The Info Suite has a number of other useful features perfect if you're a forgetful farmer.
Jump Over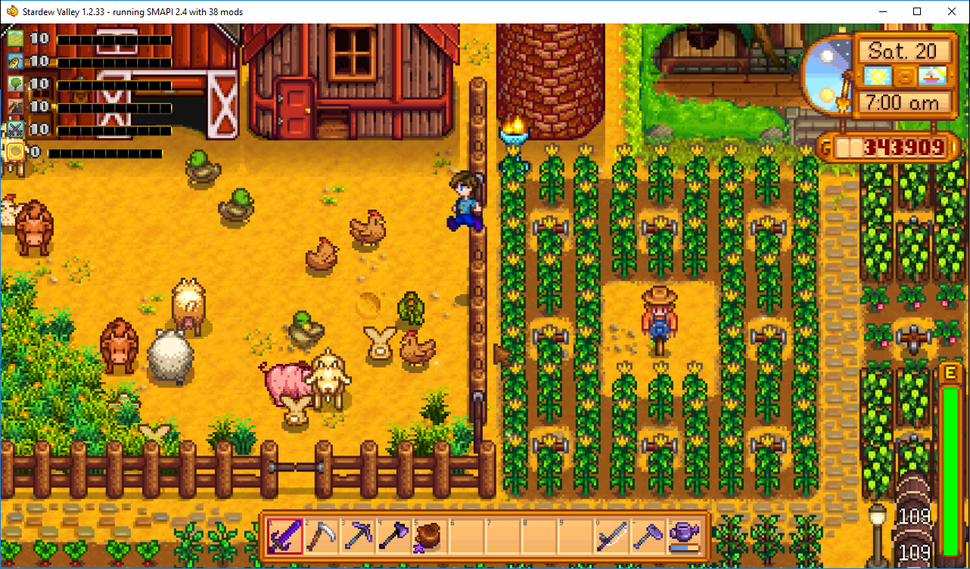 Do you place gates for your fences based on what looks nice instead of what's actually practical? You can stop walking all the way around your fenced in fields and make life a whole lot easier with Jump Over. Does precisely what it says on the tin.
Gift Taste Helper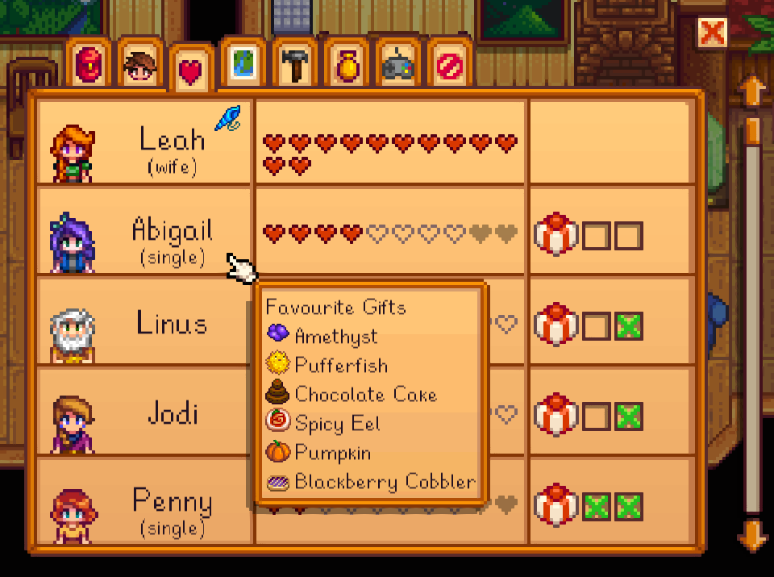 If you constantly have to Alt+Tab out of your game because you cannot for the life of you remember which gifts to give to Caroline and Evelyn, Gift Taste Helper keeps you from having to leave the game to get answers. This mod adds a tooltip with a villager's favorite items when you mouse over them in the relationships menu or their birthday on the calendar. If suddenly becoming omniscient in the ways of gifts feels a little too cheaty for you, modder Tstaples has added a progression version of the mod where you'll only know a villager's preferred gifts if you've successfully discovered them yourself through trial and error.
Categorize Chests

By year two of any Stardew farm, I've typically got an entire fleet of chests housing all of my excess fruits, building materials, and rarecrows. Each one has a specific spread of items known only to me from an inventory list that exists only in my head. Categorize Chests allows you to make sense of the madness by dictating exactly which items go in which chests and putting only those items in it with just one button press each time you open it. I've never felt so organized.
In-Game Cheat Menu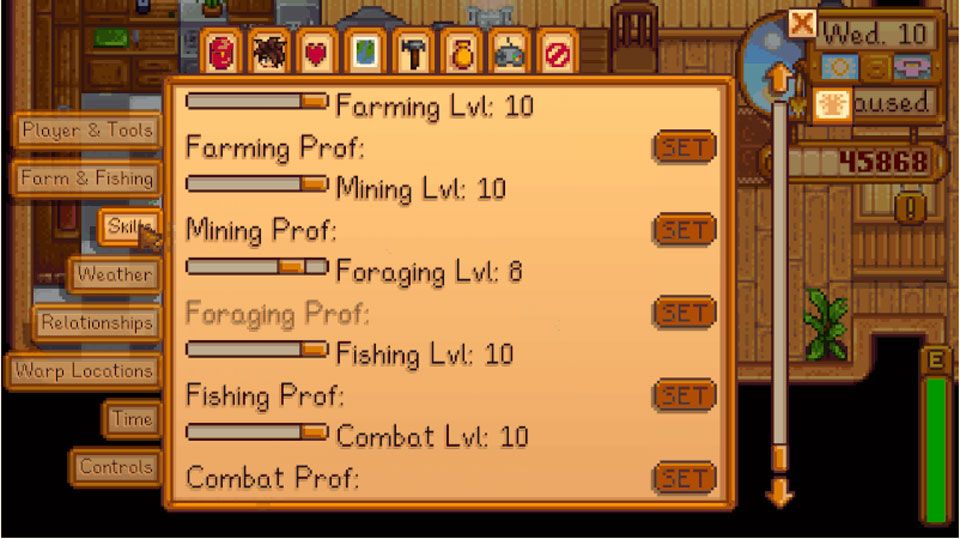 This is a very far complex and impressive mod that adds an extensive cheat menu inside the game. You can teleport anywhere, adjust your skill levels on the fly, change the weather, freeze time, give yourself money, increase movement speed, turn on god mode, adjust fishing difficulty, make your watering can never run out, and a whole heck of a lot more—all from within the game. The cheat menu actually has some features of other mods on this list built in, so if you liked the look of some of the mods on the previous page, they may be covered here.
CJB Item Spawner
This mod—potentially combined with the cheat menu above from the same modder—might be the closest Stardew Valley gets to having a "creative mode" for a while. You can spawn any items you may want directly into your inventory, allowing you to build your dream farm immediately. Flick on the cheat menu's infinite stamina option and freeze time, and you could build the entire thing before the first day even passes. Item spawners are a powerful tool, and hopefully this will lead to some amazing looking farms that would otherwise taking hundreds of hours to create.
BJS - Time Skipper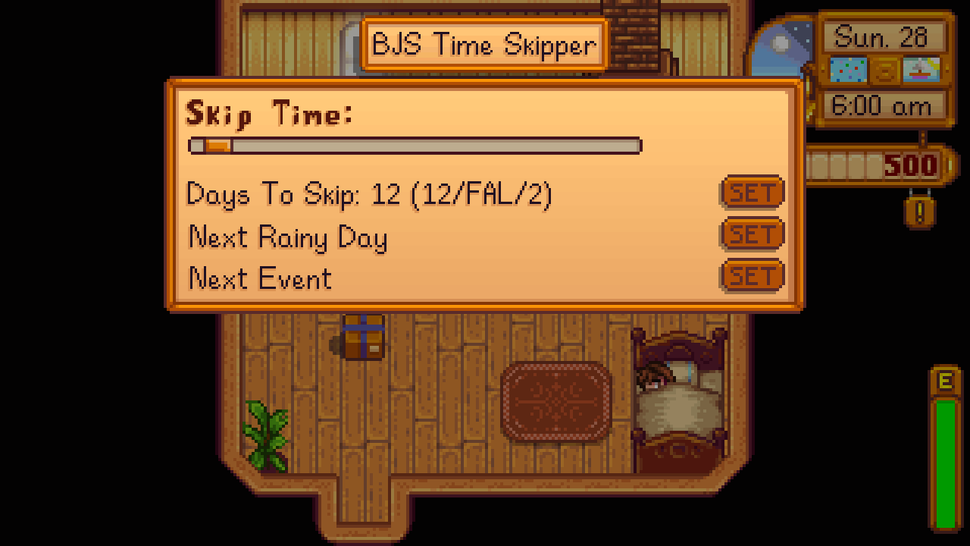 Sometimes you get to year five of a farm and have achieved just about everything aside from amassing a fortune. When you've got nothing to do but watch your crops grow, BJS Time Skipper lets you use an Elder Scrolls-esque time waiting function where you choose the number of days you'd like to skip and then watch the days fly by.
Night Owl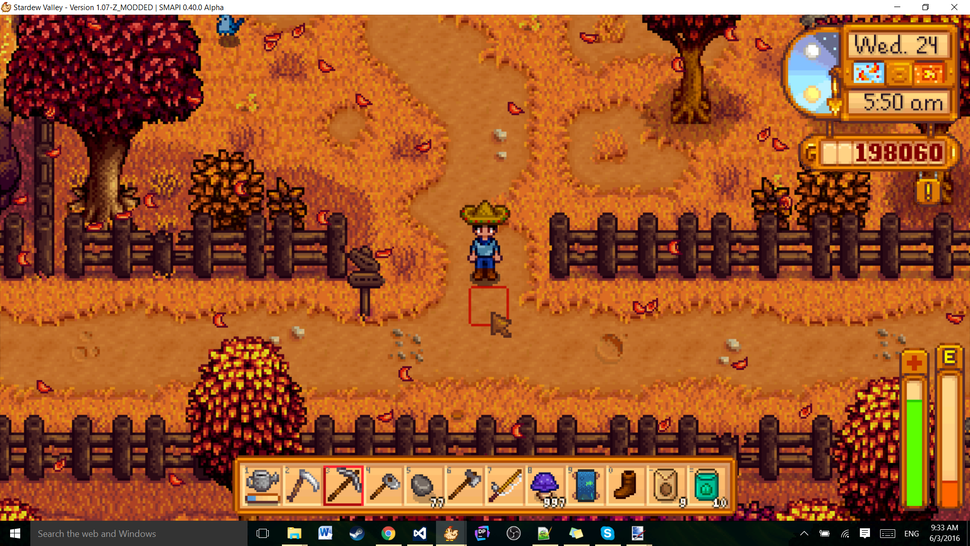 If you need more time in your day to farm, the one surefire way to get it is just not sleeping! Stardew Valley forces your farmer to pass out at 2am if they haven't gone to bed yet. With the Night Owl mod, you can stay up forever and never sleep. The game will save at 6am by making it look like you're passing out, but unlike the main game you won't lose items or be forced back home again.
Custom Warps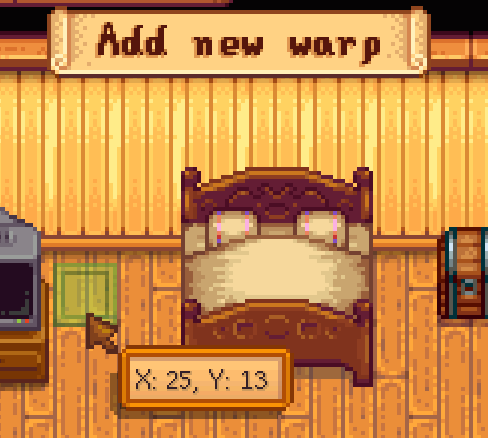 Custom Warps adds a menu to Stardew Valley where you can set and travel to any tile on the game map. It's a cheesy solution to the problem of walking or riding around town, but a cool mod nevertheless!
Pelican Fiber
After ridding Pelican Town of the evil that is Joja Mart, you can instead introduce it to the evils of the internet! Pelican Fiber lets you shop online at any of the valley's stores "even on Wednesday, even on Tuesdays, even at midnight or 6am" says modder Jwdred. Since Marnie is never in her shop when I need her and Wednesday always seems to be the day I need seeds from Pierre, shopping online is a lifesaver that lets me get what I need while still saving those local businesses I fought to protect.
AutoAnimalDoors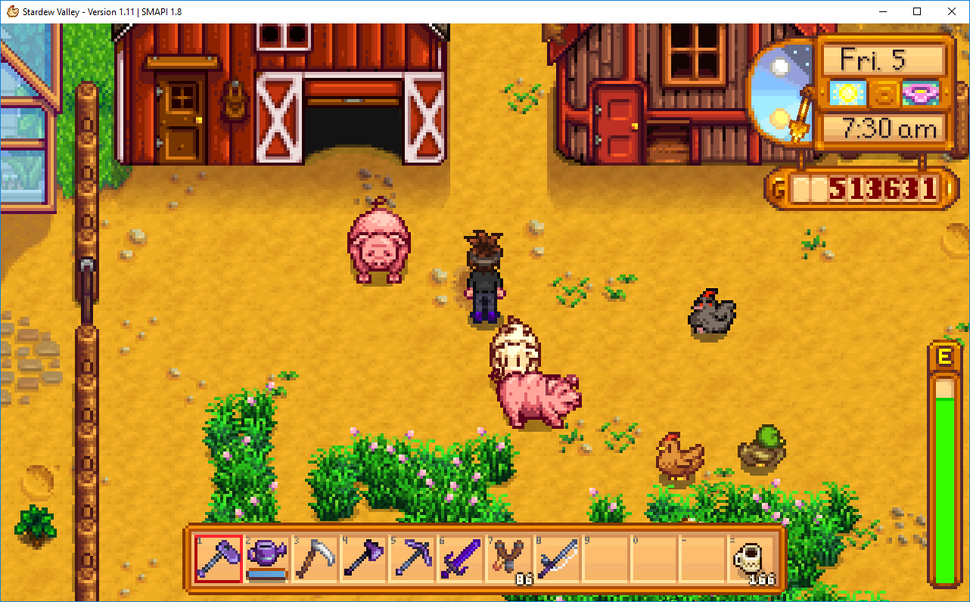 Do you ever remember to shut the doors to your barns and coops at night? I don't. No matter what I do, I always seem to leave my poor animals out in the cold on rainy days. AutoAnimalDoors does the remembering for you by automatically opening and shutting all barns and coops each day. It's a small but life-saving change.
Stardew Valley Save Editor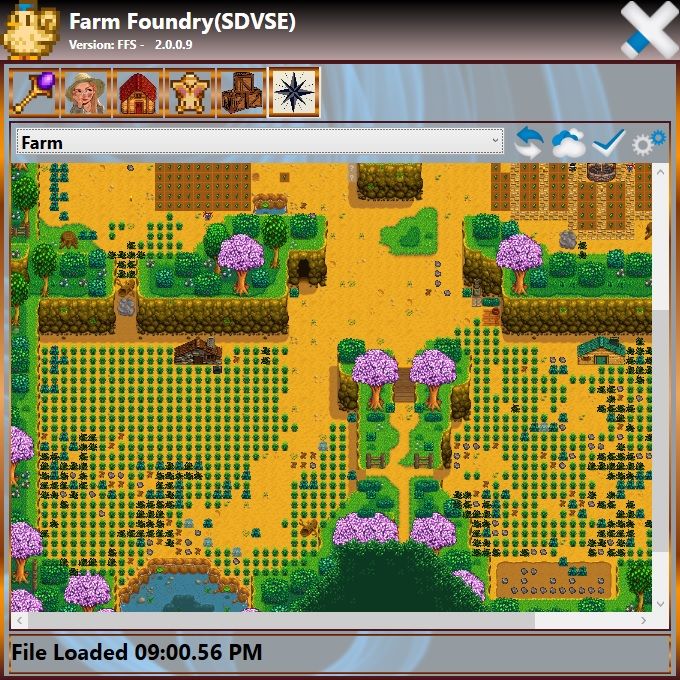 This save editor is a seperate tool, not technically a mod, that allows you to adjust certain variables about your save file without having to dig around in a text editor. Sure, you could use it to cheat money and power into your game, but it also lets you do more difficult things than that. The save editor can be used to cheat your way through the game, but it can also be used to subtly adjust variables that you couldn't control any other way, making it a valuable tool even for those of us using no mods at all.
Stardew Valley Multiplayer Mods
Cabin Owner Displayed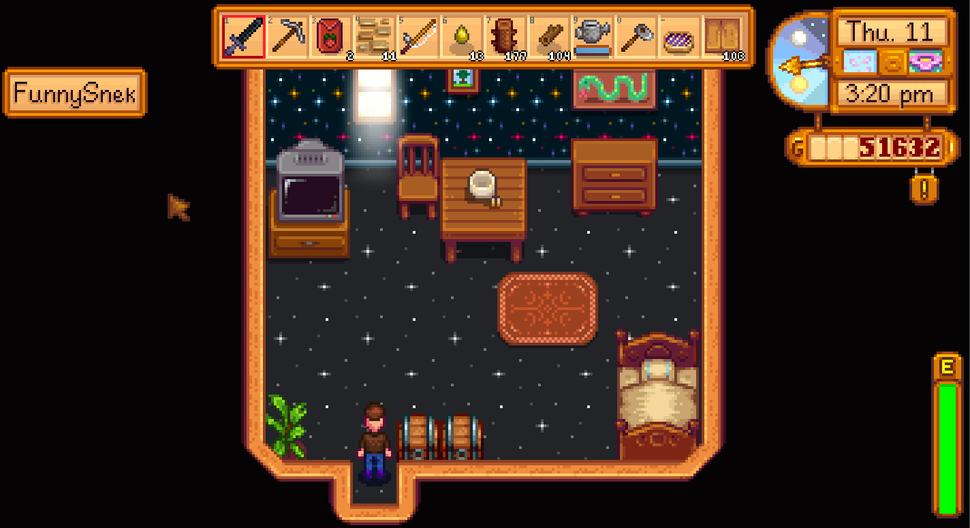 If you're running an operation with several other farmer friends, it can be tough to keep track of which houses belong to which friends. Cabin Owner Displayed is a quick fix that shows the name of a cabin's owner when you enter. No more pranking the wrong friend by accident.
Multiplayer Backpacks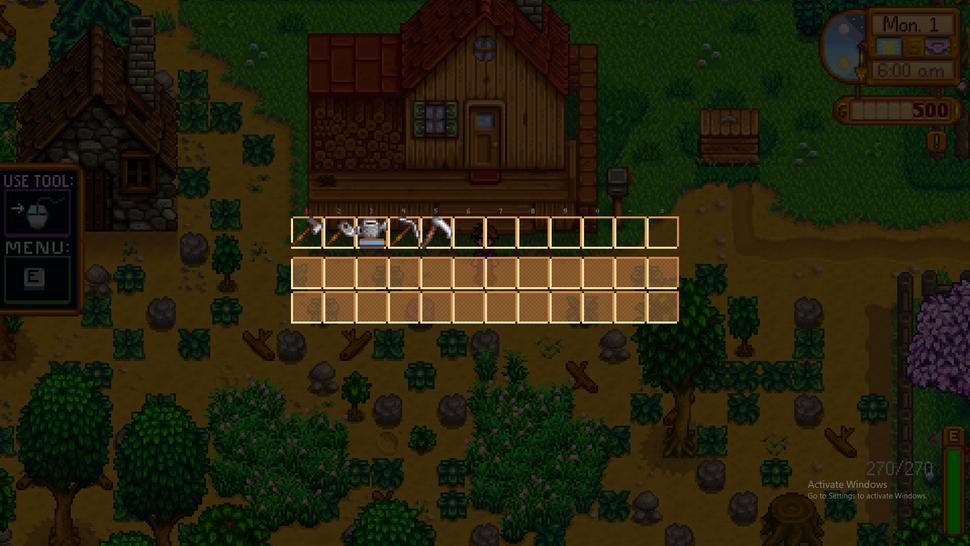 Another useful way to keep tabs on your multiplayer friends is the Multiplayer Backpacks mod which lets you see what all your fellow farmers are carrying with them. Ideally you can use it to plan better as a group but if you just need it to figure out who's been hoarding all the hoes, it can do that too.
Unlimited Players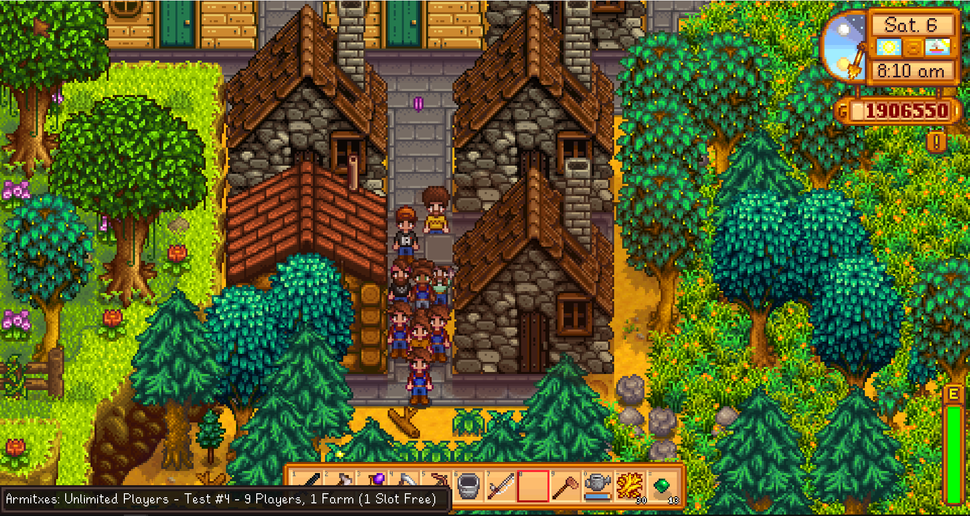 Now that Stardew Valley's official multiplayer support is out, we no longer need the Makeshift Multiplayer mod, but there are always greater heights for mod makers to aspire to. Unlimited Players removes the cap on cabins that can be built on a farm and the limit on number of farmers that can join a session. Only the player hosting the multiplayer session needs to install Unlimited Players, meaning you may be able to surprise some strangers with overpopulated farms.
Always On Server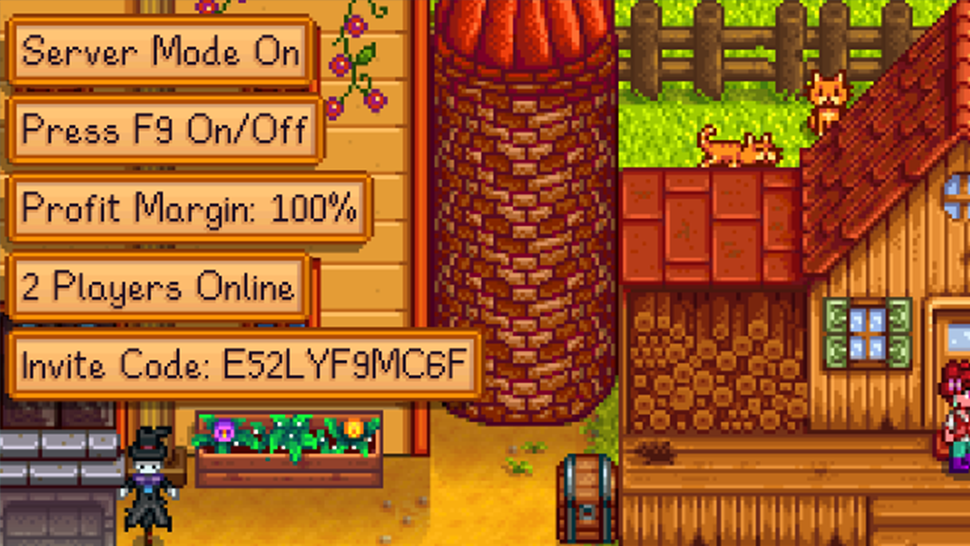 This mod puts the farm host into a deep slumber, allowing the world to continue running without them playing. This allows for the rest of your farmers to play even when the host isn't present, and the mod is smart enough to pause the action when no one's active so time won't pass. The host will have to leave the game running on their computer, but that's a small price to pay for a farm that never sleeps.
Warp To Friends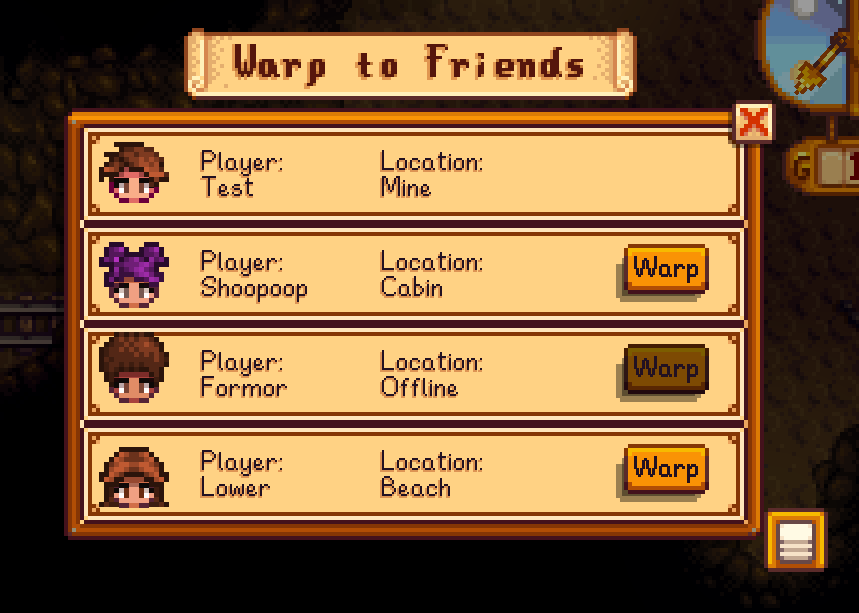 Warp to Friends adds an additional menu to Stardew Valley showing the location of all other farmhands and a button for warping directly to them. Especially useful for helping out new friends if they get lost or need help deep in the mines.