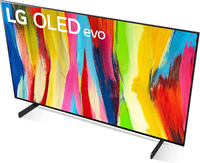 LG C2 Evo OLED | 42-inch | 120Hz | 4K | OLED | $1199.99 $769.99 at Amazon (save $430)
A 42-inch, 4K, 120Hz, HDMI 2.1, OLED screen for under $800? That's some deal. It certainly makes most premium gaming monitors look chronically overpriced. It's still pretty big by desktop standards. And it's not the last word in ultra-fast frame rates. But it is one heck of panel for the price.
Too big. Too slow. Suboptimal inputs. Just plain wrong. So, it used to go with the idea of using a TV as a gaming monitor. But not any more. The LG C2 Evo 42-inch is a stunner and it can make for a fabulous gaming monitor.
For starters it runs at 120Hz, so it's no slouch when it comes to frame rates and latency. It is, of course, a OLED panel, so it's miles faster for pixel response than any LCD-based PC monitor, including the latest clobber which is marketed as "mini-LED" but which of course is still LCD, just with a mini-LED backlight.
The LG C2 Evo also sports HDMI 2.1, so you can have the full 120Hz experience with most vaguely recent graphics cards. And, of course, it's full 4K. Right now you can get the LG C2 Evo OLED for $796 at Amazon thanks to Prime Day. What a steal.
The pricing is particularly conspicuous given LG itself wants around $999 for a miserable little 27-inch 1440p OLED PC gaming monitor, or roughly $1,500 for its 45-inch ultrawide model, the latter again is much lower resolution at 3,440 by 1,440 pixels.
Sure, those OLED monitor monitor models run at up to 240Hz. But you're not going to be hitting 240 fps plus in a lot of modern games. So, depending on what titles you play, the extra refresh will often be academic. And, yes, for esports addicts who play nothing but online shooters, the lower latency can be a benefit.
But the rest of us have more varied gaming lives and in that context, 120Hz is plenty. Oh, and you get, you know, a full TV with all that TV functionality thrown in, too.
The one remaining issue is size. 42 inches is a bit big in a desktop context. But this is the smallest OLED TV LG does and it's not ridiculously large.
It's a tough call between this and, say, Alienware's 34-inch ultrawide OLED panel for around $100 more. But if you appreciate the added scale of this LG and you can make use of the TV functionality on top, well, this sure looks like a spectacular deal.