Need to know
What is it? The latest officially licensed MotoGP racing sim.
Expect to pay $50/£40
Release date April 21, 2022
Developer Milestone Interactive
Publisher Milestone Interactive
Reviewed on I7 9700K, RTX 2080 TI, 16GB RAM Windows 10
Multiplayer? Up to 22 players online
Link Official site
Modern MotoGP is in a golden era. 2021 saw eight different winners across 18 races, and so far this season we've had three different riders on the top step in four races, including two taking their maiden victories. It's unpredictable, packed with talent and spectacle, and guaranteed entertainment every race. Naturally, then, the focus of Milestone's licensed bike sim MotoGP 22 is the 2009 season.
An all-new mode, titled 'Nine: Season 2009', takes you back to a bygone era when Rossi, Lorenzo, Stoner and Pedrosa jostled their 1000cc machines around each other for the wins, by way of a documentary-style video series directed and narrated by British filmmaker Mark Neale, and a series of challenges intertwined between them. Succinctly: it's wonderful.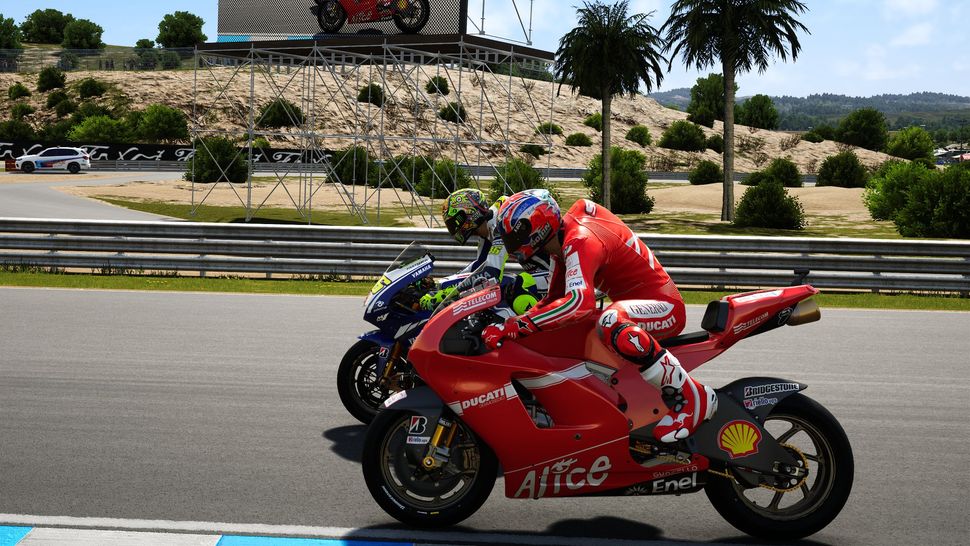 Neale's delivery and footage choices convey so much context and drama from the time, it never occurs to you to skip a cutscene and get straight to the challenge. It doesn't even matter that the challenges are so straightforward, the objectives always focusing on either overtaking or gapping opponents. You're right there, among a full grid of 2009 riders, listening to a classic inline four screaming its lungs out and looking for a gap between Rossi's knee and the apex. Truthfully, for those with even a passing interest in the sport, that's enough.
That's not to say Milestone shirks any responsibility in simulating the current season. As ever, all three categories of racing are present, correct, and resplendent in 2022 liveries. And as ever, that lends a depth to its career mode that not even Codies' F1 games can quite match. Starting as a rookie in Moto3, navigating a sea of prodigal Spanish teenagers on lithe, forgiving 250cc bikes. Getting the nod from a Moto2 team, feeling the extra weight and power of the bigger bikes while brushing leathers with Lowes, Acosta and Canet. Finally moving up to the premier class and feeling like you earned it, like there's a story to how you got here. It remains the biggest pull of the series, even with the inclusion of the 2009 season playable doc this year.
Mastering the bikes, meanwhile, is a little easier. Last year's title veered so far off into hardcore sim territory that even months after release I was still routinely outbraking myhself, tucking the front and squirming around in braking zones like those inflatable men they put outside car dealerships. I wasn't alone. The act of pulling both front and rear brakes independently, while managing the rider's weight and slowly tipping in enough lean angle to make the apex, seemed to require more subtlety than two human hands and a controller allowed. Milestone has addressed the braking difficulty this year, but not in a manner that feels particularly satisfying.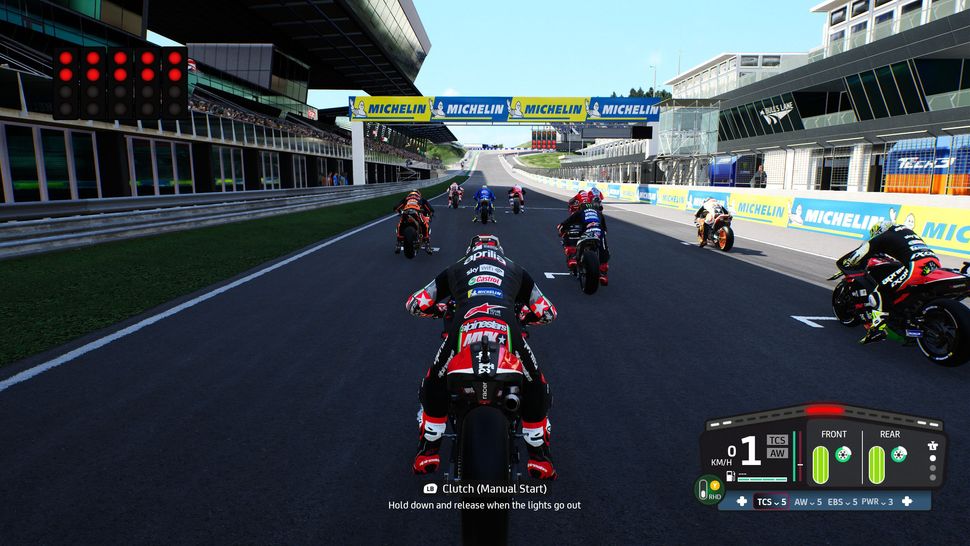 Essentially there are just extra levels of assist now. Before, you either admitted defeat, turned on combined braking and got on with it, or persevered with committing an impossibly deft series of inputs to memory. Now there are additional options to modulate your inputs, the upshot of which makes the handling more forgiving at the cost of control. Turn on the modulation and you simply can't lean in rashly enough for the rear tire to start squirming about, which saves you a crash but also feels a bit too much like an autopilot mode. It's reminiscent of driving with a lot of assists in the Assetto Corsa or Project CARS series—easier, yes, but you don't truly feel in charge of the vehicle anymore.
New assists aside, wrestling a bike around a given circuit still feels extremely challenging, and with ride height devices to play with now along the straights, there's an extra wrinkle to mastering the controls. It's not completely convincing—ride over a bumpy apex, watch the insane Buckaroo ride that occurs in its aftermath, and the illusion of accurate simulation is somewhat shattered—but it feels amazing to get the point of tipping the bike in just right, carrying a ton of corner speed and gliding past an opponent. In those moments, all is forgiven. Even the parts where you miss an apex because your rider is busy gesticulating at someone, independent of your inputs.
Harder to turn a blind eye to, though, are some longstanding irritations that really should have been fixed by now. The ideal line assist is often totally wrong with its recommended braking points, so if you're a newcomer and using it to learn the tracks you might be perplexed by why you keep ending up in the gravel trap even though you hit the brakes exactly when the game told you to.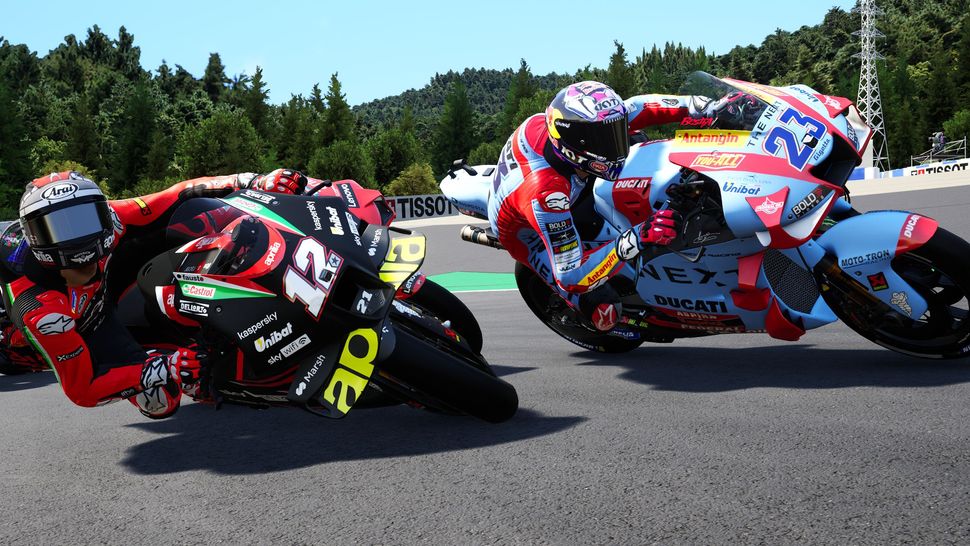 AI remains slightly ropey. In my experience it seems more aggressive this year, better able to judge when it's OK to cut inside you mid-corner without causing a collision, and that's a step forwards. However, its pace varies significantly from track to track, apparently struggling with Jerez and Assen's fast sections but nailing Austin like a grid full of Marc Marquezes.
The developers seem to have squeezed a bit of extra beauty out of Unreal Engine this time out, particularly in the bikes and helmets. I'm not ashamed to say I've spent considerable time in the showroom menu, aimlessly cycling between modern and classic riders and admiring their lids. The glitter paintwork on Nicky Hayden's 2006 helmet is particularly worth a few spins of the camera. A lot of that beauty translates on track, where a realistic lighting style combine with high-res textures and high-poly models worthy of some photo mode admiration.
It makes inroads, then, this new MotoGP title. It's still feeling a little wobbly in the hands, as though the controls and physics model haven't yet been perfectly synchronised, and the AI and assists need more work. But Mark Neale's work really elevates the experience, creating a new mode that sets the mind racing with ideas for more like it. How about a mode that recreates each of the last 10 race winner's maiden victories? Who wouldn't want to be put on Binder's KTM in a sodden RedBull Ring, or Bagnaia's Ducati, fending off Marquez around Aragon? There's a lot of tread on the tires.