Would you believe that some of the best microphones for streaming and gaming cost less than $100? I'm not kidding; the audio quality on the best cheap microphones I picked out can rival even some premium ones that are double, or in some cases, even triple, the cost. And the best part? Your listeners probably won't hear the difference.
Over the past few years, popular microphone makers have offered more budget-friendly gaming and recording microphones lowering the barrier for someone to become a content creator.
So, how can a $50 mic compete with some of the best microphones (opens in new tab) that could cost up to $300? The cheaper mics, while sounding great, offer way fewer features than your usual USB microphone. Things like volume, gain control, or even a mute button are often nowhere to be seen on these microphones requiring you to do any audio tweaking or monitoring through third-party software like OBS or Xsplit.
The cheaper price point doesn't change how we test these microphones. We still follow the same testing criteria as the more expensive mics; all we did was add a $100 max budget. We are still looking for excellent sound quality, form factor, usability, and build quality.
Best cheap microphone for streaming and gaming
Why you can trust PC Gamer Our expert reviewers spend hours testing and comparing products and services so you can choose the best for you. Find out more about how we test.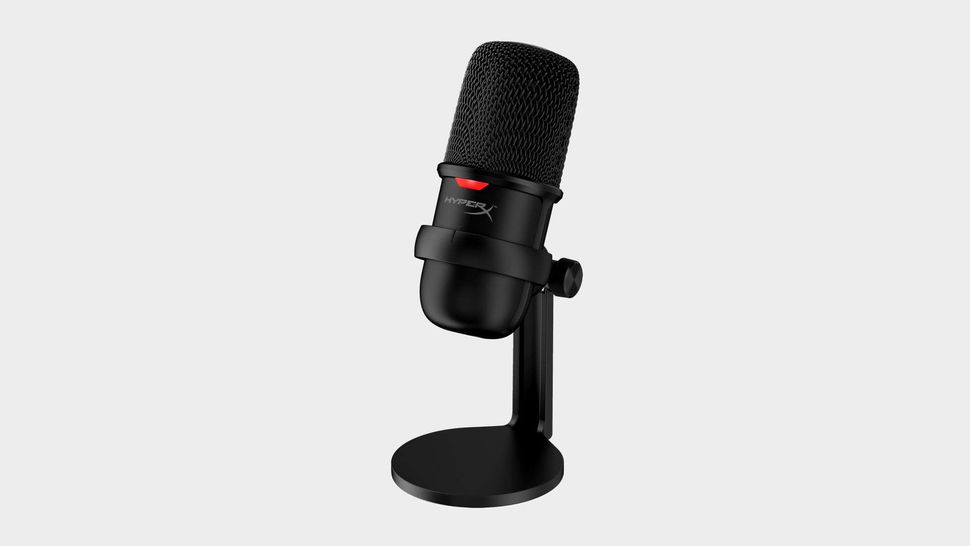 he new HyperX SoloCast microphone is all about delivering what's most important: higher-fidelity voice recording for gamers on a budget. For less than $60 you're really paying for the portability and ease of use.
As far as sound quality is concerned, you usually get what you pay for, but the HyperX SoloCast is seems to take a 'sound over anything else' approach. Essentially, HyperX seems to has stripped down one of its QuadCast mics down to the bare essentials. It's missing a headphone jack, gain control, shock mount, internal pop filter, and I won't lie; I miss the RGB lighting. But even though it's less flashy than HyperX's other mic offerings, the sound quality is incredible for the price.
When comparing the $160 HyperX Quadcast S (opens in new tab), the sound quality is scarily similar when using cardioid mode across both. Both mics have a 20Hz-20kHz frequency response and a 16-bit sample rate. The SoloCast only has the single cardoid polar pattern, as opposed to the four that's offered on the QuadCast mics.
Without gain control you cant regulate the gain on the fly, which is awkward as it sounded a bit too hot out of the box. Changes need to be done on the software level, but the ease of set up is great.
While the JLab Audio Talk GO and Razer Seiren Mini (opens in new tab) also offer great sound, the HyperX SoloCast still reigns as the king of budget microphones, giving us the audio chops of its own pricier QuadCast S compatriot but for a fraction of the price.

The SoloCast opts for a pill-shaped design that sits at roughly half the size of the QuadCast S, and is fairly similar in stature to the Razer Seiren Mini. Instead of very aggressive RGB you have a single LED status indicator. There or no buttons or dials like I mentioned before, just a tap-to-mute sensor. It's a very understated look that lacks a lot of the HyperX charm we've come to know and love from many of its products.
The mic itself can be easily pulled from the stand if you need to mount it on a boom arm. The USB Type-C connection makes for easy plug and play along with playing nicely on Macs, and even a PlayStation 4, in case you do you're streaming directly to Twitch from the console.
What this single-condenser microphone does come with is an adjustable stand, boom arm and mic stand threading, and tap-to-mute sensor. Now, you may chuckle at the idea of the SoloCast having a mute button as a standout feature, but we've seen other budget microphones forgo the ability to mute the mic to drive costs down. One such culprit is the Razer Seiren Mini, which we will be checking out soon.
While not as flashy as other HyperX offerings, the SoloCast easily takes the crown of best budget microphone (for now), dethroning the surprisingly impressive JLab Audio Talk GO microphone. Though only $10 more expensive than the Talk GO, the SoloCast's sound quality is more in line with microphones twice its price, and that is a huge deal. Quality streaming gear at more affordable prices means that more people can easily create that #content.

Read our full HyperX SoloCast review (opens in new tab).
The Razer Seiren Mini is a $50 budget microphone for streaming that might skimp on features but still delivers top-notch sound.
The Seiren Mini's adorable pill-shaped design comes in your choice of Black, Mercury White, and Quartz (pink). Out of the budget mics out there, the Seiren Mini's design is the most eye-catching. I was sent a Mercury White microphone, and it's one of my favorite looking pieces of hardware I've gotten this year and pretty darn cute.
Much like the HyperX SoloCast (opens in new tab), many features were stripped away from the Seiren Mini to keep the sound quality up and the cost down. There's no volume or gain dial, or even a mute button. It's bare-bones as they come, but for $50 it's to be expected.
The proprietary micro-USB cable Razer tends to use on many peripherals is a bit of a pain. It keeps you from using third party cables because they simply wont fit. I can't express enough how much I hate when a hardware company does this. If you lose that cable for whatever reason (which happens), the mic is useless until Razer's replacement arrives.
I would have loved to have seen a ⅝ to ⅜ thread adapter so it could mount on most boom arms but it doesn't have one, sadly. I like the tilting stand and built-in shock mount (a feature missing from the SoloCast), which is useful if you run a pretty animated stream where accidental bumps are everyday occurrences.
The Seiren Mini sounds just as good as Razer's more expensive Seiren offerings. The Mini's super-cardioid polar pattern does a better job of tapering down background noise to focus on what's in front of it, though it does sound a bit softer than the Seiren Emote (opens in new tab) at its default gain.
The Seiren Mini is a perfect entry for Razer's already reliable line of microphones. It's ultra-portable size and pricing gives streamers another good option for a budget microphone. The lack of a mute control and some other quality-of-life features will take some getting used to for any more pro folks, but they'll be aiming their sights higher up the product stack anyways.
The simple fact that the Mini, at just $50, sounds as good as its more expensive brethren will attract users who just want a simple mic that looks elegant and sounds excellent.

Read our full Razer Seiren Mini review (opens in new tab).
This miniature version of the classic Blue Yeti is the perfect microphone for those just starting with streaming. It has an excellent sound quality for a product under $100. Simultaneously, its tiny size and lightweight metal build make it easy to transport (this is at least 40% smaller than its larger cousin). The Yeti Nano sits as an outlier as the most 'expensive' budget mic on the list but offers more than the cheaper mics regarding features.
Its 24-bit, 48kHz recording sample rate is noticeable, too; audio from the Nano and original Yeti shows that the former is superior by a significant margin. It's only got two polar patterns (cardioid and omnidirectional), but the Yeti Nano makes up for it with everything else.
The Nano is a reliable microphone that travels well and still provides that stellar Blue Yeti sound you'd expect. Features-wise, the Yeti Nano isn't as sparse as other microphones on the list. The 3.5mm aux output is super helpful to hear exactly how you like it without the need of any software. The volume control for that output shares the same dial/button as the mute.
Things like gain control are handled through the Logitech G Hub software (RIP Blue Sherpa). Here you have a little more control over your mic settings without using any third-party broadcast software like xSplite or OBS. However, you can use those if you choose to opt out of using another type of hardware software; I don't blame you.
A relative newcomer to the scene, JLab Audio is probably best known for affordable audio products, such as budget headphones and speakers. Now it's trying its hand at microphones. The Talk GO comes in with two condensers and a resolution of 96kHz/24Bit. While the options for $100 + mics are vast, there are almost no viable options around this $50 price point.
It uses two directional patterns (cardioid and omnidirectional). Cardioid is no surprise, but seeing omnidirectional is a welcome surprise for a microphone at this level. This means you can plop down the GO in the middle of the table for group interviews or panel discussions.
The plug-and-play microphone and accompanying tripod weigh in at just under a pound; the GO sure is a lightweight mic. The hard plastic chassis gives me some concern about its durability over long-term use and travel, and maybe a smart idea would have been to include a travel case or pouch, but then that would add to the price.
The Talk GO's unobtrusive size makes it ideal for small spaces, which is especially useful if your desk can't accommodate a boom arm.
The powder blue accents and the bright light wheel make for a fresh design. Aside from looking dope, the light wheel lets you know what directional pattern mode you use.
Blue means cardioid, green is omnidirectional, and red is mute. Holding down the mute button is how you switch patterns and has so far proved pretty noob proof, which is all you can ask. All of the Talk series microphones have a simple sleekness that I don't hate.
The Talk GO will surprise many folks by not sounding too bad despite having just two condensers. When I recorded some lines, my voice was tinnier than I would prefer, and my Ps popped a lot. For everyday use, such as conference calls or podcasting, it's okay, but if you're looking for crisp, clearer vocals for music performers, you will have to expand your budget upgrade to the Talk PRO.
The JLab Audio Talk GO is probably the only $50 USB microphone you can buy aside from the aging Blue Snowball ICE (if you can find one) that's worth a damn. If you're starting as a content creator with a tight budget, you could do much worse than Talk GO's size, sound, and price.
Read our full JLab Talk GO review (opens in new tab).

Rode makes quality microphones. No question. The only problem is, its prosumer audio often requires a bit of financial investment. The Rode NT-USB Mini microphone is hand down one of the best sub-$100 mics you can pick up right now.
Taking cues from smaller mics like the Razer Seiren Mini, Rode has stripped a lot of the usual features in the standard mic for a more no-fuss, no-muss design approach. The Mini has a built-in pop filter to deal with your plosives and a neat little detachable magnetic stand that enables easy traveling.
Zero-latency monitoring mode removes the delay of your voice in playback. That's important because it can be super distracting to hear your own voice a few milliseconds after speaking, depending on your setup. This deals with all that rather well.
Rode has always been known for its top-tier audio gear. Anyone looking to upgrade from semi-pro to pro streaming or podcasting status is often recommended. However, the cost has always been a sticking point since Rode's gear has traditionally been skewed towards the serious prosumer. The Mini's $100 price makes it a good choice for anyone looking for a quality microphone that travels well and keeps its traditional Rode durability.
You can hear from the test recordings that the mic's quality is good, if not better, than more expensive microphones on the market. My audio came out crisp and clear, though I did pick up some of the background hums of my very loud gaming PC. For comparison, I've included some cheaper mics like HyperX Solocast, which is $40 cheaper than the NT, and a couple of premium mics just to hear the difference.

Aside from sounding incredible, the NT Mini is an easy-to-use mic that any beginner can use. Speaking of easy, the Rode Connect software is a digital mixer that actually allows for up to four NT Minis to be plugged into a single computer without jumping through any hoops. It follows the same design philosophy as the other mini mics on this list: compact, traveling well, and looking like a cool piece of tech.
Read our full Rode NT Mini review. (opens in new tab)
Audio-Technica AT2020 might be the best cheap XLR microphone you can get your hands on right now. Any professional musician will tell you that trying to find a good XLR mic for less than $200 is a massive chore. Somehow, Audio-Technica manages to provide an excellent sounding XLR microphone for musicians for around $80.
The AT2020 follows the trend of stripping out features to cut costs. Here the mute button is absent, although you still have headset volume, monitor dials, a pivoting threaded stand mount, and a handy travel bag. Whenever you record yourself using the AT2020, you'll often think you're using a more expensive microphone.
So whether you're banging away on drums or explaining your latest win in Call of Duty Warzone for your adoring viewers, the AT2020 is a highly versatile microphone. Since it is an XLR microphone, you need to invest in an audio interface (opens in new tab) (which you can find as cheap as $50 online) to use on your PC. If you can't be bothered with an audio interface, for an extra $50, you can pick the AT2020USB+ (opens in new tab), which as you may guess features a USB interface instead.
Best gaming headset (opens in new tab) | Best gaming monitor (opens in new tab) | Best HDMI cable for gaming (opens in new tab)
Best computer speakers (opens in new tab) | Best SSD for gaming (opens in new tab) | Best CPU for gaming (opens in new tab)
Enter the Streamplify Mic, a cheaper solution to all your vocal needs. What you get here isn't just a mic, but a full kit with shock mount, pop filter, tripod and cables to get you started in a matter of minutes.
Most of the kit feels pretty substantial, with a blend of metals and hard plastics on show, which, for the price, is rather good indeed. Just note the pop filter is a little thin and rattly, but in the grand scheme of things, this isn't too much of an issue. Too often, cheap mics are a sea of hollow plastics designed more for looks than function, so it's nice to see Streamplify taking some care with their entry.
What's more, everything is nice and easy to put together—it's as easy as putting together some flatpack furniture from Ikea. No, wait, it's a hell of a lot easier than that. Oh, and one bonus feature Streamplify won't mention on the box: assembling this mic is definitely likely to keep your relationship intact, unlike assembling a BILLY bookcase from Ikea—we've all been there.
The interface on offer is nice and simple with a headphone jack for real-time monitoring of audio input, which is handy; a small button for controlling the bundled RGB lighting; as well as a dial for on-board gain control. This is traditionally a feature reserved for more expensive mics, so kudos to Streamplify for including it here. Do note though that there isn't a start and stop point in the dial, so you can turn it 360 degrees, which can make it seem like the volume perpetually increases, so just be wary of its actual start and end points.
The gain dial is also a click-in button that can allow you to choose between the two playback modes. There's the choice of either what Streamplify calls the mic's 'Full Playback Podcast Mode' which will filter through any ambient noise so you can check your levels, or 'One-way Playback Gaming Mode' which cancels out any background noise. It's a useful feature to have, and there's a small noticeable difference between the two.
But, the reason you buy a microphone isn't for its construction or anything like that, let's face it. It's all to do with vocal clarity and sound quality. I'm pleased to say, for the price, this baby sounds pretty decent. There are no hisses, crackles, or pops for that matter, and with a cardioid pickup pattern this microphone works especially well for voices. Truth be told, it sounds nearly as good as my old faithful, the Rode NT-USB, which I've had for a couple of years, and sits at double the price of this Streamplify option.
All in all, the Streamplify Mic feels like a steal for its asking price. It's well built, even if it does have a rattly pop filter, and its audio output is crisp and clear, which is all you can really ask for. The on board gain control, mic mute, and two playback mode features are all handy, and means this microphone is punching above its weight class somewhat. The same also goes for the fact you get an entire kit in the box, which keeps things convenient.
Convenience is the name of the game here. If it's what you're after, then you won't be disappointed with the Streamplify Mic in the slightest.
Read our full Streamplify Mic review (opens in new tab).
Budget microphones FAQ
What are a mic's polar patterns?
The polar pattern is the way a mic captures the sound around it. These are the most common polar patterns:
Cardioid: Records in front of the microphone. Perfect for voice-over, vocals, and streaming.
Bidirectional: Captures audio in front of and behind the mic. Ideal for one-on-one interviews.
Omnidirectional: Picks up sound from every direction. Perfect for round-table interviews.
Stereo: Perfect for ASMR recordings. YouTube 'ASMR' if you want the best example because I couldn't do it just justice.
Is a gaming microphone worth it?
You can always make do with the stalk mic sticking out of your gaming headset, but there are very few that can come close to matching the recording quality of even the cheapest gaming mic on this list. If you're planning on streaming or recording your gaming, and what to add your own voice to the mix, then making yourself sound better than your weedy headset microphone is surely a must.
Having a good mic will also mean you don't have to use a gaming headset at all. For us audiophiles who prefer a great set of headphones that come without a mic at all, a desk-based option is the only way to roll.
What form factor should my mic be?
This isn't a fashion show, but the form factor is still something that matters. In the case of a standing mic, you'll be staring at it every time you're sitting at your desk—and attachable mics need to make sure they aren't too distracting either.
A mic's form factor can also play a role in how adaptable it is, as you'll need to make space for it. We used every mic in multiple settings with different PCs, keyboards, and monitors, getting a feel for how they looked and performed in each environment. As a streamer, your mic will also be in view for your audience, so its appearance is relevant.