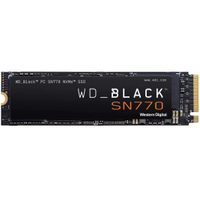 WD Black SN770 | 2TB | NVMe | PCIe 4.0 | 5,150MB/s read | 4,900MB/s write | $239.99 $99.99 at BestBuy (save $140)
If you want to boost your storage, Best Buy offers the WD Black SN770 at 2TB at a decent price for such a big SSD. It's not quite the lowest price it's ever been, but it's still a good deal for a 2TB drive. While it won't break any speed records, this is a welcome and affordable upgrade for any gaming PC.
Best Buy has a deal on a 2TB WD Black SN770 NVMe SSD, which is back down to its low Amazon Prime Day price of $100. This would make for a capacious upgrade to your PC before massive games like Baldur's Gate 3, Starfield, and Armored Core 5 eat up most of your system's storage.

The listing on Best Buy claims a savings of over $140 off the 'regular' price. However, it's worth noting that this 2TB SSD typically sells for around $120-$150 at most retailers. While $100 is still great for such ample storage, the discount may not be as significant as advertised.
The SN770 stands out as the best budget gaming SSD available, with read and write speeds of 5,150MB/s and 4,900MB/s, respectively. It might not be the fastest on the market, but it's a highly capable all-around drive for gaming. One downside, as highlighted in our review, is that it tends to run hot.
With good SSDs being so cheap these days, there's no reason not to have your motherboard filled up with enough of them to hold all your precious games. With games like Rachet and Clank Rift Apart reportedly requiring you to have an SSD to play on higher settings, you should be upgrading sooner rather than later if you don't already have one (or three).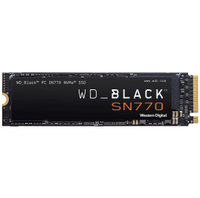 WD Black SN770 NVMe | 1TB |PCIe 4.0 | 5,150MB/s read | 4,900MB/s write | $45.99 at Amazon
This DRAM-less drive may not offer the absolute fastest throughput, but it is close, and in terms of value for money, it's in a class of its own. 1TB for just $51 is worth picking up.
If you're on a tight budget and don't necessarily need 2TB of storage, consider checking out the 1TB version of the SN770 on sale for $46 on Amazon. However, if your motherboard has enough room, opting for two of these drives is more cost-effective.