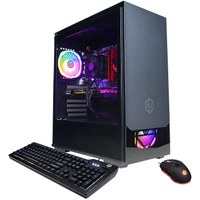 Cyberpower PC Gamer Supreme | Core i7 13700KF | Nvidia RTX 4080 | 16GB DDR5 RAM | 2TB HDD + 1TB PCIe SSD | $2,899.99 $2,299 at Electronic Express (save $600.99)
A 13th gen champ here with Nvidia's latest GPU offering, too. It's pricey, but considering it comes with not only a sweet GPU, but also has DDR5 RAM and heaps of storage you're getting some strong hardware,. Shame there's an HDD instead of two SSDs, but I suppose you can't have everything.
Price check: Walmart $2,479
Electronic Express has a fantastic deal on a beefy gaming PC with an RTX 4080 and 13th Gen CPU for $2,299—that's $600 off its normal price and over $100 cheaper than on Walmart.
The Cyberpower PC Gamer Supreme sounds like a specialty pizza, but it's a gaming PC with a Core i7 13700KF, 16GB DDR5 RAM, 1TB NVMe SSD plus a 2TB hard drive, and, of course, an Nvidia RTX 4080 GPU. It's a solid choice for 1440p and 4K gaming and a good prebuilt if you're looking to play Baldur's Gate 3 at the highest graphical settings.
The NVIDIA GeForce RTX 4080 sits at number two on our best graphics cards guide right now, which beats out both the RTX 3080 Ti and RTX 3090 in terms of performance and efficiency. Our issue has always been that the card is overpriced on its own. In this build, however, the price is just right.
The Intel Core i7 13700KF is a great CPU that works well for gaming and productivity. It does run hot and isn't the most power-efficient component, so keep that in mind.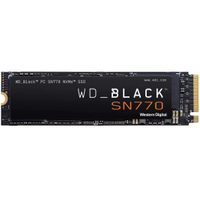 WD Black SN770 | 2TB | NVMe | PCIe 4.0 | 5,150MB/s read | 4,900MB/s write | $239.99 $101 at BestBuy (save $138)
If you want to boost your storage, Best Buy offers the WD Black SN770 at 2TB at a decent price for such a big SSD. It's not quite the lowest price it's ever been, but it's still a good deal for a 2TB drive. While it won't break any speed records, this is a welcome and affordable upgrade for any gaming PC.
If there's one knock against this system, it would be the storage. A 1TB NVMe SSD is fine, but the 2TB HDD is a bit of a drag unless you're looking to archive old media. I'd upgrade the 1TD SSD to this 2TB one for $101 and use the 2TB HDD to store all your non-gaming files.

We are also unsure of what kind of DDR5 RAM is in this thing. No speeds or the brand of memory you're getting are listed.
Keep an eye on the best cheap gaming PC deals this week to find other RTX 40-series systems getting significant price cuts or if you need other PC gaming goodies on the cheap.