At face value, this might seem like a no-brainer. You'd go for the laptop every time, yes? Well, maybe not, especially if all you're interested in is gaming on the go.
Let's compare the specs of the two machines that relate directly to that task. Starting with the CPU, the MSI Thin GF63 uses Intel's Alder Lake-powered i5 12450H. It has four P-cores and four E-cores, for 12 threads in total. With a maximum power of 95W and a boost clock of 4.4GHz, it's a decent enough processor for gaming.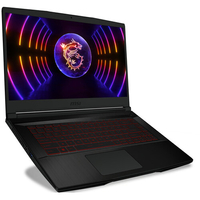 MSI Thin GF63 12VE | Core i5 12450H | RTX 4050 | 8GB DDR4 | 512GB SSD | 15.6-inch | 1080p | 144Hz | $899 $599 at B&H Photo (save $300)
This is a pretty basic gaming laptop, but at $600 you really can't complain. The RTX 4050 is only good for 1080p and it is limited to 45W of power, but you can use DLSS upscaling to boost frame rates. The amount of RAM is disappointing but the storage and screen are both a nice surprise for a gaming laptop this cheap.
Price check: Newegg $699.99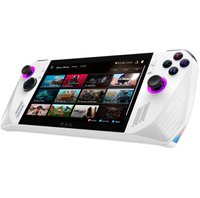 Asus ROG Ally | Ryzen Z1 Extreme | 16GB LPDDR5 | 512GB SSD | 7-inch | 1080p | 120Hz | $699.99 $619.99 at Best Buy (save $80)
It's a lot of money to spend on a handheld gaming PC but it's also one of the most powerful ones you can get. That Z1 Extreme processor is a good match for the 45W RTX 4050 and the screen is a delight. You pay for all the goodies with battery life, though, so you'll only be playing for a few hours at a time.
Price check: Amazon $730 | Newegg $780
The ROG Ally sports AMD's Ryzen Z1 Extreme chip, which is essentially a Ryzen 7 7840U laptop processor. This is a combined CPU and GPU, better known as an APU, and boasts eight cores, 16 threads, and a boost clock of 5.1GHz. That sounds super impressive but the whole package has a much lower power limit that the Intel CPU, at just 30W.
Where things get more interesting, though, is the graphics chip. The MSI GF63 uses a separate Nvidia GeForce RTX 4050, which has 2,560 shaders and 6GB of GDDR6 VRAM. However, it's a 45W variant and that greatly limits its peak performance. We've reviewed a 95W version before, so expect much lower frame rates.
The GPU inside the ROG Ally's Z1 Extreme has 768 shaders but no dedicated VRAM. Instead, it takes a share of the total 16GB housed in the handheld PC. That might sound rubbish but it has a much higher boost clock than the 45W RTX 4050, up to 1,000MHz more, and it goes a long way to make up for the lack of shaders.
You're going to be running at 1080p on both devices and at medium to low graphics settings, even if you connect them to a higher resolution monitor. You're also going to want to enable upscaling wherever possible to give the frame rate a much needed lift. The MSI Thin GF63 is going to offer a more consistent gaming experience than the ROG Ally but it comes very much second place when it comes to sheer portability.
I don't think anyone would disagree with me saying that trying to gaming on a laptop without a gamepad or mouse isn't much fun at all, especially in FPS games. That means you'd want to plug in a mouse, which in turn limits where you can really play. The ROG Ally, on the other hand, has everything you need built into it.
But because it really is a full Windows-based computer, albeit one squashed into a tiny package, many PC games don't play particularly well using thumb sticks. And my own experience with the ROG Ally sometimes left me a tad frustrated at times because of this particular aspect.
Now, before you run off and dismiss the little handheld, note that the ROG Ally will let you attach multiple wireless devices to it. Our own Dave actually wrote his review of the Asus machine on it!
Black Friday deals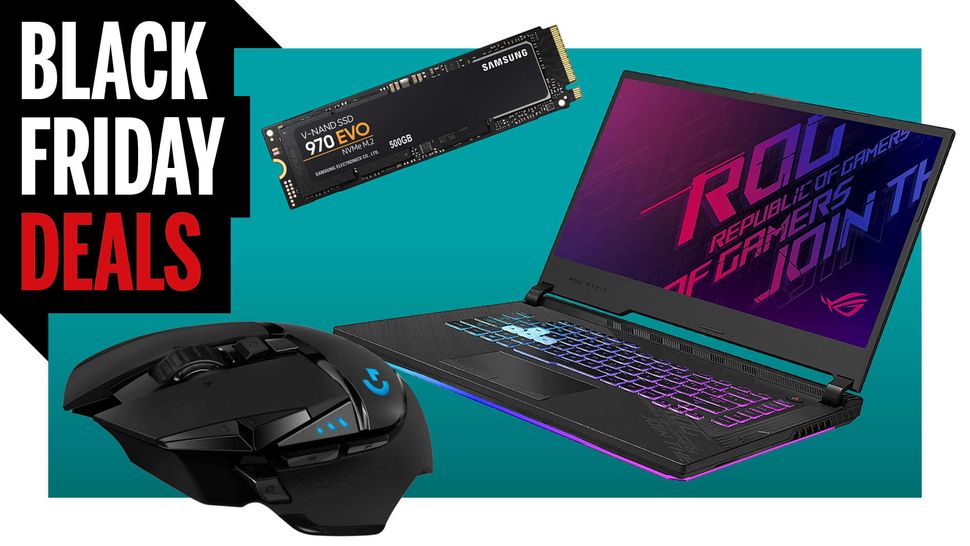 Best Black Friday PC gaming deals: All the best discounts in one place
How to avoid overpaying on a Black Friday gaming laptop deal: How much to pay, and where to buy from
How to spot the best Black Friday prebuilt deal: Don't pay over the odds for a PC this year
In other words, if you wanted the ultimate portable PC gaming system, the Ally can potentially fit that bill. You could set up a dock station, with a keyboard, mouse, and extra monitor to do some work on it, and then disconnect it all to have some PC gaming fun while on the train or bus.
You can do this on the MSI Thin GF63 too but its 15.6-inch screen means it not the most compact laptop around, although you won't need to worry about having an extra monitor or keyboard.
Personally, if I wanted a gaming laptop that I could also use for work or school, I'd spend a little more and get a decent RTX 4060 machine in the Black Friday sales. For outright portable gaming, though, the Asus ROG Ally is my preferred choice, despite its short battery life, which can be very short at times.
Oh and there's the fact that the Ally is known to have an issue with baking it SD card reader when running really hot and given that this is the only way of expanding its internal storage, it could well be a big deal breaker for you.
Faults and price aside (it is somewhat expensive for what you're getting), the Asus ROG Ally is a cracking little PC-in-a-pocket!