Recent product introductions (Radeon RX 5600 XT (opens in new tab)) and price cuts (GeForce RTX 2060 (opens in new tab)) have made it a bit more difficult to discern which is the best graphics card for the money. That said, the Radeon RX 5700 (opens in new tab) offers a lot of frames per dollar, and the value proposition is even better with this deal for a factory overclocked model from XFX.
Over at Amazon, you can buy the XFX Radeon RX 5700 DD Ultra for $299.99. That's $30 below its list price. It's also the cheapest RX 5700 on the market right now. Almost every other RX 5700 goes for $329.99 and higher, save for this MSI model (opens in new tab), which is $309.99 on Newegg after fussing with a mail-in-rebate.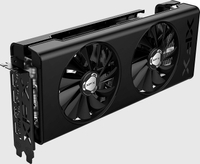 (opens in new tab)
XFX took the liberty of goosing the base clock on the DD Ultra to 1,565MHz, which is a 100MHz overclock over reference. This card also sports an accelerated 1,720MHz game clock (up from 1,625MHz) and a slightly-higher-than-reference boost clock, at 1,750MHz versus 1,725MHz.
The "DD" in the product name stands for "Double Dissipation." According to XFX, the cooler on this model sports a heatsink with twice as much surface area (presumably compared to reference), and uses fans that are 35 percent quieter.