To perform well in competitive games like tactical shooters, battle royales, and MOBAs, being precise and accurate is incredibly important. If you're able to consistently line up shots and manage movement and positioning effectively, you'll have a big edge when facing your opponents. Because of this, developing these skills as a player is crucial.
Getting lots of experience and practice under your belt is ultimately the best way to do this, but you can accelerate your growth by using top-notch gaming peripherals. Owning quality gaming equipment won't suddenly make you a champion, but with these tools, you'll never have to worry about struggling to improve due to slow key actuation, low-quality audio, and other obstacles that can hinder your ability to succeed.
The gaming hardware manufacturer ASUS heavily emphasizes precision and accuracy with its lineup of Republic of Gamers (ROG) and TUF keyboards, mice, and headsets. Notably, ASUS even released a free game called ROG Citadel that players can use to improve and train their aim. Because of ASUS' commitment to precision, buying its peripheral devices is definitely worth considering — whether you're a PC gamer yourself or you're looking for gifts to get one you know this holiday season. We've broken down some of ASUS' top offerings below.
Top-notch ROG keyboards you can rely on
With gaming keyboards, quick actuation, high-durability switches, lag-free inputs, and comfort are all critical. ASUS' cutting edge wired offering, the ROG Strix Flare II Animate, checks all these boxes with its pre-lubricated and stabilized ROG NX Red mechanical switches that feature a 100 million-keypress lifespan and rapid actuation, its 8,000Hz polling rate, its premium PBT keycaps, and its detachable ergonomic wrist rest. There's plenty of snazzy RGB and even a customizable LED display, too, and the design of the board itself is both striking and sleek. If you'd prefer something a little more affordable, the ROG Strix Scope RX is a great alternative that drops some bells and whistles, but keeps the same great ROG NX switches and RGB lighting.
Want to cut the cord and go wireless? The top board available is the ROG Claymore II Wireless, which pairs excellent ROG RX optical switches with a sturdy design, a detachable wrist rest, plenty of RGB, and a battery life of 18 hours. You can even take off the numpad, too, which transforms the Claymore II into a TKL board. There's also the compact ROG Falchion NX, a "65%" wireless board without a numpad or dedicated function keys. This design makes it perfect to take to your next LAN party, and since it has ROG NX switches, very low latency, and an excellent max battery life of 450 hours, you'll have all the performance you need.
Elevate your aim with these ROG and TUF Gaming mice
Whether you're aiming down the sights of your favorite weapons or rapidly directing your character around MOBA battlefields, you'll want a mouse that's comfortable to grip, well-built, easy to click with, and equipped with a top-of-the-line optical sensor that's capable of incredible DPI maximums. For fans of wired mice, there's the ROG Gladius III, which features a 19,000 DPI optical sensor with near-zero latency, a 1,000Hz polling rate, robust switches with a 70 million-click lifespan, and rapid actuation due to the lack of a gap between the buttons and the switches. The chassis is attractively smooth, too, and you get a total of 11 customizable buttons.
Wireless options include both the ROG Chakram X and the ASUS TUF M4. The Chakram X is an elite pick that offers a textured grip, an ROG AimPoint 36,000 DPI optical sensor, an awesome 8,000Hz polling rate, 114 hours of battery life, and support for both wired and wireless charging. The TUF M4, meanwhile, is more of a budget-friendly mouse with a simple design, a 12,000 DPI optical sensor, and a battery converter built-in that allows you to use it with both AA and AAA batteries. It's also ambidextrous, making it a good choice for both right and left-handed gamers.
These ROG and TUF Gaming headsets will keep your ears in the game
Precise listening is often just as important as precise aim in today's most popular competitive games, so you don't want to drop into the virtual battlefield without a headset. The ROG Delta S Animate is the finest one ASUS has to offer, as it comes with quad DAC audio processing and a high 130dB signal-to-noise ratio, ensuring that everything you hear in-game is crisp and clearly audible. The AI-driven noise cancelling microphone transmits your voice comms clearly while preventing background noise interference, and both the light 310 gram weight and ergonomic D-shaped earcups make the headset very enjoyable to wear. Notably, like the ROG Strix Flare II Animate, the ROG Delta S Animate also comes with customizable LED displays.
An excellent alternative to the Animate is the ROG Fusion II 500, which also has quad DAC, a 130dB signal-to-noise ratio, and large foam earcups for comfort. The microphone isn't noise cancelling and the lights aren't quite as fancy as the customizable screens on the Animate, but the former still sounds great and the latter still look great. If these premium headsets are a little too pricey for you, there's also the remarkably affordable ASUS TUF Gaming H3 that has 50mm drivers, 7.1 surround sound support, a unidirectional boom mic, and a very low weight of 294 grams.
Note that while all of the aforementioned headsets work on PC, they'll work with PlayStation consoles as well, and both the ROG Fusion II 500 and the TUF Gaming H3 are compatible with Xbox systems. As a result, these headsets will be especially valuable for PC gamers that also play on other platforms.
Need quality peripherals? ASUS has you covered.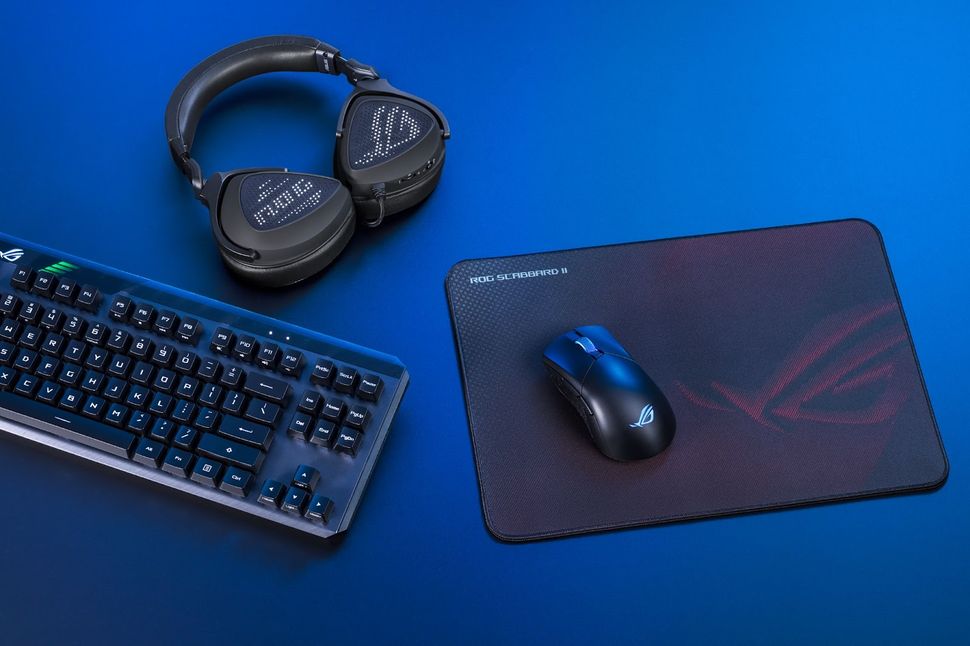 Accuracy and precision are very important to have if you want to emerge victorious from competitive games, and high quality gaming peripherals give you many of the best tools and features available to help develop these skills. Therefore, getting some is a great idea, as they'll improve your growth as a player and will ensure you won't have to deal with slow actuation, or other problems while playing.
Keyboards, mice, and headsets from ASUS' Republic of Gamers and TUF Gaming brands have been designed with elite precision and accuracy in mind, and as such, they're definitely worth considering if you or someone you know is in need of new gaming gear. Whether you're looking for flagship-level accessories like the ROG Strix Flare II Animate or the ROG Delta S Animate or want something budget-friendly like the ROG Falchion NX or the TUF M4, ASUS has peripherals you're sure to enjoy.