Laptops with NVIDIA RTX graphics cards, like the MSI GE75 Raider, are the most exciting thing to happen in portable PC gaming in over two years.
But to find out how special this laptop really is, we have to look back a little way. You can get the MSI GE75 Raider with the full range of snarling 20-series NVIDIA RTX GPUs. RTX 2060, RTX 2070 or RTX 2080? Take your pick.
The MSI GE75 Raider with an RTX 2080 is almost 50 percent more powerful than the GTX 1080 laptops that had us drooling what feels like yesterday. And you'll see that kind of massive performance increase across the board, with all three flavours of RTX graphics hardware.
You can play The Witcher 3 at Ultra graphics and see frame rates of up to 100fps. Or how about Shadow of the Tomb Raider? Even maxed out it will run at over 100fps.
There's more to an RTX laptop like the MSI GE75 Raider than just the knowledge you can play any game you like with the visuals maxed-out.
The future is Ray Traced
These are among the first laptops with hardware acceleration for Ray Tracing. This is a graphics rendering technique where beams of light are tracked in real time, letting developers create the most realistic reflections, shadows and water effects you've ever seen.
The snag: Ray Tracing is so complicated, mapping it all out is like having to consciously control all 650-plus of your body's muscles while walking around. Sounds tricky, right? That's why the hardware support of RTX 2070 and RTX 2080 is a must-have.
You can already see Ray Tracing in action in games like Metro: Exodus, Battlefield V and Shadow of the Tomb Raider. But this is just the beginning.
We can't wait to see what developers come create when making games with Ray Tracing in mind, rather than adding it in afterwards. Expect true next-gen visuals.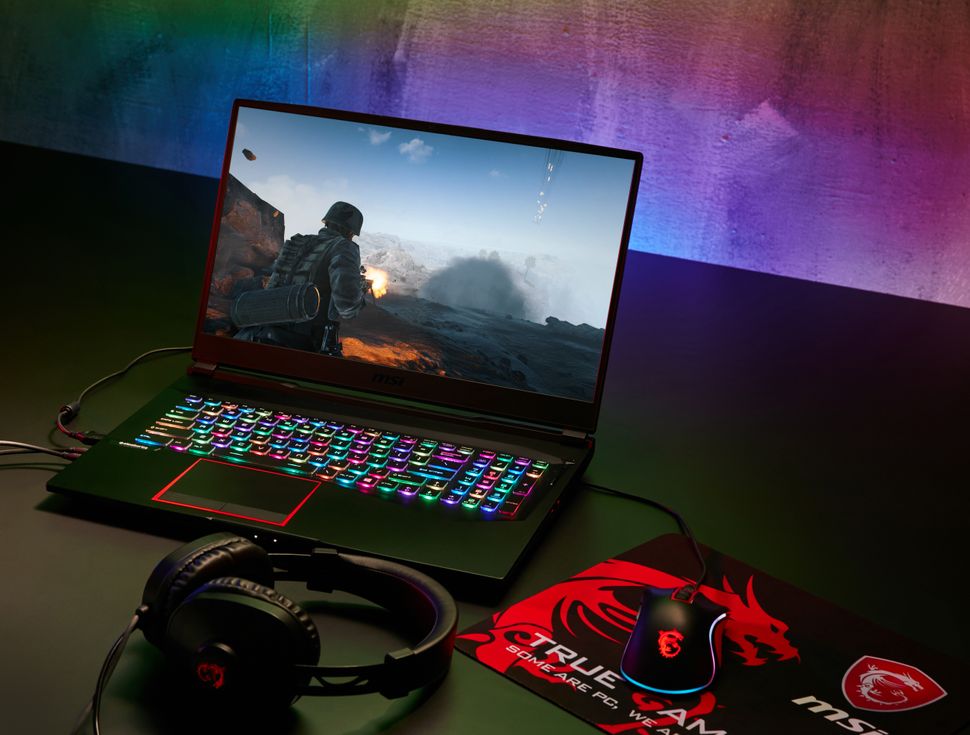 A laptop made for real life
That MSI has managed to fit this in the GE75 Raider is all the more impressive. Its frame is 27.5mm thick, and the laptop weighs roughly 2.65kg. That is a whole kilogram lighter, and 10mm thinner, than some of the most popular top-end gaming laptops of recent years.
The MSI GE75 Raider has a screen to do justice to top games too. It's 17.3 inches across, and has a refresh rate of 144Hz. You need an ultra-fast-responding display like this to appreciate the frame rates an RTX 2070 or RTX 2080 graphics card can crank out. Otherwise your laptop creates frames faster than the screen can show them.
You don't have to be a competitive gamer to make use of a high frame rate screen. But if you are one, a 144Hz screen and fast GPU is a twitch gameplay dream combo.
It's often hard to know when to make the jump with new tech. The MSI GE75 Raider proves "right now" is a great time to buy a gaming laptop. Its hardware may not be seriously bettered before Elder Scrolls VI comes out. And as many gaming fans out there know, it will not be released for absolutely ages.
You can buy an MSI GE75 Raider laptop with RTX graphics today. The RTX 2060 version costs £1799, the RTX 1070 £2199 and the top-end RTX 2080 £2599. And all three have a blistering six-core Intel Core i7-8750H processor.