The virtues of gaming chairs over your dad's desk seating arrangement are well established by now: lumbar support. Adjustability. They look cool. And in the unlikely event that the kind of lateral G forces that racing drivers endure are exerted on you while you play, their bucket seat shape will keep you snug.
All that's true of AutoFull's premium gaming chairs, of course, and more. The company to which AutoFull belongs has decades of experience in ergonomic computer chairs with an independent product development team. It's partnered with pro teams such as RNG, Rogue, BLG and LGD, across games including League of Legends, PUBG, Crossfire, and Hearthstone, so it knows a thing or two about pro players' needs.
AutoFull M6 gaming chair
The M6 features four-way waist protection and accurate waist support designed to adapt to players of different heights. Doubling down on that adjustability, this model's '6D' folding armrests give you the option of sitting in the traditional position at a desk, or pushing the armrests aside completely for mobile or console gaming with a pad.
It's taller and wider than most chairs, so again great for bigger gamers. It also features backward tilt and rocking functions with a massive -145° to +15° range, along with a customisable AutoFull logo with adjustable lighting, colours and brightness.
AutoFull C3 gaming chair
The AutoFull C3 CONQUER SERIES gaming chair features AutoFull's distinctive 'Bionic Modeling' lumbar pillow, designed to properly support your lower back and take the pressure off your spine.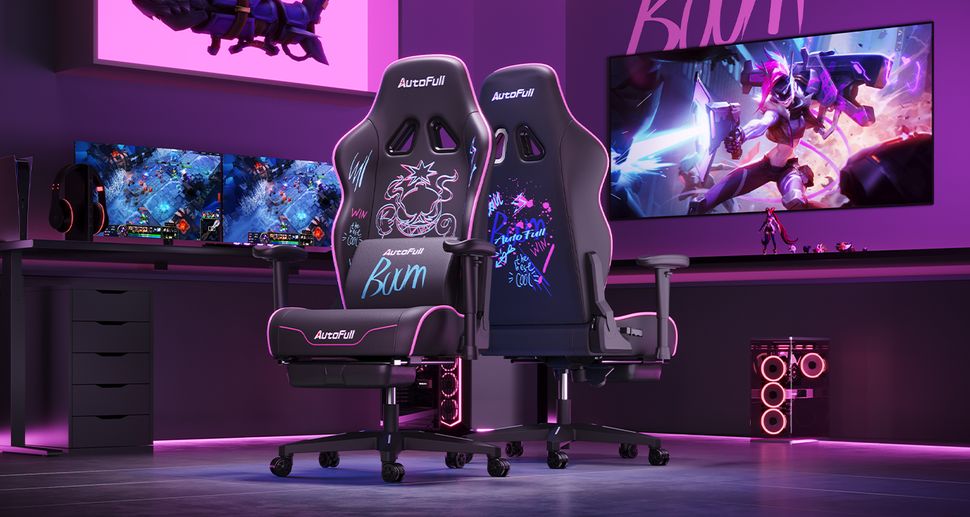 Meanwhile the AutoFull C3 Graffiti gaming chair ramps the visuals up a notch with a distinctive embroidered design inspired by street art, finished in neon magenta and cyan.
To snare the best deal on the AutoFull M6 and C3 gaming chairs, check out the AutoFull Official Store via the links below:
AutoFull C3 CONQUER SERIES gaming chair
AutoFull C3 Graffiti gaming chair
Amazon links:
AutoFull C3 CONQUER SERIES gaming chair