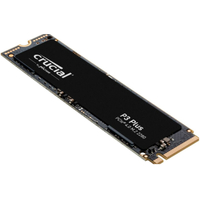 (opens in new tab)
Crucial P3 Plus | 2TB | NVMe | PCIe 4.0 | 5,000 MB/s read | 4,200 MB/s writes | $134.99 $112.99 at Best Buy (save $22) (opens in new tab)
The Crucial drive might not be the absolute fastest PCIe 4.0 SSD out there, but it will still make any last-gen drive look like a slouch. And it's such a bargain price for this much fast storage—throw your OS and game library on this drive and watch it fly.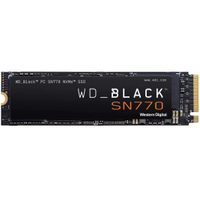 (opens in new tab)
WD Black SN770 | 2TB | NVMe | PCIe 4.0 | 5,150 MB/s read | 4,850 MB/s write | $134.99 $119.99 at Amazon (save $15) (opens in new tab)
The Western Digital drive is a touch more expensive, but it is also quicker than the Crucial P3 Plus. We've had great experiences with the WD Black drives over the years, including this one, so would be happy to pay the extra few dollars for the extra speed and reassurance of the brand.
Memory and, therefore storage prices are pretty much the only things in tech land dropping in price. You won't find graphics card makers tripping over each other to slash the cost of an RTX 4070 Ti, and then following up a week later with another hefty discount. And yet, that is precisely what's going down in SSD town.
We've already covered the excellent Nextorage 2TB SSD dropping down to $160 (opens in new tab)—that's the best price for one of the fastest PCIe 4.0 drives around we've ever seen. And it is a discount upon a discount.
But it's not the cheapest 2TB PCIe 4.0 SSD out there. That accolade falls to the Crucial P3 Plus at just $113 (opens in new tab), though the WD Black SN770 at just $120 (opens in new tab) is a touch quicker and probably the drive we'd go for if it's just a matter of seven bucks. The WD drive isn't the last word in SSD pace, but at over 5,000 MB/s for reads, and just shy of that in writes, it's still a supremely quick chunk of SSD storage.
It's ludicrous that at a time when everything else is growing ever more expensive, some of the best SSDs (opens in new tab) are getting such massive price cuts. At this point, if you haven't got at least 1TB of speedy storage in your PC, I don't know what else I can tell you.
The WD Black SN770 is available in 1TB trim for just $70 (opens in new tab), after all.
And if your concern is that you're only sporting a motherboard or PC with PCIe 3.0 slots inside it, the good news is that a PCIe 4.0 drive will still run in your rig as fast as any last-gen SSD you could stick in it. Then you can take that drive with you if you choose to upgrade and have even more performance. It's a win-win.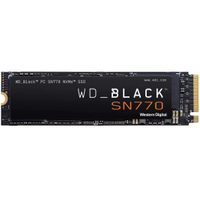 (opens in new tab)
WD Black SN770 | 1TB | NVMe | PCIe 4.0 | 5,150MB/s read | 4,900MB/s write | $89.99 $69.99 at Amazon (save $20) (opens in new tab)
WD is ruling the mainstream SSD market right now. The SN770 is a great buy if you're after speedy PCIe 4.0 performance without breaking the bank on a more cutting-edge storage device. It may not be the fastest Gen4 drive, but it easily outpaces any SATA drive or older PCIe 3.0 SSDs—a great price for 1TB of speedy storage.