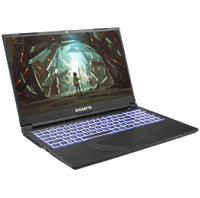 Gigabyte G5 KF | Nvidia RTX 4060 | Intel Core i5 12500H | 15.6-inch | 1080p | 144Hz | 8GB DDR4 | 512GB SSD | $1,099 $999 at Newegg (save $100)
The Gigabyte G5 is our favorite affordable gaming laptop around right now, with the RTX 4060 powering some serious 1080p gaming performance in a budget package. It's a smart spec that combines an older CPU with the new Nvidia RTX 40-series graphics chip. The 512GB SSD is a bit miserly, but that is upgradeable, as is the 8GB of DDR4 memory. Those fixable drawbacks let you buy into an otherwise great gaming laptop for the money.
Newegg has a deal on our favorite budget laptop of 2023, the Gigabyte G5, for $1,000. Even though it's only $100 off its regular price, it still makes this configuration the cheapest since its launch.
The Gigabyte G5 KF is a great 16-inch budget gaming laptop with an Intel Core i5 12500H and an RTX 4060 under its dark hood. You can hit some solid 1080p performance at a decent enough frame rate. And that's without turning on DLSS 3 in supported games.
The 8GB of DDR4 RAM and a 512TB NVMe SSD aren't going to light the world on fire, but those limitations are nothing a little upgrade down the road can't fix. There are usually good deals daily to score a decent SSD and RAM on the cheap.
In our Gigabyte G5 review, we applauded its gaming performance at 1080p as well as its upgradability. You should note that the only difference between this model and the one in our review is that the sample we were sent had 16GB of RAM. Other than that, it's the same specs.
The Gigabyte G5 GF is also good if you're looking for a gaming laptop that has a more subdued design and doesn't quite scream gaming laptop. You still get backlit keys but no RGB on the lid or the rest of its 4.39 lb chassis.
We noted in our review that this thing could get pretty loud when gaming. Investing in a gaming headset or moving to a different room so you don't bother your roommates as they watch TV may be wise.

You might be tempted to buy the RTX 3060 version of this laptop for $63 cheaper, but the RTX 4060 version is what you should go for since it's a more powerful and efficient GPU. Plus, you can't use DLSS 3 on RTX 30-series cards, and that's the thing we like the most about the RTX 40-series.

The Gigabyte G5 was already one of this generation's best affordable laptops, priced aggressively at $1,100. At $1,000, this 15.6-inch RTX 4060-powered gaming laptop is a very strong buy if you're willing to make a RAM upgrade sometime down the line. Yeah, Gigabyte added an RTX 4060 to an older laptop spec, but it works, especially at this price.