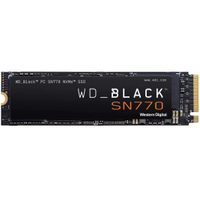 (opens in new tab)
WD Black SN770 | 1TB | NVMe | PCIe 4.0 | 5,150MB/s read | 4,900MB/s write | $129.99 $59.99 at Amazon (save $70) (opens in new tab)
WD is ruling the mainstream SSD market right now. The SN770 is an excellent buy if you're after speedy PCIe 4.0 performance without breaking the bank on a more cutting-edge storage device. It may not be the fastest Gen4 drive, but it easily outpaces any SATA drive or older PCIe 3.0 SSDs—a great price for 1TB of speedy storage. If Amazon is sold out, Best Buy also has the drive for a dollar more (opens in new tab).
I really thought Black Friday would be when we saw SSDs reach their absolute lowest possible prices. Thankfully, I was wrong. This 1TB WD Black SN770 SSD is going for the lowest price I've ever seen it selling for. It's just $60 at Amazon (opens in new tab).
Oh and if that sells out (which it really might), there's another listing for just a dollar more over on Best Buy (opens in new tab).
In our WD Black SN770 review (opens in new tab) last year we said of the SSD, "It isn't the fastest drive around, nor is it quite the cheapest (although it is close), but it does balance the two better than most."
That still rings true today in terms of this drive's performance. There are much faster PCIe 4.0 drives than this, and that's ignoring the PCIe 5.0 drives just about coming through. Though few others are so cheap and offer as much bang for your buck as the SN770.
It's rated to 5,150MB/s read and 4,900MB/s write, which is a bit more reminiscent of the first-gen PCIe 4.0 drives we saw than the snappy second-gen lot. If you want raw speed, look to the likes of the WD Black SN850X, the best SSD for gaming (opens in new tab) in our opinion. That's also on offer for $100 (opens in new tab), which is a worthy investment.
But this is a much cheaper drive for its DRAM-less construction. It skips over this usually handy piece of speedy silicon, thus reducing costs for manufacturing, and instead relies on its handy SanDisk controller to work around this limitation. Surprisingly, it does so very well, keeping up with some pricier drives for much less cash nowadays.
The only thing worth noting is that this drive can get a little toasty, so you probably want to ensure a fan is blowing its way in your case. That should be easy to do, as most M.2 slots have a heatsink or are in the firing line of your fans in a standard mid-tower, but something to bear in mind if you're sticking it someplace else.