ASRock has announced a new range of gaming monitors at CES 2023 with built-in WiFi antennas and Mini-OLED screens baked into the stands. The PC component company is certainly trying something new here.
Why might you need Wi-Fi antennas inside your gaming monitor? My thoughts exactly. ASRock says the antenna included with its high-end Phantom Gaming screens (opens in new tab) will kick the butt of the one you might have with your motherboard and will remove any interference you might otherwise run into with your desk or hulking big PC tower in the way of wireless reception.
Lack of Wi-Fi reception was definitely an issue I ran into while testing the Secretlab Magnus Pro (opens in new tab). That thing has mass and is made almost entirely of metal, so it does a surprisingly great job of blocking wireless signals. That said, because it was a sit/stand desk I couldn't exactly run the Wi-Fi antenna up on top of the desk, and I fear the same may be true with ASRock's integrated Wi-Fi antenna, too.
But that's a niche case. My standard ply board desk with the density of a paper bag doesn't really block any signals to my knowledge. At least my signal strength seems just fine. Otherwise this does seem like a neat enough solution for most sitting desktop setups. One less piece of plastic to deal with on your desktop. Though admittedly a couple more cable runs up to your monitor.
Furthermore, on ASRock's flagship Phantom Gaming monitor over at CES 2023, the catchy-named PG34WQ15R3A (opens in new tab), ASRock is installing another smaller screen into its stand. In an effort to allow further customisation, ASRock's new 1.3-inch Mini-OLED screen can be customised with an image or GIF to a user's preference.
To be honest, I'm not a huge fan of putting screens on absolutely everything, but if you are then I guess a monitor stand is prime real estate that I haven't seen anyone else take advantage of so far. Asus has some fancy laser-looking lights on its monitors, but a screen? Nope.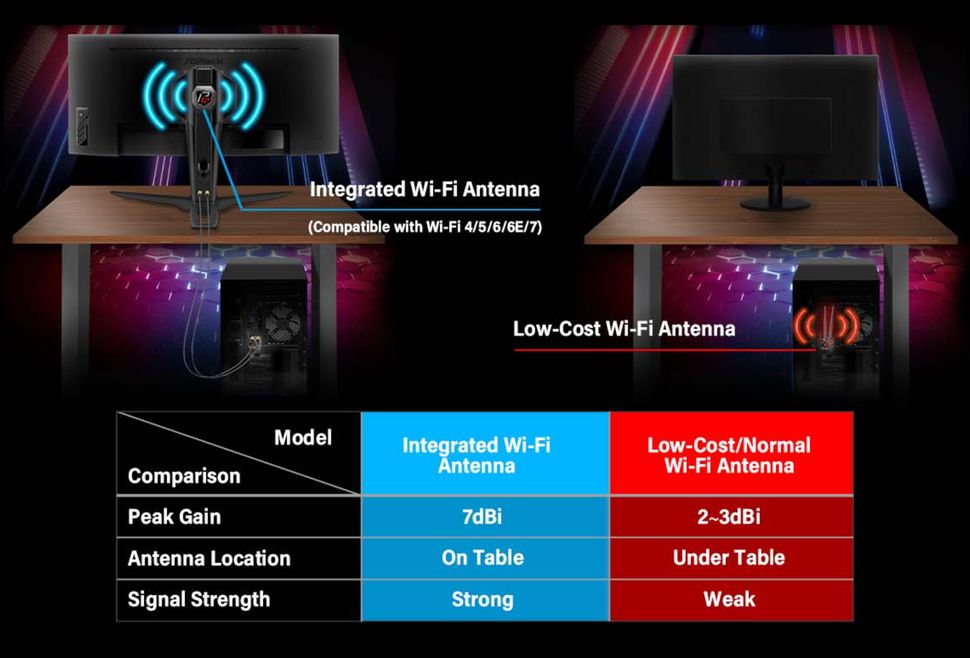 That is the only OLED you get on the PG34WQ15R3A. Its main 34-inch panel is an ultrawide VA with a 1500R curve. It's rated to 165Hz and comes with a 1ms MPRT response time, so its gaming credentials check out, but it's not a great pick for HDR gaming with only DisplayHDR 400. Generally, it appears to be a pretty high-end monitor, though definitely not on par with some of the newer OLED monitors (opens in new tab) we've seen at CES so far. Hopefully the price reflects that, but I don't have any confirmed prices for any of these monitors just yet.
Including the PG34WQ15R3A, there are six Phantom Gaming monitor models over at CES 2023 this year. Only the top model comes with the Mini-OLED, but four models include the integrated Wi-Fi antenna.
PG34WQ15R3A - 34-inch | Ultrawide 1440p | 165Hz | Curved VA | Integrated Wi-Fi antenna | Mini-OLED screen on stand
PG34WQ15R2B - 34-inch | Ultrawide 1440p | 165Hz | Curved VA | Integrated Wi-Fi antenna
PG32QF2B - 31.5-inch | 1440p | 165Hz | Flat VA | Integrated Wi-Fi antenna
PG27Q15R2A - 27-inch | 1440p | 165Hz | Curved VA | Integrated Wi-Fi antenna
PG27F15RS1A - 27-inch | 1080p | 240Hz | Curved VA
PG27FF1A - 27-inch | 1080p | 165Hz | Flat IPS
The PG34WQ15R2B looks as much a monitor as the top-of-the-line model, yet without the tiny OLED screen. Perhaps that's the one to look out for, but again that'll be determined by the price tag across the range. For a 1440p model, even an ultrawide, ASRock is going to have to be supremely competitive on price. It's a buyer's market out there—you can grab an ultrawide 1440p monitor for under $400 (opens in new tab), even.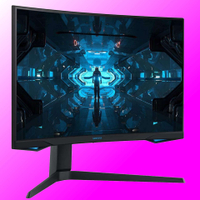 (opens in new tab)