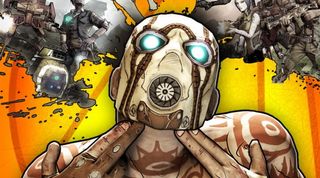 Gearbox is headed to PAX East later this month, and as is common for the studio, the company is hosting its own panel. According to the event's description on the PAX East website, the studio will have "never-before-seen reveals, exclusives, and surprises", which is obviously cause for speculation: will the studio finally show Borderlands 3?
It's no secret that the game exists: Gearbox confirmed a third instalment at PAX East in 2016. And if you peruse our Everything We Know page on the game, you'll note that its publisher Take-Two has repeatedly promised a high-profile 2K Games title for "Fall 2019" (which is Spring if you're in Australia). Of course, that could be BioShock, but that seems unlikely. And remember: Gearbox used PAX East as an opportunity to show off Duke Nukem Forever back in 2011.
Meanwhile, 90 percent of Gearbox is working on Borderlands 3. So if you've got your fingers crossed for Duke Nukem Forever 2 or a Battleborn reboot... anticipate disappointment, I guess. The biggest question is how Borderlands 3 will look in this post-Destiny world: how much will Gearbox inherit from more recent loot shooters?