Update: Testing for PlayerUnknown's Battlegrounds' incoming 4x4km map—Codename: Savage—will kick off next week, PUBG Corp has announced.
In this Steam Community update, the developer refers to the screens featured in our original story below and says it's making good on its promise at GDC to get players in early. Here's the post in full:
Hello everyone!
If you've been keeping up with all things PUBG, you may have already seen some screenshots and even a short clip from our upcoming 4x4 map. We promised you that you would get a chance to try the new map very early on and we are delivering on that promise. We haven't released content so early in its development since our alpha testing stage. We're doing this because we want to start getting your feedback as soon as possible and drive the development in the right direction.
So, how is it going to work?
At first, we are going to do a more limited test for Codename: Savage to make sure that nothing is too broken. Again, it's a super early build, we hope you understand. The next test will be bigger!
The first testing window will open from the 2nd of April, 7pm PDT until the 5th of April, 4am PDT.
We'll update you on Monday about how you can participate. Keep an eye on our social channels to maximize your chances of getting a key.
See you next week!
In the video above, after a thank you message from Brendan Greene and CH Kim, CEO of PUBG Corp, you can see some footage of the new map in action.
In other PUBG news, its latest limited-time Event Mode is live and focused on flares.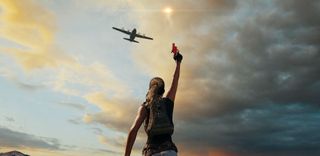 Original story: At a talk at GDC in San Francisco today, Brendan "PlayerUnknown" Greene showed off images of the upcoming 4x4km map coming to PUBG next month. The new map is one-quarter the size of the two existing PUBG maps, Erangel and Miramar, which are 8x8 km.
The 4x4km map was first shown in concept art a couple of weeks ago as part of PUBG's 2018 roadmap. "It's a much smaller map and should give you all a much more intense and faster paced Battle Royale experience. It will offer a higher player density and shorter matches and we want to get it into your hands early this time around so we can use your input to make it a great experience for everyone," wrote Green at the time.