League of Legends' most underrated champions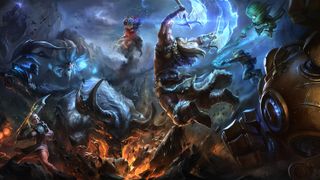 League of Legends' champion pool grows with every update, but there are a few who rarely get a chance to roam the Rift. It's only natural for players to gravitate towards one or two champions per role, of course, as mastering 131 characters is no easy feat. This doesn't mean that those who have been abandoned to the confines of the champion select screen are bad, however: many have merely slipped under the radar.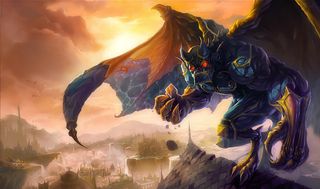 Galio (Mid)
The Rift's resident gargoyle has always been shunned for his unquenchable thirst for mana. His greed for the blue stuff has ultimately left him high and dry. However, his mana issues have been softened to some extent via a buff in patch 6.8 which gave him reduced mana cost on Righteous Gust, as well as a re-scaled movement speed bonus, making the ability more potent early on. Galio also received indirect buffs in the form of added cooldown reduction to his favourite items Abyssal Scepter and Zhonya's Hourglass. These changes have had a positive effect on Galio, as his impact is largely dependent on him being able to cast his abilities to trade damage and win teamfights.
Even with these buffs Galio still lacks kill pressure in lane. A well-timed ultimate means nothing if your team lacks the burst or coordination to kill those caught in Idol of Durand's radius. However, the Sentinel's Sorrow certainly doesn't have too much to be 'sorrowful' about as he boasts some of the strongest wave clear in the game with his Q + E, while his passive encourages him to build MR making him a good counter to almost every AP champion. His ultimate has the ability to win teamfights and is an absolute nightmare for immobile AP carries making him a good pick to deal with champs that lack blinks or dashes. Galio's ability Bulwark grants him bonus armour and bonus magic resist that allows him to tower dive with ease, while acting as an effective frontline damage dealer. In a team with good coordination Galio can be lethal.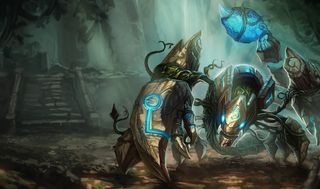 Skarner (Jungle)
Skarner jungle has a very low play percent of 2.39% and he seemed to fall off after the past Cinderhulk nerfs. However, the recent changes to Trinity Force have turned Skarner into a sleeper OP champion. The added attack speed and cooldown reduction from Trinity Force compliments his kit well and has only strengthened his ability to jungle. His Q has a 45% physical damage ratio plus a further 45% bonus magic damage ratio. This is an insane amount considering you can spam it due to Crystal Slash's low cooldown, making clearing the jungle a breeze. He has great utility thanks to Crystalline Exoskeleton which shields Skarner and grants him bonus movement speed, while Impale roots, suppresses and damages his opponent.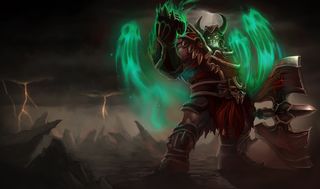 Sion (Support)
Do you like to play initiation champions that have crazy levels of crowd-control? Well Sion support might be just what you're looking for. This weird pick started gaining popularity in Korea when players realised that he synergises well in bot lane. Sion has one of the highest win rates as a support sitting comfortably at 52.14%, but support Sion isn't very popular as you might imagine.
He has a hard time against mobile champions like Lucian, Ezreal and Vayne who can simply dodge out the way of his CC, making him completely useless in lane. However, he's a very well-rounded champion that deals considerably more damage than other tank supports, and has a similar amount of crowd control and good engage. He's also a great counter to immobile AD carries like Ashe or Miss Fortune who are popular at the moment. Roar of the Slayer (E) slows enemy champions and deals a nice amount of damage early on, but it's late game where support Sion shines. The on-hit 20% armour reduction greatly boosts the damage his AD carry and team are able to do, while his engage with Unstoppable Onslaught can be used as primary or secondary engage. This allows him to chase down enemy carries, catch unsuspecting mid laners or initiate a teamfight.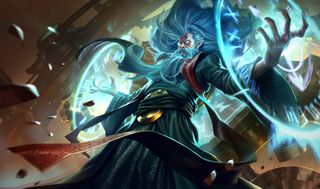 Zilean (Mid)
Zilean is another champion who has indirectly benefited from the mage update of patch 6.9 and has gone largely unnoticed. The Chronokeeper has always had to sacrifice damage for cooldown reduction and mana regeneration items. However, by utilising Rod of Ages and Morellonomicon he is able still deal a lot of damage while also having access to mana regen and CDR making him very powerful. When you build 45% CDR you have access to Chronoshift every 30 seconds in the late game, allowing Zilean to revive himself or an allied champion if they take fatal damage. When maxed, Time Warp grants either a 99% slow or speed buff and makes landing a barrage of Time Bombs even easier. Zilian works extremely well against top tier champions like Zed, and can deny the farm he needs and safely counter his burst at level six. He's a great champ that prevents enemies from snowballing, making him very effective in solo queue.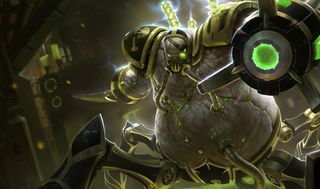 Urgot (ADC)
Most people aren't aware of Urgot's existence, let alone what he actually does. This disgusting reanimated human has a 0.14% playrate and is the least played AD Carry. Urgot is plagued with early mana issues, short auto attack range, lacklustre sustain and a lack of escape that makes him easy prey if he overextends without vision. It's certainly not hard to see why he's so unpopular.
However, for all of Urgot's shortcomings he does have some redeeming qualities. Unlike many AD carries the Headsman's Pride can build tanky while still managing to put out a lot of damage. He has good poke with Acid Hunter, especially when combined with Noxian Corrosive Charge, making it hard for him to miss his enemy. This lethal combination of damage allows Urgot to constantly lay down harass and bully his opponent out of lane quickly. Urgot's W grants him with a shield while his R gives him the ability to switch places with his target, granting him huge amounts of damage reduction, which goes up to 50% at max rank.
That said, Urgot's unique kit requires a bit more thought and consideration if it's to be used to full effect. Once you find yourself comfortable with his playstyle, however, you'll be able to turn fights in your way every time.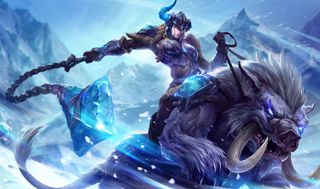 Sejuani (Jungle)
Sejuani seemed to fall off the radar due to the Cinderhulk nerfs of patch 5.7 and subsequent nerfs to her W and R. These changes left her in a rather sorry place and it looked as though her winter's wrath had come to an end. Many players dropped her and moved onto junglers who weren't so heavily punished. However, Cinderhulk would once again make its return with some much needed changes in patch 6.9, and it looked as though winter would come to the Rift once again. While Sejuani is no way near as popular as she once was, she still has a lot to offer. Glacial Prison is one of the best engage ultimates in the game, if not the best. Its long-range AoE stun is amazing at catching targets out of position or locking down crucial opponents. It's such a great ability that it can easily win games on its own. She's very tanky too, has excellent AoE lockdown and does some nice damage with Permafrost. She also provides strong frontline protection for her team.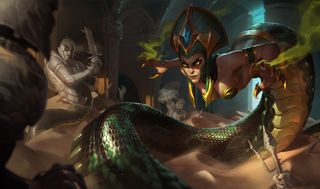 Cassiopeia (Mid)
Cassiopeia is another sleeper champion people are only just starting to notice. She does very well against Swain, Vladimir and Ryze who are popular at the moment. She can outrange them and avoid their poke effectively, especially early on. She received a buff to Noxious Blast and Miasma which extended their cast range, while Twin Fangs had its cooldown reduced to 0.75. The latest changes allow her to get in and out of trades easier than before and give her a little bit more poke thanks to the lower cooldown. Death Fire Touch compliments her kit nicely with Twin Fangs applying it constantly. Cassiopeia greatly benefits from AP cooldown reduction items like Morellonomicon and Abyssal Scepter, while Archangel's Staff allows the noxious serpent to spam her spells. To make matters worse she can effectively slow and kite her opponents with the purchase of Rylai's Crystal Scepter making her impossible to escape from.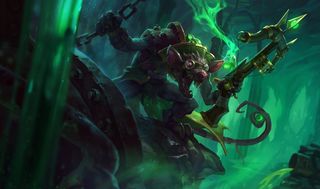 Twitch (ADC)
The Rift's resident rat has a very unorthodox playstyle compared to other AD carries, blending marksman and assassin together. This playstyle allows for some great plays and outplay potential while dealing huge amounts of burst damage. However, Twitch does get heavily countered by AD carries with either a lot of ranged poke or heavy all-in. Although Twitch can trade fairly well he does have a pretty weak laning phase and is very reliant on positioning, requiring him to play safe until he reaches mid game when he'll have access to core items like Youmuu's Ghostblade and Runaan's Hurricane. But it's his late game that really shows how monstrous a mere rat can be. He is even more potent in dynamic queue where players are easily caught alone. This is great news for Twitch as he can use Ambush to surprise an enemy laner and melt them with a lethal combination of auto attacks, Venom Cask and Contaminate.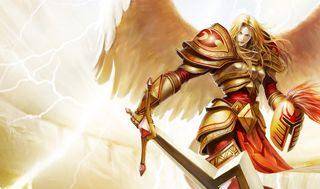 Kayle (Top)
Kayle has one of the most straightforward skillsets in the game. The Judicator lacks the flashy play styles of newer champions, but don't let that put you off. She currently has a 1.8% play rate in top lane and can be obnoxiously strong, especially against melee champions early on. Kayle is a very versatile champion that can single-handedly carry her team to victory or empower those around her. Even if she is behind Kayle can still be extremely useful. The Demacian angel can provide support with Divine Blessing, healing a target ally or use her ultimate, Intervention to save a friendly champion, deny a kill or give the protection they need to survive a teamfight. Kayle's strong early game and late game hypercarry are truly fearsome.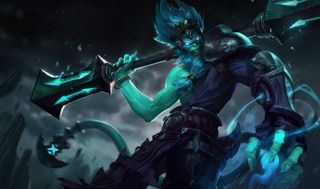 Wukong (Jungle)
Wukong hasn't been monkeying around in the jungle for some time now. He has a relatively small play rate as many players opt for junglers with better clear and survivability, like Lee Sin and Kha'Zix. Changes to the Youmuu's Ghostblade and Black Cleaver builds helped a lot of spellcaster based AD champions, but unfortunately Wukong went largely unnoticed. If you can forgive his early jungle woes, and survive his rather poor clear, you will be rewarded at level six when he has access to his ultimate, Cyclone. His ultimate allows him to initiate teamfights knocking up those caught within it, and is a great way to surprise unsuspecting foes, especially when combined with Decoy. Watch your opponents burn their flashes as you creep up on them and give them a surprise. He may not be a favourite in the jungle, but boy is he fun. Simply jump into dynamic queue and let the jungle japes begin.