With the dust barely settled on this year's World Championship, and the new Mean Streets of Gadgetzan set due to arrive in early December, Hearthstone meta is relatively stable. So now seems a good time to re-evaluate the game's most powerful legendary cards. For this latest update to our list, I polled my fellow casters and the pro players competing at BlizzCon. The results reflect the cards currently playable in the Standard format, up to and including the One Night in Karazhan adventure.
For many Hearthstone players, particularly newer ones, deciding which legendary cards to craft with your hard-earned dust is a stressful experience. 1600 dust isn't easy to come by, and the setback from crafting a card which ends up being useless can be potentially devastating.
To help guide your crafting decisions, I asked our experts to rank their top 25 legendary cards. Using their input, combined with my own expertise, I've created a list that represents a comprehensive guide to which legendaries you need. Just start at #1 and work your way back until your collection is bristling with power.
The plan isn't quite that simple of course. If you're looking to play a specific deck, or favour a particular class, you should give extra weight to the legendaries that are core to those decks. You should still pay attention to the cards listed highly here due to their versatility, since those will go the furthest to increasing the power of your collection overall.
As ever, we'll be updating this list once the most powerful cards from the new set have made their mark.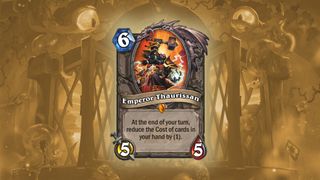 #25: Emperor Thaurissan
Once a fixture in the upper reaches of this list, Thaurissan is now a far more niche choice of a card to craft, and finds himself propping up the list. The explanation why is easy: this card was most powerful when played in the now defunct Combo Druid deck, and without those sweet, sweet discounts to the various combinations of charging treants, the Emperor just seems a lot less oppressive.
That's not to say the card doesn't have his place in the meta. Renolocks still use him to great effect to create the 20 damage combo with Leeroy, Faceless Manipulator, and Power Overwhelming. There's also the ever-present threat of Freeze Mage getting Emperor down on "that hand" that deals 30 damage. However, with Druid's explosive ferocity tamed, Emperor seems like a much more fair and healthy card. Nothing else in the game allows you to create some of the spectacular interactions that Emperor makes possible, and the card will surely be sorely missed when it rotates out with Blackrock Mountain next year.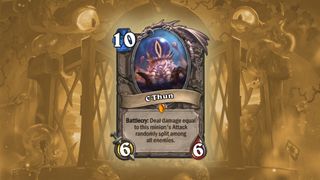 #24: C'Thun
Free-to-play Hearthstoners rejoice! One of the 25 best Legendary cards in the game was given out at no cost as part of the Old Gods expansion. The actual power level of C'Thun remains debatable. During the first week of Standard, C'Thun was everywhere as people experimented with every class imaginable trying to find the best builds. Initial forays were underwhelming and C'Thun disappeared from the limelight for a period. Eventually the lists got more refined, and C'Thun Druid and Warrior started to show promise.
So why the debate? Well, the effect of C'Thun is undoubtedly powerful, but it requires significant deckbuilding sacrifices in the form of playing subpar minions in order to unleash the power of the tentacled colossus. This balancing of upside and downside is what causes the disagreement over whether C'Thun or more traditional builds are better. The fact he sits near the bottom of our list suggests there's still no conclusive answer, but also confirms the card is far from OP.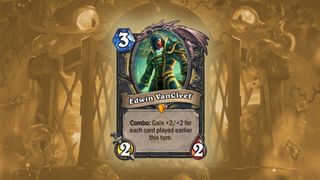 #23: Edwin VanCleef
Another class legendary sneaks onto the list in the shape of the leader of the Defias Brotherhood. The amount of low cost spells that Rogues play, combined with the power of Preparation to string together multiple cards early on, means that Edwin can often be a 6/6 for 3-mana, or better.
Since Rogue decks are primarily only built one way—to leverage the advantage that their hero power and incredibly efficient removal spells provide into a tempo advantage—the ability to play such a huge minion for a small mana cost is hard to overlook.
Edwin received a huge boost in Standard since the nerfs to Ironbeak Owl and Big Game Hunter combined to mean that many classes simply have no answer to a huge Edwin dumped in the opening turns using combinations of Prep and the Coin. On top of this, the addition of Xaril, Poisoned Mind to a lot of Rogue decks means that you have even more low cost Spells that can be used to create an Edwin with stats in the double digits. Lest you still be in any doubt as to the power of the card in the current meta, check out the final game from this year's World Championship at BlizzCon.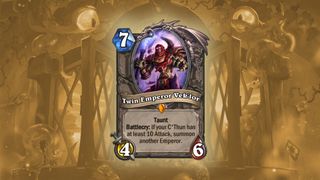 #22: Twin Emperor Vek'lor
Now, see how the student becomes the master. Although Twin Emperor is theoretically just a component of decks in which C'Thun should get top billing, in the opinion of our panel this 7-Mana double Taunt play is the real star of the show.
On the surface, it's a call that makes sense. Twin Emperor can be both a game-winning, or game-saving, play that arrives as early as turn seven. The agonizing wait until turn ten can also be too big an ask for C'Thun to be able to rectify problematic situations, but the game is very rarely dead and buried before turn seven.
But setting aside the hot topic of which of these two minions is the real leading man, the key point is that many C'Thun decks live or die by whether or not they draw these two cards. That simple fact alone is one of the things that ultimately held C'Thun decks back, and is the overarching reason that neither of these key cards has made an impact on the upper reaches of the list.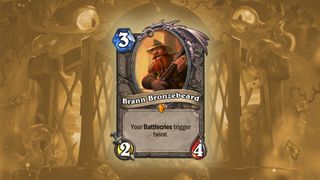 #21: Brann Bronzebeard
Rather than building a deck around Brann's effect, which would inevitably be inconsistent given you can only play one copy of him, it's best to slot him into an already viable deck that already runs a lot of Battlecry creatures.
Of the existing competitive decks around when League Of Explorers launched, Zoo was one of the most obvious fits, enabling doubling of Dark Peddler's Discover card draw and the buffs from Abusive Sergeant, Dark Iron Dwarf and Defender of Argus. Indeed, the diversity of Battlecry effects found in Warlock decks makes the class a good fit full stop, with the Malylock and Renolock variants also making strong use of him.
Whispers of the Old Gods introduced another great role for Brann to fill—a supporting act in C'Thun decks. Running Brann in your deck means that you can run less supbar C'Thun minions because a single double buff using a +2/+2 minion will get you to that magic 10 activator number. Brann's synergies with power plays in the deck like Twin Emperor, Ancient Shieldbearer, and even C'Thun itself means the card is a core component in these decks.
The fact Brann's effect is passive—meaning it applies so long as he stays on board—also makes him a 'soft taunt' target in the sense you're opponent will do everything to remove him from play, or risk being snowballed out of the game by the double Battlecry value train.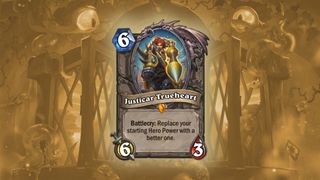 #20: Justicar Trueheart
It's only fitting that the card that welcomed us to The Grand Tournament remains a key part of this list. Justicar's effect is hard to sum up quickly, as it varies uniquely between classes. Paladins have made great use of Justicar to flood the board with Silver Hand Recruits, creating a single-handed win condition against other Control decks. Priests have started including Justicar to make their minions even harder to remove, and further increasing their advantage over pesky Aggro decks.
Perhaps the most effective use of Justicar, however, is in Warrior. Gone are the days when 20 armour seemed like an impressive safety net. Now, the dizzying heights of 40, 50, even 60 armour are achievable, giving birth to a new form of Control Warrior that is no longer interested in killing the other player at all, they simply armour up (or rather "Tank Up"), remove every threat you play, and then sit bellowing with laughter as you die to fatigue. While this might not be the most fun experience (at least for one player involved) there is no denying its effectiveness.
Interestingly, Justicar made it onto the list for every player polled, but failed to break into the top 10 for any of them. The definition of solid but unspectacular, then.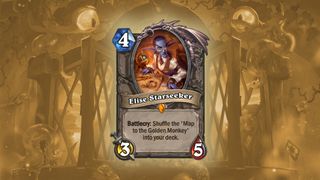 #19: Elise Starseeker
Elise was the only member of the titular League of Explorers who failed to break into our list when we updated it after that adventure launched. It's hard to put a finger on why she appeared belatedly. Maybe it was simply the variance of a different panel, or perhaps she profited from the spots vacated by the loss of power cards like Doctor Boom and Loatheb from GvG and Naxx. Or is it more complex than that?
There is an increased amount of viable Control decks in the meta now, and in duels between these decks, Elise is just about the best card you can have. Much like Fandral and Barnes, Elise is a low risk card to include. As a 4 Mana 3/5, playing her will rarely cost you the game, but in those matches that last beyond turn 20, you're going to be pleased that all those situational cards you would have been stuck with have now been transformed into juicy late-game threats.
Elise, much like Justicar, received middle of the road ratings from nearly everybody polled, showing that she's a card that's on everyone's mind, but isn't regarded as the powerhouse that some higher on the list are.
#18: The Curator
One of only two legendaries from Karazhan to make it onto our list, The Curator's strength rests in the value it crams into a single card. At a time when good neutral Taunt minions are relatively rare, the 4/6 statline can serve to shore up contested board positions late in the game, but it's the unique form of card draw provided by The Curator that makes it an interesting option for deckbuilders. As was theorycrafted before the release of Karazhan, classes like Hunter, Druid and Warrior are able to include Beasts, Dragons and Murlocs without gimping the deck's overall power. In Dragon Warrior particularly, the ability to refill your hand if the game went long proved an important tool.
But even in that deck, The Curator wasn't an auto-include, and cycled in or out depending on individual preference and other card choices like Fierce Monkey. The key issue is that the kind of deck that wants to include The Curator doesn't tend to be one that is happy spending turn seven playing a low-threat Taunt and drawing some cards. For that reason, The Curator hasn't come to be a meta-dominating card, though its intrinsic value isn't in doubt. Given the scarcity of good card draw options in Hearthstone, we may still see decks created in the future that will push The Curator higher up this list.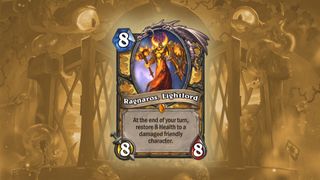 #17: Ragnaros, Lightlord
A card that had an enormous amount of hype coming into the release of The Old Gods, Rag's happier, more loving twin largely lived up to expectations. The incredible amount of stability that this single card brings to your late-game is hard to pass up for Paladins. Unlike many of the previous burst healing cards like Antique Healbot, Happy Rag also presents a huge threat. Unlike his fire-tossing alter ego, the Lightlord is free to attack at will, meaning it serves the dual utility of caring for you whilst simultaneously crushing your opponent.
Most late-game focused Paladin decks auto-include Lightlord without much consideration. The N'Zoth and Anyfin archetypes have both emerged as playable decks in Standard, and both need defensive options due to the loss of Healbot and Sludge Belcher. I still have my suspicions about the long term power of this card. One issue is that canny opponents will play around the healing by putting small amounts of damage into multiple targets. The overall drop in the amount of late game Paladin being played has also seen Lightlord slip down our list since the last update.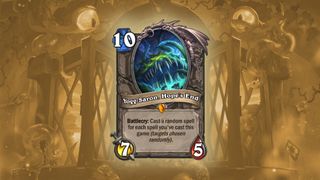 #16: Yogg-Saron, Hope's End
Oh boy. Where to begin? I think everyone knew when Yogg-Saron was announced that it was going to be a big steaming pile of nonsense. What was perhaps unexpected was that it would turn out to be a good card. After a small amount of testing, it became clear that the unpredictability of Yogg's exact outcome was almost irrelevant. In many decks, the card was included as an emergency kill switch that essentially served as the equivalent of flipping the table in a game of Chess. Before long it went from funny Reddit thread generator to actual scourge of competitive play, at which point Blizzard stepped in and administered a brutal but effective nerf.
Yogg 2.0 no longer keeps spamming spells once he's (almost inevitably) killed himself, which severely limits his ability to serve as an effective panic button. In the aftermath, Yogg went from being played in almost every deck that runs a decent amount of spells and might find itself behind on board to only being included in decks that really need the dice roll effect. Largely that means Druid, which otherwise lacks effective AoE spell options, and can therefore afford to dedicate one deck slot to having a tentacled Hail Mary pass of a card.
It's also worth noting that Yogg doesn't always kill himself, and will still sometimes cast Flamestrike, into Lay on Hands, into Call of the Wild, into Pyroblast for the meme win. And for that reason it's probably unwise to expect people to stop Yogging altogether anytime soon.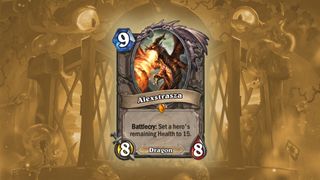 #15: Alexstrasza
One of the holdouts from the early days of Hearthstone, Alexstrasza is in a fairly unique position of being a powerful card from day one that has stayed strong all the way through to the current day. Her versatility is the secret to the card's longevity, as she can be included in almost any late-game focused control deck, or one aiming to kill opponents with a burst combo. In these decks Alex serves the double purpose of activating a win condition by instantly lowering your opponent's health, or crushing the dreams of aggro decks by healing your own hero when near death.
The power and immediacy of Alex's effect also makes the card relatively resistant to removal, which has forced many other slow and clunky minions out of the meta. Once a Freeze Mage has dropped Alex and brought you down to 15 life, Alex's 8/8 body is barely relevant. Even if you remove her, you still die to Fireball, Fireball, Frostbolt just the same.
Alex is included in Freeze Mage, older Control Warriors, some Renolock decks, as well as various Dragon builds, so it's no surprise to see this card listed in the top 15 for most of our polled pros, as well breaking the top 10 for some of them.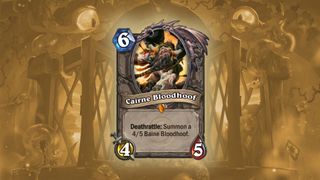 #14: Cairne Bloodhoof
Cairne was one the most sought after cards in the early value-focused days of vanilla Hearthstone. A few months later, once people started to realise the power of playing for tempo, Cairne largely fell by the wayside. In fact, Cairne didn't receive a single nomination from our panel of experts when we first created this list.
The tauren chieftain's resurgence was driven by the arrival of N'Zoth, the Corruptor, which dramatically changed the value of Deathrattle minions. Since many of the best Deathrattles went away with Curse of Naxxramas, most N'Zoth decks function around a core package of Deathrattles, which usually consists of Cairne, Sylvanas Windrunner, and any powerful class specific Deathrattle minions. Cairne is a core part of these decks because his Deathrattle is essentially a resummon effect, which means he protects your board against large AoE spells such as Twisting Nether and Brawl.
Additionally, the power level of the minions around him has also fallen. The oppressive nightmare of Dr. Boom and the omnipresent Sludge Belcher and Piloted Shredder are now gone, meaning slower, less impactful cards like Cairne have an opportunity to shine, as well as time to achieve their full value. That said, the dominance of Shaman in Standard has led to a decline in N'Zoth decks, and some of these have been cutting Cairne, which explains why he's tumbled down our list in this update.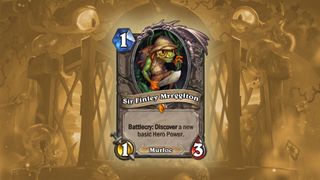 #13: Sir Finley Mrrgglton
The primary use for the dapper Murloc has been to open up more aggressive lines of play in classes which are otherwise restricted by their hero powers. No, Aggro Priest still isn't a thing yet, but Shaman, Paladin and Warrior have all been able to create brutally fast decks which benefit from switching hero powers.
Versatility is key once more. Whilst it might seem obvious that you want to mulligan for Sir Finely and pray you get the Hunter's Steady Shot, there will also be matchups in which it's more important to pick Warlock's Life Tap to keep the card draw coming. Even in a top deck scenario, being able to grab a clutch heal might buy you one more turn from which to draw that Rockbiter you need to pair with your Doomhammer.
Also, although Sir Finley's one attack means he won't do much face damage, his three health means he can potentially take out Living Roots tokens, or challenge an Argent Squire or Possessed Villager, without dying—helping secure the board for your forthcoming swarm of creatures. All in all, a cheap but annoyingly effective addition to the current pool of Legendaries.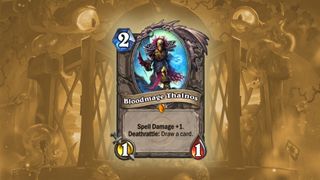 #12: Bloodmage Thalnos
Few cards have bounced around our list like the Bloodmage. The reason for the skeletal wizard's current resurgence can be summarised in two words: Spirit Claws. Having a cheap source of spell damage, which also cycles itself, is invaluable in the current Shaman decks which are terrorizing the ladder. Nonetheless, despite the cheap cost, this has always been a powerful, if easy to overlook, card.
"It's just a Novice Engineer with Spell Damage" or "It's a Kobold Geomancer that draws a card" are two reactions that come up often from less experienced players. Combine that with the fact that Bloodmage also has weaker stats than the Kobold, and it's easy to see why he got ignored.
But it's exactly the combination of those two effects in one card that makes Thalnos so powerful in the right deck. It's impossible to replicate the value with a single replacement, and since you can only fit 30 cards in your deck, this 2-in-1 package can be hugely useful.
Any deck based around some sort of burn spell finisher tends to features Thalnos. Freeze Mages include it to buff up their game-ending burst combo, or to dig deeper in their deck for crucial cards. Rogue uses it for powerful tempo plays using Backstab, Fan of Knives, or Eviscerate, while simultaneously cycling through their deck to hit key cards. Again, the versatility is key.
#11: Malygos
Ah, the essence of magic himself. It seems incredible to note now, but Malygos was nowhere to be seen in our last list. His presence here is an indication of how dramatic the rise of spell-based Druid decks has been. After the Double Combo archetype was destroyed by the nerf to Force of Nature, Malfurion fans were forced to search for a new strategies to infuriate opponents with. At first Yogg seemed to be Druid's unlikely saviour, providing the comeback mechanic the class had always lacked, whilst also generating value from already excellent cards like Innervate, Wild Growth, Swipe and so on. Factor in that Nourish had replaced the also nerfed Ancient of Lore as Druid's best source of card draw, and going all-in on spells made sense.
After hitting a certain density of spells in your deck, the next step was to start experimenting with cards like Arcane Giant. And given Druid decks run Living Roots as standard, adding in the Malygos and Moonfire package as a source of explosive damage was a natural evolution, leading to the refined lists we see on ladder and in tournaments today. And so one of the coolest legendaries in the game has been returned to his former glory. Malygos is the kind of card which won't always have a dominant place in the meta, but will be worth considering in any deck which looks to close the game out using cheap burn damage, with Mage, Shaman and Rogue all providing potential homes for the big blue dragon aspect. Not the most essential legendary to craft, but certainly one of the sweetest.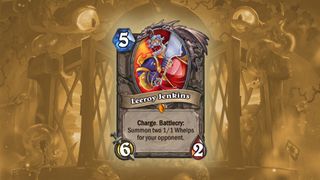 #10: Leeroy Jenkins
After the release of Whispers of the Old Gods, Leeroy crashed back into the top ten of our best legendaries list, having been curiously absent before. Why the sudden change of heart towards the impatient raider? Well, with Arcane Golem getting a Warsong Commander-sized nerf, there simply weren't too many efficient Charge minions left. That meant aggro decks had to fall back on Leeroy as a source of damage, and combo decks have few other options as a target for their pile of damage buffs. Miracle Rogue is also back, with the most popular version using Leeroy and Cold Blood as the finisher of choice. On top of this, the Leeroy, Faceless Manipulator, Power Overwhelming combo is an absolute staple in Renolock decks.
It's terrifying to think that Leeroy once existed as a 4-Mana card, and you have to give credit where it's due and say that Blizzard reacted accordingly when it chose to bump him up to 5 Mana. Leeroy would have been ludicrously oppressive if left alone.
Opinions on Leeroy fluctuated significantly more than other cards that populate the middle of this list, with some players choosing to award it one of the coveted top 5 spots, while others left it out of the top 10 entirely. Regardless of which side of that argument you come down on, it seems likely that we'll be hearing that iconic battlecry for many years to come.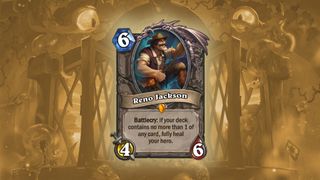 #9: Reno Jackson
Reno's get rich success story happened pretty much as soon as the card was released. Beforehand, there'd been an element of doubt about how damaging building a deck that contained all or mostly single copies of cards would be. The answer, it turned out, was not very. And the potential benefit of being able to heal for up to 29 points in a mostly aggressive meta hardly requires further explanation.
This site made the case that Reno might be the most exciting Hearthstone card since Emperor Thaurissan, and little has changed since to make anyone doubt his power level. Reno's natural home appears to be in Warlock, where the innate card draw from the hero power, coupled with the synergy of using Gul'dan's health pool as a resource, means that you're both likely to have Reno in hand when you need him, and are likely to need him.
The sheer number of Warlock cards which work well as singletons has also helped drive Renolock into the top tier of competitive decks. But Reno's power isn't restricted to Warlock. Priest, Paladin and Mage decks can all be built effectively to include his whopping heal. Reno has become a meta-defining card, and is well worthy of his place here in the top ten. Enjoy him (until he cycles out of Standard sometime in spring 2017!)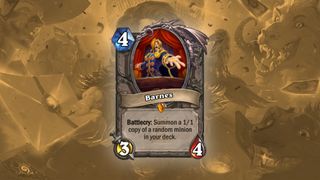 #8: Barnes
As one of the signature/gimmick cards of the One Night in Karazhan adventure, it's not a shock to see Barnes make such a high entry on our list. (The other being the much more expensive Medivh, who has a powerful effect but is far too slow to set-up, so didn't make the cut.) A huge part of the reason Barnes has been so successful is that there's very little opportunity cost to including him in any deck which runs even a handful of minions that are likely to represent good value if pulled as a 1/1. In Midrange Hunter, getting a baby Highmane is obviously nuts. But, hey, if you pull a Fiery Bat from your deck instead, well, that's probably fine too. It's still a Beast with a decent Deathrattle.
Barnes is also the card for the midrange meta we're in right now. With the likes of Malygos, Sylvanas, and Ragnaros doing the rounds, the potential for blowout value very early on in the game is real. We can debate whether this sort of high variance RNG is good for Hearthstone, but in Blizzard's defence it should also be noted that Barnes hasn't broken the game. I say that as someone who won a game in which Barnes pulled a 1/1 Y'Shaarj out on turn four, which then summoned the full-size Y'Shaarj. Looking forward, as long as creatures with powerful non-Battlecry effects are being played, then Barnes isn't going anywhere.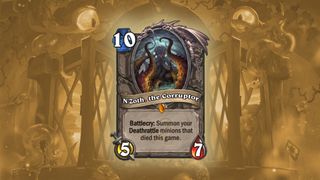 #7: N'Zoth, the Corruptor
Taking the crown as King of the Old Gods on our list is N'Zoth. Very few cards in the history of Hearthstone have had as big an impact on people's deck building decisions as this tentacled sea-dweller. Control decks were given a new lease on life, since a single 10-Mana card allows your deck to be completely dominant in the late-game, enabling you to focus on tweaking the remainder of your deck to counteract the more early threats from Aggro and Midrange decks.
The reason for N'Zoth's inclusion so high on this list is that he's both a powerful threat himself and has also revitalized other cards. The aforementioned Cairne Bloodhoof is now viable again, while Corrupted Healbot and Infested Tauren—both borderline unplayable in isolation—have made appearances in various N'Zoth decks.
N'Zoth's flexibility is impressive too. The card has seen success in Paladin, Priest, Rogue, Druid, Warrior, Warlock, and even Hunter. That kind of versatility is only shared by other legendary cards at the upper extremes of our list, and it speaks volumes for the singular power of N'Zoth as a win condition. Nonetheless, he drops a couple of places in this update, largely due to the fact Shaman is so popular and doesn't give you enough time to wait until turn ten. That, and the fact Hex will ruin your day if you just sank 6 Mana into Cairne or Sylvanas.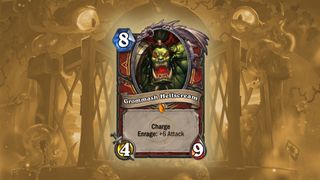 #6: Grommash Hellscream
Gromm has slipped slightly in our most recent update, which can be indirectly put down to the Execute nerf which has made the Dragon Warrior deck less powerful overall. Although he also suffers from the same issues as Tirion—he's a class Legendary—the Warsong Clan chieftain offers a little more versatility than his Paladin counterpart. Grom can be used in Tempo-focused Warrior decks, gets included as a top end threat in Patron Warrior, and is still a staple in most forms of Control Warrior.
Anyone who has faced a Warrior will be familiar with the terrifying feeling of having your life total dip into Grom range. You're forced to play inefficiently in order to protect what remains of your health pool, or shut your eyes and hope they don't have it—at which point they inevitably do. Without Grom in your Warrior deck, you find yourself lacking the final punch, and while plenty of the late-game legendaries other decks can be swapped with other big hitters, Grom's game-ending power is irreplaceable.
Since the huge nerf to Big Game Hunter, Grom has also only increased in power. Now you are not quite so obligated to hold onto your big charger as a final win condition, and can feel more free to use him as a threat to control the board. Previously a Grom that was dropped and used to trade would often be answered with a BGH, leaving you lacking that late-game punch. Now Grom sometimes sticks, and that's even scarier.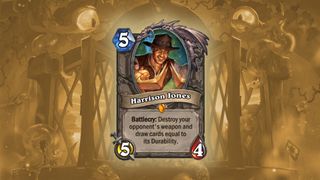 #5: Harrison Jones
Harrison Jones is an interesting card to see so high on the list. Usually tech cards wouldn't be recommended as high crafting priorities since they're only effective in the right meta. However, Hearthstone has been so heavily dominated by Shaman, Warrior and Hunter decks for a while now that Harrison almost always finds a target. Factor in the new weapons like Spirit Claws, and to a lesser extent Fool's Bane, introduced by One Night in Karazhan, and Harrison becomes an even more attractive inclusion.
The particular strength of Harrison is that even in matchups like Druid where he won't get to add a new weapon to his ever-growing museum, he still isn't terrible. Unlike other tech cards such as Eater of Secrets which are really found wanting when they whiff, Harrison has a decent amount of health. He still represents a threat in an aggressive deck, and he can still 'trade up' with a better minion in a Control deck. This lack of downside is what makes Harrison such an attractive option.
This is the first time Harrison has cracked our top five legendary cards, but with Shaman still running rampant on the ladder and in tournaments, his top tier status should come as no surprise.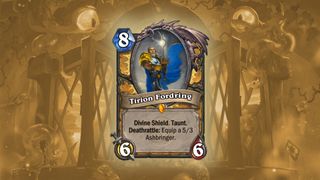 #4: Tirion Fordring
A contender for the best pure value card in the game. In Arena, where a sterile evaluation of a card's overall worth is generally the starting point for any rating system, Tirion has historically been considered the best card. And with good reason. Theoretically, Tirion is capable of trading 5-for-1 with your opponent's cards because his body can be expected to slay two minions, and the resulting Ashbringer weapon can chop down another three. In reality, he's rarely that spectacular since various factors like hard removal spells, Harrison Jones, and your own life total can put a stop to the dream. Nonetheless, dropping Tirion is always a powerful play.
Furthermore, thanks to the addition of N'Zoth, Tirion became an even more ridiculous proposition. Not only do you get to ride the value train once, you get the double whammy of reviving not only an amazing minion, but also a huge defensive wall that can provide you with the buffer needed to be able to safely play a 10-Mana card.
Tirion remains comfortably one of the most powerful cards in the game, and only the decline of Secret Paladin in Standard and the fact that he's a class legendary prevents him from placing higher. Nonetheless, he's a must-have card for any player tempted to try Paladin.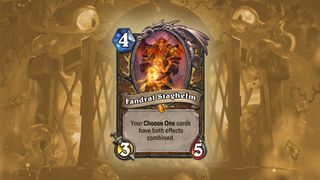 #3: Fandral Staghelm
Fandral is perhaps the best example of a low-risk, high-reward card in Hearthstone. As a 4 Mana 3/5 minion he's rarely going to cost you too heavily if you're forced to play him without activating his effect, but when combo'd with your Choose One cards, the effect can be so glorious that the game ends as your slack-jawed opponent reaches for the Concede button.
While the spectacular value from using Fandral with Ancient of War and Wisps of the Old Gods is obvious, more commonly Fandral will pick up small incremental effects with Wrath, Living Roots, and Raven Idol, but the impact of even these small bonuses is potentially huge. Wrath dealing four damage and drawing a card for 2-Mana is nuts. Likewise Raven Idol discovering a card and a spell. Crucially, these are easy combos to achieve.
Fandral was an auto-include in almost every Druid deck, from token to C'Thun, even before the release of One Night in Karazhan. But over time the spell-heavy deck which uses Malygos, Arcane Giants, and sometimes still Yogg at the top end, has established itself as the most potent archetype the Druid class currently has to offer. And in that version, Fandral is absolutely explosive. Which explains how he's risen 20 spots since the last Old Gods update to become the highest-placed class legendary.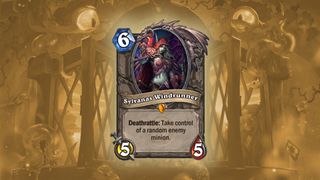 #2: Sylvanas Windrunner
Possibly the most frustrating card to deal with in the entire game. The arrival of Sylvanas can change a comfortable feeling of being ahead on board to one of despair as you quickly realise you have no efficient way of dealing with her menacing presence. That feeling is pretty common because, beyond silence or transform effects, there isn't an efficient way of dealing with her. Often you'll be forced to trade your entire board just to prevent something being stolen. This feeling of dread is deepened when playing against a Warrior or Priest, where they can use things like Brawl, Shield Slam, or Shadow Word: Death to manipulate what gets stolen.



The versatility of Sylvanas is nearly unmatched. She is an effective play when ahead, behind, or (as is often the case) on a board that's closely contested. In the previous version of this list Sylvanas took the top spot, despite not being the number one pick of any of our judges—which arguably only showcases the consistency of her power. Part of her recent renaissance has been due to Emperor Thaurissan becoming less dominant at six mana and Dr. Boom leaving Standard. She also has fantastic Deathrattle synergy with N'Zoth. The prospect of playing multiple copies of Sylvanas over the course of a game remains mouth-watering. And to think she once cost 5 Mana!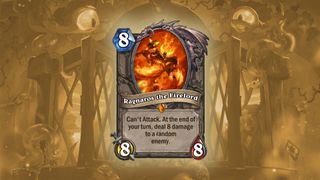 #1: Ragnaros the Firelord
No card has benefitted more from the nerf to Big Game Hunter than señor del fuego himself. In the long gone days of vanilla Hearthstone, Ragnaros was an absolute powerhouse. His destructive late-game power was more or less unmatched, making him one of the first cards on most people's to-craft lists. The reason that changed was because Big Game Hunter became an auto-include in almost every deck thanks to the ubiquity of Dr. Boom. With Big Game Hunter banished to mediocrity, Rag returned to reclaim his throne.
The thing that makes Ragnaros so special is his immediacy. While almost any late-game threat is capable of winning the game if unanswered, Rag has the ability to affect a game on the turn he's played, meaning that by the time your opponent is able to frantically scramble for their Hex or Siphon Soul, you've already potentially crushed their hopes and dreams. Sure, there's a risk attached, and we've all considered disenchanting this frustrating card at least once, purely to teach him a lesson about accuracy, but the average returns are incredible.
The release of the One Night in Karazhan adventure only served to cement Angry Rag's place as the primo legendary. Whether on ladder or at tournaments, the largely midrange metagame means that most decks run the kind of beefy minions which Rag loves to snipe. Rag has also benefitted from the arrival of Barnes (it turns out getting a random 8 damage on turn four is pretty good) plus the general lack of hard removal outside Hex and the now more expensive Execute. Unless swarm decks make a spectacular comeback, it's currently hard to envisage a time when Ragnaros won't be top tier.