Boot Camp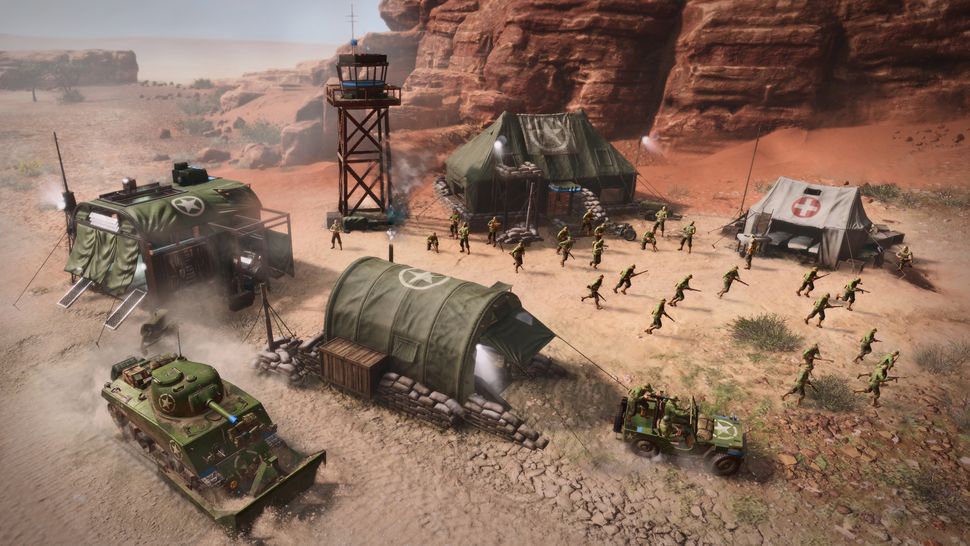 We've partnered up with Sega to create Boot Camp, a series of articles and videos that showcase the new features and tactical considerations of Company of Heroes 3.
Typical, isn't it? You wait ten years for a new Company of Heroes campaign, then two come along at once. That's right, Company of Heroes 3 heaps a double helping of single-player strategy into your mess tin, letting you assume control of Allied and Axis forces as the game follows the frontlines of World War 2 around Italy and North Africa. But these campaigns don't simply tell separate stories on either side of the Mediterranean, they play in completely different ways. So grab your binoculars and follow me as we scout out Company of Heroes 3's single-player offering.
First up is the Italian campaign, which takes the game's signature real-time battles and seeds them into a grand, turn-based strategy map entirely new to Company of Heroes. From your initial staging point on the island of Sicily, you'll personally direct the invasion of the Italian peninsula. You'll recruit Companies of soldiers and instruct them to capture Italian towns, ports, and airports, build fortifications, establish supply lines, and support your advance from the air and the sea, all while pushing north toward your ultimate goal—the liberation of Rome.
Of course, the Nazis won't greet your arrival with a cup of espresso and a slice of pizza. They'll fight you for every inch of ground, and encountering an enemy company in the field will immediately trigger a skirmish. Here, the game switches to its real-time battle mode, where you'll duke it out with the Wehrmacht for control over that territory. These battles aren't randomised affairs either, they're influenced directly by the situation on the campaign map. If the battle takes place within range of a howitzer emplacement you constructed, you'll be able to use its cannon to your advantage, calling down artillery bombardments onto enemy positions during the fight. Companies in close proximity can also reinforce one another, lending units and abilities to their comrades for that particular battle.
Likewise, the outcome of a battle can influence your broader strategic approach. During the campaign, you'll be issued objectives by strategic advisers, completing which will increase their loyalty to you and unlock bonus abilities. You could follow the ambitious plans of General Buckram for improved air support, heed the more conservative advice of the British General Norton for better naval capabilities or support the Italian Partisans in return for access to their spy networks.
These dynamic systems are threaded along a backbone of tailored missions that occur at key moments during your campaign, such as the capture of a major town like Salerno, or notable historical battles like the battle of Monte Cassino. Yet even these more scripted encounters can play out differently, depending on whether you bring American Paratroopers or British artillery to the fight, and what resources you have to support them.
Italy represents a very different take on campaign design in Company of Heroes, but if you're hankering after some classic singleplayer strategy, then the North African Operation is for you. This campaign puts you in the driving seat of Erwin Rommel's Afrika Korps as the Desert Fox attempts to push the British off the continent. The campaign's linear sequence of missions charts some of the most notable events of the Africa campaign, such as El Alamein and the Battle of Gazala, which saw Rommel advance through a British minefield in an area known as "the Cauldron" before assaulting and capturing the port of Tobruk.
Although the missions focus on the successes and failures of Rommel and his Afrika Korps, the campaign's narrative charts a different path. It follows the story of Salima, a teenage Jewish Berber girl. Through letters between Salima and her father, who is fighting Rommel with the British, you'll hear about the impact the war has on Salima's life, and the people of North Africa as a whole. As Rommel's army carves a path of destruction through Libya and Egypt, the campaign always keeps one eye on the effect the war had on the local people.
Retaining the essence of a game while introducing new ideas is always one of the toughest challenges of sequel design, and every developer has its own approach to the problem. With Company of Heroes 3, Relic's solution is simple—why not have both?