Fortnite Season 9 is here today, which means a new battle pass, new skins, big map changes, more creative mode tools, and three more months of begging Epic to make Team Rumble a permanent game mode. I just can't build like the kids do. Below you'll find all the info so far about Fortnite Season 9, its battle pass, map changes and more.
What's coming in the 9.30 update?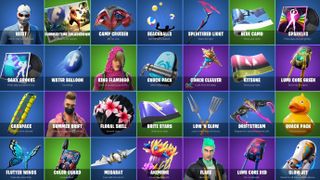 Fortnite's 9.30 update has been datamined (right on schedule) , giving us the names of what are probably upcoming Limited Time Modes and a hint at a Stranger Things set.
The image above is courtesy of FunGamesLeaks while Lucas7Yoshi has been digging around the game's files where they found what looks like a future Stranger Things set. It looks like we may get LTMs with the names:
Summer Splashdown
Storm Chasers: Surfin
The new modes Builder's Paradise and Strategic Structures sound interesting. In Builder's Paradise a datamined description describes player-built structures as having "dramatically increased health". Building materials will drop more frequently and players can edit structures irrespective of which team built them. In Strategic Structures stone and metal walls are tougher but you have fewer resources—place each wall with care.
There's also a description for a mode called "Tank Battle."
Tank BattlePlayer health and shields drastically increased. Healing items removed and replaced with siphon (health granted on elimination). Let the best tank win!I think im finally done with all the LTM's lmaoJune 18, 2019
Fortnite Season 9 brings big map changes and new locations
In the wake of the volcano erupting, new locations like Neo Tilted and Mega Mall have appeared on the map.
Here's Fortnite Season 9's Battle Pass trailer
Check out the Season 9 Battle Pass' new collectible Fortbytes, and the new outfits you'll get as part of this one. Want to see all 128 items that come with the Battle Pass? Check out the video below, courtesy of our pals on GamesRadar.
Fortnite Season 9 brings Slipstreams to the game that transport you around the map
A new wind transportation system called Slipstreams has been added to the game as part of Season 9, as well as an environmental item called Air Vents that gives you a boost.
Fortnite Season 9's arrival means the pump shotgun has been vaulted
Here's the full list of what's been vaulted in Season 9: balloons, Clingers, Buried Treasure, Pump Shotgun, Poison Dart Trap, Scoped Revolver, Suppressed Assault Rifle, and the Thermal Assault Rifle. A new semi-automatic Combat Shotgun has been added, meanwhile.
How much does the Fortnite Season 9 battle pass cost?
Expect the usual 950 V-Bucks, or around $10.