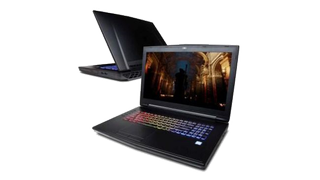 This is the holy grail for the gamer on the go: the cheap gaming laptop. But they're deceptively tough to track down and with so many different manufacturers, specs and upgrade options it's hard to know if you are actually getting a machine which will deliver the gaming performance you want.
If you're willing to spend all the Bitcoins in the world on the best gaming laptop then you can easily bag yourself a Skylake-toting clamshell with a monstrous desktop-class GTX 980 GPU and an ultra high resolution screen, but if you're after a bit more of a bargain, you've come to the right place.
When it comes to specs, you probably don't want to go lower than a GTX 950M (or potentially a GTX 850M if prices are much lower) when you're aiming for gaming performance that doesn't make you want to rip off your own fingernails. Otherwise you're going to have to start making serious compromises on your graphical fidelity.
Fear not: there are still some great prices out there.
Some highlights this week: The Core i5 Asus with a GTX 950M looks like a great deal, with a low-power Skylake CPU and 128GB SSD to boost it's battery performance away from a plug socket.
Otherwise the PC Specialist machine with the beefy Nvidia GTX 960M graphics card and full-fat quad-core Skylake CPU will be a fantastic gaming rig for the price.
17.3" screen | Core i7-4710MQ | GTX 950M | 1TB HDD | £625
- YunSen is a relatively unknown brand over here for gaming laptops, but there are some impressively-specced machines available on Amazon for a decent price. This machine nets you an eight-threaded Haswell CPU and a capable Nvidia GTX 950M with a 1TB hard drive. Check out this excellent deal at Amazon for just £625.
15.6" screen | Core i5-6200U | GTX 950M | 128GB SSD / 1TB HDD | £649.98
- If you're more comfortable with a known brand they don't get much more known than Asus. This bargain little machine comes with a new low-power Skylake dual-core CPU and GTX 950M as well as a 128GB SSD as your boot drive. View this deal at Ebuyer at just £649.98.
15.6" screen | Core i5-6300HQ | GTX 950M | 1TB HDD | £689.98
- This Cyberpower laptop has more processing power from its proper quad-core Skylake i5, giving the GTX 950M more room to fulfill its gaming potential. Check out this deal with 14% off at LaptopsDirect where it's just £689.98.
15.6" screen | Core i5-6300HQ | GTX 960M | 1TB HDD | £734.98
- If you want to make a step up in gaming performance though you'll need to go for something like this PC Specialist machine with a GTX 960M and quad-core Skylake processor. It will deliver quality frame rates at its native 1080p resolution. View this deal at LaptopsDirect for £734.98.
17.3" screen | Core i5-4210H | GTX 960M | 60GB SSD / 1TB HDD | £759.97
- This Acer machine is still rocking a 1080p screen, but it's a larger 17.3-inch model, and with the GTX 960M GPU it'll be able to run most games, with their graphical bells and whistles turned on, at that native resolution. The dual-core Haswell CPU isn't so hot for heavy computational tasks, but for gaming it's good enough. Check out this deal at LaptopsDirect where it's £759.97.
___________________________________________________________________________________
A note on affiliates: some of our stories, like this one, include affiliate links to online stores. These online stores share a small amount of revenue with us if you buy something through one of these links, which help support our work evaluating components and games.