Adventure games
The 13th Doll
Developer: Attic Door Productions
Publisher: Attic Door Productions
Release date: 2016
Link: Official site
It's rare for fan games to break out of the mod scene shadows, but here we are with The 13th Doll, a fan sequel to classic adventure game The 7th Guest. The 13th Doll was crowdfunded by fans of the original game (with permission from The 7th Guest's developers), and aims to go back to the mansion with puzzles and spooky atmosphere aplenty.
Shardlight
Developer: Wadjet Eye Games
Publisher: Wadjet Eye Games
Release date: Spring 2016
Link: Official Site
Disease, hunger, and death fill the post-apocalypic world of Shardlight, the next point-and-click adventure from Wadjet Eye Games. Hoping to qualify for a vaccine lottery, protagonist Amy Wellard is working for the government but is also independently searching for a cure for the plague she and so many others have contracted.
Home Free
Developer: Kevin Cancienne
Publisher: Kevin Cancienne
Release date: Fall 2016
Link: Steam Greenlight page
Nothing tugs at the heartstrings like a lost dog trying to find its way home, and that's who you play in open-world adventure RPG Home Free. Explore a big, bustling, procedurally generated city. Keep yourself fed, either by begging, pilfering, or scavenging. Find shelter, keep yourself safe, and make some friends (and sniff their butts) along the way. There's also a multiplayer dog park where you can sniff other players.
The Assembly
Developer: nDreams
Publisher: nDreams
Release date: 2016
Link: Official Site
The Assembly is one of those spooky secret orders of scientists who don't give a darn about pesky morals, and we'll be exploring its secret desert base in a story-driven virtual reality game that, unsurprisingly, is primed with tricky moral decisions. There are a few trailers on the official site that poke around its mysteries, and reveal it as an exceptionally pretty-looking game that's being designed with consideration for VR's strengths and challenges at the forefront. The Assembly will be released for both the Oculus Rift and HTC Vive.
The Climb
Developer: Crytek
Publisher: Oculus
Release date: 2016
Link: Official site
Clamber up impossible rock faces in one of the prettiest VR games coming our way this year. The Climb is a surprising project for Crytek, a decidedly 'smaller' game in terms of complexity compared to their former work, but the what would otherwise be a very simple game is made thrilling through the use of VR. With the inevitable addition of Oculus Touch, The Climb is aiming to set a high standard for early VR experiences.
The Journey Down: Chapter Three
Developer: SkyGoblin
Publisher: SkyGoblin
Release date: September 2016
Link: Official site
The final chapter in a point-and-click adventure trilogy, promising to be bigger and more expansive than the previous two. The Journey Down was naturally inspired by LucasArts adventures like Monkey Island and Grim Fandango, but its "Afro-Caribbean" style gives it a strikingly original look. Fans pledged about $50,000 on Kickstarter to help fund chapter three, with a planned September release. The first two chapters are well-regarded and available on Steam for the curious.
Small Radios Big Televisions
Developer: Fire Face
Publisher: Adult Swim Games
Release date: 2016
Link: Official site
You've explored worlds on CDs, DVDs, and LaserDiscs, but what about analog media? Those too? Okay, well, still, Small Radios Big Televisions is a game about exploring deserted structures and finding tapes of virtual worlds left behind. I'm not really sure what it means either, but in the trailer, you play tapes, click on doors, gears, and all sorts of machinery. It transposes the aesthetic of dirty analog media into a 3D digital format, layering otherwise pristine polygonal landscapes with noise and distortion. It's a mysterious adventure game we're looking forward to decoding this year.
Tacoma
Developer: Fullbright
Publisher: Fullbright
Release date: 2016
Link: Official Site
The makers of Gone Home are taking us out of the house and launching us into space. In Tacoma there's a mysterious, seemingly abandoned space station to explore, often while defying gravity, and our hands-on time with the game's first hour was promising. You can activate augmented reality recordings to learn about the station's history and inhabitants, and talk to the station's AI in an attempt to find out what went wrong.
Yesterday Origins
Developer: Pendulo Studios
Publisher: Microids
Release date: 2016
Link: Official site
Protagonist John Yesterday (yes, really) returns from 2012's Yesterday to figure out what he's doing...tomorrow. There's a little time pun for you. According to Pendulo, the present-day story will also tie back to the Spanish Inquisition, which is apparently when yesterday originated (look, it's a silly name, okay?). The dark and moody original was well-received, so expect more adventuring in the same vein from the sequel.
Lost Cities VR
Developer: The Campfire Union
Publisher: The Campfire Union
Release date: 2016
Link: Official site
Lost Cities VR has the distinction of being the first virtual reality board game (that we know of). Wearing headsets, we'll be able to play the popular Lost Cities card game in an immersive, changing environment. As a game goes on, for example, the blazing hot desert around you will slowly fade to a chilly nighttime. This is also the first hint of VR's capacity as a communication tool: you'll be able to sit across the table from a friend anywhere in the world and play cards with them. It's still early, but that kind of long-distance immersive communication is a good hint for why Facebook bought Oculus Rift for so much cash.
Thimbleweed Park
Developer: Terrible Toybox
Publisher: Terrible Toybox
Release date: July 2016
Link: Official Site
LucasArts legends Ron Gilbert and Gary Winnick took to Kickstarter this year for a simple pitch: If we give them $375,000, they'll give us a new adventure game in the vein of Maniac Mansion. After $600,000 and an embarrassing amount of happy crying (on my part), Thimbleweed Park got underway. The art looks wonderful, and Ron Gilbert has been making the rounds saying all the right things: Thimbleweed Park will be an adventure game that's more about really hard puzzles than a convoluted story.
Day of the Tentacle Remastered
Developer: Double Fine
Publisher: Double Fine
Release date: Early 2016
Link: Official Site
Maniac Mansion is getting a spiritual successor in Thimbleweed Park, but Day of the Tentacle Remastered is an honest-to-goodness re-release of LucasArts other famous adventure game. After getting great results from the Monkey Island remaster and the Grim Fandango remaster, a Day of the Tentacle remaster was somewhat inevitable. Still, it's going to be good to take control of Bernard, Laverne, and Hoagie again after 22 years.
A House of Many Doors
Developer: Pixel Trickery
Publisher: Failbetter Games
Release date: 2016
Link: Official Site
With funding from Failbetter Games, and a bit more from a successful Kickstarter campaign, this 2D horror RPG will challenge players to divine the secrets of a house located in a "parasite dimension". As you explore, you'll write collect "experiences" and use them to write procedurally generated poems and battle enemies in real-time combat.
Game of Thrones: Season 2
Developer: Telltale Games
Publisher: Telltale Games
Release date: 2016
Link: Official Site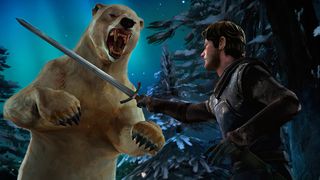 Telltale's take on Game of Thrones is more of the punishing world George R. R. Martin got us hooked on. For some people, "more" is all they needed out of Telltale's adventure game. It let down our reviewer a bit compared to the intricacy and freedom of Telltale's other recent games. Telltale still has a multi-year contract with HBO, though, so they'll be coming 'round again for more this year. Expect to meet exciting, memorable characters moments before their brutal deaths.
Sherlock Holmes: The Devil's Daughter
Developer: Frogwares
Publisher: Focus Home Interactive
Release date: Spring 2016
Link: Official Site
The last Sherlock Holmes game, Crimes and Punishments, was fantastic. It was a beautiful, atmospheric police procedural that actually made you feel like you were solving crimes. The Devil's Daughter is the follow-up, once again by developer Frogwares, and is expanding the game's detailed Victorian setting. Cases will be set in an 'expansive' open-world, although other details are pretty thin on the ground. With the polished framework of the last game to build the new one on, this could be another great detective adventure.
Forest of Sleep
Developer: Twisted Tree Games
Publisher: Twisted Tree Games
Release date: Late 2016
Link: Official Site
Talk about your attention-grabbing art style. The creator of Proteus, Ed Key, caught our eyes with the look of his next project, Forest of Sleep. It's a little hard to say exactly what kind of game this will be, but Key is aiming for a sort of interactive fairy tale based on Russian folklore. If you've got a yearning for dapper bears in overcoats and colorful Eastern European paintings, keep an eye out for this late next year.
Crossing Souls
Developer: Fouratic
Publisher: Devolver Digital
Release date: 2016
Link: Official Site
Crossing Souls is an action adventure set in California in the 1980's. Involving a mysterious discovery in the woods and a government conspiracy, players will control five different characters with unique abilities as they fight, explore, and interact with a host of bizarre situations and challenges. It's got pixel art, cartoony cutscenes, and a wonderfully obnoxious 80's look and feel to it.