70. World of Warcraft
Released 2004 | Last position 43 
Steven: World of Warcraft's been in a rough spot the last few years, which is why it's slid down a bit on our list. Despite the latest expansion, Battle for Azeroth, having a lot of issues that get in the way of what WoW does best, this is still a worthwhile and entertaining MMO full of adventure. 
Fraser: I've quit yet again. After just coming back, too. But I know it's going to be temporary, because nothing has ever scratched that MMO itch quite like WoW. 
69. Destiny 2
Released 2017 | Last position 14
Tim: Firstly, nice. Secondly, the reason for Destiny 2's precipitous drop largely stems from how little the team likes the current seasonal model. The return of iconic character Saint-14 made Season of Dawn fun, and it had a decent new activity and weapons, but Trials of Osiris whiffing made Season of the Worthy feel really anemic. This September's big expansion, Beyond Light, looks promising, with a whole new damage type and accompanying subclasses to play with. But the biggest reason to keep Destiny 2 around is that there really isn't a comparable AAA shooter which offers anything like the same amount of free content stuff to explore. New Light's onboarding experience might be a mess, but the quality of the gunplay and art design still absolutely bodies the competition.
Phil: Count me among those campaigning for Destiny 2 to drop down the list this year. And yet, for all of Year 3's problems, I'm probably playing it more than ever right now. That's in large part due to me finally getting a team together to do some raids, which are frankly a brilliant reason to invest in this game and its bullshit. Each is a mechanically fascinating exploration of the things you can do with a) orbs, b) plates and c) orbs and plates, and the sense of achievement when everything comes together for your first completion is palpable. It's just a shame five of them are being removed in November. 
68. Warframe
Released 2013 | Last position 27
Steven: Warframe's last year hasn't exactly been its best. Ambitious updates like the new ship-to-ship combat was dragged down by bugs, poor balancing, and a grind that sometimes feels like a needless distraction. But even in spite of that, Warframe remains one of the best looter shooters you can play. It's just so weird and full of strange ideas that have slowly congealed into a fascinating shooter where one minute you're bullet-time sliding through a group of super mutant soldiers and the next you're dancing with your friends to a crude version of Da Rude's Sandstorm that you hand-programmed on the in-game synthesizer. That unique sense of strange keeps Warframe compelling even when Digital Extremes' unwillingness to play it safe bites it in the ass.
Don't get me wrong, though. Warframe succeeds far more often than it fails. Though it's far more complex than other games, like Destiny 2, that complexity also creates an enormous amount of depth that's kept me playing for hundreds of hours. Though some might lament the lack of a true endgame, I really enjoy Warframe's horizontal progression that encourages me to set my own goals, like crafting new warframes or unlocking new weapons, and experiment with its vast arsenal. Even if you're not a completionist, Warframe is worth playing just for the story, which also packs some crazy, fun twists.
67. Devil May Cry 5
Released 2019 | Last position 46
Jacob: By the end of each Devil May Cry 5 mission you will have shredded and ripped and crushed wave after wave of the Underworld's nastiest hellspawn. While it's firmly rooted in its hack and slash history, a choice of three characters offers new opportunities to nail down precise combos and a varying blend of otherworldly and overly-excessive combat. When you finally mash the buttons just right, you're rewarded with an increasingly edgy soundtrack and a gory crescendo of blood, orbs, and rock organ.
Tom: A fast, fluid, beautifully animated brawler with fantastic weapons and an edgy personality. I wish we had more games like this on PC, but until the next sequel there's plenty to enjoy on higher difficulty levels as you master each character's moveset.
66. Her Story
Released 2015 | Last position 65
Andy K: Her Story is special because it tells a story in a way only a videogame could. It's a subdued police procedural with a distinctly British sensibility, told entirely out of order. You piece a suspect's story together by digging through a fragmented archive of short interrogation clips, tapping keywords into an old PC to uncover clues about what her story actually is. But the order you find the clips in, which is different for every person who plays the game, can distort your perception of the narrative in interesting ways. The detective story is as old as fiction itself, but Her Story is an excitingly fresh take on it. And if you want more, follow-up Telling Lies expands on the concept with a larger cast of characters and higher production values.
65. Ori and the Will of the Wisps 
Released 2020 | Last position New entry 
Emma: Easily one of the prettiest games to release in 2020, Ori and the Will of the Wisps is a Metroidvania that's truly rewarding to explore. New abilities are frequently introduced, encouraging you to thoroughly comb every inch of its beautiful map. Engaging in combat with enemies is difficult at first, but as you master your skill set, landing the perfect combo on a tough creature feels glorious. Be warned, its heartbreaking story will play on your mind for some time afterwards. 
64. Frostpunk
Released 2018 | Last position 63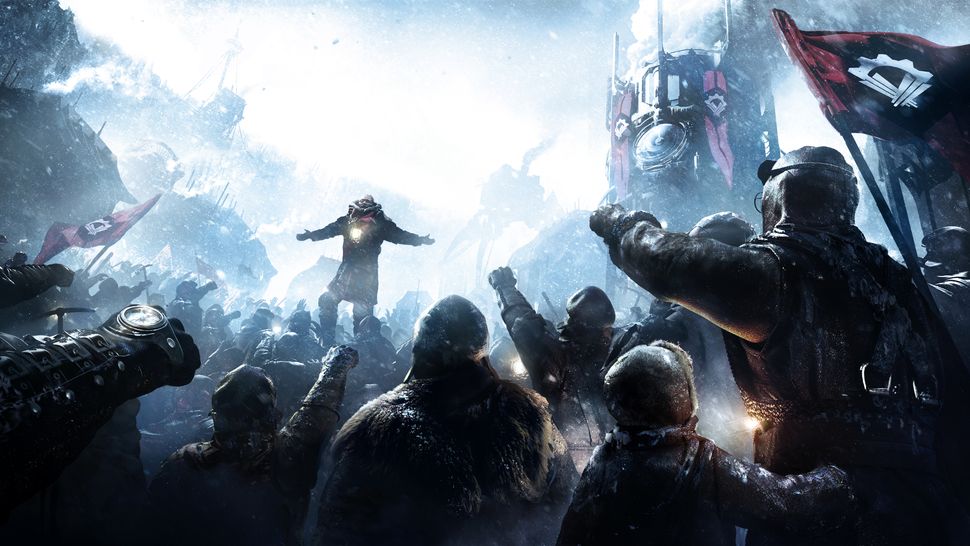 Jody: 11 Bit Studios' other game, This War of Mine, is part of the curriculum in Polish schools now. Frostpunk taught me more. For starters, this game about managing a steampunk city through an ice age taught me the value of child labor and religious zealotry. 
I enacted harsh policies to keep citizens from freezing but found myself putting the brakes on as soon as I could. Sure, I passed the law allowing children to work because the engines were on the brink of failing. But when I transitioned them away from picking up coal to light kitchen duty, it felt like I was clawing back a society worth living in, scrambling up the hierarchy of needs. It's powerful stuff.
Chris: It's a challenging survival game and an atmospheric city builder, but at Frostpunk's core is a startlingly believable society simulator. And societies are awful. People are dumb, dishonest, prone to panic, and will accept a ridiculous rumor over a proven fact nine times out of ten. It doesn't matter how well your city is running, your citizens will find some excuse to lose hope, be miserable, and threaten to plunge you into ruin. At times it feels unfair, when everyone is fed and warm and they're still on the brink of revolt, but that's how society works. Humans are always the biggest problem to solve, and Frostpunk gets that.
63. Black Mesa
Released 2020 | Last position New entry 
Andy K: This ambitious fan-made remake is probably the best way to experience the Black Mesa Incident on a modern PC. It differs from the source material in a lot of ways—particularly the greatly expanded (and improved) Xen chapters—so purists might argue otherwise. But with bigger, more dramatic levels, production values approaching Half-Life 2, and new puzzles and set-pieces, Black Mesa breathes new life into Gordon Freeman's debut adventure. It's astonishing that something this confidently made is, essentially, a fan project. And doubly so that Valve allowed them to sell it on its own distribution platform. If you've ever felt the urge to return to the Black Mesa facility, this is the perfect excuse to go and reintroduce your crowbar to some headcrabs.
62. Euro Truck Simulator 2
Released 2012 | Last position 61
Andy K: It might not offer the high-speed thrills of Forza, but ETS2 remains one of the best driving games on PC. Not only do its trucks feel great to drive, with weighty, nuanced handling, but its world is absolutely massive. You can drive from the UK to Russia, stopping at Scandinavia, Eastern Europe, and a dozen other countries along the way, which makes it a brilliant road trip simulator. It's also extremely chill, and I always have it installed in case I ever feel the need to hit the motorway and destress.
Phil: American Truck Simulator still slightly edges it out for me, with its focus on sweeping, dusty plains, but whichever flavour you pick, this is a masterful series that understands the simple pleasure of a) driving with purpose, accompanied by nothing but your a radio and your thoughts, and, b) accomplishing a task well, and on time.
61. Fortnite
Released 2017 | Last position 36
James: In 2020, you could catch a live viewing of Inception inside Fortnite. During a time when theaters are closed all over the world, I could watch a movie in a communal space with other people (and by people I mean a dozen Kylo Rens). Travis Scott put on a psychedelic show that drew 12.3 million viewers and doubled as his official music video. Party Royale arrived with its weekly EDM shows and non-violent pub games. Epic turned the damn game off for a few days for marketing purposes. 
Fortnite is still firmly embedded in modern gaming culture. It'll be around for the next decade, easily, and remain popular throughout. For good reason, too. It's a COVID-19 era concert and movie venue. It's a creative sandbox filled with thousands of unique, user-created platforming challenges, combat arenas, and escape rooms. It's a base-defense game layered with RPG systems and loot drops for endless replayability. And, yeah, it's still an excellent battle royale shooter that's still surprising me with every seasonal refresh. We've already seen NPC-patrolled spy bases that turn certain areas into tiny infiltration and deception arenas and now Epic's flooded half the map, transforming every scrap of land into a highly contested hot spot—nevermind the sharks sailing through the air to ruin campers. Still free, still fantastic.