90. The Norwood Suite
RELEASED 2017 | LAST POSITION 72
Phil Savage: A first-person exploration adventure about falling down the rabbit hole of a remote jazz hotel. You explore the converted mansion of celebrated musical icon Peter Norwood, solving problems for a quirky cast of characters. Whether you're uncovering a finger-destroying musical score or just making a sandwich for a corporate stooge, everything you do is accompanied by a distinctive soundtrack and a witty visual flair. It's a delightfully surreal space, full of mystery and surprise.
89. Galactic Civilizations 2
RELEASED 2011| LAST POSITION 69
Tom: With each expansion Stellaris creeps up on GalCiv 2. And yet this classic 4X game remains one of the smartest empire-builders you can play on PC. The factions are imaginative and the AI is slightly terrifying. If you've read Tom Francis' Galactic Civilization 2 diaries you'll know it's a great story generator too. Oddly my favourite part might be the ship builder, which lets me customise the way my forces look on the map. You can build some very odd and broken stuff.
88. The Jackbox Party Pack 4
RELEASED 2017 | LAST POSITION New entry
Evan: Does your home have between five and 20 people in it? Do this.
James: Lie to your friends via a quiz show, collaborate on grotesque town murals, place bets on bad arguments—the days of Pictionary and Cranium are over. No excuses to bail either. All you need to play is a screen and internet. Long live the board game, the board game is dead.
87. Rimworld
RELEASED 2018 | LAST POSITION New entry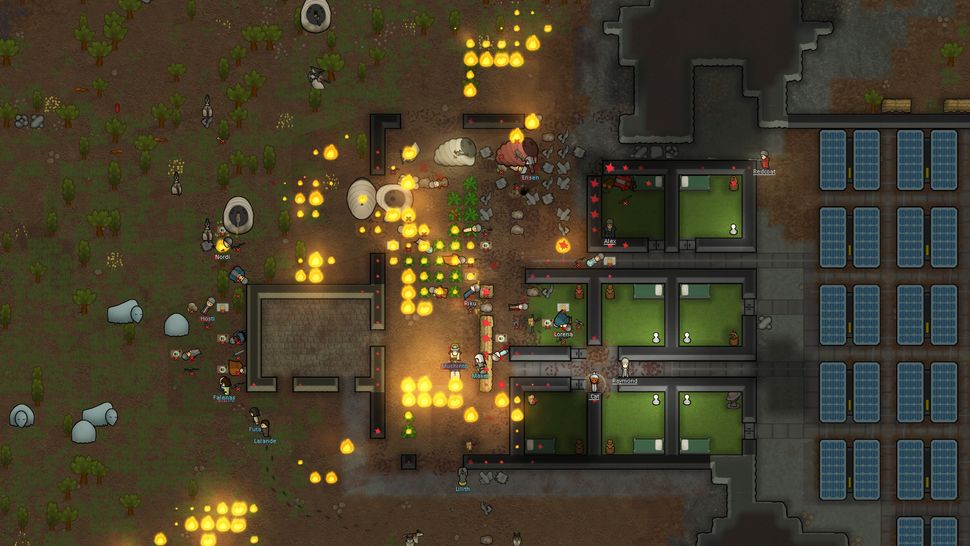 Fraser: I've yet to experience what I would consider 'success' in RimWorld, despite countless hours spent nurturing colonies. The disasters, many of my own making, mount up, sending my sanctuaries into a spiral they can't escape. Raids, poor weather and a multitude of other threats means a crisis is always looming. I love it.
86. Inside
RELEASED 2016 | LAST POSITION New entry
Samuel: Nice to see this on the list this year. A singular, horrifying platformer that I'd recommend to anyone, regardless of their experience with the genre, with a story that ends in a way no one could predict.
Chris Livingston: The animation and imagery was beautiful and I loved taking a few moments here and there to just observe the world.
85. Vampire: The Masquerade – Bloodlines
RELEASED 2004 | LAST POSITION New entry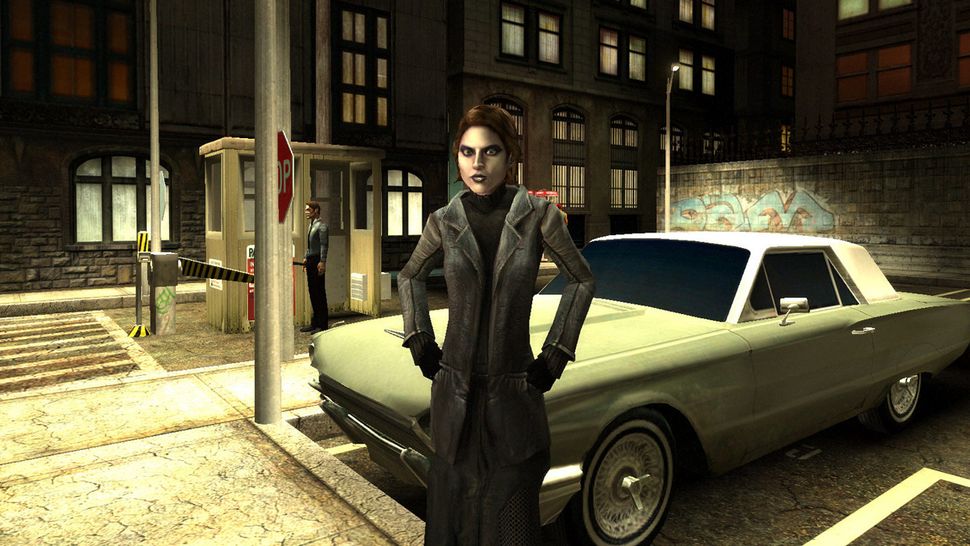 Jody: Bloodlines is one of few games that actually makes you feel cool. Being a vampire in a Los Angeles where it's always dark and it's always goth night at the clubs is great. You get to hang out with sexy people and murder anyone in your way. Occasionally you get trapped in a nightmare hotel, but that's a small price for being a secret ruler of LA.
Then you accidentally murder someone, or bump into a friend from your old life. Suddenly it's not so cool being a monster. Bloodlines turns out to be a powerful horror game where you're trapped on the other side of the fence.
Phil: Bloodlines missed the Top 100 last year, but it's back where it belongs—in part because the news of an upcoming sequel makes this a great time to check out everything that makes the original game so special. Just make sure you play it with the fan patch.
84. Shadow Tactics: Blades of the Shogun
RELEASED 2016 | LAST POSITION New entry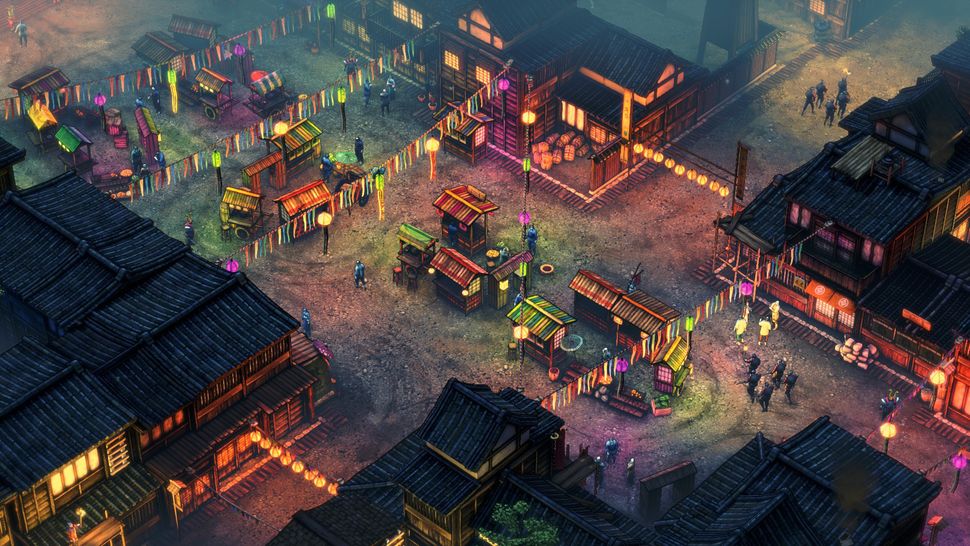 Jody: Top-down stealth set in feudal Japan. Shadow Tactics is a game of ninja stars and distracting tanuki, where you stab a guard and drag him back into a bush before a cherry blossom hits the ground. You have mastered the art of invisibility, and nobody needs to know it took four quickloads to get right.
Phil: A worthy successor to tactical stealth classics like Commandos and Desperados. So much so that its creators are now working on Desperados 3.
83. Homeworld Remastered Collection
RELEASED 2015 | LAST POSITION 56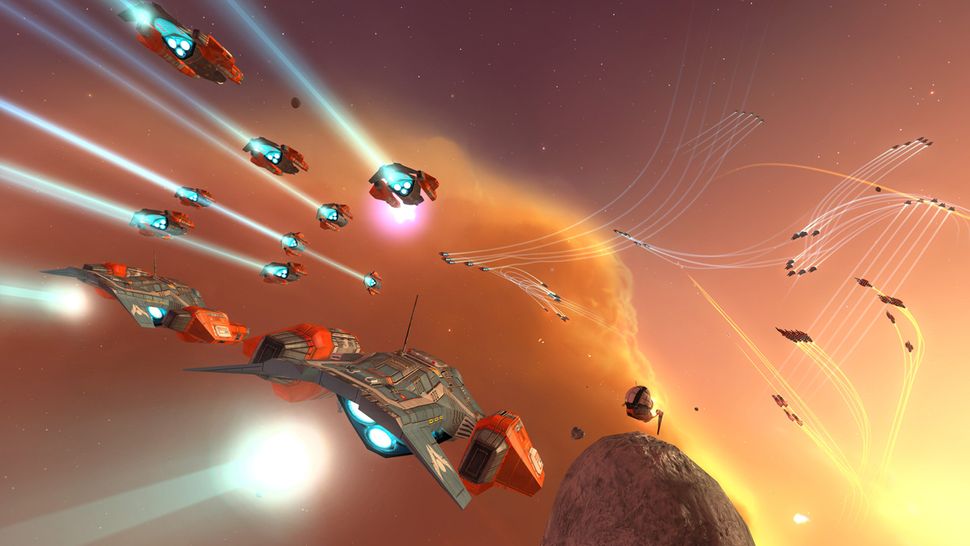 Tom: Make war with sad spaceships in one of the most beautiful RTS games ever made. The lasers, drive trails and spaceship designs are timeless, so the Remaster only had to touch up some textures. It's one of the few games to try real-time strategy in true 3D. It can melt your brain at times but the action is always spectacular. Great use of Adagio for Strings too.
Andy Kelly: People often say No Man's Sky looks like the cover of a '70s sci-fi paperback come to life, but I think Homeworld does it better. The brightly- coloured ships are pure Chris Foss, and watching thousands of them duking it out against vivid nebulas is absolutely thrilling to behold. The campaign is also one of the best in the genre.
82. Elite Dangerous
RELEASED 2015 | LAST POSITION 94
Andy: Whether it's a nimble fighter or a chunky freighter, the ships in Elite Dangerous are all a delight to fly, and you can really feel the weight and power of the things when you slam the throttle. They're the real stars of the game, but there's a massive, beautiful open galaxy to explore here too. With so many ways to play and make money, the game's vast scale replica of the Milky Way can be quite daunting at first. But when you find your niche—for me it was trading commodities between systems for massive profits—you'll lose weeks to it. It's great with a gamepad, but playing with a flight stick and throttle takes it to the next level.
Steven Messner: I've never felt so enamoured with the little things in a game, like the simple joy of hailing a station to request docking access and then slowly parking my ship. You know you've done something good when even an act as mundane as parking a vehicle is fun.
Phil: With its representation of our solar system, Elite Dangerous's map gives me a deep, overpowering fear at our complete insignificance against the vastness of all creation. And, just like in real life, I deal with that fear by buying things that I don't need—ferrying goods between planets and transporting passengers to far off worlds to earn money for new ships.
81. Undertale
RELEASED 2015 | LAST POSITION 28
Tyler: I always second guess myself on this one. If Undertale was really so good, why don't I think about it anymore? But I always conclude that yes, it was very good. It's the best game that breaks the fourth wall of RPGs, commenting on authorship and fandom in a way nothing else I've played has even approached. It's easy to forget how much I loved it because it's been meme'd to death, but if you haven't played Undertale, you should. Just don't read anything about it.