Bagging the best PC joystick is a great way to pilot a Tie-Fighter in Star Wars: Squadrons or a plane across the globe in Microsoft Flight Simulator for the ultimate flight sim experience. Not only will the best PC joystick pull you into the experience and give you a level of finite control that a gamepad or a keyboard and mouse can't do. These joysticks help make the experience of flight or other highly-mechanical experiences so much better.
If you consider yourself a budding virtual pilot, you must step up your home cockpit game. The joystick is the most critical piece of hardware, more important than any chair, fancy screen, or aviator glasses. Right now, the best PC joystick is the Thrustmaster HOTAS Warthog. It's sturdy and feels good in your hands. It's easy to use as a building block for your whole cockpit experience. Companies like VKB and Virpil have everything you need for a wildly more advanced cockpit environment if you want something closer to the real deal and have the money to spend.
Even if you decide to set up an entire HOTAS (Hands-On Throttle and Stick) with foot pedals and an exceptional captain's chair in your study, we still recommend getting an excellent wireless gaming keyboard and gaming mouse for navigating menus and such.

Below are the best PC joysticks that we've personally tested. These joysticks can make all the difference in the world in providing the best and most authentic flying experience for PC gamers,
Best PC joysticks
The Thrustmaster Warthog is hands-down the best PC joystick you can buy. It's beautifully made, looks like it was ripped straight out of an A-10, and comes with an industrial strength that means the only thing left in our post-apocalyptic future will be a bunch of cockroaches trying to figure out how to use these sticks.
Sure, it's an expensive unit, but you will know your money's been well spent as soon as you lift the lid on the packaging and pull the setup out. The stick alone weighs a kilo even before it's been screwed down onto the solid, wide metal base. That's something to behold, but the throttle is something else.
It is one of the finest pieces of PC peripheral engineering I've ever experienced. Its casing is entirely made of metal and adorned with buttons. And not just buttons either; extra hat switches adorn the throttle itself, one that can be split in two should you need discrete control, and there are a host of toggles and metal flick switches too. I will sit there idly flipping switches even when the thing's unplugged; the action is so satisfying.
All that weight means it practically sticks to your desk as you fling your Cobra MkIII around in Elite: Dangerous like a BSG Viper, and if you're so inclined, the drill holes are there if you want to make it a permanent addition too. It feels great to use in-game, too, providing you with all the possible control permutations you could need without ever having to go near your keyboard again.
The only slight miss, and one that owes to its A-10C Warthog replica status, is the lack of Z-rotation on the stick to offering rudder control. However, that's easily mapped onto any number of extra hat switches or even extra analog joysticks.
The Warthog was originally released over ten years ago and is still the best you can buy. This explains why the price has steadily crept up since then too. But trust me, if you're serious about the best PC joystick, this is it, and once you pick it up, you'll never think about its price again.
An update to the aging X55, the Logitech X56 HOTAS improves nearly every aspect of the older Saitek design, but it still has many of the same features that made its predecessor great. The throttle can be unlocked to provide inputs for left and right engines individually. The throttle panel also hosts an entire series of metal switches and knobs that look and feel absolutely awesome.
I was a bit disappointed to find out that the metal top plate on both the flight stick and throttle doesn't extend to the base and that both the stick and throttle are composed mostly of plastic. The hardware still feels sturdy, but the seam running along the joystick handle is a bit jarring given the quality present on the rest of the build.
The entire setup for the X56 is deceptively light. While it does come with suction cups that can be attached to the base for increased stability, without them, I found the stick and throttle far too eager to slip around on my desk. However, for those inclined to make this indulgence a more permanent part of their setup, the X56 has holes present in its bases to allow you to affix it to nearly any surface with the appropriate hardware.
Featuring adjustable stick tension and over 180 programmable controls, this throttle and joystick combo is a quality setup. It's not quite in the same league as the Warthog, but it is a little cheaper. If you're ready to kick tires and light fires, the X56 is a good way to go.
The entire setup for the X56 is deceptively light. While it does come with suction cups that can be attached to the base for increased stability, without them, I found the stick and throttle far too eager to slip around on my desk. However, for those inclined to make this indulgence a more permanent part of their setup, the X56 has holes present in its bases to allow you to affix it to nearly any surface with the appropriate hardware.
Featuring adjustable stick tension and over 180 programmable controls, this throttle and joystick combo is a quality setup. It's not quite in the same league as the Warthog, but it is a little cheaper. If you're ready to kick tires and light fires, the X56 is a good way to go.
Best controller for PC gaming | Best gaming monitor | Best mechanical keyboard | Best gaming routers | Best graphics cards | Best gaming mouse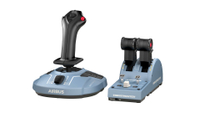 With the arrival of Microsoft Flight Simulator and Star Wars: Squadrons, we saw a sonic boom in interest for compatible flight sticks. The Thrustmaster TCA Sidestick Airbus edition arrived just in time... and swiftly sold out. But it's back now and a solid upgrade for any wannabe long-haul pilot looking to ditch the controller for Microsoft Flight Simulator.
It's good for other games, of course, but as a piece of officially licensed Airbus kit, it feels best suited to the flight sim of the moment. With that in mind, it features a fluid and responsive control with a comfortable stick bolted on for long-haul flights. The joystick can also be reconfigured to your liking with a modular design, making this stick particularly friendly to lefties. There are a heap of buttons within reach to keep shortcuts accessible in an instant, too, though we wish there were some clear indication of which button was which. It can be tough to track down 'button 14' in a bind, especially if your flying skills are a little rusty.
But kick in for the full kit, and you can divvy up even more shortcuts to the throttle quadrant module ripped right out of an A320—they got the color spot on, anyways. Baby blue isn't my first choice for gaming PC accessories, but I suppose it's a change from the standard black garb.
The Thrustmaster T.Flight Hotas X below is a more affordable alternative. Still, if you can splash out on this more airworthy kit, then the Thrustmaster TCA Sidestick Airbus edition won't disappoint you.
Coming in as a smart combo buy, the Raptor Mach 1 HOTAS is a sturdy, no-mounting-necessary setup for getting stuck straight into your flight sim of choice. While Microsoft Flight Simulator didn't suggest any preset button layouts for it, I see this as a plus as it means you can assign buttons that make sense to you as you go through the training process, with no need for the arduous process of cleaning up pre-assigned buttons.
The Raptor Mach 1 stick has just enough buttons and hats accessible to the fingers and thumb; two of the triggers even have a safety lock feature so you don't end up kicked off the squad for accidental friendly fire.
It comes with the much-appreciated feature of Z-rotation, and the electromagnetic sensor tech also means you get accurate and durable movement from the stick and action that feels great in hand. However, the X action (that's your roll) isn't as smooth as the others.
The Mach 1's base is heavy and features non-slip pads, which means it doesn't feel necessary to screw it down, though you can go all DIY and mount it if you want with the handy, built-in-but-unobtrusive brackets. The fact it comes with the throttle means you can use the passthrough, meaning fewer USBs connected directly to your PC, though it would be nice to have the option to buy them separately.
There is the added bonus that they work independently of one another and also don't come stuck together, which can be a pain; if you're left-handed, for example, and want to switch them around or broader and need them further apart
The throttle is ergonomic and smooth and has an easy tension resistance adjustment dial on the side. It has a couple of thumb-accessible dials and plenty of buttons, bringing the total combined action buttons for the HOTAS up to 32 and making it very versatile, indeed. The throttle feels notably less premium built than the stick, but that doesn't detract from its accuracy and smooth action.
The Thrustmaster T.Flight HOTAS X is a testament that you don't have to spend a fortune to get a good stick. It's a much cheaper build and design than the Warthog, but you can forgive the use of plastic and the lack of buttons and hats for a tenth of the ticket price.
The key elements are there. The detachable throttle is probably the neatest feature: given that you're going to need easy access to your keyboard for its extra buttons, being able to split these components around it is a definite advantage.
It's also got the much-needed Z-axis rotation for rudder control, although the press of a switch will enable you to operate the rudder via a rocker on the front of the throttle grip. You get plenty of programmable buttons too, but they feel very much the sort you'd expect to find on a budget controller.
The action on the stick and throttle aren't great either, and you'll likely notice some graunching plastic noises as you push and pull the controller around. But it's still robust and feels solid on the desk. This is an excellent value pick if you can't convince yourself that an X56 or Warthog is a sensible purchase.
The Raptor Mach 2 is a little harder to get hold of in the US than in the UK, but it can at least be purchased separately from the throttle for those looking to buy just the stick alone. The issues are, one: you can't use the throttle passthrough for the stick, and two: the stick alone can cost almost as much as the combined Raptor Mach 1 HOTAS.
That being said, this is a joystick with impeccable accuracy and a premium feel. It looks like it was ripped straight out of a chopper, is comfortable in the hand, and doesn't feel breakable. The least premium thing about it is the flip-up, trigger-cum-safety feature. It's fragile enough to make you think it could break under pressure, and while a safety feature is always a welcome addition to any joystick, it leaves only one hat and pinky button accessible.
So there's not a huge number of handy buttons, but on the base, there is not only a great deal to make up for it (including ones dedicated to flaps and throttle), but there's also the option to mode switch up to two levels with two functional modes and button shift. This gives the Raptor Mach 2 an edge, despite the buttons being a little awkward to get to if you've got your hands full, achieve 29 programmable actions
There is the potential that all this can get confusing, but once you've got yourself all mapped out and are used to it, the Raptor Mach 2 is a dream. It's a really smooth, sturdy piece of kit despite not being as heavy as its sister, the Raptor Mach 1.
Plus, there's even a dedicated eject button. I mean, that's the real selling point, right?
While officially Boeing licensed, the Thrustmaster Boeing Edition Yoke is not an FAA-certified piece of kit. Touting the same tilting, pendular movement you'd expect from a real Boeing aircraft, the yoke swings back and forth intuitively as you pitch up and down. It's a much more pleasant experience to the push-pull motion you'd find on the majority of yokes on the market, even at the higher end. It really makes a difference to the immersion—I can almost feel the g-force as I pull back on the control column.
It moves intuitively as you pitch the plane's nose up or down and is so much nicer than the push-pull motion of many yokes on the market. When you're flinging the yoke around feeling like a pro, the yoke stays rigidly in place with the built-in mount, which sits sunken between your legs where it should, and doesn't knock the throttle even when mounted directly beside it.
Mounting the yoke itself is as simple as slipping it over the edge of your desk and doing it up, no drilling necessary, and the throttle quadrant doesn't even require mounting at all if you don't feel like it, though the process is also pretty straightforward. Not only are there detailed instructions on how to set the whole thing up—with control mapping charts and diagrams—there's even a little instruction leaflet for adjusting the yoke tension with an included spring. That part does require a little faffing, but isn't too scary.
The obvious drawback to choosing a yoke like this is the lack of z-rotation you'd get with many of the best joysticks around, but this is easily circumvented with the use of the trigger buttons. That does mean you can't map your guns to the triggers, but the TCA yoke is designed more for long-haul flights, as opposed to games involving intense dogfight action. I would have liked to have seen some pressure sensitivity on the triggers, too, especially at this price.
Still, there are more than enough buttons, hats, and a trigger for each hand, yet the design somehow doesn't feel overly complicated. One of the hats available to the right thumb is actually an analog stick, which gives you more freedom for whatever you feel like mapping it to. On the front of the yoke, at the bottom, there are also two more axes for extra mapping flexibility. There are even detailed instructions on how to adjust the tension with a mounted spring.
It's pretty awkward to map the non-axial reverse thrust levers on the throttle arms, particularly when tested in Microsoft Flight Simulator, as it picks up the input as a button and doesn't let you verify until they're unpressed. Not as useful as I first anticipated, but all the throttle arms are interchangeable and even come with extra tops specifically stating 'flaps' or 'speed brake.' Oh, and this makes for a more ambidextrous setup, too.
There's even space on the front for a chart or checklist, though what looks to be a clamp on the front of the yoke is actually fixed in place—Blu tack it is then.
It's great to see cross-compatibility with the Xbox Series X/S, although the Xbox branding does pull away from the authentic look a little. It's an easy thing to overlook, but it would be better if it was optional to have your switches marked X, Y, A, and B.
None of that takes away from the professional, satisfying feel of the whole setup. Sure, there are some oddities with the reverse thrust levers being not the most intuitive, but otherwise, there's hardly a thing about this yoke that feels out of place. Most actual pilots I've spotted reviewing this yoke are really impressed with how accurate the design is compared to the real deal.
Sure it's not as highly modular as some, but this is a really professional-feeling yoke. For half a grand, this is a super-premium price, but there's hardly a thing about this yoke that feels out of place. It's honestly no wonder Boeing wanted their name on it.
Read our full Thrustmaster TCA Yoke Pack Boeing Edition review.
The best PC joystick FAQ
Aren't there any cheap joysticks?
You can spend the sort of money generally reserved for a new graphics card on a decent stick. But it can be possible to get an experience that's very close but for a fraction of the price. However, it can be tricky at times.
Prices of joysticks increased dramatically at the end of 2020, which meant even the cheaper end of the market got pricey as stock disappeared. The market has pretty much returned to normal in 2023, however, so have another look around if you've been previously frustrated.
Do I need a separate throttle control?
For serious simulation, you'll need some level of throttle control. This is the biggest thing that separates the joypad from a flight stick setup, and the granularity of speed it delivers when dogfighting can mean the difference between virtual life and virtual death. So that's number one: ensure your stick has a decent throttle.
But that doesn't mean you need a separate one, no. However, the best and most respected flight controllers have entirely seperate control for the throttle, with extra toggle switches and LEDs. Others, such as the AV8R, have the throttle control built onto the base of the stick itself. So long as there's a decent amount of travel in the throttle, you'll have good control in-game.
How many buttons do I need?
Some of the controllers in this test have gone overboard on that front. But sims do demand many different controls, and having them all directly to hand can be beneficial. Just don't forget that your trusty keyboard can make up for any buttons lacking on your controller. You will need at least four buttons arrayed around the stick itself and, ideally, a hat switch on top of it.
What should I watch out for a space flightstick?
Maybe it's time we spoke about the Z-axis. Traditional joysticks have pitch and roll control—forward, back, left, and right—but some are configured for 3D movement. That means as well as controlling the X and Y axis, you can also twist the stick clockwise or anti-clockwise to control the Z-axis. Generally, this is used to control yaw and replicate the rudder controls of an aircraft.
In space, that three-dimensional control can be vital for accuracy, especially when you're zeroing in behind an escaping Sidewinder in an Elite dogfight. It is sorely missed on a stick with other controls that can mimic the rudder but on budget sticks that allow no such added control.
What does HOTAS stand for?
This exciting acronym stands for the rather mundane-sounding 'Hands-On Throttle And Stick' and denotes a dual controller where one hand rests permanently on the throttle, and the other remains on the stick.
What is a Hat Switch on a joystick?
A hat switch is a multi-directional button akin to the d-pad on a controller. However, on a flight stick, the d-pad has a hat on top, which the thumb can easily push to activate the switches. They come in 4-way or 8-way flavors.