30. Diablo III
RELEASED 2012 | LAST POSITION 32
Tom S: Help, I can't stop playing this game. Every time I charge through a level in adventure mode with a new character, I like it even more. I just love blowing up hundreds of monsters with satisfying abilities. After years of updates, Diablo III is a beautifully fast and generous game that showers you with experience, legendary weapons and new ways to kill monsters. The best action RPG ever, for my money.
29. Forza Horizon 3
RELEASED 2016 | LAST POSITION New
Phil: A pitch-perfect sandbox that combines lighthearted race events with a fetishistic appreciation of cars. Horizon 3 is big, bombastic and beautiful—set in one of the most vibrant environments I've ever explored. The events are fun, but the real masterstroke is found in the skill system, which creates a thrilling tug-of-war between risk and reward. It makes time spent in its world a joy.
28. Fallout: New Vegas
RELEASED 2010 | LAST POSITION 87
Joe: Contrary to popular opinion: the Mojave wasteland is the most interesting settings of all the Fallout games. Learning each survivor's tale and how to play them against one another makes for some interesting morally grey decision making.
Samuel: I really like New Vegas's reactivity to your decisions in the story, but it's the least exciting of the 3D Fallout games for exploration, for me, and that's what the 3D Fallout games are best at.
27. What Remains of Edith Finch
RELEASED 2017 | LAST POSITION New entry
Andy K: Exploring the Finch residence and uncovering the lives of its residents is one of the most emotionally stirring experiences I've had in a videogame.
Evan: I was not expecting tentacles.
James: It has one bizarre scene after another made devastating by a bittersweet story about family and loss.
Phil: This is what you'd get if WarioWare was a cohesive tale about life, death and family.
26. The Elder Scrolls V: Skyrim
RELEASED 2011 | LAST POSITION 10
Chris L: What it lacks in polish and looks it makes up for tenfold in the freedom it provides. Skyrim has a story, but more importantly it's a place for players to create their own story, to build characters from the ground up and play the way they want. It's also flexible, which has enabled modders to create hundreds of extra hours of content, meaning we'll be playing Skyrim long after its sequel arrives.
25. PlayerUnknown's Battlegrounds
RELEASED 2017 | LAST POSITION New
Evan: One: it compresses the time and space that survival games like DayZ give you, forcing you into contact with other players and out of your comfort zone. And two: it oscillates between serious and silly—you're shouting compass bearings, then you're backflipping a motorbike over your friends.
Andy K: And for the solo player, Battlegrounds is just as thrilling. Playing it as a stealth game, with humans instead of AI guards, and ducking between cover is wonderfully tense.
Steven: Solo is awesome, but co-op is where it really takes off. Having a buddy you can rely on really expands your strategic options. There's rarely a decision made during a duo match that doesn't feel meaningful.
Chris T: The magic of Battlegrounds is the way it makes every encounter feel meaningful. When only one can win and death comes quickly, every choice you make matters: getting the drop on an foe and stealing their stuff is great, but there's catharsis to getting caught, too
24. Nier: Automata
RELEASED 2017 | LAST POSITION New
Leif: You could be forgiven for dismissing Nier: Automata as a generic Japanese RPG based on looks alone—in some ways it embraces those expectations in order to subvert them. But this is a science fiction masterwork; a richly imagined tale with a meaning that grows more bizarre with each playthrough as we see events through the eyes of different characters. Its also a blast to play, swapping between third-person action, shoot-'em-up and platformer genres effortlessly.
Phil: I prefer Bayonetta's combat, but the world of Nier is a tragically beautiful space. Automata also offers what is sure to be 2017's best soundtrack.
23. Deus Ex
RELEASED 2000 | LAST POSITION 13
Andy K: The visuals have aged horribly, to the point where it's almost offensive to modern eyes, but get over that hump and Deus Ex is still one of the best, richest, most expansive immersive sims on PC. Vast levels filled with NPCs, alternate paths, and optional missions, a twisting, conspiracy-laden plot and a bleak, dystopian atmosphere make it an essential PC game, despite being almost 20 years old.
22. Stardew Valley
RELEASED 2016 | LAST POSITION 97
Phil: A farming RPG created by one person. It's a heartwarming success story and a legitimately great version of a genre that was underrepresented on PC. The valley is packed with activities, from fishing to dungeon crawling, in addition to the day-to-day task of growing crops, milking cows, baking and refining your raw produce into more desirable materials. Gentrification has never been so entertaining.
21. FTL: Faster Than Light
RELEASED 2012 | LAST POSITION 78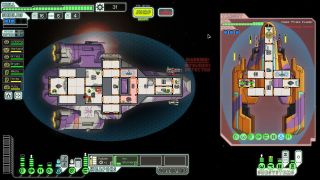 Samuel: At the last NYE party I went to, we played FTL as a group, and I found myself shouting tips for how to deal with slaver ships, mysterious signals and that crazy guy on the planet's surface, who can either join your crew or do damage to your ship. I'd recommend it to sci-fi fans and strategy devotees equally—but it's also a great introduction to strategy generally.
Matthew: Failure, panic, and the quiet acceptance of death: these are the hallmarks of FTL, a space exploration game with roguelike elements which is far more fun than I've made it sound. It's like experiencing your most beloved sci-fi reveries with a dose of relentless realism. Things will burn. People will suffocate. You probably won't survive that heroic rescue. But when you do, it honestly feels amazing. Just don't rename your crewmates after your friends.