50. Invisible, Inc
RELEASED 2015 | LAST POSITION New
Chris T: Klei's inability to make a bad game allowed it to flit from Mark of the Ninja to this: XCOM with cyberpunk secret agents. Invisible, Inc's genius lies in its transparency—you always understand what the outcome of your decisions will be, and are left with the gratifying challenge of unpicking each turn-based stealth challenge as you encounter it. It gives the sense of being both punishing and fair, something that XCOM has traditionally struggled with.
Katharine: Klei's developers are clever. The way this mixes Don't Starve's survival themes with Mark of the Ninja's acrobatics gives us the ultimate heist sim: a world where you're a cool badass until a single turn of fate triggers a desperate, but thrilling, scramble for life.
49. Counter-Strike: Global Offensive
RELEASED 2012 | LAST POSITION 38
Evan: CS:GO doesn't get enough credit for its asymmetry. In the most popular competitive FPS in the world, one team carries a gun that can kill with one shot (the AK-47), and the other doesn't.
Andy K: The tense rhythm of a match is thrilling, stressful and exhilarating. It's a game that demands careful tactical play, where every stupid mistake can mean defeat, which gives you no choice but to work at being a better player.
48. Baldur's Gate II: Shadows of Amn
RELEASED 2000 | LAST POSITION 41
Andy K: The feeling of adventure when you emerge from Irenicus's grim dungeon to find the city of Athkatla sprawling out before you is hard to beat, and the sheer freedom you have to shape your character is exhilarating.
Phil: The first Baldur's Gate offered a slow journey to its titular city, but this gives up the goods immediately. It imbues Baldur's Gate II with a welcome sense of sprawling adventure.
47. Titanfall 2
RELEASED 2016 | LAST POSITION New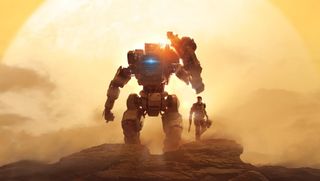 James: Both the most acrobatic modern FPS of the decade and the best big robot friend sim at once. Call of Duty meets Quake with mechs makes for a continually surprising campaign where every level is an experiment in something singular, whether it's first-person parkour, mech combat, or time travel. Time travel? Time travel. Accompanied by a multiplayer suite growing fatter with regular free updates, Titanfall 2 is an easy recommendation.
Samuel: I enjoyed the campaign, but it's no The New Order or Doom 2016, so it's in the right place on this list.
46. Hollow Knight
RELEASED 2017 | LAST POSITION New
James: It's time to put the dull term 'Metroidvania' to bed and start calling all 2D action exploration games 'Hollow-likes'. Hollow Knight deserves the new useless crown. As a blank-faced bug armed with only a nail, you delve underground and tour a fallen kingdom while piecing together its story and your true purpose. Huge chunks of the map, entire levels with unique enemies and music, are hidden behind breakable walls and locked doors.
With something like 20 bosses, a significant number of which are optional, it's possible to breeze by hours of exploration and combat without a clue. But chances are you'll find most of it, because Hollow Knight inspires curiosity. Environments are brimming with mystery, depicting fallen cities, abyssal nightmares and stinky dung piles. Animated in an adorable hand-drawn style and accompanied by a lovely soundtrack, Hollow Knight is an adventure that will play as well as it does today, forever.
45. Hearthstone
RELEASED 2014 | LAST POSITION 47
Tim: For all the memes about random cards generated by random cards and four-Mana 7/7s, the fact remains that Hearthstone is a helluva game. Whisper it, but right now Hearthstone is at its rudest health for a long time. A lot of that is down to the diversity ushered in by the brilliant Journey to Un'Goro expansion, but also the communication and leadership shown by Ben Brode, the game's avuncular director.
44. EVE Online
RELEASED 2003 | LAST POSITION 14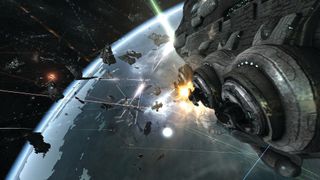 Steven: As a sandbox where players can either vie for power by wielding the might of thousand-person armies or spend an evening drunk, shooting rocks for minerals, EVE Online is unparalleled in scope. At 14 years old you might think the stories of betrayals and epic battles would all have been told by now, but EVE always finds a new way to shock me—both via the ingenuity of its players and their relentless cruelty.
43. Command & Conquer: Red Alert 2
RELEASED 2000 | LAST POSITION New
Phil: The Command & Conquer series has never boasted the balance of, say, StarCraft: Brood War, but that's not the point. Red Alert 2 is my favourite RTS because it combines a great campaign, varied units, and a silly sensibility, most evident during its amazing FMV cutscenes.
Samuel: It's the peak of the series, I think—the unit types are daft but cool, and the campaign is probably the best one Westwood ever did. You can send Allied dolphins in to mess up Soviet squids. Which genius thought shutting Westwood was a good idea, again?
42. Vampire: The Masquerade—Bloodlines
RELEASED 2004 | LAST POSITION 65
Andy C: This is a perfect recreation of undead life in the glittering, grimy streets of late-night LA. It's smart, frightening and layered with memorable characters, all of it filtered through the unique perspectives of the game's seven playable clans.
Phil: It's the sidequests that I love. Can you kill a vampire hunter who's working at a stripclub? Should you trick a reporter into returning to the den of a flesh-eating vampire? It's a delightful mix of ancient vampire politics and petty LA powerplays.
41. Stalker: Call of Pripyat
RELEASED 2009 | LAST POSITION 35
Chris L: I've never experienced more tension and dread in a game than in Stalker. Each excursion into the Zone leaves me exhausted, jumpy, and shaken, and each return to one of Pripyat's few safe zones is accompanied by a exhalation of breath and a slow unknotting of my neck and shoulder muscles. Bleak, grim and unrelenting, Call of Pripyat remains unmatched in atmosphere and horror.