80. Minecraft
RELEASED 2009 | LAST POSITION 20
Chris Livingston: The ultimate game for popping in for a few minutes and then looking around blearily when you realise a dozen hours have passed. Its world can be whatever you want it to be: a singleplayer crafting and exploration game, or a multiplayer sandbox experience. Throw in thousands of mods, custom games and speciality servers, and the near-infinite world of Minecraft gets even bigger.
79. Warhammer: End Times—Vermintide
RELEASED 2015 | LAST POSITION New
Matthew: This is more than Left 4 Dead with rat men—a characterful recreation of The Old World you'll want to stop and explore (though the rats will devour you). Each character is a distillation of a Warhammer race, and watching them interact is a treat. The humour contrasts nicely with the hopelessness of it all.
Evan: It's a Warhammer B-movie in the best way possible.
78. Nethack
RELEASED 1987 | LAST POSITION New
Wes: Roguelike once literally meant 'like the game Rogue', the ASCII dungeon crawler made for '80s mainframes. But most modern roguelikes owe more to its descendant NetHack, first released in 1987 (and still updated and actively played to this day). The simple graphics allow for a deep dungeon crawler compared to any other I've played. Why pick a lock when you can kick down a door? Why eat a pie when you can use it to blind an enemy? If you value mystery and discovery in games, nothing does them better than NetHack. Play online on nethack.alt.org to encounter the remains of other players who never made it out of the dungeon's depths.
77. Overcooked
RELEASED 2016 | LAST POSITION New
Evan: The best same-screen co-op game on PC. This would be higher if it worked well as a singleplayer game.
Phil: Shamefully, I have watched a lot of Hell's Kitchen USA. Overcooked is like if Ramsey's competition was more cartoony and collaborative, with less swearing—most of the time. Success requires coordination of resources and time—which almost always results in glorious culinary chaos.
76. Doom II
RELEASED 1994 | LAST POSITION 69
Chris L: Rather than trying to reinvent the original, Doom II just gave us a heavier dose of everything we wanted: more monsters and bigger levels. It's still an utter blast to play.
Phil: Doom II boasts incredible mod support. You can warp the campaign with over-the-top effects, or you can enjoy the many total conversions, from the The Adventures of Square, to the incredible WolfenDoom.
75. Sunless Sea
RELEASED 2015 | LAST POSITION New
Fraser: In Sunless Sea, you get a vulnerable ship and a sinister ocean to explore. There's action, trading and permadeath, but what really defines Failbetter's nautical romp is the exceptional writing. It jumps between whimsy and menace. One moment you're solving a dispute between rats and guinea pigs, the next your crew are eating each other. It's a game about crafting weird, tragic stories. The captain-turned-spy who made one too many enemies in the east. The explorer who risked everything to climb out of the Unterzee and back to the surface. There are countless paths, all leading to strange places.
Andy K: The mystery of what lies on each island is what keeps me pushing through the many hardships. A gruelling game, but worth enduring for the wonderful stories you're told whenever you dock somewhere.
74. VVVVV
RELEASED 2010 | LAST POSITION New
James Davenport: You flip gravity (by pressing the V key) to bounce up and down between the floor and ceiling avoiding spikes (they look like this: VVVVVV) while exploring a psychedelic 8-bit open world in pursuit of your friends, Violent, Vermillion, Victoria, Verdigris, and Vitellary. Developer Terry Cavanagh created VVVVVV as an experiment in level design – abilities never change, but how surfaces behave and the conditions of the world change constantly. In one stretch, thin lines throw you about like gravity-defying trampolines, and in another the level scrolls on its own, forcing you to think quickly. In one lonely corner of the map, a massive elephant cries. All you can do there is frown. But it's hard to stay down with such a buoyant soundtrack. It's one earworm after another, an assembly of upbeat, catchy chiptunes that still haunt me today.
73. Ladykiller In A Bind
RELEASED 2016 | LAST POSITION New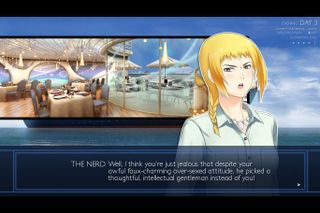 Hannah: When I say Ladykiller in a Bind is a NSFW visual novel about horny teenagers, there's probably a certain image people generally imagine: crude, poorly written, and often embarrassing, the gaming equivalent of that time you found an adult magazine in the local park. Ladykiller In A Bind goes against that with smart writing, enjoyable characters, and lifelike depictions of intimacy (or, the chaos of it). It's aware of the stereotype, and so does its best to dismantle it by portraying those teenage years with the maturity of a game designed for those a little older.
72. Fallout 2
RELEASED 1998 | LAST POSITION New
Jody: The original Fallout nailed an atmosphere of black comedy, combining post-apocalyptic grit with goofy retrofuturism. It also nailed the RPG standard of having three solutions to a problem, but where other games went with 'violent', 'sneaky', and 'magical' solutions, Fallout replaced the third option with 'diplomatic'. It's as good a game about talking your way out of trouble as has ever been made.
71. Valkyria Chronicles
RELEASED 2014 | LAST POSITION 49
Tom M: Even though it arrived on PC late, Valkyria Chronicles is still one the freshest takes on a strategy game I've seen. It's a mix of turn-based strategy, third-person shooter and JRPG that, against all odds, comes together to form an cohesive whole. The art style and melodramatic story don't scream 'hardcore strategy', but underneath all that is a one-of-a-kind tactics game that shouldn't be overlooked.